AYLIEN, Google Sheets add-on to extracts meaningful data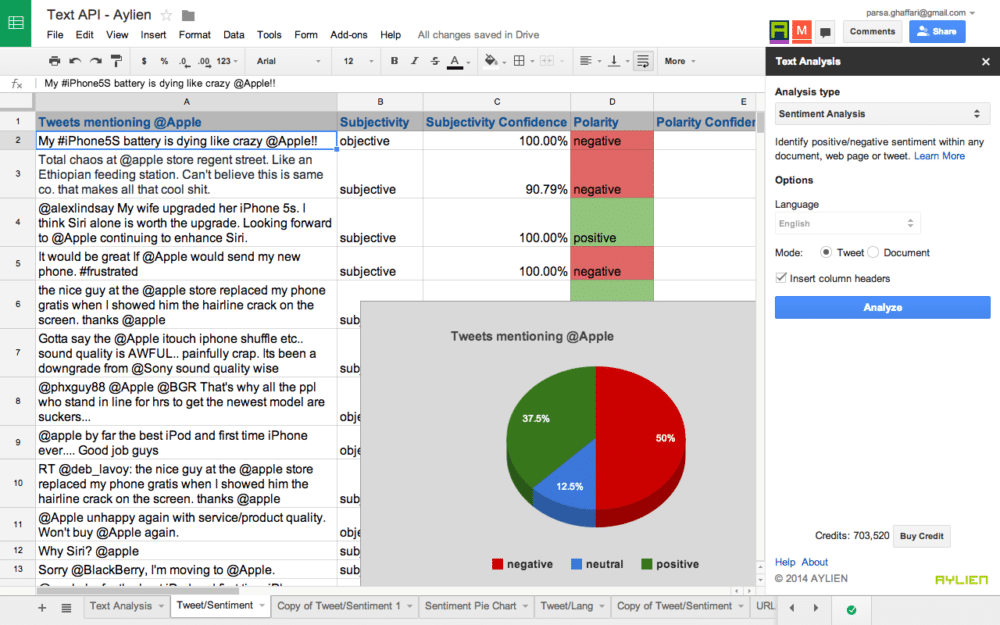 AYLIEN, Google Sheets add-on extracts meaningful data from documents. The add-on was built using AYLIEN'S own Text Analysis API and features the full capabilities of the original product. The Text Analysis API, as the original press release states, "enables developers and news organizations to extract meaningful insights" from a given text. The Google Sheets add-on extends that capability beyond developers and news organizations.
AYLIEN founder Parsa Ghaffari spoke about the motivation behind building the add-on: "The Text Analysis API is a huge step in making web documents more meaningful from a data perspective, but it was built for developers. We wanted to bring that same capability to everyone. Building an add-on for the most popular web-based office editing software in the world was a logical step. It's baked into a product that everyone already uses and requires no technical expertise. Anyone can use this to gain insights into a given text without installing anything locally. Just open your web browser."
Like the original Text Analysis API, the Google Sheets add-on can perform sentiment analysis, extract mentions of entities and concepts, summarize lengthy texts, detect language, create hashtags for optimum sharability, classify documents into categories, and extract full text and embedded media. It's the first such tool available for Google's web-based productivity suite.
Using the Text Analysis add-on users can: Perform Sentiment Analysis on Social Media streams to identify what is positive, negative or neutral about their company or brand. Extract mentions of entities and concepts such as people, organizations, places and products from documents. Summarize long chunks of text and articles into a few key sentences. Detect the language of a document or tweet. Find the best hashtags for their content for better discoverability on Social Media. Classify their documents or links into more than 500 categories and Extract the full text of an article, as well as its author name, embedded media and so on.
Users can simply install the add-on from Google's Chrome Web Store. Once installed, the add-on integrates with Google's built-in Sheets Function, adding new capabilities which correspond with the Text Analysis API functions.