Review
Axosoft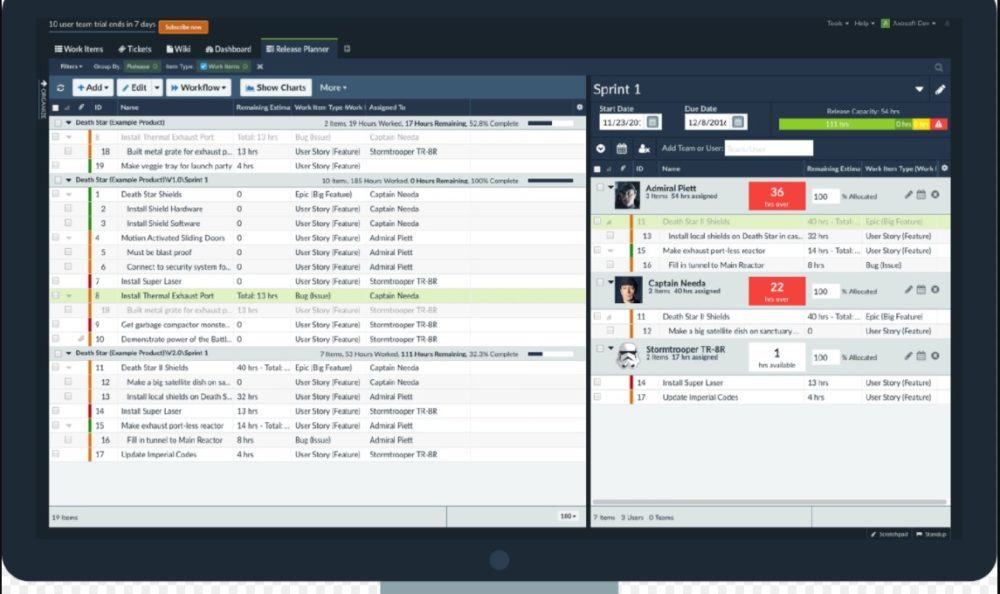 Overview
Axosoft Release Planner allows you to see the capacity of your sprint, team, and team members at a glance.
Product Management Software
•Creating backlogs by adding user stories
•Allows releasing backlog by using Rank Mode
•Provides a Release Planner for laying out short iteration cycles (sprints)
•Dragging and dropping widgets
•Axosoft hosted pricing-5 Users – 20.83 USD /month
•Self Hosted- 5 Users – 25 USD /month +25 USD/month +15 USD/month
Small (<50 employees), Medium (50 to 1000 Enterprise (>1001 employees)
What is best?
•Stack Ranking
•Estimating
•Reporting
•Integrations
What are the benefits?
•Wiki & Help Desk+ Premium Support in premium plans
Axosoft helps users to learn Agile and Scrum by using its own Scrum project management software. It has several features such as product backlog, release backlog, sprint backlog, sprints, daily standups and conducting a retrospective.
Axosoft can be used to create backlogs by adding user stories. Big feature sets can break down into multiple user stories that can be assigned to various team members and completed more quickly. This function will help members to formulate time estimates easily and to set achievable deadlines. The subset of product backlog is release backlog.
Users can release backlog by using Rank Mode in order of stacking rank items from highest to lowest priority. Estimating the time needed to complete each item in hours or story points is allowed in order of achieving better accuracy and consistency across the team. Axosoft provides a Release Planner for laying out short iteration cycles (sprints).
Thanks to this planner users can see the capacity of the sprint, team and individual team members at a glance in order to start adding and assigning work accordingly. Workflow can be visualized by using Card View which represents a fully interactive kanban board that allows customizing and editing item cards, adding work logs, and to see work-in-progress limits.
Daily standups can be conducted and organized with Axosoft's Standup Mode which shows total work assigned to each team member, remaining work, how many hours' users have logged, and current velocity. Users can assess progress by dragging and dropping widgets to create a custom dashboard in Axosoft. This feature will give a concise visual overview of users Scrum project's progress. Burndown chart and speedometer gadgets can be used for reviewing velocity and projected ship date.
You may like to read: Top Product Management Software and How to Select the Best Product Management Software for Your Business