Automated Insights Brings Robot Analyst to Microsoft Excel, Google Sheets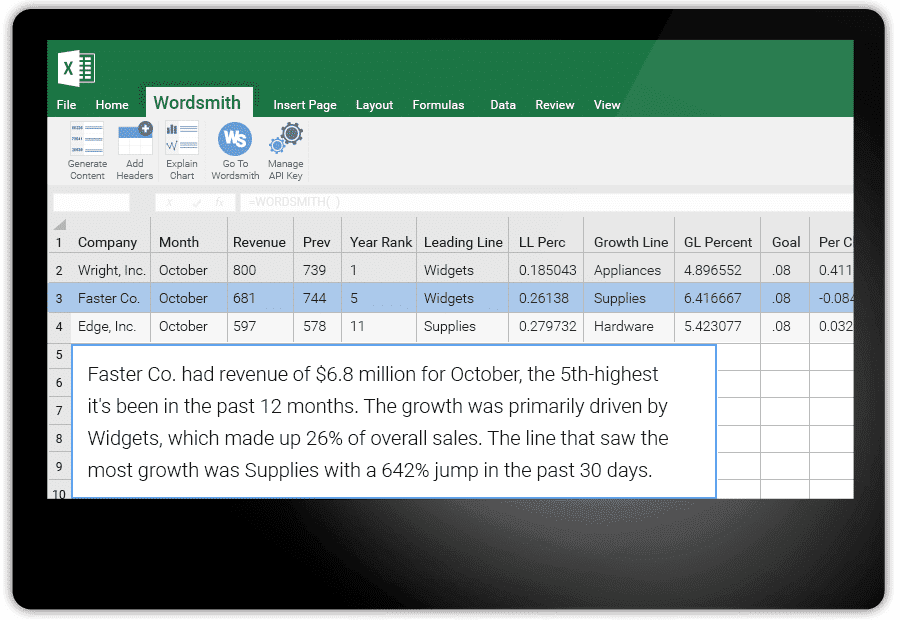 Wordsmith natural language generation (NLG) technology is available directly within Microsoft Excel and Google Sheets. Excel and Sheets users can automatically generate customized, actionable text from their data as easily as they might generate charts -- text that provides the kind of insights charts never could. The new Excel and Sheets plugins, give users the benefits of NLG without exporting their data to another tool or business intelligence solution. Users get insightful, human-sounding narratives within their spreadsheet in real time. When data in the spreadsheet is changed, the Wordsmith-generated narratives update automatically inside the spreadsheet, keeping the data and the story it's telling consistent. Narratives produced in Excel can be embedded and dynamically updated in other Microsoft Office tools.
Automated Insights is making one of the plugins' new features free to everyone. The ExplainIt feature uses artificial intelligence to automatically generate descriptive captions for charts and graphs in Excel and Sheets, making visual representations of data clearer with text-based summaries. The free ExplainIt tool will be available to use for free for all Wordsmith for Excel and Wordsmith for Google Sheets users.
"There are 1.2 billion users of Microsoft Office, and more than five million businesses use Google Apps," said Automated Insights CEO Robbie Allen. "While many vendors are trying to make people move away from spreadsheets, we want to bring NLG to where the vast majority of businesses store and analyze their business data."
Bringing Wordsmith together with spreadsheets also adds significant leverage to individual expertise: After a single subject-matter expert creates a sophisticated template in Wordsmith, others in their organization can use that template with their own Excel or Sheets data to generate unique, personalized reports.
"NLG allows spreadsheet users to be far more productive while spending less time building reports," said Allen. "Instead of just building charts and graphs that require interpretation, Wordsmith explains the data in plain language automatically, saving hours on each report. The result is that customers can deliver their own insights about data at a speed and scale that only automation makes possible."
Automated Insights is the creator of Wordsmith. Wordsmith makes it easy to generate millions of personalized stories, reports, and articles in the time it takes to write just one. Wordsmith helps companies in data-driven industries, including financial services, e-commerce, real estate, business intelligence, media and many others, achieve scale, efficiency and personalization in the writing process.
You may also like to read, Predictive Analytics Free Software, Top Predictive Analytics Software, Predictive Analytics Software API, Top Free Data Mining Software, Top Data Mining Software,and Data Ingestion Tools.
Top Predictive Lead Scoring Software, Top Artificial Intelligence Platforms, Top Predictive Pricing Platforms,and Top Artificial Neural Network Software, and Customer Churn, Renew, Upsell, Cross Sell Software Tools
More Information on Predictive Analysis Process
For more information of predictive analytics process, please review the overview of each components in the predictive analytics process: data collection (data mining), data analysis, statistical analysis, predictive modeling and predictive model deployment.