ArangoDB distributed, free and open-source database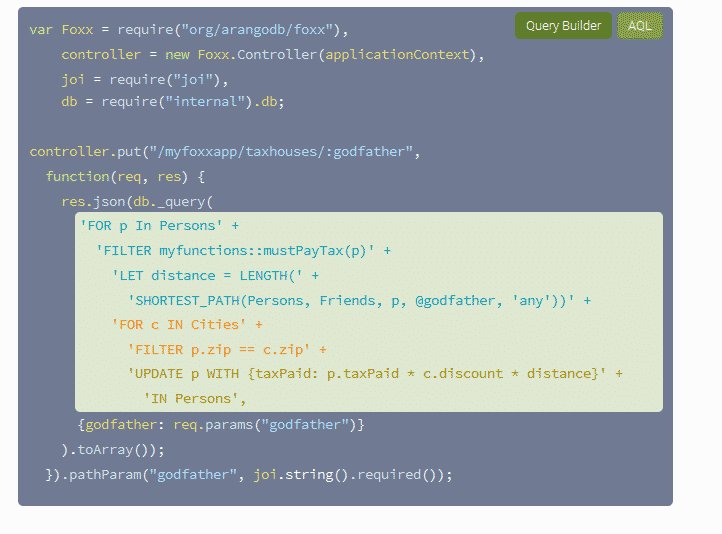 ArangoDB distributed, free and open-source database : ArangoDB is a distributed, free and open-source database with a flexible data model for documents, graphs, and key-values. It allows you to build high performance applications using a convenient SQL-like query language or JavaScript extensions. ArangoDB is complementing its unique native multi-model approach by new supported data models. Also it is expanding its built-in Microservice Framework Foxx to streamline the development cycle of applications. Furthermore, it is planned to strengthen the business support around ArangoDB, in order to further grow the successful commercial efforts.
Key Features
• Native Multi-Model: Documents, graphs and key-value pairs — model your data as you see fit for your application. All models are available in a unified way, allowing you to mix and to switch easily from one to another. There is no need to select a specific personality beforehand.
• Joins: Conveniently join what belongs together for flexible ad-hoc querying. No need to duplicate your data, thus avoiding data redundancy.
• Transactions: Configurable consistency levels for easy application development keeping your data clean and safe – no hassle in your client.
• Foxx Microservice Framework: Build your own Microservices to expose queries, traversals and database operations as REST/Web API. No need to copy queries to every new client you write. Simply create Microservices to access the data the way you like.
• Cluster: Deploy ArangoDB on modern data-center operating systems in the cloud or on-site with a few convenient commands. Scale up and down at leisure. The database rebalances the data distribution automatically in the same way as it heals itself after a fail-over.
ArangoDB is available as open-source under Apache 2 license.