Review
Apriso Warehouse Management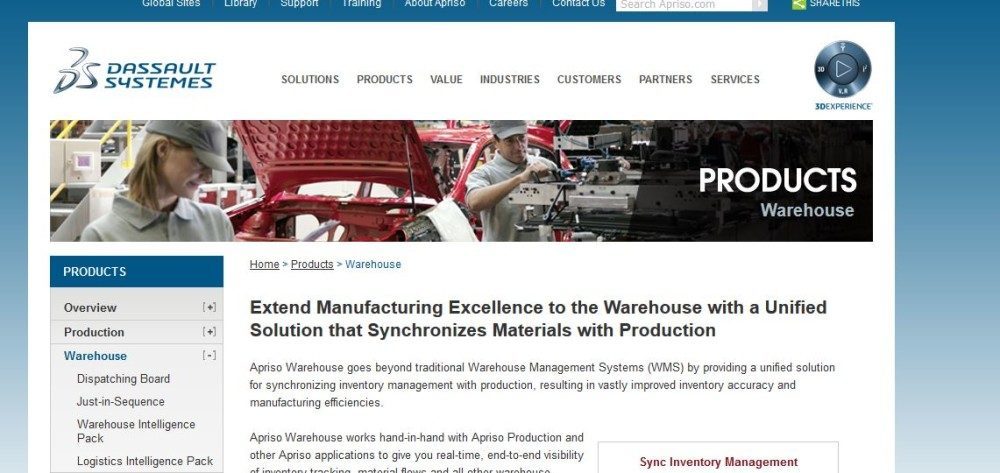 Overview
Apriso Warehouse delivers and sustains manufacturing operations excellence by enabling Management of cross-docking, receiving, replenishment and shipping operations, Intuitive, user-friendly interface designed for warehouse personnel, Enhanced on-time, in-full and in-spec order performance, Integration with RFID and Material Handling Equipment, Expansion of Lean and other continuous improvement initiatives into the warehouse to globally elevate your operational excellence
Apriso Warehouse works hand-in-hand with Apriso Production and other Apriso applications to give you real-time, end-to-end visibility of inventory tracking, material flows and all other warehouse processes. You can align inventory control with production requirements to meet customer demand to achieve material synchronization across operations while eliminating paperwork, improving productivity, increasing accuracy, reducing inventory and cutting labor costs.
Apriso Warehouse delivers and sustains manufacturing operations excellence by enabling Management of cross-docking, receiving, replenishment and shipping operations, Intuitive, user-friendly interface designed for warehouse personnel, Enhanced on-time, in-full and in-spec order performance, Integration with RFID and Material Handling Equipment, Expansion of Lean and other continuous improvement initiatives into the warehouse to globally elevate your operational excellence
Apriso Warehouse can direct people and equipment, and monitor and report all activities, from receipt of raw materials to shipping of finished goods. The system directs materials to the shop floor just when they are actually needed, and when a rush order comes in or the production schedule changes, all material movements are automatically and immediately synchronized, both within your four walls and beyond.
Apriso Warehouse can manage all your finished goods movements as well, coordinating put away to a warehouse or cross docking goods directly to shipping whenever possible.
You may like to read: Top Warehouse Management Software and How to Select the Best Warehouse Management Software for Your Business