Review
Apache Tapestry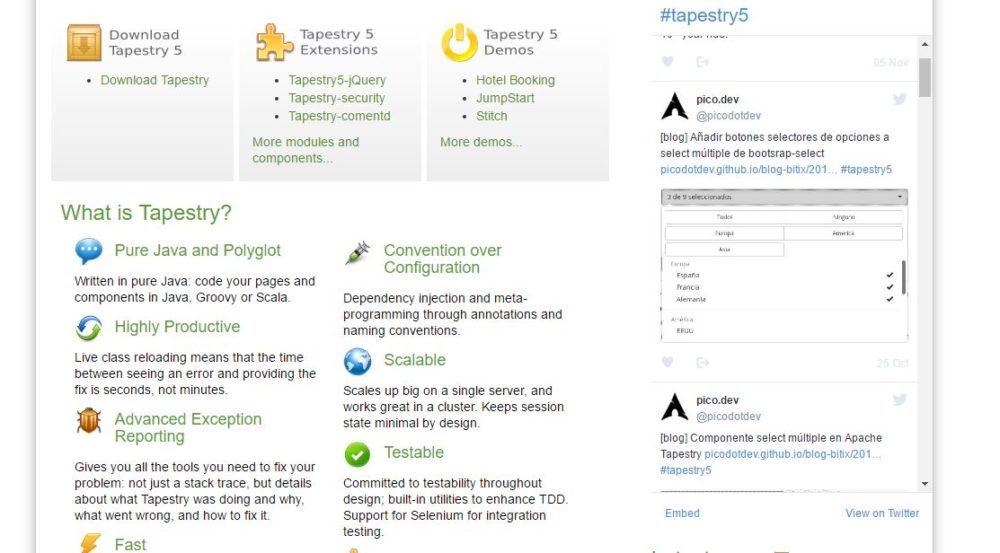 Overview
Tapestry pages and components are simple Java POJOs, with easy access to all Java language features and the vast Java ecosystem.
Java Web Framework Software
Simple Java POJO's
Java, Groovy or Scala to code pages and components
Live Class Reloading
GZip content compression
JavaScript aggregation and compression
Integration with Hibernate, JPA and Spring
Integration with Quartz and Lucene
Streamlined templates
AJAX support
State-of-the-art exception reporting
Small (<50 employees), Medium (50 to 1000 Enterprise (>1001 employees)
Apache Tapestry is a component-oriented framework for creating highly scalable web applications in Java. Tapestry can code pages purely in Java, Groovy or Scala. Due to it, it is built to cleanly support large numbers of concurrent threads without contention, which makes it faster.
Its GZip content compression, JavaScript aggregation and compression, and client-side caching, also collaborates with its fastness. Besides, Tapestry pages and components are simple Java POJOs, with easy access to all Java language features and the vast Java ecosystem. Thanks to Java's advanced concurrency API, Tapestry handles requests fast without sacrificing security or stability.
Tapestry favours convention over configuration because of its dependency injection and meta-programming through annotations and naming conventions and scales up on a single server. It works great in a cluster and keeps session state by minimal design.
Moreover, Tapestry's architecture is open and extensible. It shows a clean way to add extensions or override built-in-logic, and provides integration with Hibernate, JPA, and Spring, and other third-party tools such as Quartz and Lucene. Tapestry, also has all the benefits to test itself and provide immediate solutions. It offers built-in utilities to enhance TDD, support for Selenium for integration testing, stack trace, detailed reports on system failure and live class reloading to implement solutions immediately.