Review
AnyChart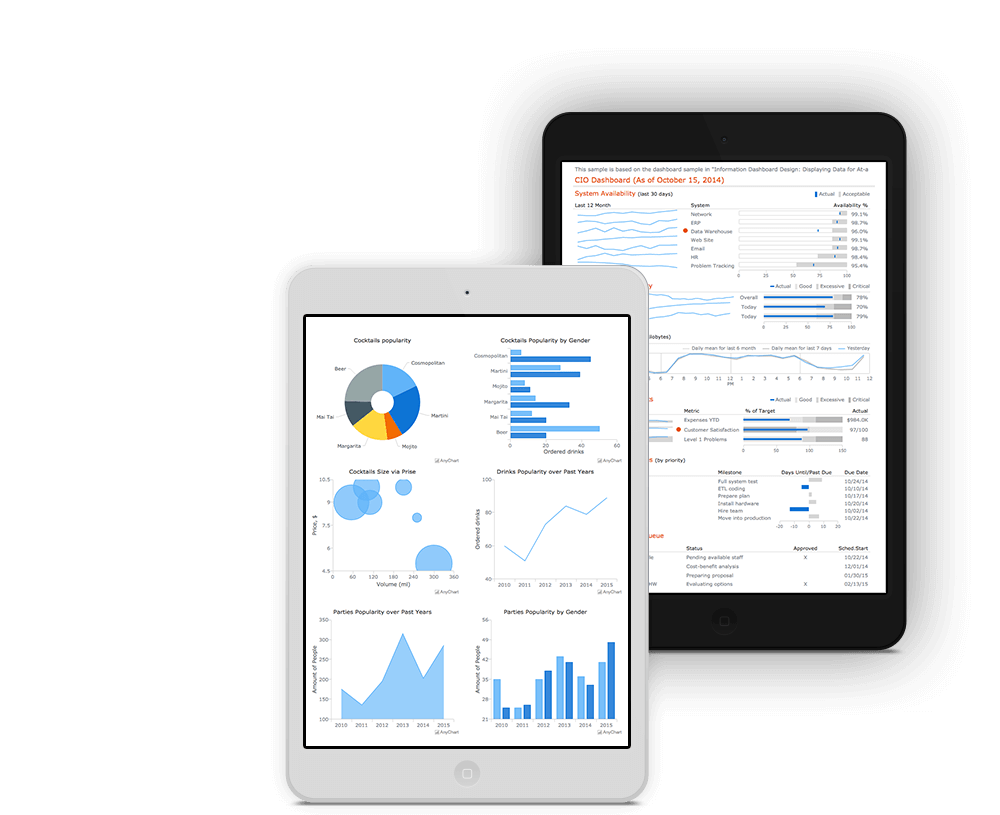 Overview
AnyChart is a flexible JavaScript (HTML5) based charting solution which will fit any need for data visualization.
Business Intelligence Software
•Builds chart on any device
•Allows charts to be built anywhere using the software
•Support huge variety of charts and still adding new ones
•Easy to use
•Workable on different browsers
•Suitable with all scripting languages
•Can handle huge volume of data
Small (<50 employees), Medium (50 to 1000 Enterprise (>1001 employees)
What is best?
•Builds chart on any device
•Allows charts to be built anywhere using the software
•Support huge variety of charts and still adding new ones
•Easy to use
•Workable on different browsers
What are the benefits?
• Includes more than 60 different chart types
• Support rendering thousands of data points in milliseconds
• Easy to adjust look and feel of your charts
• Shows additional information or annotations
• Include dozens of pre-built technical indicators
AnyChart is a flexible JavaScript (HTML5) based charting solution which will fit any need for data visualization. It is a cross-browser and cross-platform charting solution intended for everybody who deals with creation of dashboard, reporting, analytics, statistical, financial or any other data visualization solutions. PCs, Macs, iPhones, iPads, Android devices AnyChart builds charts of all types to meet client's needs. Whether it's a business presentation or an application, AnyChart can present data in a meaningful and comprehensive way.
AnyChart is currently being used by companies over hundred countries. It is serving thousands of businesses across the globe. The software has been built by using HTML5 JS. The software is quickest among is competitors. The software could work on all device whether it a desktop computer, a laptop, a tablet or a mobile phone. The software is workable on all these devices.
Clients can create charts on any device no matter where they are. The software offers diverse feature to create and customize charts according to one's own needs. Charts could be customized to match businesses and individual needs. The solution can work on all browsers. The solution is user friendly. One does not require extensive training to use the solution. It has been built in a way that one can easily learn how to operate it.
The software solution can create different types of charts. It could create a pie chart, scatter chart, vertical gauge, spline chart, bubble chart, stacked bar chart, area chart, line chart, bar chart etc. The company is constantly upgrading its software to add more types of charts. AnyCharts target all individuals who want to create eye catchy and meaningful charts to cater to their different needs. Anyone who wants data to be presented in an attractive way and worth presenting can use AnyChart solutions.
You may like to review: Top Data Visualization Software and How to Select the Best Data Visualization Software for Your Business