Analyze and benchmark social accounts with Digimind Social Analytics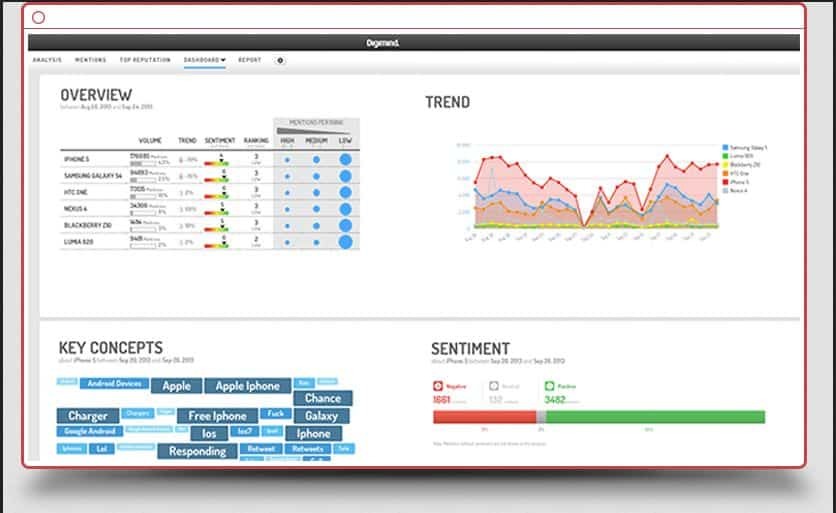 Digimind Social Analytics is a comprehensive social measurement tool is the first social analytics software to analyze many social accounts in a single interface and enable easy yet powerful competitive benchmarking. Digimind Social Analytics provides an aggregate analysis of all social accounts, dynamic filters and facets to dive deep into the data for specific insights, and competitive benchmarking to let brands see how to improve market share. Recently beta tested in stealth mode by global brands like Bosch, Bugatti and leading agencies, Digimind Social Analytics is now available for the first time in all countries. "We designed Digimind Social Analytics to meet the needs of brands struggling to manage multiple social accounts. No other tool on the market enables brands to compare and analyze more than two social accounts. With Digimind Social Analytics, brands can now easily get these insights, whether they're managing five accounts or 50," said Paul Vivant, Digimind CEO.
Companies on average have more than 300 brand-owned social media accounts across social networks like Facebook, Twitter, LinkedIn, Google+, YouTube, Instagram, and Pinterest. Owned media is becoming increasingly important to marketers to reach and connect with their audiences around the world, but measuring the performance all of these accounts is not easy, in particular for agencies and companies managing multiple brands in multiple countries. Digimind Social Analytics is the only tool that allows brands to look at all of these accounts in aggregate to get an accurate, real-time view of what is working best to engage their online communities.The tool's intuitive dashboard offers multi-level analysis, competitive benchmarking, and one-click reporting capabilities, so brands can quickly get tangible insights with little to no resources or training.
"I tried many competitive products before deciding and graded them in terms of customer support, analytics module strength and ease of implementation. Digimind was the winner," said Shikharesh Das, Managing Director at Sprintz Consulting. Brands and agencies also like to combine Digimind's Analytics and Listening platforms to understand both their owned and earned media. "The listening module offers good insight into how, where and by whom we are being mentioned online whereas the analytics module offers an instant overview of our own social media performance such as how my channels are developing, how much content am I pushing, how is it being picked up, etc.," said Thijs Bouwens, Media Relations and Social Media Officer at DSM.
– Comprehensive Social Media Coverage – Get complete measurement and reporting for all of your social accounts on Facebook, Twitter, Google+, YouTube, Instagram, LinkedIn, and Pinterest in one place
– Social Media Account Aggregation – Evaluate all of your social channels in one interface, or drill down to analyze at a more granular level
– Benchmark Analysis – Perform competitor benchmarking across all social channels in aggregate or individually
– Dynamic Filtering – Analyze and benchmark social data by any brand, media type, account, or country
– More Than 80 Interactive Dashboards – All accessible from one global overview interface, presenting everything in a single glance
– Community, Interactions, Publications Module – Comprehensive system to understand which publications are driving the most interactions and growing communities