Review
Analytica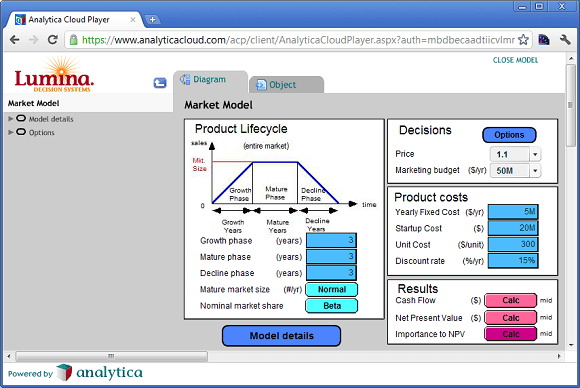 Overview
Analytica Professional offers full Analytical functionality, including the ability to create models with any number of variables and other user-defined objects, and edit and save models, except for features specific to the Enterprise Edition
•Suitable for different users
•Many application variables
•Read from Excel sheets
•Write to Excel sheets
Small (<50 employees), Medium (50 to 1000 Enterprise (>1001 employees)
What is best?
•Suitable for different users
•Many application variables
•Read from Excel sheets
•Write to Excel sheets
What are the benefits?
• Ability to operate on all Operating systems
• Variety to choose from
• Ability to run large models
• Excel spreadsheets and database functionality
• Easy problem formulation and automatic problem solving engine
Lumina's Analytica product line offers a full range of Editions to meet the needs of different users and applications suitable for Model Builders and Model End Users. Analytica Free 101 gives users the full features of Analytica Professional to build models with up to 101 variables and other objects.
Analytica Professional offers full Analytical functionality, including the ability to create models with any number of variables and other user-defined objects, and edit and save models, except for features specific to the Enterprise Edition.Analytica Enterprise offers all the functionality of Analytica Professional.
This model can read from and write to Excel spreadsheets and databases, use Huge Arrays, apply the Profiler to see computational effort by variable, create Browse-only models, and encrypt confidential model elements.
Analytica Optimizer finds optimal decision strategies subject to constraints and solves simultaneous equations. It provides powerful solvers to discover the decisions that maximize expected value, minimize cost, or optimize any quantified objective. It offers linear programming (LP), quadratic programs, mixed integer programs (MIP), and non-linear programming, with smooth or discontinuous functions.
The Analytica Free 101 edition allows a user to browse and run a model of any size, and it's free! They can view diagrams and variables, change inputs, compute results and save the model with your input values.Analytica Power Player, like Free 101, let's users browse models, view diagrams and variables, change inputs, and generate results, but does not let them create or edit models.
It also lets users save changes and use Enterprise features, including accessing databases, Huge Arrays, and add the Optimizer. Analytica Cloud Player (ACP) lets users interact with models via a web browser. It provides a similar user interface to Analytica Player with several enhancements. Users can log in and save their own versions of models.