Alpine Chorus to manage the entire analytics lifecycle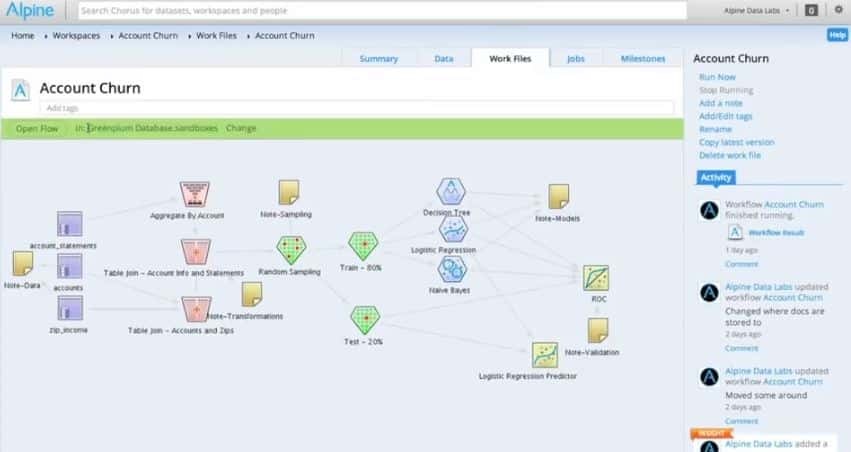 Alpine Chorus to manage the entire analytics lifecycle : Alpine Chorus, is an Advanced Analytics enterprise platform to enable organizations to unify all data access, control and innovation into one consistent and collaborative environment. It provides new functionality to allow business executives to oversee and manage their analytics ecosystem while enabling all employees to collaborate and innovate with data. Alpine Chorus also unveils a new extensible framework which scientists and analysts can use to integrate and manage popular technologies like R and Spark. "Alpine has focused on making Machine Learning at web scale accessible to more people so they can solve real business problems" says Joe Otto, President and CEO at Alpine Data Labs. "As we worked with some of the most sophisticated users of advanced analytics, we saw that, to operationalize meaningful insights, customers require a platform that enables a new engagement model between analytics, people, and business processes"
Alpine Chorus new monitoring and operationalization capabilities provide all employees with a consistent, personalized and secure interface into the enterprise's analytical work. It ensures that more people – not just data scientists – can actively participate in the development, deployment and fast iteration of insightful applications.
"We built Alpine Chorus from the start knowing that it would require enterprise-level support for both Hadoop and non-Hadoop systems," says Steven Hillion, Chief Product Officer and co-founder at Alpine Data Labs. The majority of enterprises we work with, use Hadoop as an augmentation of their data environment, rarely as a replacement of their existing data warehouses." By supporting all Hadoop distributions and non-Hadoop sources, Chorus becomes the advanced analytics platform that drives in-cluster analytics processing into the broadest set of data sources in the industry.
"Alpine Chorus allows us to take advantage of the latest innovation in Advanced Analytics while supporting open source tools like R and standards like PMML", says Hauke Schmidt, Head of Data Mining Services at Bosch. "Alpine Chorus open architecture provides a great fit for organizations that want to integrate multiple tools and want Advanced Analytics solutions to play nicely with existing infrastructure"
"Our integration with R is a prime example of the value of our new open framework", says Steven Hillion. He continues: "the average enterprise uses a collection of tools for data mining and statistical analysis. We are not trying to replace them. Rather, we provide a platform that unites them and manages them into a scalable enterprise solution"
The Alpine Chorus R integration indeed provides a large number of benefits to R developers, from enabling them to work with R in a collaborative manner to benefiting from centralized management, scheduling and security capabilities. Now, the use of R can be extended to a much larger number of people and use cases. Finally, the R integration enables Data Scientists to drop their R code into existing or new Alpine Chorus workflows, combine them with machine learning algorithms and models that don't use R. This added value provides a great roadmap for extending the reach and use of languages like R.
Alpine Chorus is a comprehensive platform for Advanced Analytics in the Enterprise. Using Alpine Chorus, organizations can manage the entire analytic lifecycle in one environment, and enable people to build, deploy and consume analytic applications and insights in an agile and collaborative manner.
You may also like to read, Predictive Analytics Free Software, Top Predictive Analytics Software, Predictive Analytics Software API, Top Free Data Mining Software, Top Data Mining Software,and Data Ingestion Tools.
Top Predictive Lead Scoring Software, Top Artificial Intelligence Platforms, Top Predictive Pricing Platforms,and Top Artificial Neural Network Software, and Customer Churn, Renew, Upsell, Cross Sell Software Tools
More Information on Predictive Analysis Process
For more information of predictive analytics process, please review the overview of each components in the predictive analytics process: data collection (data mining), data analysis, statistical analysis, predictive modeling and predictive model deployment.