Review
AllSight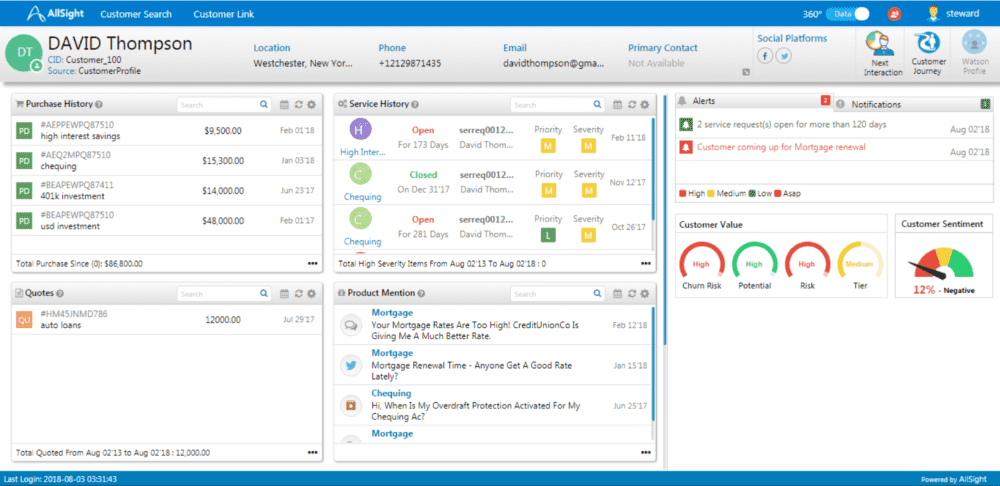 Overview
AllSight is a pre-built Customer Intelligence Platform with customer data management and analytics capabilities that work out of the box to create actionable customer intelligence, that can be used by marketing, customer care, sales, IT and data governance professionals.
Customer Intelligence Platform
•Flexible Automated Data Ingestion - Ingests structured, unstructured and semi structured data in its native format (including 3rd party data like social data, SEC filings, survey responses etc.).
•No prior extract-transform-load processing is required.
•Extensive Data Standardization and Normalization Functions - Provides advanced data standardization and normalization functions, including language transliteration, address standardization and title/job description normalization among others.
Banking, Insurance, Financial Services, Retail, Manufacturing, Hospitality, and others
Chinese, Spanish, English, Arabic (Right to Left Language), Portuguese, Russian, Japanese, German, Korean, French, Italian and Hebrew
What is best?
•Advanced Synthesis and Data Matching - Utilizes natural language processing (NLP) and advanced probabilistic matching techniques to synthesize a complete 360 view of a customer from disparate and sparse data. AllSight utilizes a genetics machine learning algorithm to optimize match configurations for a client's specific data profile.
•Continuous Reasoning and Data Enrichment - Continuously applies machine learning and expert rules-based enrichments to synthesized data to help discover non-obvious relationships, measure sentiment, infer life events and apply segmentation.
What are the benefits?
•Data Quality Management - Provides an extensive library of quality scans that apply syntactic and semantic validations to ingested data.
•Scalability - Based on a big data stack, AllSight leverages the innate scalability of modern technologies like Apache Hadoop, HBase, Spark and Elasticsearch to manage extremely high customer and transaction data volumes.
AllSight Intelligent 360 is the AI-driven platform for managing customer data. AllSight's mission is to enable business users and data scientists to act on intelligent customer insights. AllSight Intelligent 360 uses modern technology to link fragmented data into a customer-centric 360, enrich it with intelligence and insights, and make it actionable for both operational and analytic use cases.
AllSight is a Customer Intelligence Platform that bridges the gap between data and analytics.
AllSight simplifies the process of pulling together fragments of customer data from all sources – internal/external, structured/unstructured - synthesizing it into a consolidated Customer 360 and enriching it with deeper intelligence, producing actionable insights that are consumable in real-time. Powered by graph technology, it discovers and manages complex relationships between individuals, organizations and their transactions and interactions.
Synthesis links customer records and extracts context from unstructured data with Natural Language Processing (NLP)
Reasoning automatically infers intelligent attributes such as personality, occupation, sentiment, life events, product/competitor mentions, location-based events, as well as next best experience/interaction predictions
Data stewardship enables batch and automated matching (Machine Learning)
Graph database identifies complex B2B hierarchies for account planning and individual marketing
AllSight Intelligent 360 addresses analytical, marketing and operational initiatives. AllSight improves management of customer data within existing investments such as extending MDM, CRM and offloading data warehouse for analytics.
AllSight also addresses new business use cases such marketing transformation for personalization and micro-segmentation; improved CX with more insight for customer service to predict interactions; and risk and compliance to address contagion analysis and GDRP regulations.
You may like to read: Top Customer Intelligence Platforms