Review
Akordis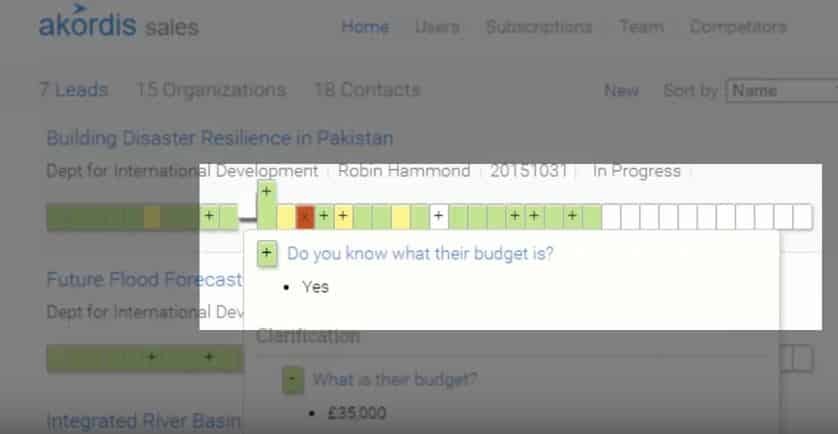 Overview
Akordis is a sales improvement tool that uses a guided sales process to make it easy for all your team to win more high value accounts
Sales Enablement Platform
•Keeps users in control
•Renews confidence in selling
•Requires no extra training
•Gets everyone on the same page
•Forecasts the future
•Personal Subscription SAR 440/user/month
•Team Subscription SAR 1,100/user/month
•Ultimate Subscription R1750/user/month
•Free to try for a month and no credit card is required
Small (<50 employees), Medium (50 to 1000 Enterprise (>1001 employees)
What is best?
•Keeps users in control
•Renews confidence in selling
•Requires no extra training
•Gets everyone on the same page
•Forecasts the future
Akordis is a sales improvement tool that uses a guided sales process to make it easy for entire teams to win more high value accounts. It assists its users to organize their opportunities by chance of winning, track their progress and quickly pinpoint any concerns. It also negates the need for guesswork and for each opportunity, users find out their chance of winning and which strategy will overcome their competitors.
Akordis makes it easy for teams to pool knowledge and delegate tasks to save time for everyone. In addition, teams are fully supported through each step of the sale with expert guidance and instant feedback. The software also features a dashboard that helps users forecast their future revenue, analyze their sales performance and understand what they need to do to improve.
Akordis is deliberately tailored to suit leading sectors including law, environmental consultancy, accounting, architecture, financial services, creative and digital, engineering, management consultancy and IT services. The platform is a highly secure enterprise grade software application, accredited with the most stringent certification for Information Security: ISO27000:2013 and it runs on Rackspace Servers, a world class infrastructure provider. Akordis also uses a security certificate issued by a trusted authority.
HTTPS provides authentication of the website and associated web server with which one is communicating, which protects against man-in-the-middle attacks. Additionally, it provides bidirectional encryption of communications between a client and server, which protects against eavesdropping and tampering with or forging the contents of the communication. This is the same technique used by online banks and shops.
You may like to read: How to Select the Best Sales Enablement Platform for Your Business and Top Sales Enablement Platforms