Review
Agilysys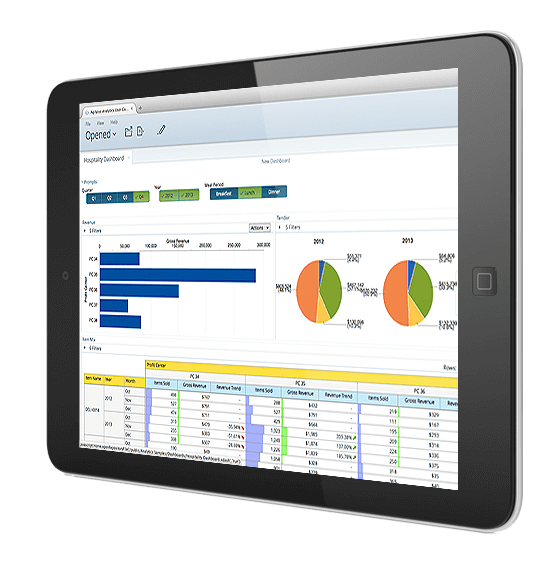 Overview
Agilysys is a leading developer and marketer of proprietary enterprise software, services and solutions to the hospitality industry. The company specializes in market-leading point-of-sale, property management, inventory & procurement, workforce management and mobile & wireless solutions that are designed to streamline operations, improve efficiency and enhance the guest experience.
Business Intelligence Software
Track performance of staff members and team
Create charts and graphs that are easy to understand
Make predictions
Detect fraudulent activities
Also segment analysis
Allow Information scheduling
Allow Benchmarking
Helps in attracting more guests
Small (<50 employees), Medium (50 to 1000 Enterprise (>1001 employees)
rGuest Analyze is a recognized leader in the hospitality industry for POS and PMS data analysis. Whether you use LMS, InfoGenesis or both, illuminate areas of hidden costs and pinpoint discrepancies that may be impacting your bottom line. Agilysys is a unique software designed to cater to needs of hotels, restaurants and resorts. The software allows users to track performance metrics of staff members. Through this managers can identify high performing and low performing staff members. The solution generate tables for analysis of information. The solution allows users to make prediction about number of guests that are most likely to arrive. This enables hotel staff to manage reservations, bookings, rooms, and staff accordingly. The software helps restaurant and hotel managers manage information effectively and efficiently. The software has been developed in a way that it detect fraudulent activities going on. These activities could hamper the success of businesses. Users of the software can design their dashboards according to their own particular needs. The can view information for analysis and decision making. Users can also group their data for effective decision making and trend analysis. Agilysys caters to unique requirements of hospitality industry. The software can present hidden errors and flaws, obstructing ones businesses to perform well. The software makes several activities and tasks of hospitality businesses easier than before. It allows users to work smarter than harder. The software can create graphs, charts and table that are quite easy to analyze. The software keeps a track of team performance. It maintains the record of each individual team members. It allows team members to point out gaps and work smartly. Data and information can be shared. Information sharing can also be scheduled. With this software users can benchmark their business and improve in the future to meet the standards of best businesses' practices. The software is easy to use. It helps in identifying gaps that make is difficult to attract guests.