Review
Adobe Sign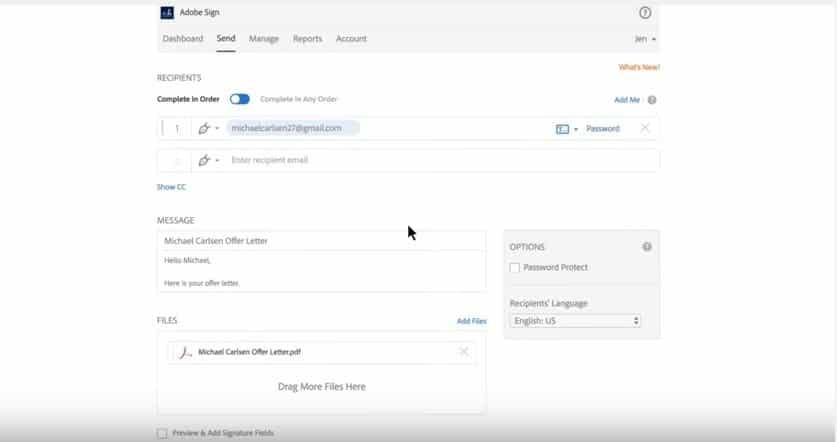 Overview
Adobe Sign provides Cloud-based digital signatures that is easy-to-use with the world's first open, standards-based digital IDs and custom email templates. You can extend your brand and personalize customer interactions with fully customizable HTML email templates for requesting and confirming signatures.
· Fast deployment
· Document templates
· Error-proof workflows
· Self-serve forms
· Branded experiences
· Mobile power
· Safe and secure
· Automatic audit trails
14 day free trial. Starting at $9.99. Contact for more pricing details.
Small (<50 employees), Medium (50 to 1000 Enterprise (>1001 employees)
Adobe - Adobe Document Cloud
Whatever you need to get signed, make it a faster, better experience with e-signatures. Adobe Sign is the world's top e-sign solution. And it's as easy to deploy as it is to use. With Adobe Sign, the user can prepare and send a document to be e-signed in a few quick clicks.
The user can also sign and return on any device in minutes as well as track each step from beginning to end. Adobe Sign is just like sending an email. Enter the signers' email addresses in the order you want them to sign. Insert fields to collect e-signatures and other information. Then, just hit 'send'. It is as simple to sign as it is to send.
The recipients simply need to click on a link, then sign in a browser on a computer or mobile device. There is no need for downloads or account signups to slow things down. Adobe Sign also cuts out the guesswork. The user will get notified as soon as a document's viewed or signed. Adobe Sign also sends automatic alerts when it is set to expire. This keeps things moving and efficient. Archiving is also automatic.
Each step is automatically recorded so that the user and recipient do not have to worry about losing data. All parties get a secure copy of the signed document. It is then stored, along with the audit trail, online or in the repository of the user's choice. This makes Adobe Sign safe and secure for the user's peace of mind.