Adobe advanced programmatic ad platform for advertisers: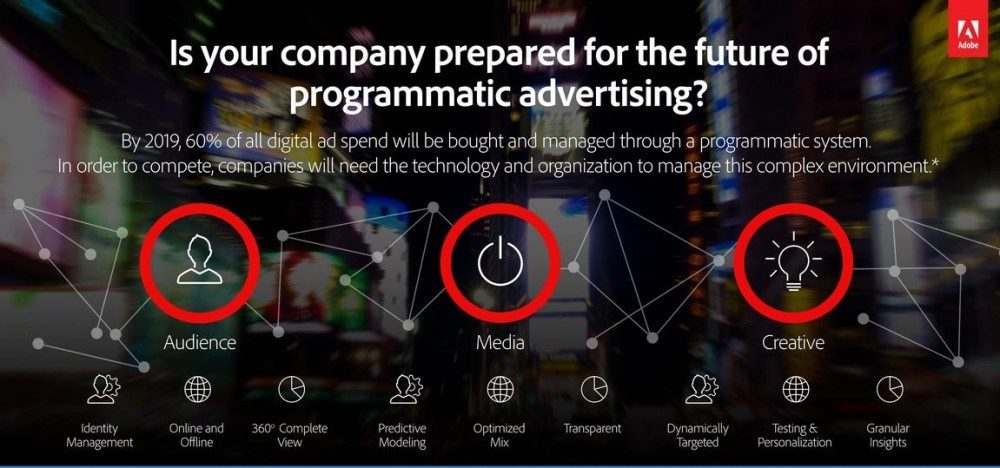 Adobe advanced programmatic ad platform for advertisers: Adobe advanced programmatic ad platform for advertisers and media publishers leverage fully integrated solutions in Adobe Marketing Cloud. Powered by Adobe Media Optimizer, the new "self-service" technology allows advertisers for the first time to take direct control of automated ad buying for search, display and social media across ad exchanges and media networks from partners like Google, Facebook, Yahoo, Rubicon Project, Index Exchange, and more. Advertisers continue to struggle with the fragmentation of the programmatic ad buying process and the lack of transparency. This new platform provides full transparency into media costs, ad performance and revenue with a customer commitment to never arbitrage or hide fees. Tight integration with Adobe Analytics and Adobe Audience Manager ensures that advertisers can tap into data to refine and target granular audience segments. Dynamic creative capabilities enable advertisers to use images, video and other assets from Adobe Creative Cloud to deliver the right content to the right user at the right time.
"Transparency is key to success in the programmatic world as automation is rapidly defining the buying and selling of digital ads, but advertisers are demanding more real-time insight into campaign spend and ROI, which Adobe is delivering"
In addition to making its programmatic platform available to advertisers today, Adobe also announced its programmatic offering for media publishers. Adobe Primetime, Adobe's TV platform that helps broadcasters and pay TV service providers deliver and monetize TV experiences across screens, offers media sellers maximum sell-through of video ad inventory and optimal prices across screens. Content distributors are linked to multiple ad buyers to reach specific audiences at scale. By tapping into audience insights through Adobe Audience Manager, Adobe Primetime facilitates direct, premium ad sales based on real-time data, providing best-in-class forecasting and yield optimization capabilities. The new programmatic capabilities in Adobe Primetime are available as a beta today.
"Transparency is key to success in the programmatic world as automation is rapidly defining the buying and selling of digital ads, but advertisers are demanding more real-time insight into campaign spend and ROI, which Adobe is delivering," said Justin Merickel, senior director of Advertising Solutions at Adobe. "With global programmatic ad spend expected to reach $53 billion by 20181, Adobe is the first company to integrate disparate technologies and deliver programmatic capabilities in a unified platform."
"Adobe is addressing some major industry pain points with its programmatic platform from connecting technology and data siloes to solving for scalability and transparency across campaign channels," said Stephan Beringer, CEO of the VivaKi Operating System (VOS). "It's increasingly difficult to track when, where and how digital ads are performing, but marketers are demanding more accountability. We share Adobe's commitment to programmatic transparency and visibility, and our Always On partnership has provided us with a meaningful opportunity to shape their roadmap and synchronize our efforts along these lines."
Advertisers and agencies are seeking simplicity in a world of massive fragmentation and complexity in order to deliver on the promise of the optimal customer journey. Key features of the platform include:
• Dynamic Creative Optimization (DCO) – To drive user engagement, conversions and integrated experiences, advertisers can now use Adobe Media Optimizer to reach granular audience segments with flexible ad creative that is personalized in real-time and based on a consumer's past behavior. By integrating the new DCO functionality with Adobe Marketing Cloud Core Services including Profiles and Audiences and Asset Sharing with Adobe Creative Cloud, and site-side optimization technology in Adobe Target, advertisers will be able to extend targeted content consistently across key marketing channels.
• Transparency and control – It's crucial to deliver real-time, data-driven campaigns that provide advertisers and agencies more control across channels than ever before. Adobe Media Optimizer is a trusted source providing transparency into media costs and ad performance at the domain level. New integration with Integral Ad Science enables smarter ad delivery around viewability, anti-fraud, and brand safety.
• Scale and performance optimizations – Advertisers can drive conversions by reaching high-value audiences across the web at scale through Adobe Media Optimizer's integration with top ad exchanges and inventory sources, including Google AdX, Facebook Exchange, Rubicon Project, and more. The enhanced algorithmic engine allows brands and agencies to manage the real-time bidding process directly across ad exchanges with over one million queries per second and automated spending recommendations.
• Easy to use workflows and flexible service options – It is all about speed, accuracy and personalization with campaigns – bridging the online and offline worlds, optimizing spend and inserting dynamic creative in milliseconds. Advertisers need solutions that are inherently integrated so that using one drives even greater value in another. Adobe Media Optimizer's efficient and seamless campaign management workflows, with self-serve and managed services options, can be customized to meet a brand or agency's needs.
• 360-degree view of the customer: Audience data is critical to campaign execution. Adobe Media Optimizer can combine data sources with Adobe Audience Manager to create and segment relevant audiences that can be deployed across Adobe Marketing Cloud. Also, by combining rich online and offline profile data, Adobe Audience Manager and Adobe Campaign allow marketers to develop a holistic view of the customer.