Adaptive Suite, a unified platform for cloud CPM and BI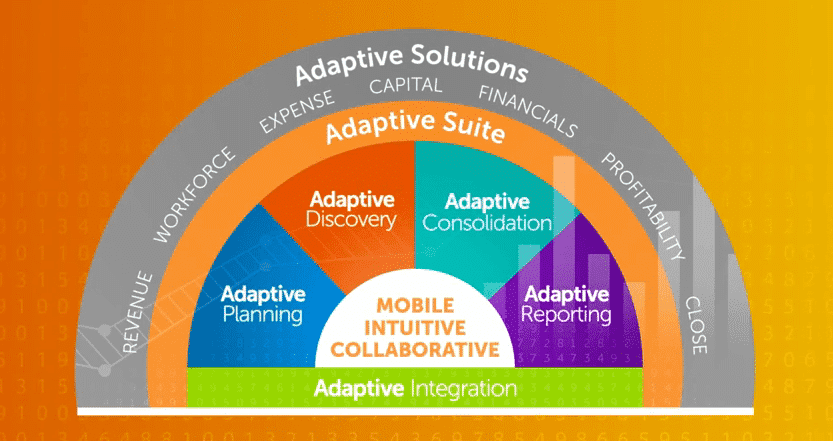 Adaptive Suite, a unified platform for cloud CPM and BI : Adaptive Insights, is a leader in cloud corporate performance management (CPM) which provides new innovations to help finance professionals accelerate performance management throughout the organization from divisions to the entire company. Adaptive Insights provides cloud corporate performance management (CPM) through its software as a service (SaaS) platform, and offers capabilities for budgeting, forecasting, reporting, consolidation, dashboards, and business intelligence that empower finance, sales, and other business leaders with insight to drive true competitive advantage. Adaptive Solutions deliver best practices, services and content that help customers quickly meet specific business challenges, such as managing and aligning revenue performance all built on the Adaptive Suite, a unified platform for cloud CPM and BI. The company introduced over 20 new enhancements to its Adaptive Suite, including a click-not-code Salesforce integration that extends revenue visibility further by incorporating sales, service, and customer data directly into Adaptive Discovery dashboards. Enhancements to Adaptive's multi-instance technology make it an even stronger fit for large enterprises looking to move their performance management processes to the cloud.
Adaptive Solutions provide a complete package for quickly meeting specific performance management needs, such as managing revenue, by leveraging best practice model frameworks and content developed through thousands of successful customer implementations. Built on the Adaptive Suite, they go beyond just modeling and planning by bringing together content that includes best practice model frameworks, rich reports and dashboards that easily bring together data from multiple sources with pre-built data integrations to provide holistic solutions to pressing business challenges all delivered with the ease and efficiency of the cloud.
Adaptive Revenue brings together sales, finance, and service stakeholders on a unified cloud CPM and BI platform. Adaptive Revenue leverages the learnings of more than 70% of Adaptive's customer base that already use Adaptive for sales and revenue analytics, including Teachscape and many others. Built on the Adaptive Suite, the Adaptive Revenue Solution best practices link corporate goal setting, quota planning, headcount, commission, and sales compensation models, all integrated with finance from revenue recognition to the impact on balance sheet and cash flow. With integration that combines Salesforce and ERP data, the solution connects every revenue touch-point, giving a truly cross functional insight to the revenue side of the business across sales, finance and services and includes model frameworks, dashboards, and reports.
"With finance's role increasing in value, business leaders are looking for solutions that accelerate performance management initiatives to optimize revenue performance. By combining best practices and reference content, including dashboards, models, and calculations, with the industry's broadest cloud CPM and BI platform, organizations can fast forward their success, on a platform that will grow with them," said Paul Turner, Vice President Product Marketing and Strategy at Adaptive Insights.
New Adaptive Suite Features include Click-not-code Integration from Salesforce to Dashboards, Instant Visibility for the Extended Enterprise, Easier to Keep Score, Visually and Every Element of the Adaptive Suite Enhanced.The new integration instantly feeds Adaptive Discovery dashboards with valuable sales, customer, and service data from Salesforce. Adaptive's powerful click-not-code interface allows data analysts to select the objects and fields that matter most from opportunities, to salespeople, to customers, and quickly combine Salesforce with ERP data to create rich, multi-source dashboards. Adaptive's unique, multi-instance technology has been enhanced with Adaptive's new one-click refresh feature to deliver instant visibility for corporations across every critical data point, providing an unprecedented level of transparency instantly across all actuals, budget scenarios and business units.
Newly enhanced Adaptive Discovery scorecards make it incredibly easy to visually compare performance across any time period, from MTD, to QTD, to YTD: period on period, version on version, with variances, visual spark lines and exceptions. It's the perfect scorecard to instantly identify and communicate course corrections. Over 20 new enhancements power the new Adaptive Suite – across planning, consolidation, reporting and analytics including enhanced planning and modeling performance; journal entry intelligence; and enhanced APIs.