Adaptive Revenue Cloud Solution to Combine CPM and BI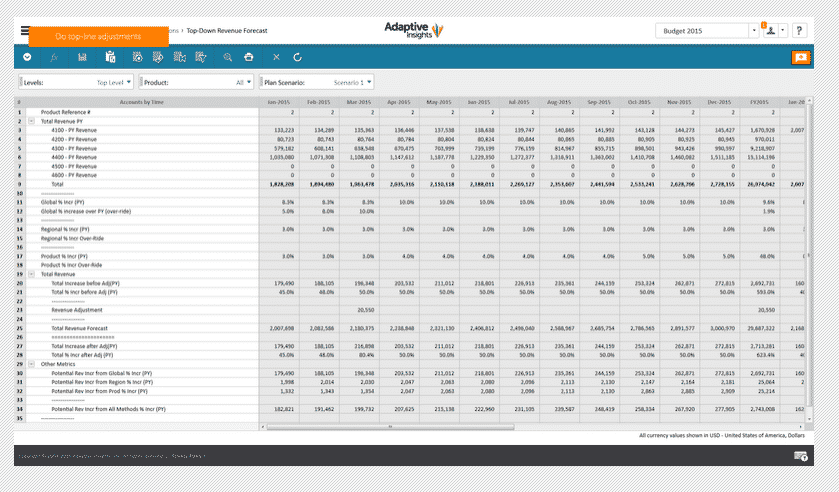 Adaptive Revenue Cloud Solution to Combine CPM and BI : Adaptive Revenue, is an integrated CPM and BI solution that empowers customers to analyze, plan, and manage revenue. Unlike solutions solely-focused on sales planning, or those that only provide sales analytics, Adaptive uniquely delivers a complete solution for managing both. Adaptive Revenue uniquely aligns corporate revenue objectives with sales forecasts and quotas and services planning to optimize the entire revenue funnel from pipeline to recognition.
Adaptive Revenue runs on the Adaptive Suite and is completely integrated with salesforce.com and ERP solutions, offering powerful dashboards, planning, analytics, and reporting -- for both sales and finance -- all in the cloud. The Adaptive Revenue solution provides an industry first – the ability for organizations to bring together CRM, ERP and other operational data to gain a 360-degree perspective, combined with powerful BI and CPM technology – for both insight and planning, that empowers them to make better revenue decisions.Powerful, multi-instance technology enables departments to work in unique financial planning models across the organization and roll up results to corporate for analysis and reporting purposes.
"Adaptive Revenue will help us to align the sales and finance functions of the business so that we can collaborate and make more informed, data-driven decisions for the entire business," said Jon Corbett, Vice President of Finance at Teachscape. "It will allow us to optimize resources to drive revenue, and look at multiple driver-based sales forecast scenarios along with the Adaptive Planning product that I've used for years in finance."
"The Adaptive Revenue solution is well-suited for the complete revenue lifecycle, from setting integrated corporate revenue goals to establishing sales quotas, meeting services demand, and creating financial plans," said Paul Turner, Vice President of Product Marketing at Adaptive Insights. "It uniquely links sales, services, and finance data with dashboards, planning and reporting, bringing together data and planning for a holistic, strategic view of the business."
Corporate revenue goals can be set based on both historical and planned performance and integrated with operational data from multiple sources, resulting in better decision making. Collaborative sales quota setting and approval is now available, using powerful top-down and bottom-up methods to assign quotas, which can be modeled based on actuals, opportunity, and account penetration. Adaptive Revenue offers the ability to plan headcount to meet revenue goals across sales and service teams. And it lowers risk by comparing sales forecast scenarios using a variety of business drivers.
"We are seeing increased interest and demand from our customer base in revenue planning, and Adaptive's solution is the most comprehensive in the business," said Ethan Carlson, President of Carlson Management Consulting, an Adaptive Insights partner. "As companies look to better integrate sales, services, and finance, they should look to Adaptive for a complete cloud analytics solution."
For the finance function, Adaptive Revenue streamlines revenue planning and reporting for a full revenue picture for revenue recognition, GAAP, and non-GAAP reporting. It also automates revenue reporting and visibility by updating PowerPoints and Excel documents with the latest revenue data.
Key capabilities include:
• Integrate revenue goals with budget and expense plans
• Collaboratively set, allocate, and approve quotas
• Plan headcount to meet revenue goals across sales and service
• Compare sales forecast scenarios using business drivers
• Plan based on one-time, recurring, usage based and percent-complete revenue types
• Update PowerPoints and Excel documents automatically with latest revenue data
• Integrate opportunity and lead data with Salesforce.com connector
• Incorporate actuals and contract terms using ERP connectors
• Easily access solution from either inside or outside of Salesforce.com