ADAM Software for Collaborative Enterprise Marketing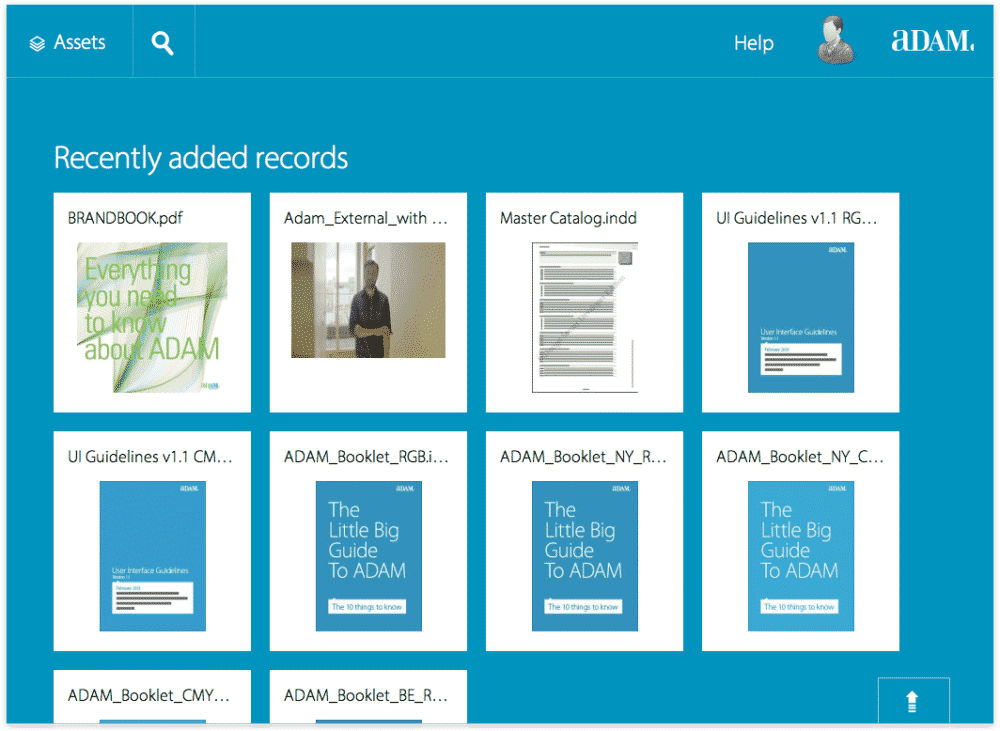 ADAM Software for Collaborative Enterprise Marketing : ADAM 5, is a marketing platform that heralds a new era of collaborative enterprise marketing. ADAM 5 renders siloed marketing officially redundant. Assets, organizations, processes and systems can now sync in unprecedented ways, delivering a huge boost to enterprise marketing efficiency. "ADAM 5 is by far our most significant software release to date," said Pieter Casneuf, CEO of ADAM Software. "Enterprise marketing has seen its fastest ever evolution in recent years. We took advantage of this unique moment to renew our platform. It is now more responsive than ever to the evolving challenges faced by enterprise marketers, including the need to sync multiple stakeholders and organizations, bring accountability to marketing departments and, of course, deliver great customer experience with maximum efficiency."
At the core of ADAM 5 are unique capabilities for creating networked marketing organizations, satisfying the enterprise need to collaborate with agencies, subsidiaries, retailers and other third parties through synchronized environments and content. ADAM 5 installations around the world can now sync, share and collaborate on rich-media assets and campaigns in one seamless ecosystem. Marketing itself has seen rapid development as an enterprise-critical activity that can no longer exist in a silo. CMOs tasked with new levels of accountability will benefit from ADAM 5's powerful data warehousing, allowing the creation of nuanced and comprehensive reports on every aspect of the marketing cycle. And CIOs will appreciate the easy, open integration with enterprise IT architectures as well as the robust security credentials.
Search in ADAM 5 has also been revamped. As the rich-media explosion continues at full pace, finding required assets is ever more challenging. ADAM 5 takes search to a whole new level, delivering genuinely intelligent predictive search results as users type. The ADAM Platform has almost uncanny foresight in predicting what users need, and once they've gotten their results, pre-definable search filters (faceted search) help drill down to even more granular levels.
The ADAM 5 interface has also been completely redesigned. While usability was the defining concern, even the most visually discerning user will be engaged by ADAM's clean new look and intuitive ways of working. ADAM 5 also adds Spaces, which provide a convenient way to group assets according to any criteria — e.g., file type, networked marketing organization(s), project assets or whatever else brings efficiency to your processes.
"The user experience in ADAM 5 is incredible and the enhancements it brings to the way you work will be appreciated across a wide diversity of teams," said Petra Tant, Product Manager at ADAM Software. "ADAM 5 integrates perfectly with enterprise IT architectures so marketing technology is no longer the odd man out. ADAM 5 also connects securely with stakeholders from beyond the enterprise with new syncing technology that can link up multiple installations of ADAM at diverse networked marketing organizations. From product management right through to customer experience, ADAM 5 is going to improve everyone's experience in the marketing production chain."
ADAM 5 contains a slew of other powerful features that bring new efficiency to all aspects of the enterprise marketing cycle, from brand and product content management to campaigns and customer experience. There's an open API, making it highly customizable, and ADAM 5 is extensible with a suite of unique applications that sync product and brand information, localize content, produce catalogs, enable video and campaign management and much more, including the best collaboration and workflow capabilities in the industry.