Review
Activiti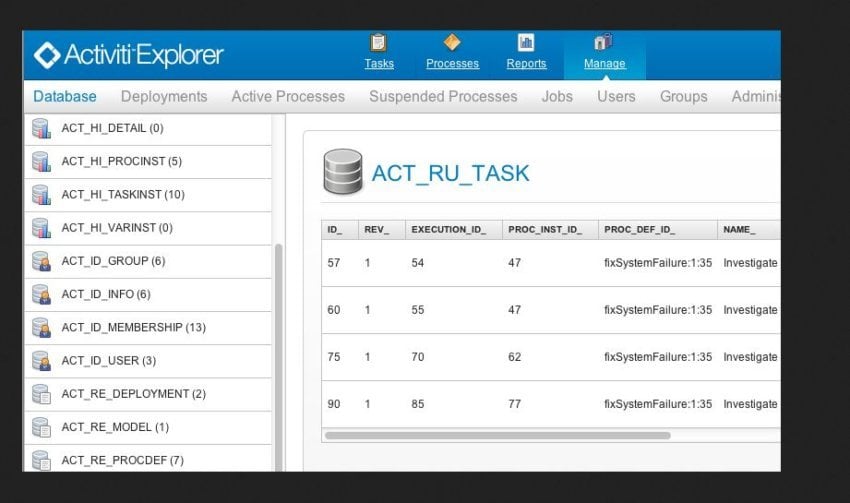 Overview
Activiti is a light-weight workflow and Business Process Management (BPM) Platform targeted at business people, developers and system admins. Its core is a super-fast and rock-solid BPMN 2 process engine for Java. It's open-source and distributed under the Apache license.
Business Process Management Software
Allows user updates to be combined with process updates in a single transaction
Runs on any Java environment like Spring, JTA, standalone with any form of transaction demarcation.
Easy to get up and running with the setup utility
Built to support the cloud scalability from the ground up
Very simple to add new custom activity types and complete dedicated process languages
Rock solid
Extremely fast
Transactional timers
Asynchronous continuations
Hidden event listeners for decoupling software technical details from business level diagram
Ability to test process executions in isolation in a plain unit test
Small (<50 employees), Medium (50 to 1000 Enterprise (>1001 employees)
Activiti is a lightweight and open-source workflow engine and Business Process Management (BPM) Platform intended for business people, developers, and system administrators. Its core is a super-fast and solid BPMN 2 process engine for Java.
Activiti runs in any Java application, on a server, on a cluster or in the cloud.Activiti supports all aspects of Business Process Management (BPM) in the full context of software development. This includes non-technical aspects like analysis, modeling, optimizing business processes, and technical aspects of creating software support. Activiti recognizes that BPM as a management discipline is a completely different facet than BPM as software engineering. Activiti's primary purpose and focus are to implement the general purpose process language, BPMN 2.0.
The Activiti Engine will have a clear focus on being lightweight and easy to use for Java developers. In that respect, Activiti will continue on the successful path in more sophisticated tools that will be able to build on top.A couple of Activiti features are worth to be highlighted as they improve the collaboration between non-technical business users and technical developers. First are the event listeners, this allows executing an out-of-the-box action, a piece of custom Java code or a script upon certain events in the diagram.
This means that developers can decorate a process with extra technical details that do not show up in the diagram. This then improves the collaboration between business people and technical people. Secondly are the custom activities.
Activiti Engine comes with BPMN support and a lot of activity type out-of-the-box. Non- technical business people might still create an extensive description with a certain activity that does not match any of the activity types. In that case, the developer has 2 options. One option is to reiterate to the business person and propose a different model based on existing. Or the developer can write a custom activity in Java code that implements the complex behavior described by the business person.Two releases are open for download on their website, the Stable release (Activiti 5.21.0) and the Beta Release (Activiti-6.0.0 Beta 4). Getting started pointers are available thru a 1-minute tutorial, user guide & Javadocs.
You may like to read: Top Open Source and Free BPM Tools and How to Select the Best Business Process Management (BPM) Software for Your Business