Actiance Socialite comprehensive platform for social selling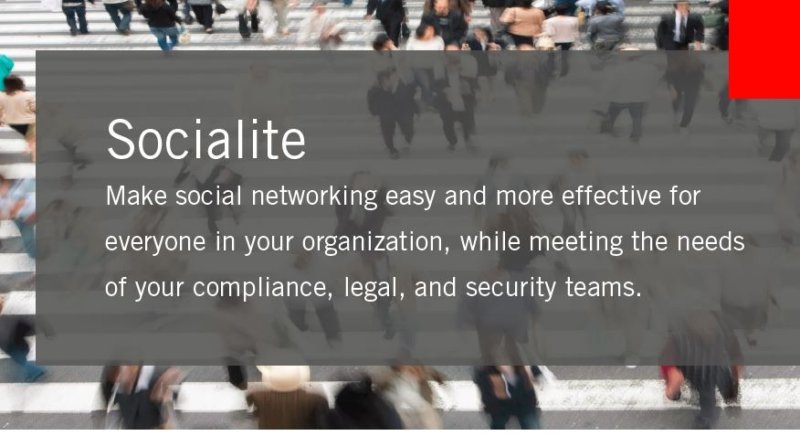 Actiance Socialite comprehensive platform for social selling : Actiance Socialite 2015, the latest release of its comprehensive platform allows organizations to manage and compliantly market and sell through social media channels. Continuing its commitment to make social channels accessible to everyone in the enterprise, Actiance's Socialite 2015 delivers a free mobile application and marketing portal and key new features, providing deeper functionality to accelerate organizations of all sizes along their social journey. These new capabilities empower all users in an organization from marketers to salespeople to casual/line of business users to leverage the right Socialite package to engage in social selling, share content, build relationships and accelerate business success. "Keeping up with the ever changing digital landscape can be a real challenge. Having Socialite as our main social engagement tool enables our financial consultants to engage with clients on a deeper, more personal level," said Logan Buren, digital marketing associate, Hilliard Management Group. "Actiance has been a proven partner that we trust, helping us maintain compliance while keeping our users happy."
Actiance recognizes that the biggest barrier to social communications is adoption; and the fastest uptake happens when people are able to access social in the manner they are accustomed—namely, through the native site, rather than through "middleman" portals. Furthermore, sites such as LinkedIn offer deep capabilities to assist social selling that are not accessible through a separate portal experience.
Socialite 2015 provides new productivity features that augment the native experience with widgets for a new Content Library, Social Scoring and Life Events. These features are available directly from the Socialite toolbar atop the native social site, enabling users to easily access approved corporate content, compare their social ranking to their coworkers and be alerted of recent life events without having to switch to a different user interface.
These widgets can also be integrated into line of business, bringing social directly to the user. For example, the Content Library widget can be embedded within IBM Connections, allowing users to share trending content while they are working on IBM Connections. In another instance, the Socialite Share widget can be integrated with an existing content management website, like HNW or EarthIntegrate Pando, to allow users to share content on social sites in a compliant way while on the website.
Socialite now features Life Event notifications, which provide users with deeper visibility into their customers' and prospects' readiness to purchase. The tools inform users of key life events such as job changes, promotions, relocations and new connections with competitive companies. These alerts arm sellers with additional intelligence to nurture their relationships and offer appropriate services quickly. Sellers are notified of life event changes via email and can also access them via the Socialite toolbar.
Socialite's new analytics capability enables data visualization and reporting, driving deeper engagement with prospects and customers. In the era of the connected customer, social tools that collect, store, organize and analyze the trail of customer data are critical to the delivery of timely, personalized customer interactions. Marketers can also easily import Socialite datasets directly into Microsoft Excel to further integrate social data into their reporting dashboards.
Socialite now includes a plugin to LinkedIn Sales Navigator, LinkedIn's premium social selling tool. Sales Navigator comes with a separate message inbox, and messages sent and received from a Sales Navigator account are separate from a user's personal LinkedIn account message boxes. With Socialite, all messages from Sales Navigator accounts are captured and archived, meeting regulatory compliance and governance requirements. In addition, Socialite extends its feature access control capability to provide select access to Sales Navigator, such as disabling a user's ability to comment while allowing them to use the rest of Sales Navigator capabilities.
Actiance has expanded its Socialite product family with the addition of a no-cost mobile application and marketing portal. The mobile application allows users to share pre-approved content and interact with social networks like LinkedIn and Twitter without compromising corporate social media policies while on the go. The Socialite Portal accelerates companies along their social journey with a zero investment, high return option for marketers to distribute and syndicate corporate content for salespeople who want to share and engage on public social networks in a way that satisfies strict compliance, legal, and security requirements.
These new product packages allow professionals to engage with their communities through social channels, seamlessly integrating with their day-to-day activities. The entire workflow is recorded and can be sent to a user's existing archive. The content is also kept in Actiance's Alcatraz cloud data store free for up to six months where it can be reviewed and exported with full context.