Actian Express- Hadoop SQL Edition delivers Big Data Value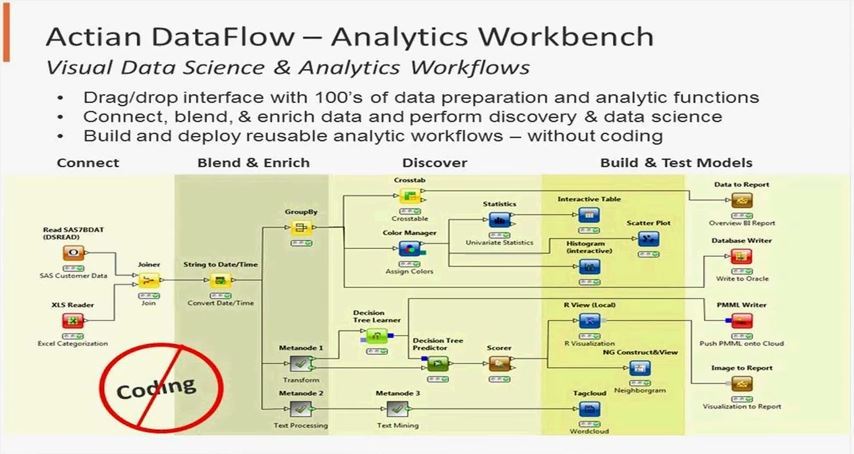 Actian Express- Hadoop SQL Edition delivers Big Data Value : Actian Analytics Platform, Express Hadoop SQL Edition, is a free community version of the end-to-end analytics platform running 100 percent inside of Hadoop. With no limits on the number of Hadoop nodes, and data up to 500GB, Actian Express, Hadoop SQL Edition supercharges Hadoop adoption and accelerates time-to-value for organizations that have been struggling to get value from their Hadoop investments. Hadoop has proven to be an unbeatable data reservoir given its scalability and cost effectiveness. But Hadoop on its own can present adoption and performance challenges for organizations that lack deep technical skills and deep pockets, which is why only 22 percent of Hadoop projects are in production. Actian helps organizations overcome Hadoop's challenges and harness its power by making it fully accessible by the business.
Actian transforms big data into business value for organizations of all sizes, no matter where they are on their analytics journey. With the Actian Analytics Platform, Actian has delivered the world's first end-to-end analytics platform built to run 100 percent natively in Hadoop. Among tens of thousands of organizations using Actian are innovators in the financial services, healthcare, telecommunications, digital media and retail industries.
The Actian Analytics Platform turns Hadoop into a high-performance analytics platform, enabling organizations to improve the accuracy of predictions and decision making by analyzing data from more sources without sampling. Actian Express, Hadoop SQL Edition delivers unmatched speed and price/performance using existing Hadoop clusters.
Users can analyze Hadoop data faster with Actian than with any other vendors, users can achieve this speed without the need to move data out of Hadoop – unlike other vendor approaches. Actian has taken its record-breaking vector-based columnar analytics database and extended it to run natively in the Hadoop HDFS nodes using YARN for resource management. With Actian Express, Hadoop SQL Edition, users have unlimited access to Actian's library of connectors and operators, and advanced data science workbench with no limit to the number of Hadoop nodes accessed.
Actian Express – Hadoop SQL Edition includes Data Science Workbench, Data Flow Engine, Analytics Database, Management Console and Preloaded Data and Tableau Workbooks. The Data Science Workbench build visual workflows to prepare, blend and analyze Hadoop data and Data Flow Engine execute analytic workflows at least 10 times faster than MapReduce – without coding. The Analytics Database run high-performance SQL queries natively in Hadoop and the Management Console easily monitor and manage your Hadoop analytics platform. The preloaded Data and Tableau Workbooks lets to use the platform immediately upon download.
"We've launched the free community version of our industry-leading Hadoop SQL Edition in response to the overwhelming need for organizations of all sizes to easily analyze Hadoop data and deliver insights to the business, using the resources they have on hand today," said Ashish Gupta, CMO and SVP of business development for Actian. "The Express Edition of our Hadoop analytics offers a way forward for those organizations that are under pressure to provide SQL access to Hadoop data, but want to 'try before they buy.' Now, millions of business users can access and analyze Hadoop data by using standard SQL with existing BI and visualizations tools, which leads to faster adoption, more strategic implementation and more successful big data analytics initiatives."
For global financial services organizations, healthcare payers and providers, and start-ups seeking to change the way we consume power, the Actian Analytics Platform gives organizations of all sizes a quicker path to Hadoop adoption and quicker time to analytics gold.
While many financial services firms are ahead of the Hadoop adoption curve, many are still tackling obstacles around slow reporting performance. Actian's platform was purpose-built for low-latency analytics and can scale like no other. Firms deploying Actian's Hadoop analytics offering can achieve game-changing improvements in query execution times and productivity for developers.
Large scale risk reporting and aggregation is an ideal use case for Hadoop analytics. As banks reengineer their systems and operational processes to meet the demands of BCBS 239 and other regulations, high performance SQL access to large consolidated Hadoop repositories has never been more important. Actian's ability to provide sub-second response times to Hadoop datasets of hundreds of billions of rows – even under continuous loading – makes all the difference. Actian allows firms to concentrate their efforts on the important job of aligning and consolidating underlying risk and trade histories while preserving large prior investments in BI and spreadsheet reporting systems and skills.
Healthcare organizations are struggling to manage the operational costs of the traditional systems they've been depending on to meet mounting government mandates and deliver more successful patient outcomes. Hadoop analytics can enable healthcare organizations to successfully and cost-effectively capture and analyze ever-expanding and more granular data sets that could positively transform the way they deliver care to patients, help overcome budget constraints, abide by government regulations and effectively prepare for the future. Actian makes it easier for healthcare organizations to leverage the technology that could save more than 1,000 lives per day and at least eight percent in expenditures per year in the United States.