Infer Account Based Marketing and Demand Generation Workflows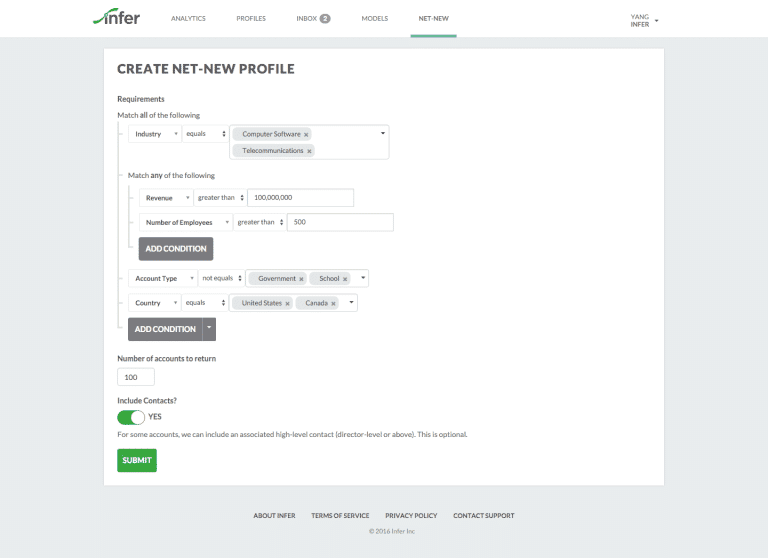 Infer's Net-New Builder extends the first-of-its-kind Infer Profile Management platform, which the company launched last November and is now generally available for all companies.
"The biggest hurdle to an effective account-based marketing strategy isn't just getting more prospects, it's bringing the new leads into day-to-day sales and marketing activities in ways that actually deliver results. Most of today's demand generation vendors sell you a list – perhaps with predictive scores if you're lucky – and then just walk away," said Vik Singh, co-founder and CEO of Infer. "Infer, on the other hand, provides an open architecture that has helped over 120 businesses operationalize proven, structured workflows by infusing predictive intelligence into their sales and marketing systems. Our latest capabilities extend this unrivaled customer success by bringing Infer's unique profiling concept to the task of net-new lead generation."
The new demand generation capabilities released today leverage Infer's novel profiling approach to build on the net-new offering the company launched last summer with partners like InsideView. Infer Profile Management combines data that's trapped in companies' internal systems with thousands of proprietary external signals. It intelligently matches, merges, interprets and filters all of these data points to create actionable intelligence in the form of data-rich, descriptive prospect profiles. Since its beta launch four months ago, dozens of customers have built over 2,750 profile combinations on the platform.
Infer's Net-New Profile Builder helps companies expand beyond their existing pool of prospects by analyzing these outside data signals to identify new leads and accounts that are not currently in their database. It allows sales and marketing teams to build ideal customer profiles based on the attributes of their top existing customers, and then the system automatically finds new contacts and accounts that match those criteria. As a result, reps always have a full database of the best accounts to prospect, which eliminates wasted time spent on pulling individual leads to populate target lists. Once they know which high-value leads to go after, teams can instantly add those prospects to key sales and marketing workflows to fuel growth strategies, such as:
Account-Based Marketing (ABM) – Infer helps companies expand their total addressable market by filling the top of the funnel with new contacts and accounts that look like their best customers. For example, the marketing team could feed a profile for a new market or region directly from the Infer Net-New Builder into a Salesforce outreach campaign, while simultaneously launching a marketing campaign to the same account list via an ABM platform like Terminus in order to provide air cover for sales reps.
Lead Generation Optimization – By pulling all lead data into Infer Profile Management, marketers can score and de-duplicate records in order to compare quality across multiple vendors. As a result, they can easily optimize their list buys and content syndication strategies.
Sales SLA Governance – Companies can use Infer Profiles to initiate Salesforce tasks for reps on specific prospect lists. By doing so, they ensure that sales reps focus their follow up on accounts where they have the best chance at winning, and increase adherence with service level agreements.
Lead Effort Analytics – Infer's closed-loop reporting allows sales and marketing leaders to monitor which accounts might be underserved, and where more work is needed to pursue top prospects. The platform pulls in lead activity data from Salesforce to track sales engagement with new account profiles – providing transparency into the success of those efforts.Infer-ABM-framework-graphic
Infer Profile Management can also leverage Infer's statistically accurate fit and behavior models for greater predictive power and a deeper level of segmentation. Infer has built thousands of predictive models that analyze key signals – such as a company's business model, technology vendors, relevant job postings, public filings, social presence, website activities, marketing automation data, product usage data, and other attributes – to produce around 1.5 billion account, contact and lead scores each year