Review
4SightBI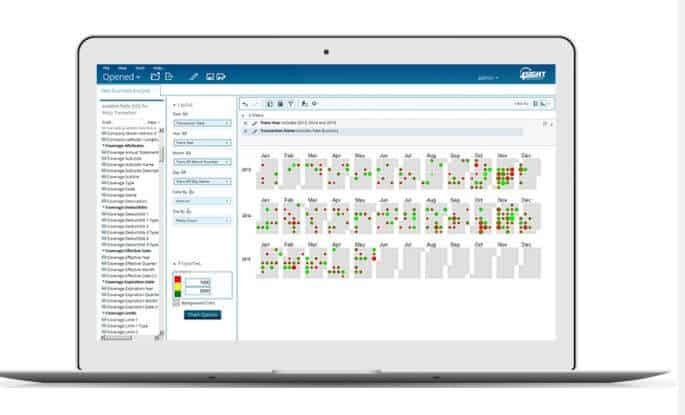 Overview
4SightBI for Property & Casualty is a complete, affordable, solution with over 100 preconfigured reports, dashboards, scorecards, ad-hoc reporting and hundreds of analytics.
Business Intelligence Software
•OLAP Analysis
•Interactive Dashboards
•Mobile BI
•Compatible with Various Internet Browsers
•Drag-and-drop
•Scorecards
Small (<50 employees), Medium (50 to 1000 employees), Enterprise (>1001 employees)
What is best?
•OLAP Analysis
•Interactive Dashboards
•Mobile BI
•Scorecards
What are the benefits?
• Identify and correct negative trends
• Measure efficiencies/ inefficiencies
• Generate detailed reports
• Make more informed decisions based on collected business intelligence
• Align strategies and organizational goals
4SightBI provides a Business Intelligence Report that will help the users able to manage the business properly and effectively. 4SightBI is an open source BI suite that can still provide its users confidence, security, and far lower total cost of ownership than most alternatives while it also offers critical capabilities including scheduling, security, integration, content navigation and so much more.
4SightBI's dashboard offers visual presentation of performance measures and metrics, this gives the users the ability to identify and correct negative trends that may affect the business. Measure efficiencies and inefficiencies with 4SightBI to ensure that no time is wasted, on the other hand, those that are important are always given the right action. Generate detailed reports to make sure that everybody in the team is also well informed while tasks are also assigned to the right people.
4SightBI provides the immediate mechanism to get that information out of the users in record time. Due to the nature of its design, it can be easily extended to add other indicators that the users may wish to have.4SightBI provides access to on underlying database that can be accessed by an unlimited number of queries and reports. This will then allow users to create specific and customized queries.
With 4SightBI, users will not have a hard time understanding the system even without the deep knowledge of SQL or database schema, its friendly interface can be worked on easily by all users. use any browser such as Edge, IE, Chrome, Firefox, Safari, Opera and much more with many different data sources such as Oracle, SQLServer, MySQL, Postgres, DB2 and others.
You may like to read: Open Source, Free and Top Dashboard Software and How to Select the Best Dashboard Software for Your Business