Review
1&1 Web Hosting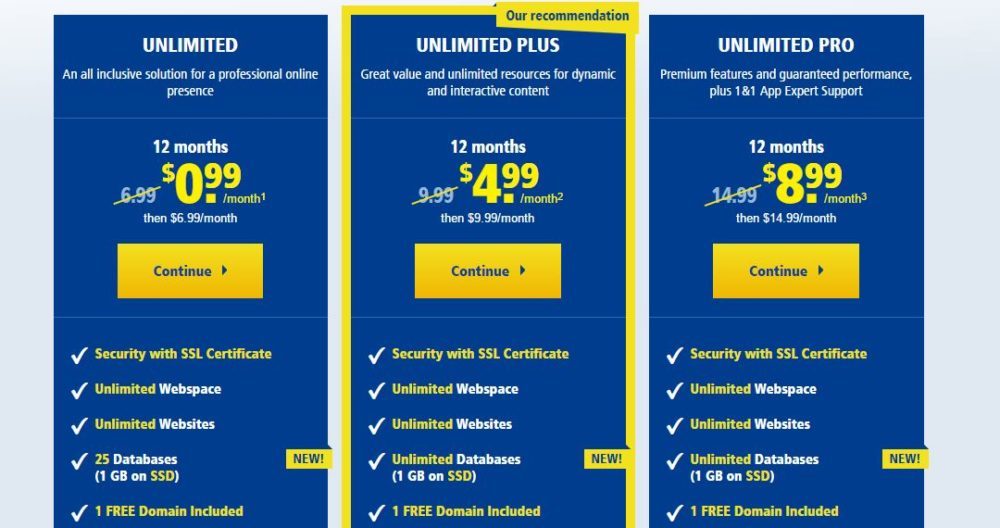 Overview
1&1 offers you professional website hosting packages with secure dual hosting. This means your website is hosted simultaneously at two data centers in two separate locations.
•Unlimited Webspace / Websites / E-mail Accounts
•PHP 7+ OPcache
•Up to 512 MB PHP Memory Limit
•1&1 Hybrid Technology
•Geo-Redundancy
•Content Delivery Network (CDN)
•1&1 SiteLock
•DDoS Protection
•1&1 SSL Certificate
•1&1 App Center
•Webspace Recovery
•24/7 Customer Support
•UNLIMITED: 12 months $0.99 /month1 then $6.99/month
•UNLIMITED PLUS: 12 months $4.99 /month2 then $9.99/month
•UNLIMITED PRO: 12 months $8.99 /month3 then $14.99/month
Small (<50 employees), Medium (50 to 1000 Enterprise (>1001 employees)
What is best?
•1&1 Hybrid Technology
•Geo-Redundancy
•Content Delivery Network (CDN)
•1&1 SiteLock
•DDoS Protection
•1&1 SSL Certificate
1&1 provides top performance for web projects through the use of new hybrid technology. Users' web servers and webspace are now provided completely on the same platform. Thanks to this merging of storage media, users can benefit from even more speed and improved performance for their web projects.
Symantec SSL certificates are now included with all 1&1 packages, providing maximum protection of websites. DDoS protection that secures websites against hacker attacks and cyber-crime is also included with all 1&1 products. Furthermore, geo-redundant infrastructure guarantees parallel processing at separate data centers, meaning users' data is always available.
And the 1&1 Data Centers are among the safest and most modern in the US - verified with ISO-27001:2013 certification from TUV Nord. The exclusive 1&1 App Center provides a quick overview of all important open source applications, with short descriptions and three different installation types available.
Users can install Apps in just a few clicks since 1&1 hosting specialists have compiled the most popular apps, most useful extensions (plugins), and themes. The list of apps available is always expanding, allowing users to always have the best options for their web projects.
Users can also take advantage of App Expert Support and a helpful forum for the most popular open source applications. 1&1 provides professional software for layout and design. Their Website Builder runs online via users' Internet browsers with no need for software installation. Users can choose from a variety of layouts with the click of a mouse, and customize them to their heart's desire: colors, images, multimedia elements and more.