Review
1 CRM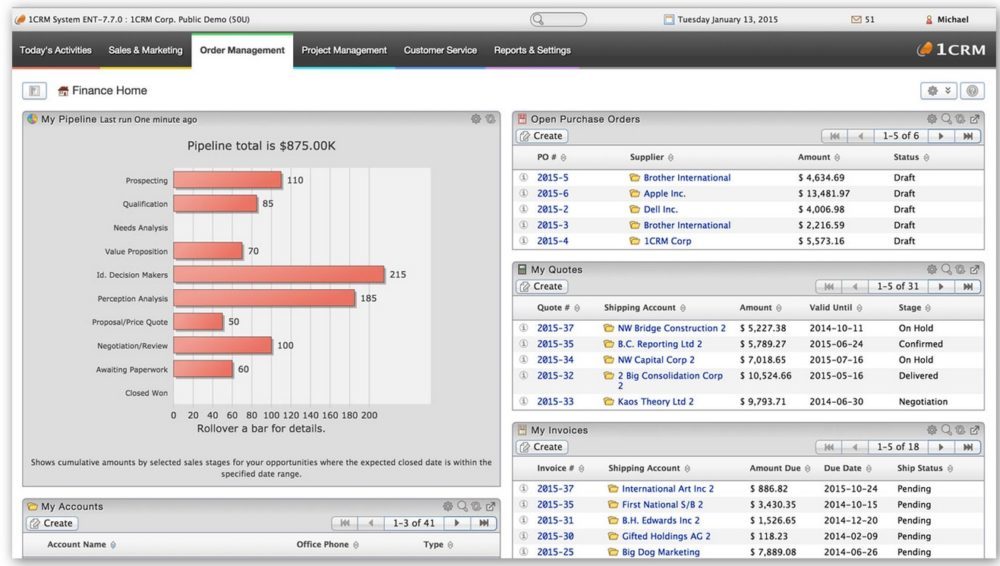 Overview
1CRM includes Email Campaign capabilities such as list management, template creation, one-time email blasts, Dripfeed campaigns and Newsletters, sophisticated organizations can need more powerful Marketing Automation features.
• Manage
• Track
• Automate
• Complete
• Customize
• Access
• Support
• Secure
• Empower
• Book
• Collaborate
• Integrate
Cloud
• Start-up - $12/User/Month
• Start-up+ - $19/User/Month
• Professional - $28/User/Month
• Enterprise - $34/User/Month
On-premise
• Start-up – Free lifetime access
• Start-up+ - $12/User/Month
• Professional - $21/User/Month
• Enterprise - $27/User/Month
ON-PREMISE PERPETUAL LICENSES
• Professional - $405 One Time Payment/User
• Enterprise - $585 One Time Payment/User
Small (<50 employees), Medium (50 to 1000 Enterprise (>1001 employees)
What is best?
• Manage
• Track
• Automate
• Complete
• Customize
• Access
• Support
1CRM is an open source and customization friendly CRM which allows users to modify their screen and print layouts, menu system, dropdown options, user interface theme and colors and create multiple personalized dashboards and a custom mobile experience from a single integrated online platform. 1CRM offers features such as Contact Management, Email & Calendar, Mobile Access.
1CRM also offers CRM Sync for Android & iOS, Sales Automation & Forecasting, Marketing Automation, Click-to-dial Telephony, Order Management, Payments & Billing, Case Management, Project Management, Timesheets & Booked Hours, Social CRM, 30+ Integrations, 24/7 Customer Self-Service Portal, Unlimited Data Capacity, 1CRM Branding: Emails & PDFs, REST API Service, iOS Mobile App, PDF Form Designer, Module Designer and Price Books.
1CRM will begin tracking the user's progress immediately by users simply pulling in all of their customer & business data from the systems and services they use. 1CRM enables users to create custom quotes & invoices on-the-spot where the system supports multiple layouts, multiple tax rates, group and line item discounts, price tuning using margin or markup, plus a quote approval workflow if required.
1CRM also has the ability to track inventory movements and levels at multiple warehouse locations through the use of the Shipping and Receiving modules, which record stock movements from Suppliers to the business, and from the business out to Customers.
1CRM ensures that users' finances stay in order by managing and tracking bills through their life-cycle where overdue bills are highlighted for quick attention and each Bill shows the original amount, as well as the current balance payable after any outgoing payments have been applied.
You may like to read: How to Select the Best All in One CRM Software for Your Business and Top All in One CRM Software