Review
XLMiner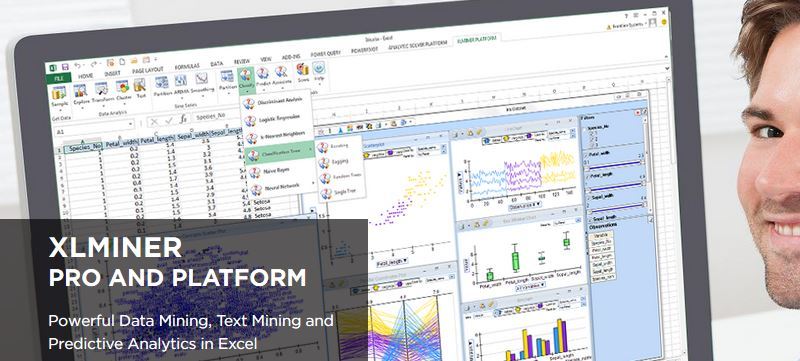 Overview
XLMiner provides Data visualization, forecasting, text mining and predictive analytics for large datasets.
Allow data mining, predictive analysis and data visualization
Easy to use interface
Built in feature in Excel
Can manage large data sets
Perform statistical procedures
Small (<50 employees), Medium (50 to 1000 employees), Enterprise (>1001 employees)
XLMiner provides Data visualization, forecasting, text mining and predictive analytics for large datasets. Features include easily explore, visualize and transform your data, use feature selection to find variables that matter, apply text mining for insights from comments, use the most popular time series forecasting methods. Provides advanced multiple linear and logistic regression, ensembles of classification and regression trees neural networks for classification and prediction and association rules for recommendation systems. XLminer platform, allows users to perform data analysis in excel. Users can perform various statistical analyses on the data. Users' do not have to learn the software from the scratch. Users who are already aware of Microsoft excel can make an effective use of the built-in tool. The software is easy to use and understand. The software allow data to be imported from spreadsheets and data can be analyzed in any way users want. Data visualization can be done. Data can be transformed too. Statistical calculations and procedures can be applied on it to get quick results. The software makes analysis an effortless job to do. It delivers results very quickly. The tool can manage large data sets. It enables data and text mining. The software performs predictive analysis too. The tool helps users in applying time series forecasting method. The software performs regression on large data sets. The software can search for important variables. The software can collect data from variety of sources, transform and analyze it. The software provide sample data sets for users. Users can learn to operate the software by looking into these data sets. The software can search for columns that contain most important and detail oriented data. The software can highlight this important data to users performing predictive analysis. The software can make bars, charts of all types, thus assisting in data visualization and enabling a quick view and insight into data. Thus the software makes analysis and data mining an undemanding job by using a built-in tool in an already known software.
You may also like to read, Predictive Analytics Free Software, Top Predictive Analytics Software, Predictive Analytics Software API, Top Free Data Mining Software, Top Data Mining Software,and Data Ingestion Tools.
Top Predictive Lead Scoring Software, Top Artificial Intelligence Platforms, Top Predictive Pricing Platforms,and Top Artificial Neural Network Software, and Customer Churn, Renew, Upsell, Cross Sell Software Tools
More Information on Predictive Analysis Process
For more information of predictive analytics process, please review the overview of each components in the predictive analytics process: data collection (data mining), data analysis, statistical analysis, predictive modeling and predictive model deployment.