55 Top Social Media Management and Analytics Software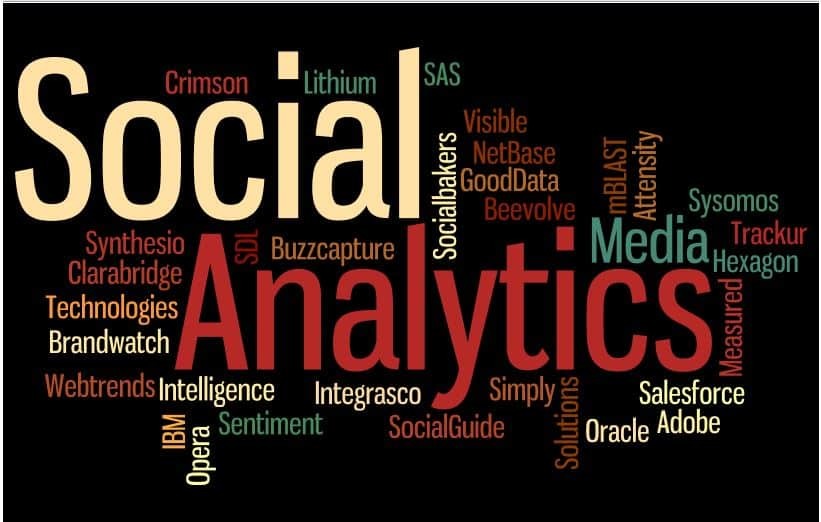 55 Top Social Media Management and Analytics Software:  Social Media Analytics software solutions provides market research analytics to deliver customer insights from social media for a 360 degree view of all customer touch points, customer care, brand marketing, public relations, sentiment analysis and merchandising. This is a list of 55+ social media analytics software solutions in no particular order. quintly, Brand24, Sendible, NUVI, Digimind, Meltwater, Conversation Miner, NetBase, Sysomos, Keyhole, VOZIQ, Socialclout, Sentiment, Webtrends, Brandwatch, Lithium, Integrasco, Trackur, Bottlenose, Synthesio, Tracx, Talkwalker, Sprinklr, Socialbakers, Cision Public Relations, Simply Measured, Opera Solutions, Crimson Hexagon, Beevolve, Buzzcapture, Bazaarvoice, SDL Social Intelligence, Spredfast, TrackMaven, Klear, Rival IQ, Sotrender, MediaVantage, Attentio, Social Crawlytics, IBM Social Media Analytics, SAS Social Media Analytics, Adobe Social Analytics, Clarabridge Social Analytics, Attensity Social Analytics, GoodData, Plumlytics, Oracle Social Analytics, Salesforce, Nielsen Social, Hootsuite, Mention, Sprout Social, Zoho Social, and SumAll are some of the top social media analytics software solutions in no particular order.
You may also like to review the Top Free Social Media Management and Analytics Software list:
Top Free Social Media Management and Analytics Software
55 Top Social Media Management and Analytics Software
quintly, Brand24, Sendible, NUVI, Digimind, Meltwater, Conversation Miner, NetBase, Sysomos, Keyhole, VOZIQ, Socialclout, Sentiment, Webtrends, Brandwatch, Lithium, Integrasco, Trackur, Bottlenose, Synthesio, Tracx, Talkwalker, Sprinklr, Socialbakers, Cision Public Relations, Simply Measured, Opera Solutions, Crimson Hexagon, Beevolve, Buzzcapture, Bazaarvoice, SDL Social Intelligence, Spredfast, TrackMaven, Klear, Rival IQ, Sotrender, MediaVantage, Attentio, Social Crawlytics, IBM Social Media Analytics, SAS Social Media Analytics, Adobe Social Analytics, Clarabridge Social Analytics, Attensity Social Analytics, GoodData, Plumlytics, Oracle Social Analytics, Salesforce, Nielsen Social, Hootsuite, Mention, Sprout Social, Zoho Social, and SumAll .
1. quintly
quintly is a web-based tool to help to track, benchmark and optimize social media performance. quintly, enables to benchmark against competitors' and derive an optimal social media strategy.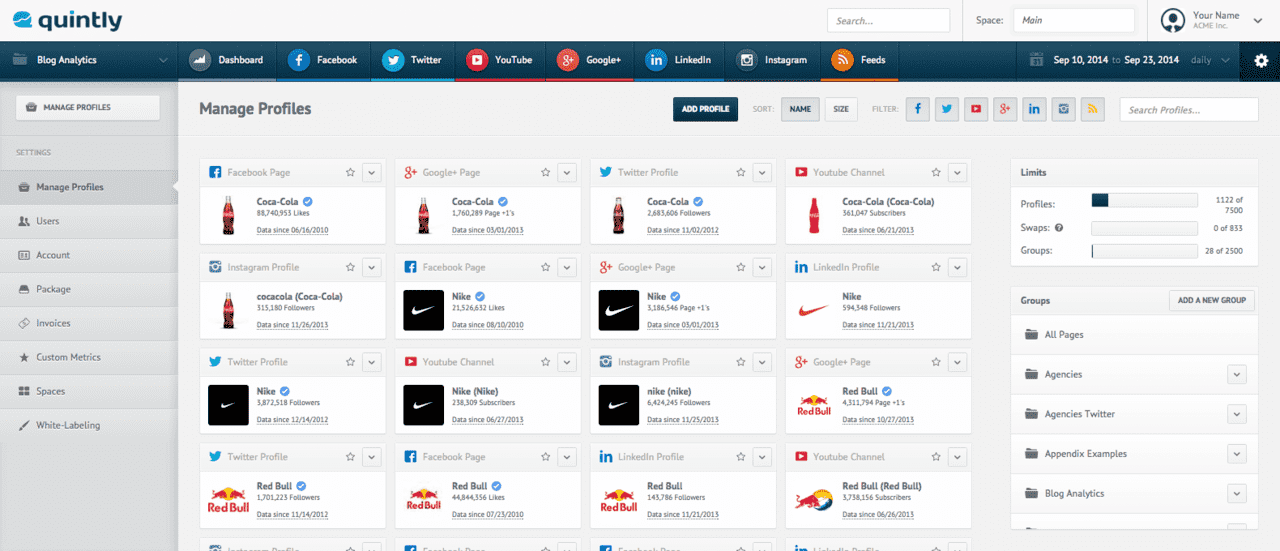 2. Brand24
Brand24 provides easy to use, cost-effective internet monitoring. Brand24 is used to get real-time customer insights and actionable intelligence relevant to their products and brands.Brand24 gives you instant access to mentions about your brand across the web, from social networks to influential publishers. The web-based dashboard provides actionable customer insights, email alerts, influencer analysis, automated & customized PDF reports, infographics and many more.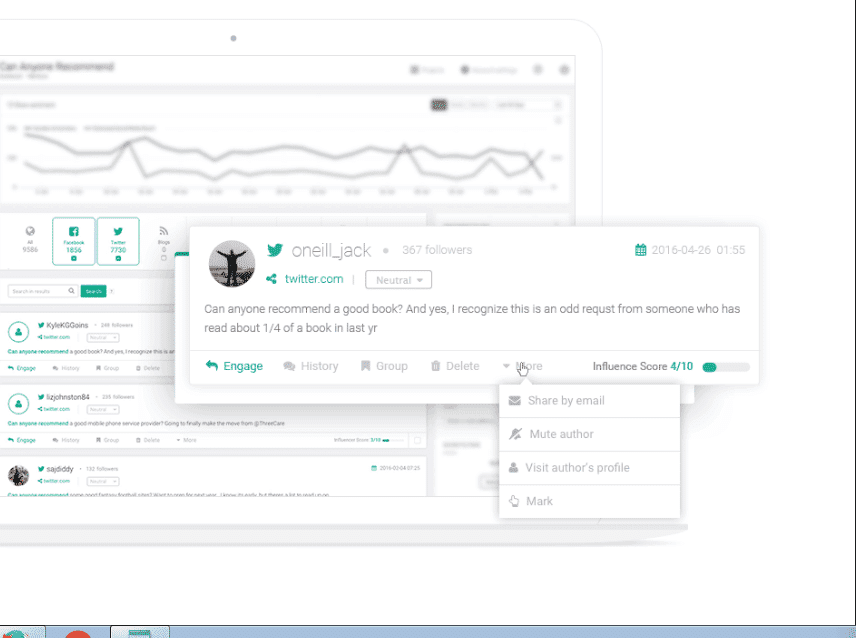 3. Sendible
Sendible provides an array of Social Media management tools in its all-in-one comprehensive dashboard. Sendible's platform enables users to quickly and easily compose and share content, monitor their brand, engage with customers and reach their audience via Social Media, Email and SMS Manage social networks, schedule messages, engage with your audience, and measure ROI from our all-in-one dashboard.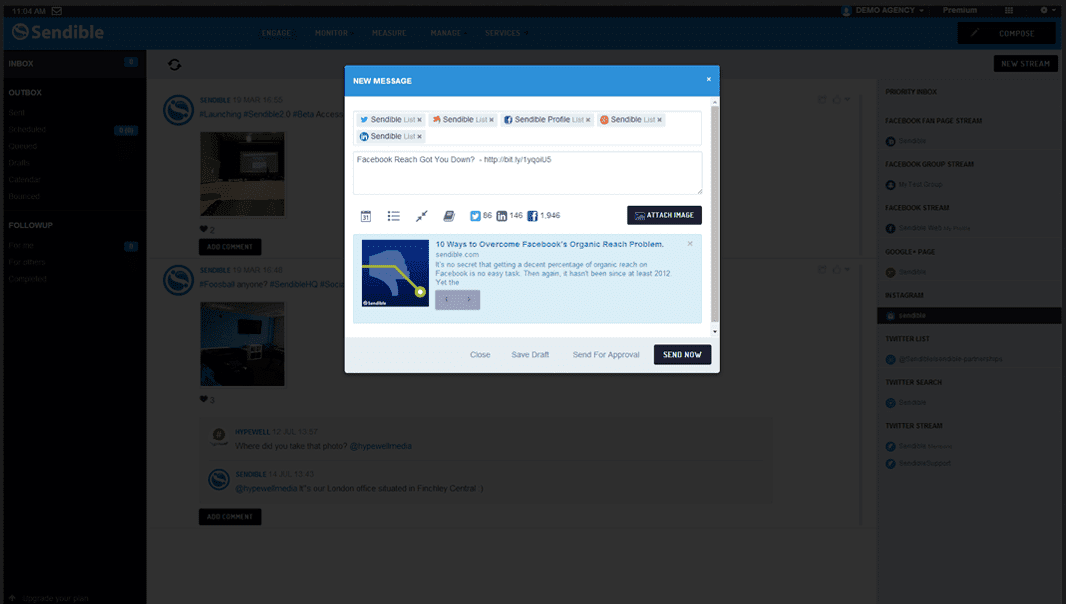 4. NUVI
NUVI will help you manage all of your social media responsibilities in one seamless, beautiful platform. NUVI's real-time intelligence platform can give back the time you need to focus on the things that really matter.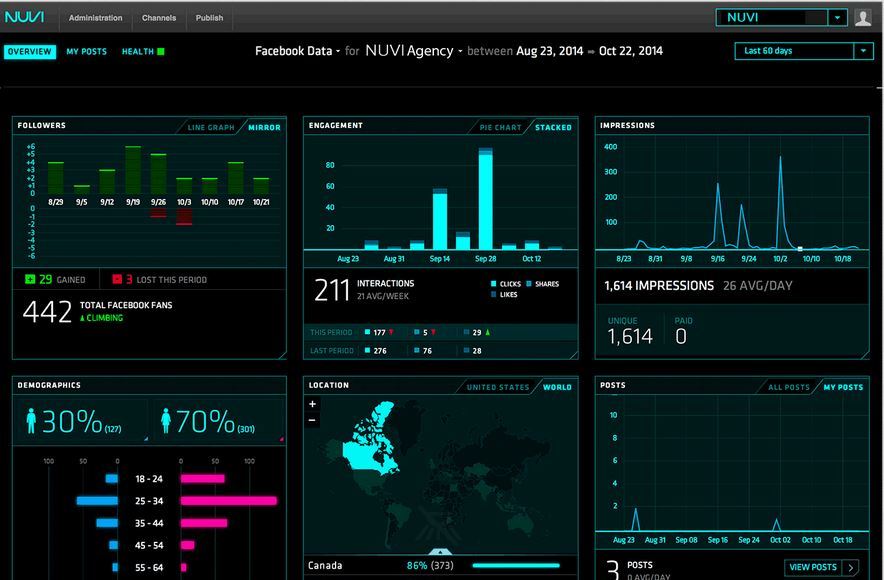 5. Digimind
Digimind is a social media analytics company that provides smart Social Media Monitoring software to Listen, Engage, Analyse, and Report.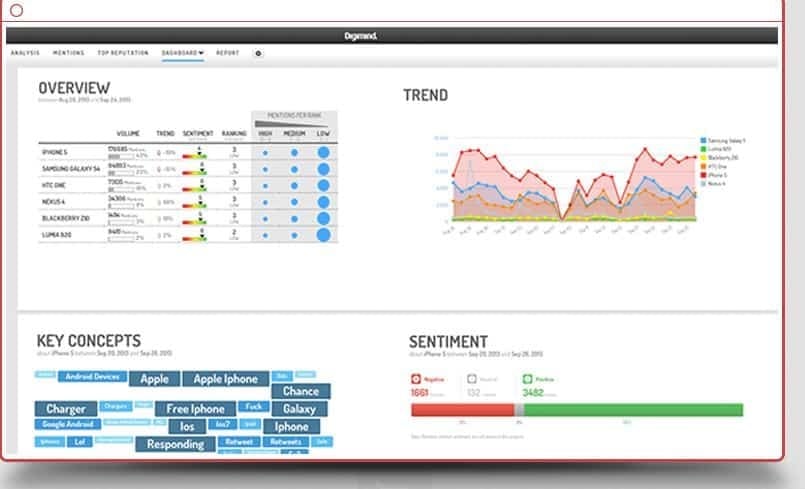 6. Meltwater
Meltwater helps companies make better, more informed business decisions based on insights from the outside Meltwater media intelligence platform is used to stay on top of billions of online conversations, extract relevant insights, and use them to strategically manage their brand and stay ahead of their competition.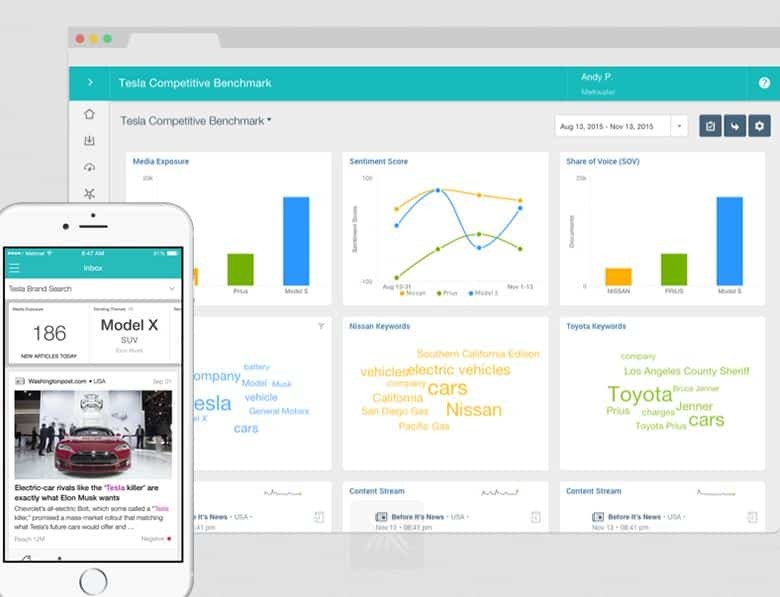 7. Conversation Miner
Conversation Miner lets brands map, monitor and understand the vast social media conversation to create the deep insights required to drive business advantage.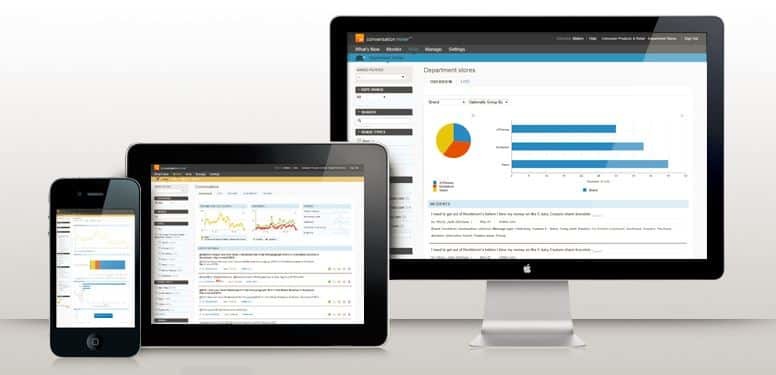 8. NetBase
NetBase provides solution for Listen, Engage and Publish. Listen is Accurate and fast Social Analytics with configurable dashboards designed for business impact. Engageis Sophisticated, secure workflow solution with advanced routing and queues. Publish is easy to use interface to publish across multiple channels and track conversions.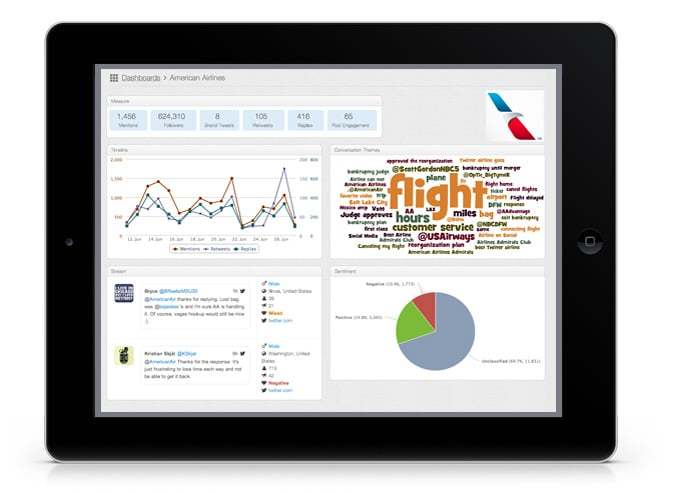 9. Sysomos
Sysomos provides Social Media Monitoring solution, Heartbeat, which is a real time monitoring dashboard to collect all relevant online conversations to gain insights with detailed metrics and intuitive graphics. Heartbeat is a cost effective, real-time social media monitoring and measurement tool. Heartbeat provides constantly updated snapshots of online conversations, including a variety of user friendly and informative graphics.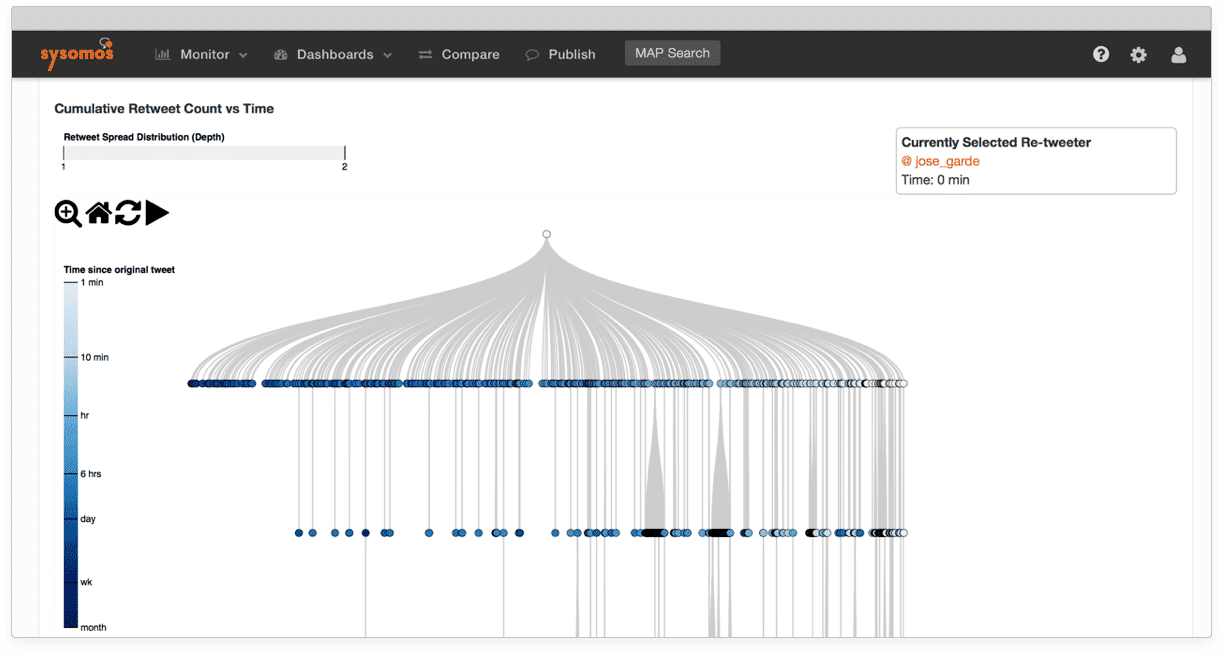 10. Keyhole
Keyhole identify influencers, monitor competing brands, gain a deep understanding of target markets and track hashtags and keywords to gain insights into future campaigns.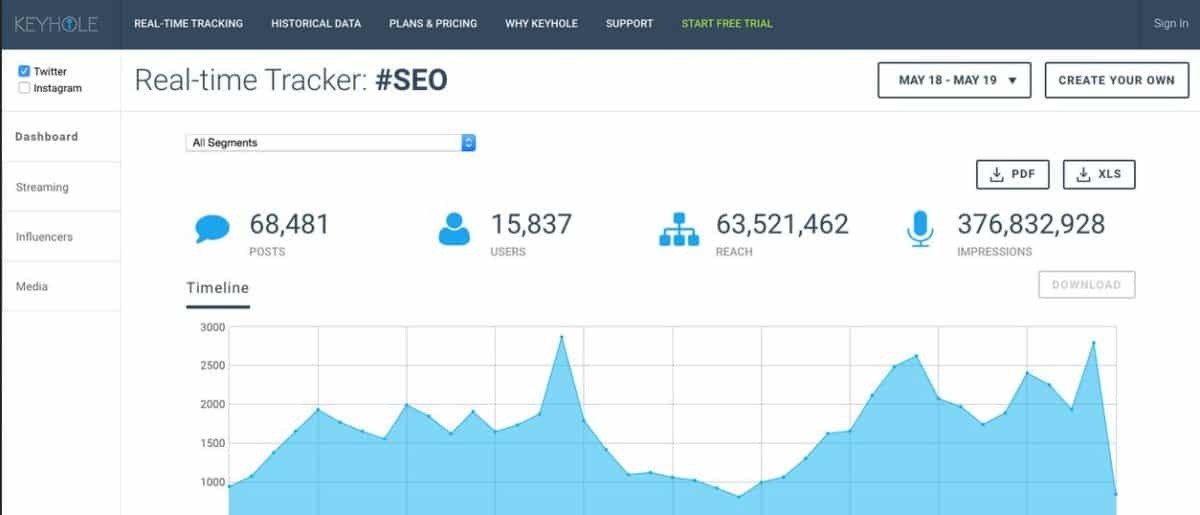 11. VOZIQ
VOZIQ monitor online conversations of customers, competitors, and influencers and track what matters the most in real time.VOZIQ helps businesses leverage contact center customer interactions as a strategic data source for actionable intelligence about customer sentiment, intent and effort.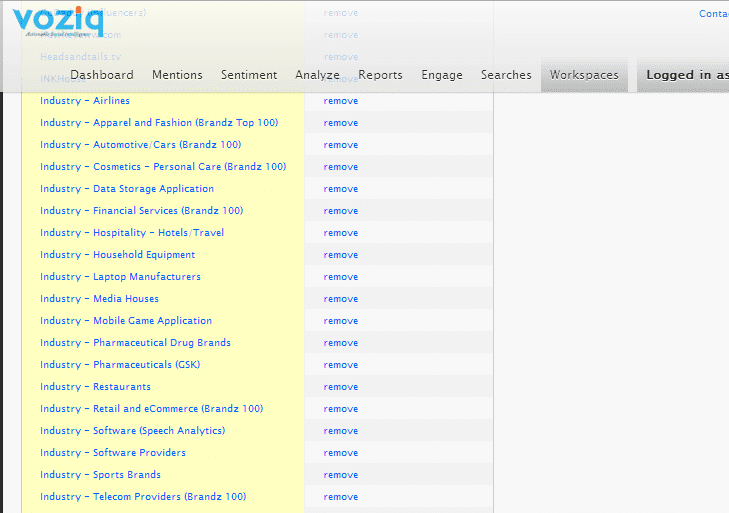 12. Socialclout
Socialclout provide access to the most comprehensive database of social conversations, with real time coverage. Provides conversations relevant to Facebook, Twitter, YouTube, Instagram, LinkedIn, Blogs, News sites or online forums. The Social Media Monitoring tool enables businesses to monitor the activities happening on various channels closely.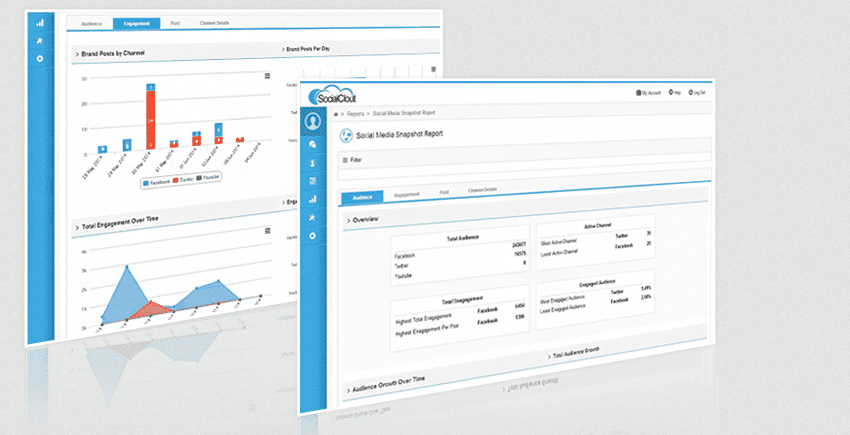 13. Sentiment
Sentiment's monitoring provides information on customer insight, lead generation and customer service.The Cloud platform empowers better customer service, identifies potential new customers and delivers new insights into their behavior with powerful analytics.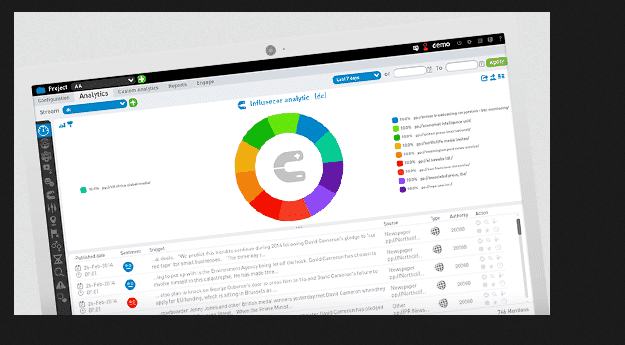 14. Webtrends
Webtrends offers a portfolio of digital solutions that help brands understand consumer behaviors and enable them to act on those insights utilizing advanced big data analytics. Webtrends see the complete picture of how they interact with your brand across any digital channel at any time and see those insights in one place.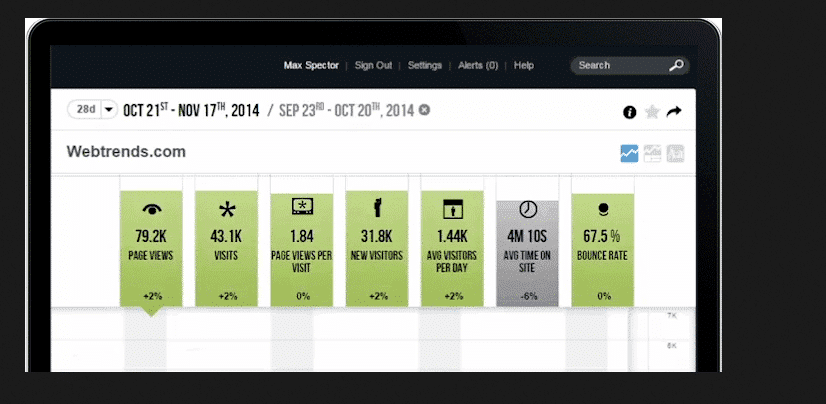 15. Brandwatch
Brandwatch provides social media monitoring and analytics platform. Users can write Queries (search strings) to pull in the data they need, and then use an advanced suite of powerful analytics tools and features to slice and dice the data to get actionable insights.
16. Lithium
Lithium provides social solutions for marketing, commerce, support and innovation.Lithium helps companies grow brand advocacy, drive sales, reduce costs and accelerate innovation to create social communities that redefine the customer experience.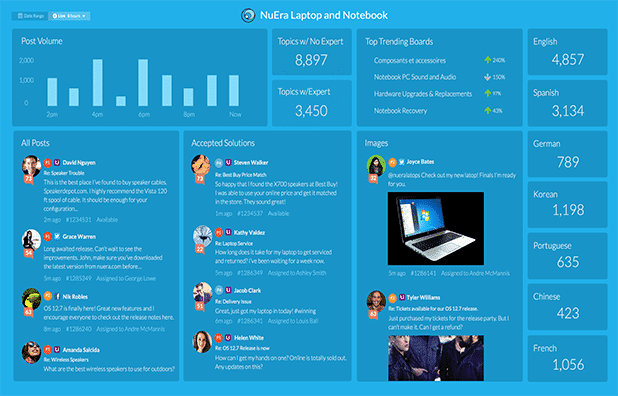 17. Integrasco
Integrasco offers social media intelligence for accurate and tangible measurement of Brand, Product and Service Tracker, Competitive Tracker, Launch Tracker and Campaign Tracker.Integrasco go way beyond Social Media reporting to empower you to understand what really drives your consumers and how this impacts on your brand.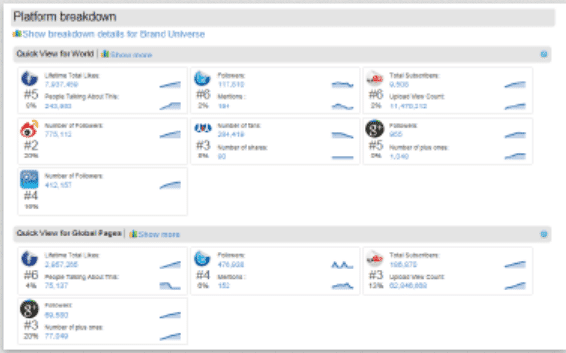 18. Trackur
Trackur offers affordable social media monitoring tools for individuals, small companies, large corporations & agencies.Trackur scans hundreds of millions of web pages including news, blogs, video, images, and forums and lets you know if it discovers anything that matches the keywords that interest you.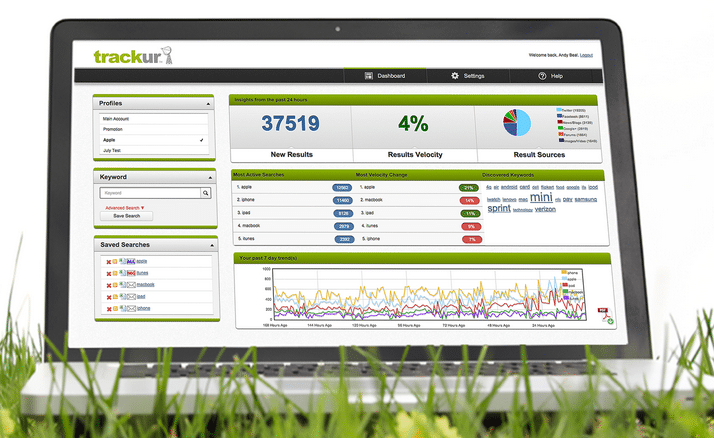 19. Bottlenose
Bottlenose understand how the brand is perceived across broadcast news, talk, sports, reality and dramatic programming. Bottlenose track everyone who talks about brand or any topic of interest and visualize audience interests, geography, languages, gender, ethnicity, activity and content trends.
20. Synthesio
Synthesio provides solutions to get complete coverage of both social and mainstream media worldwide, with large scale data aggregation system designed to collect, store, and index massive amounts of content across the entire web in real time.Synthesio helps teams listen to, and analyze, consumer conversations across social and mainstream media within one platform.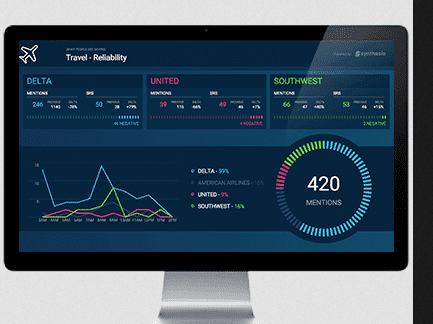 21. Tracx
Tracx manage and monitor all social media activity. Using Tracx unique workflow management, entire teams across numerous departments can all be included in enterprise social business issues with advanced routing and assigning.
22.Talkwalker
Talkwalker is one of the leading social data intelligence companies, its technology enhances the speed and accuracy of decision-making through real-time social media listening and multi-faceted social media analytics. Along with social data intelligence platform, Talkwalker also has easy-to-use free solutions such as Talkwalker Social Search, an instant social media search engine, and Talkwalker Alerts, a robust replacement to Google Alerts.
23.Sprinklr
Sprinklr is a social media management platform is purpose built for enterprise deployment and integration. It makes social media a core function for every one of your business lines, including Sales, Marketing, Customer Service, PR, Events, and Crisis Management.
24. Socialbakers
Socialbakers provides solutions for monitoring and tracking tools for analysis of social networks that are used for comparing social media stats and metrics.
25. Cision
Cision Public Relations (PR) Edition and Cision Social Edition were designed to meet the needs of communicators who demand comprehensive and seamlessly integrated solutions for ever-changing media landscape.
26. Simply Measured
Simply Measured provides solution to easily access and analyze all your social media data, from one central location.They provide reporting should be simple, beautiful, and accessible for everyone not just data scientists and streamlines the process of moving social media data into dashboards and other deliverables.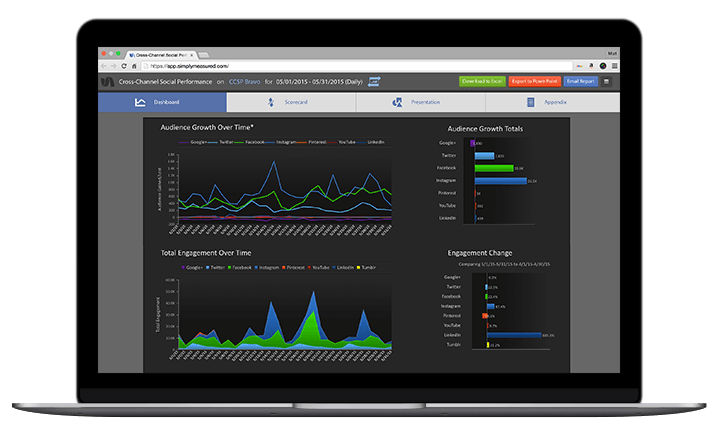 27. Opera Solutions
Opera Solutions provides Signal Products to deliver market-tested Signals, along with integrated data and machine learning science, in solutions designed for rapid deployment and easy integration with existing systems and work processes. The signal products are Hospital Staffing Optimization, Hospital Revenue Leakage, Mobiuss Front Office, Mobiuss Portfolio, SignalSensor and Signalytics.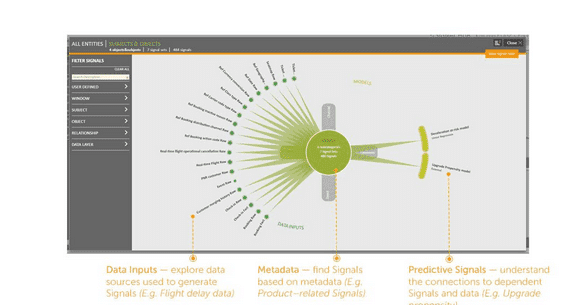 28. Crimson Hexagon
Crimson Hexagon's Forsight platform charts social sentiment using an advanced data visualization and categorization model that reveals this vital data and more. Crimson's BrightView algorithm uses an ensemble of patented methods to analyze the conversation holistically and contextually.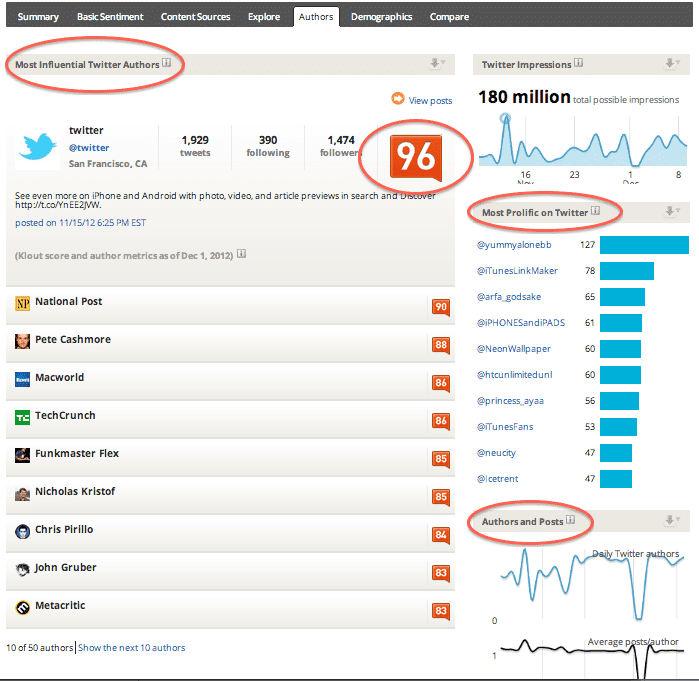 29. Beevolve
Beevolve offers social media analytics for SMB's to monitor their brand mentions, schedule and launch social media posts and measure resulting sales and engagement for those posts.

30. Buzzcapture
Buzzcapture provides solutions for monitoring and analysing of social media. Buzzcare is a user-friendly web-based application, that constantly collects all relevant communications from social media channels so that the online customer care team can take appropriate action
31. Bazaarvoice
Bazaarvoice's technology platform engages consumers, increases sales, and protects loyalty through authentic ratings and reviews, Q&A, and brand-relevant photos, videos, and social posts. Interactions across the Bazaarvoice network yield insights on past, present, and future shopping behavior, enabling marketers to identify competitive advantage
32. SDL Social Intelligence
SDL provides Social Intelligence for Optimizing the Customer Experience with data driven solutions. SDL Social Intelligence helps companies build relevant digital experiences that deliver transformative business results on a global scale.
33. Spredfast
Spredfast provides an open social software platform that connects every business in the world to the people they care about smart social technology and processes 650 million pieces of social content per day, giving brands the visibility, context, and tools that need to make every consumer touch point better.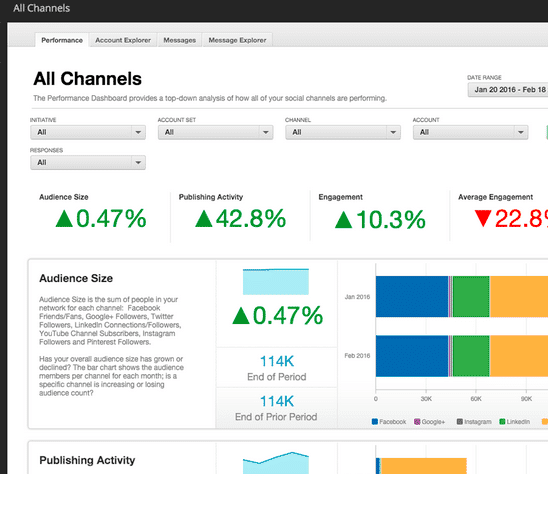 34. TrackMaven
TrackMaven helps to optimize your content strategy, analyze campaign effectiveness, and report to your executive stakeholders across the full spectrum of your digital properties, including social media, blogs, email, news, digital advertising, and SEO.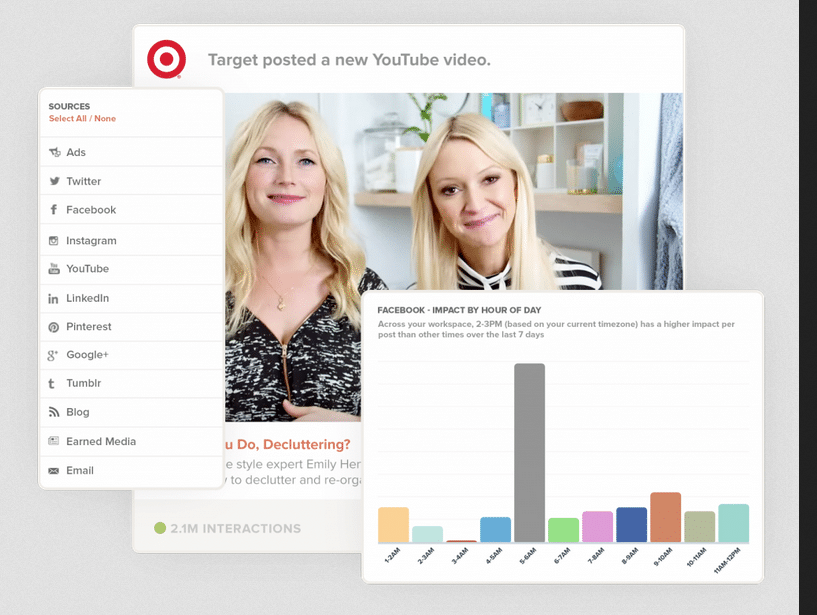 35. Klear
Klear is a social intelligence platform that helps to do smarter marketing . Social media listening, analytics and reporting and to find and create relationships with the top influencers in your sector and build your community.
36. Rival IQ
Rival IQ delivers analytics and competitive intelligence to help digital marketers make informed decisions, improve results, and better understand competitors. Using benchmarks and comparative analysis, Rival IQ enables digital marketers to uncover new opportunities, identify trends, and track results across all major social channels and the web.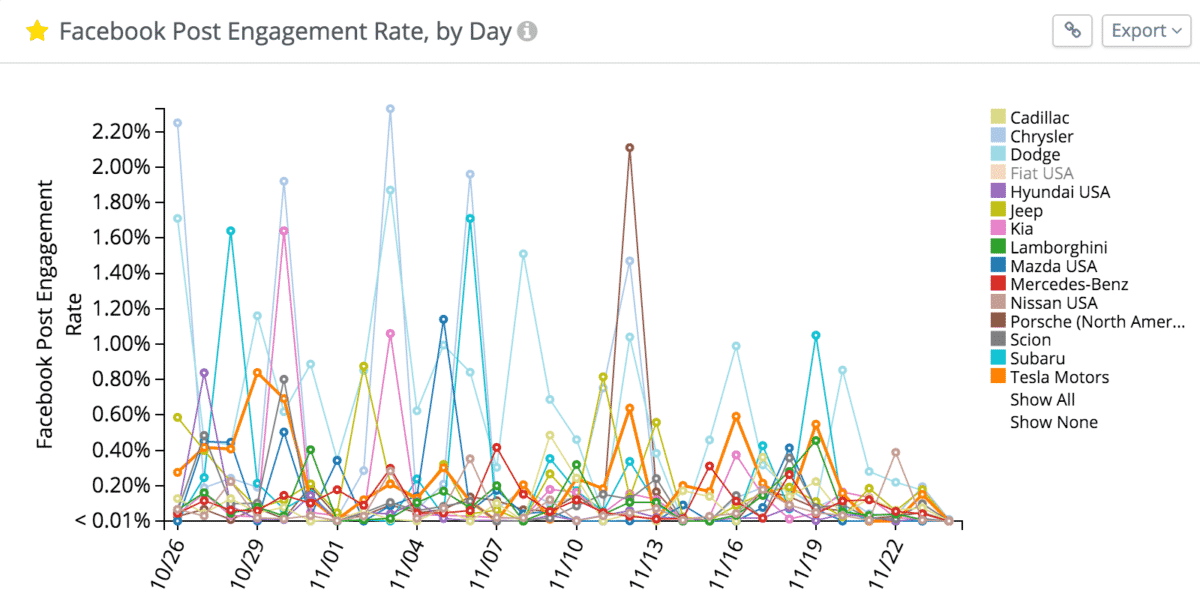 37. Sotrender
Sotrender interprets data, giving the simple tips and a call to action, as well as pointing out where you can find even more information. Provides all aspects of social media measurement: reach, engagement, audience, content, customer service and admin activities.
38. MediaVantage
MediaVantage is a secure web application that delivers real-time media monitoring and provides the tools and intelligence you need to paint a complete picture of your PR success.
39. Attentio
Attentio Industry Dashboard product provides all of our industry insight wrapped up in a straightforward subscription access package. Log in daily to get updates on the key movements of your industry, with attractive, useful visualizations, and easy-to-understand, directly actionable conclusions.
40. Social Crawlytics
Social Crawlytics find out where your and competitor's content is being shared and promoted and monitor, schedule and analyse social sharing metrics in one intuitive dashboard.

41. IBM Social Media Analytics
Built on IBM analytics platform, IBM Social Media Analytics, analyze social media data about products, services, markets, campaigns, employees, and partners. IBM Cognos Consumer Insight (CCI) provides a set of tools for measuring sentiment and analysing preferences and interests within social media data that helps organisations understand market perceptions of their brands, categories, and competitors.
42. SAS Social Media Analytics
SAS Social Media Analytics includes features for Data Management, Data and Text Mining, Media Intelligence Portal, Media Analyst Workbench, Conversation Center and many other integration features .
43. Adobe Social Analytics
Adobe Social helps you see and predict what customers like, talk about, and share most. Adobe Social monitors over 100 engagement metrics, filters social listening data by keywords and sentiment, and ties it all back to website activity so you can see which days, times, and types of content spark the most engagement. The features include Posting analytics, Comprehensive reporting filters, Predictive insights and Competitive analytics.
44. Clarabridge Social Analytics
Clarabridge Social analyzes data from sources including social media and online review sites, social CRM data, and input from leading aggregators like Sysomos and Radian6. It integrates with existing workflow engines, social engagement applications, and business intelligence tools to make social analytics an integral part of the operations. Clarabridge filters out spam and noise to reveal opportunities to fix negative customer experiences and capitalize on positive ones.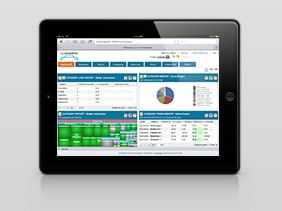 45. Attensity Social Analytics
Attensity Social Analytics portfolio includes, Attensity Pipeline, Attensity Analyze, Attensity Command Center and Attensity Respond. The Attensity Pipeline normalizes all data into a common JSON format to make consuming the data much simpler, allowing the Pipeline to act as a single social data feed for the entire enterprise. Results from the Attensity Pipeline are fed to Attensity Analyze, including its Attensity Command Center component for real-time social analytics.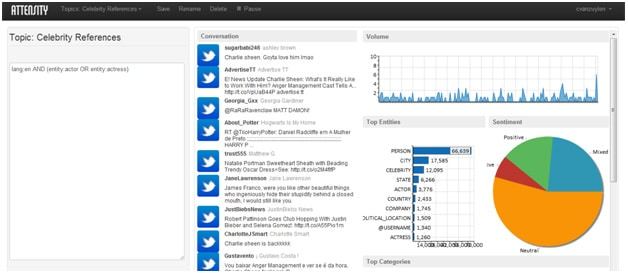 46. GoodData
GoodData provides applications such as Sales Analytics, Marketing Analytics, Box Analytics, Yammer Analytics and Service Analytics. GoodData Box Analytics is a cloud-based solution that helps administrators develop a holistic view of how their organization shares and manages content. GoodData Yammer Analytics help administrators better understand a company's Yammer usage and maximize collaboration.
47. Plumlytics
Plumlytics is an omni channel marketing communication and predictive analytics solution provider, we enable brands to acquire, serve and nurture audiences.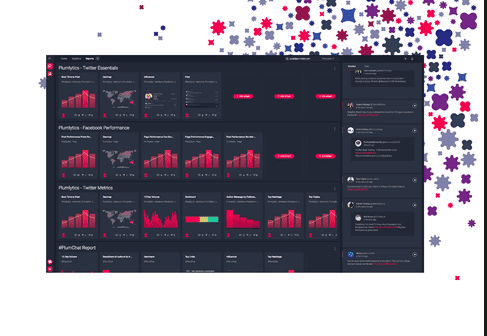 48. Oracle Social Analytics
Oracle Social Engagement & Monitoring Cloud Service provides listening, engagement and analysis capabilities across social channels to help you better understand your customers and be more engaging.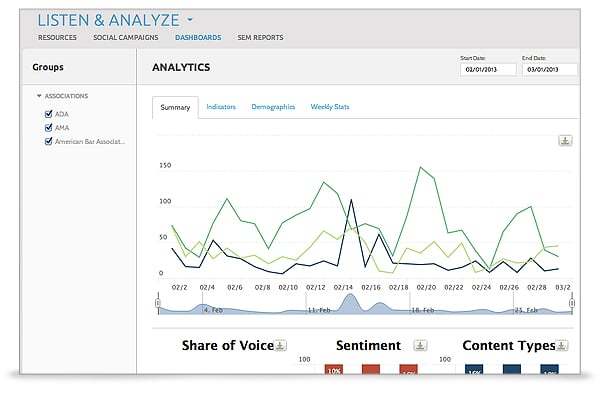 49. Salesforce.com
Salesforce.com provides Radian6,Social Studio and Buddy Media. Radian6 identify and analyze conversations about your company, products and competitors with the leading social media monitoring and engagement tools. Buddy Media empower marketers with tools to manage and schedule posts and publish content. Radian6 is part of Salesforce's Marketing Cloud, a suite of capabilities designed to help organizations manage all of their social marketing activities.
Social Studio helps you build more meaningful relationships with customers by tapping into the power of social media in your marketing, customer service, and sales organizations. Harness social conversations to listen, analyze, publish, and engage with your customers, on a 1:1 basis.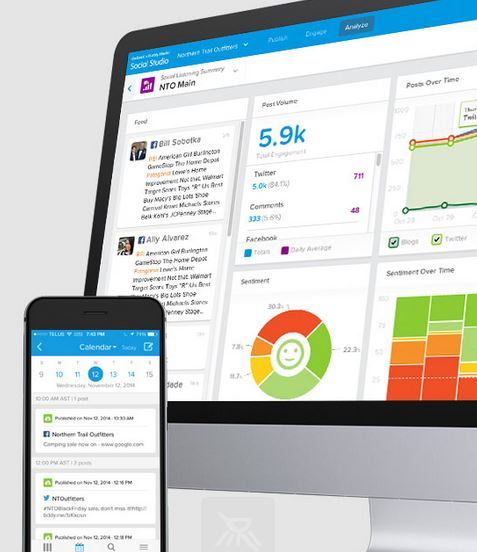 50. Nielsen Social
Nielsen Social is the leading provider of social TV measurement, audience engagement and advertising effectiveness solutions for TV networks, agencies and advertisers.Nielsen's Watch segment provides media and advertising clients with Total Audience measurement services across all devices where content—video, audio and text—is consumed. The Buy segment offers consumer packaged goods manufacturers and retailers the industry's only global view of retail performance measurement.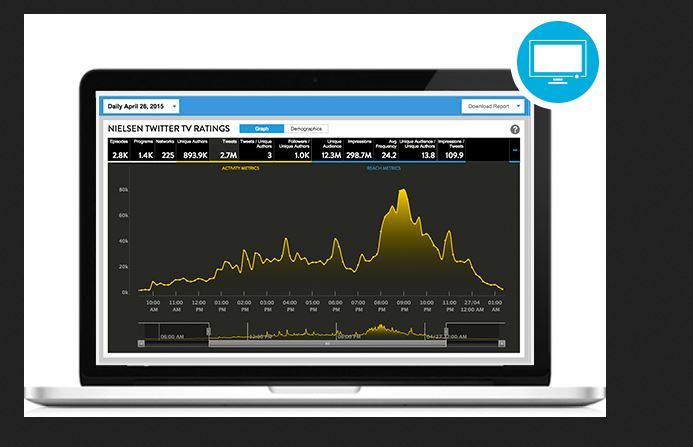 51. Hootsuite
Hootsuite is a social relationship platform that empowers users to execute social media strategies across their organizations.Create custom, targeted streams to see the conversations relevant to you as they unfold. Then engage with your audiences quickly and consistently across your organization.
52. Mention
Mention changes the way you monitor the web. Create keyword-based alerts on your company, your brand, your competitors, and receive updates in real time about any mentions on the web and social networks. React to your audience, collaborate with your team, and get analytics on your mentions.
53.Sprout Social
Sprout's platform offers users the ability to integrate with Twitter, Facebook, LinkedIn, Instagram, Google+, Zendesk, UserVoice, Feedly and Google Analytics. Sprout helps brands communicate with customers on social channels, collaborate across teams and measure the effectiveness of their efforts.
54.Zoho Social
Zoho Social let to manage multiple social networks, schedule unlimited posts, monitor keywords, and collaborate with your team all from a single dashboard.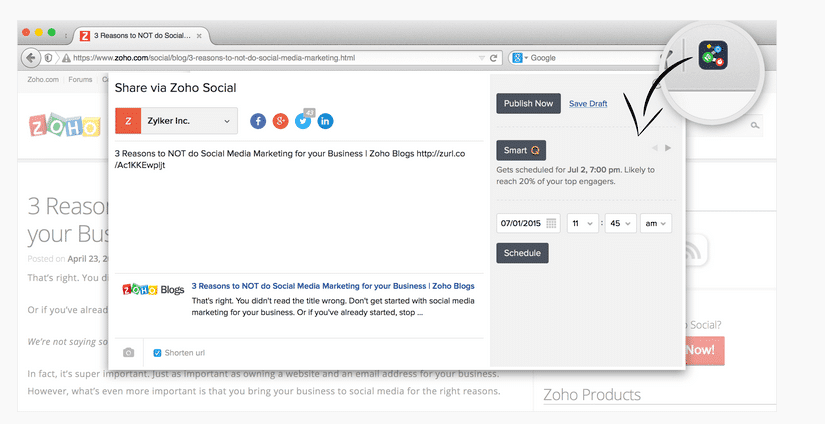 55.SumAll
SumAll lets you connect unlimited Facebook, Instagram, Twitter and Google Analytics accounts for you and your clients.SumAll reliably provides stunning and comprehensive reports to monitor and drive social media success.
You may also like to review the Top Free Social Media Management and Analytics Software list:
Top Free Social Media Management and Analytics Software