Top 15 Qualitative Data Analysis Software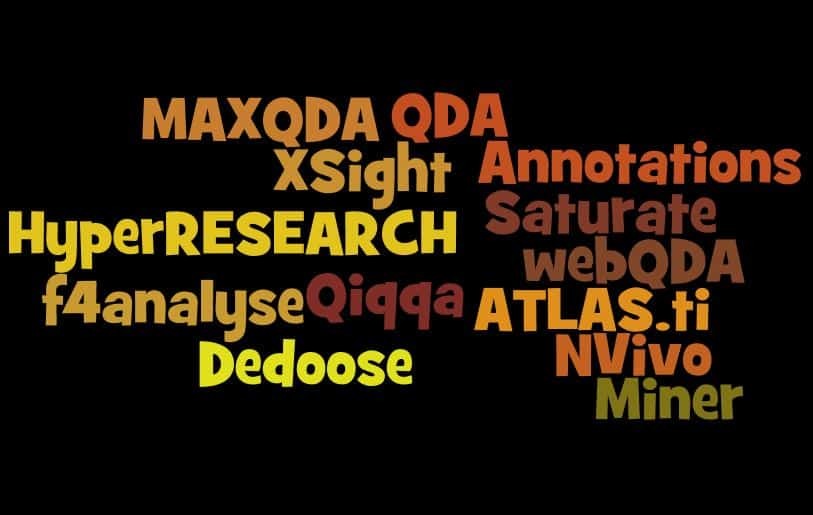 Top 15 Qualitative Data Analysis Software : Qualitative Data Analysis Software provides tools to assist with qualitative research such as transcription analysis, coding and text interpretation, recursive abstraction, content analysis, discourse analysis, and grounded theory methodology. CAQDAS is Computer assisted qualitative data analysis. Computer assisted qualitative data analysis Qualitative Data Analysis Software are used in health care, legal, sociology, anthropology, music, geography, geology, forensics, tourism, criminology marketing, education, theology, philosophy, history, market research, focus group analysis and most other fields using qualitative research approaches. The data types in qualitative research includes face to face interview, telephone interview, email interview, internet interview, focus groups, nominal groups, delphi groups, observation notes and document collation. QDA Miner, ATLAS.ti, HyperRESEARCH, MAXQDA, NVivo, Qiqqa, XSight, Quirkos, Dedoose, webQDA, f4analyse, Annotations , Saturate, Raven's Eye, Focuss On are some of the top Qualitative Data Analysis Software in no particular order.
You may also like to review the Top Free Qualitative Data Analysis Software software list:
Top Free Qualitative Data Analysis Software
Top 15 Qualitative Data Analysis Software
QDA Miner, ATLAS.ti, HyperRESEARCH, MAXQDA, NVivo, Qiqqa, XSight, Quirkos, Dedoose, webQDA, f4analyse, Annotations , Saturate, Raven's Eye, Focuss On.
1. QDA Miner
QDA Miner is a mixed methods and qualitative data analysis software developed by Provalis Research. The program was designed to assist researchers in managing, coding and analyzing qualitative data. QDA Miner features include import different formats of documents and images such as PDF, Word, Excel, HTML, RTF, SPSS files, JPEG, etc, text retrieval tools such as eyword Retrieval, Query-by-Example, Cluster Extraction. Also includes statistical functions such as coding frequencies, cluster analysis, coding sequences, coding by variables and visualization tools such as multidimensional scaling, heatmaps, correspondence analysis graphic, proximity plot. GeoTagging (GIS) and Time-Tagging tools and report manager tool to store queries and analysis results, tables and graphs, research notes and quotes.
Dataiku DSS is the collaborative data science platform that enables teams to explore, prototype, build, and deliver their own data products more efficiently. Dataiku DSS provides an interactive visual interface where they can point, click, and build or use languages like SQL to data wrangle, model, easily re-run workflows, visualize results, and get up-to-date insights on demand. Dataiku DSS provides tools to draft data preparation and modelisation in seconds, that wish to leverage their favorite ML libraries (scikitlearn, R, MLlib, H2O, and so on), and that rely on automating their work in a completely customizable interface. Data Ops.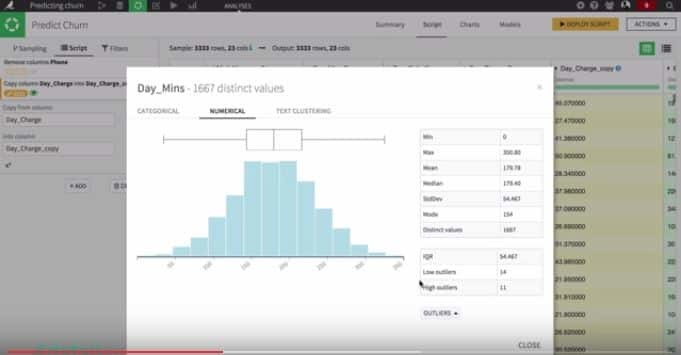 2. ATLAS.ti
ATLAS.ti is a tool for qualitative research with managed documents, multi-document view, high-performance multimedia engine, intuitive margin-area coding for all data types, and much more. ATLAS.ti uncover and systematically analyze complex phenomena hidden in unstructured data such as text, multimedia, geospatial. The program provides tools that let the user locate, code, and annotate findings in primary data material, to weigh and evaluate their importance, and to visualize the often complex relations between them. ATLAS.ti consolidates large volumes of documents and keeps track of all notes, annotations, codes and memos in all fields that require close study and analysis of primary material consisting of text, images, audio, video, and geo data. In addition, it provides analytical and visualization tools designed to open new interpretative views on the material.
3. HyperRESEARCH
HyperRESEARCH is a qualitative data analysis software which enables coding and retrieval of source material, theory building, and analyses of text, graphics, audio, and video sources data. HyperRESEARCH offers the intuitive case-based interface on all supported platforms and supports Case-base or Source-based qualitative methodologies or combinations. With flexible organization of codes from any source to any case, support for code frequencies and other code statistics, it is well suited for mix-method approaches to qualitative research.
4. MAXQDA
MAXQDA is a computer assisted qualitative and mixed methods data, text and multimedia analysis software. Teamwork function allows one to create a detailed protocol of all operations performed by each team member. All data is stored in one .mx5 (Windows) or .mx11 file (Mac) and text retrieval tool fx manager offers complex retrieval functions.Memos can be used to document all ideas and insights that come up while working on the text and can be easily organized with the Memo System. MAXMaps and other program functions, like the Document Portrait, the Code-Matrix-Browser, the Code-Relations-Browser, the Codeliner and the Document Comparison Chart offer a wide range of options for data visualization. Also provides user-defined variables can be set, edited in crosstabs and exported to SPSS and Excel and lexical search and functions of quantitative analysis with add-on MAXDicto.
5. NVivo
NVivo is a qualitative software for qualitative researchers working with very rich text-based and/or multimedia information, where deep levels of analysis on small or large volumes of data. NVivo is intended to help users organize and analyze non-numerical or unstructured data. The software allows users to classify, sort and arrange information; examine relationships in the data; and combine analysis with linking, shaping, searching and modeling.
The researcher or analyst can test theories, identify trends and cross-examine information in a multitude of ways using its search engine and query functions. NVivo supports data formats such as audio files, videos, digital photos, Word, PDF, spreadsheets, rich text, plain text and web and social media data.
6. Qiqqa
Qiqqa is a freemium reference management software that allows researchers to work with thousands of PDFs and combines PDF reference management tools, a citation manager and a mind map brainstorming tool. Qiqqa integrates with Microsoft Word XP, 2003, 2007 and 2010 and BibTeX/LaTeX to automatically produce citations and bibliographies in thousands of styles.
7. Quirkos
Quirkos make qualitative data analysis software more visual and easier to learn. Everything is visual, colourful and engaging and the same intuitive interface and features across Windows, Mac, Android or Linux.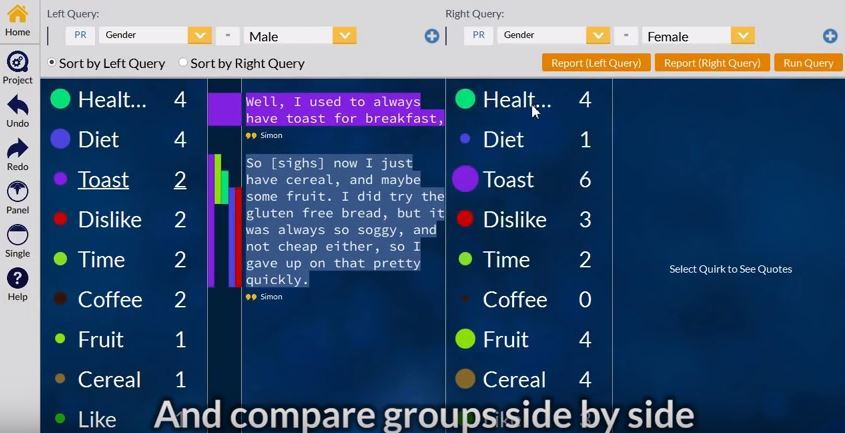 8. XSight
XSight is a qualitative data analysis software which assists in non numerical or unstructured data to compile, compare and make sense of their information. It provides a range of analysis frameworks for importing, classifying and arranging data; tools for testing theories and relationships between items; and the ability to visually map and report thoughts and findings. XSight is designed for rapid analysis, and can handle small or large volumes of data and search and query tools support the review and reflection process and users can look for patterns, make comparisons, and interrogate the data in seconds.
9. Dedoose
Dedoose is a web application for mixed methods research qualitative data analysis software and is a cross platform app for analyzing qualitative and mixed methods research with text, photos, audio, videos, spreadsheet data. Dedoose and EthnoNotes have gained recognized for their integration of qualitative and quantitative data analysis methods in combination with interactive data visualizations.
10. webQDA
webQDA is a software to support the analysis of qualitative data in a collaborative and distributed environment. Although there are some software packages that address non-numeric and unstructured data(text, image, video, audio) in qualitative analysis, there are few that can be used by several researchers in a collaborative work environment and distributed as the Internet can offer. webQDA is a software directed to researchers in different contexts, that need to analyze qualitative data, individually or collaboratively, synchronously or asynchronously. The software is available in Portuguese, Spanish and English and is now being used in over 10 countries. webQDA application was developed respecting HTML5 standard and therefore is supported by common Internet browsers (Internet Explorer, Firefox, Safari, Chrome, Opera).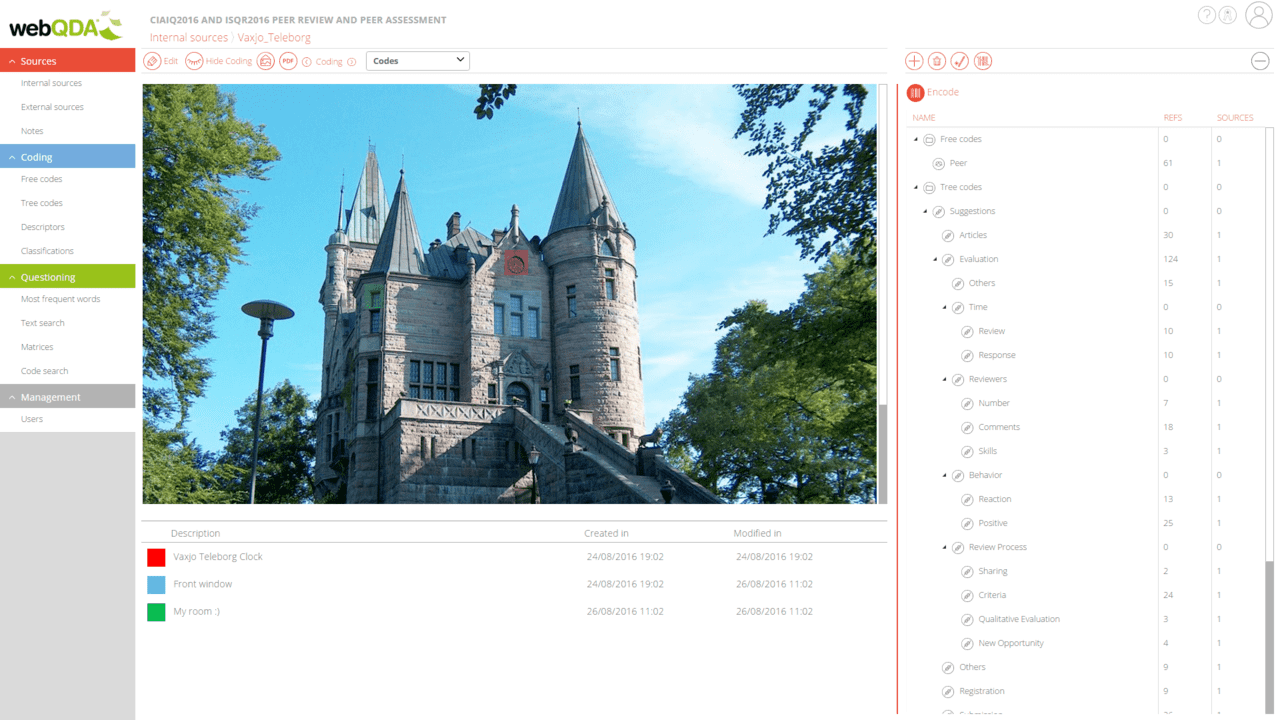 11. f4analyse
f4analyse is an easy to learn QDA software for research projects which supports the analysis of word processing files by providing functions for coding, memoing, retrievals, and frequency analyses.
12. Annotations
Annotations is a Mac application that simplifies adding and managing notes to texts while keeping the documents clear and readable making it the perfect helper for researchers, students and other data analysts.
13. Saturate
SaturateApp is a tool to analyze text and audio files, in which own codes can be created. As a web app, it is particularly useful for team projects allowing multiple team members to contribute to coding interview transcripts. All the coding can be exported as a collection of CSV files, which can be imported into a spreadsheet.
14. Raven's Eye
Raven's Eye is an online natural language analysis tool based on Quantitative Phenomenology. Raven's Eye provides its users with dynamic, powerful, and instantaneous automated analyses of written language. It facilitates an incomparably intimate and multifaceted understanding of people, as well as the ability to speak to them in highly resonant ways.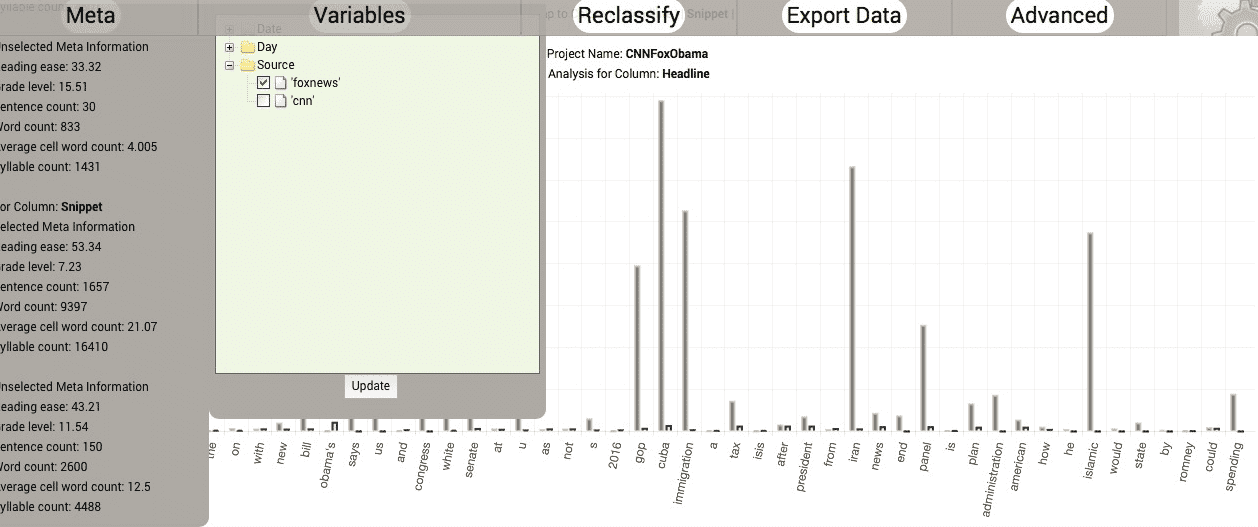 15. Focuss On
Focuss On provides a fast and transparent way to organize extensive text, indicating the most frequent topics and easily find important quotes. It is a tool that allows to make a detailed and automated analysis, which through the statement indicates, the most important topics in the text and how often was mentioned about them. The tool will allow for tagging the most important for the content with the ability to easily check the relationship between categories.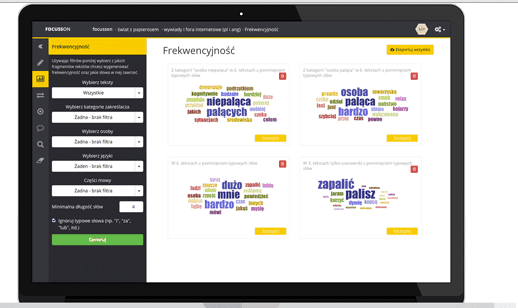 You may also like to review the Text Analysis, Text Mining, Text Analytics proprietary software list:
Top software for Text Analysis, Text Mining, Text Analytics
You may also like to review the Text Analysis, Text Mining, Text Analytics freeware/open source list:
Top Free Software for Text Analysis, Text Mining, Text Analytics
You may also like to review the Top Free Qualitative Data Analysis Software software list:
Top Free Qualitative Data Analysis Software