Top 52 Predictive Analytics Software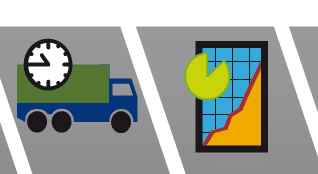 Top Predictive Analytics Software : Predictive analytics uses data mining, machine learning and statistics techniques to extract information from data sets to determine patterns and trends and predict future outcomes.
Top Predictive Analytics Software : ABM, Actian Analytics Platform, AdvancedMiner, Alpine Chorus, Alteryx Analytics, Anaconda, Angoss Predictive Analytics, CMSR Data Miner Suite, Dataiku, DataRobot, DataRPM, DMWay, Emcien, Feature Labs, FICO Model Central, GMDH Shell, GoodData, GraphLab Create, H2O.ai, HP Haven Predictive Analytics, IBM Predictive Analytics, Information Builders WebFOCUS Platform, KNIME, Lavastorm Analytics Engine, Mathematica, MATLAB, Microsoft Azure Machine Learning, Microsoft R, Minitab, Oracle Data Mining ODM, Portrait Predictive Analytics, Predixion Insight, QIWare, Rapid Insight Veera, RapidMiner, Salford Systems SPM, SAP InfiniteInsight, SAP Predictive Analytics, SAS Predictive Analytics, Skytree, STATISTICA, TIBCO Spotfire, TIMi Suite, Vanguard Business Analytics Suite, Viscovery Software Suite, XLMiner are the top predictive analytics software in alphabetical order.
Top Prescriptive Analytics Software : AIMMS, Ayata, IBM Prescriptive Analytics, LIONoso, NGData, Profitect are the top prescriptive analytics software in alphabetical order.
You may also like to review the freeware and open source predictive analytics software solutions list which is given below:
Top Predictive Analytics Freeware Software
Here is a list of some of the Top Predictive Analytics Software and Top Prescriptive Analytics Software from the notable proprietary solutions vendors of predictive modeling solutions.
Top Predictive Analytics Software
ABM, Actian Analytics Platform, AdvancedMiner, Alpine Chorus, Alteryx Analytics, Anaconda, Angoss Predictive Analytics, CMSR Data Miner Suite, Dataiku, DataRobot, DataRPM, DMWay, Emcien, Feature Labs, FICO Model Central, GMDH Shell, GoodData, GraphLab Create, H2O.ai, HP Haven Predictive Analytics, IBM Predictive Analytics, Information Builders WebFOCUS Platform, KNIME, Lavastorm Analytics Engine, Mathematica, MATLAB, Microsoft Azure Machine Learning, Microsoft R, Minitab, Oracle Data Mining ODM, Portrait Predictive Analytics, Predixion Insight, QIWare, Rapid Insight Veera, RapidMiner, Salford Systems SPM, SAP InfiniteInsight, SAP Predictive Analytics, SAS Predictive Analytics, Skytree, STATISTICA, TIBCO Spotfire, TIMi Suite, Vanguard Business Analytics Suite, Viscovery Software Suite, XLMiner are the top predictive analytics software in alphabetical order.
Dataiku DSS is the collaborative data science platform that enables teams to explore, prototype, build, and deliver their own data products more efficiently. Dataiku DSS provides an interactive visual interface where they can point, click, and build or use languages like SQL to data wrangle, model, easily re-run workflows, visualize results, and get up-to-date insights on demand. Dataiku DSS provides tools to draft data preparation and modelisation in seconds, that wish to leverage their favorite ML libraries (scikitlearn, R, MLlib, H2O, and so on), and that rely on automating their work in a completely customizable interface. Data Ops.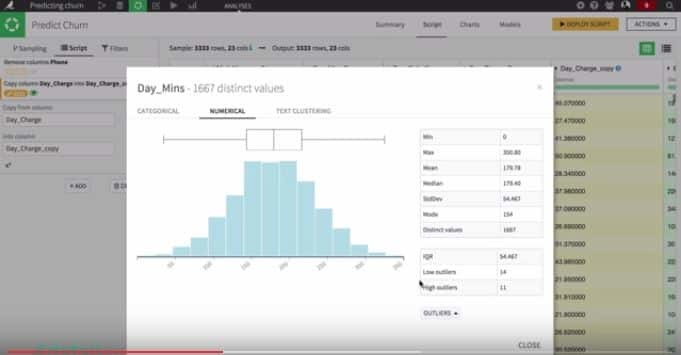 1
ABM
ABM automatically builds predictive models which forecast the future behavior of your clients. It requires no programming skills or advanced statistical knowledge of model construction. And it takes only few minutes to predict almost anything you want, whether a client will churn, buy your product, pay the loan and more.Provide ABM with historical data about your clients and their behavior. This will be the basis for ABM to learn and build predictive models. The scope of information may include: age, income, place of residence, results of previous campaigns, etc. When collecting a great amount of data about your clients it's…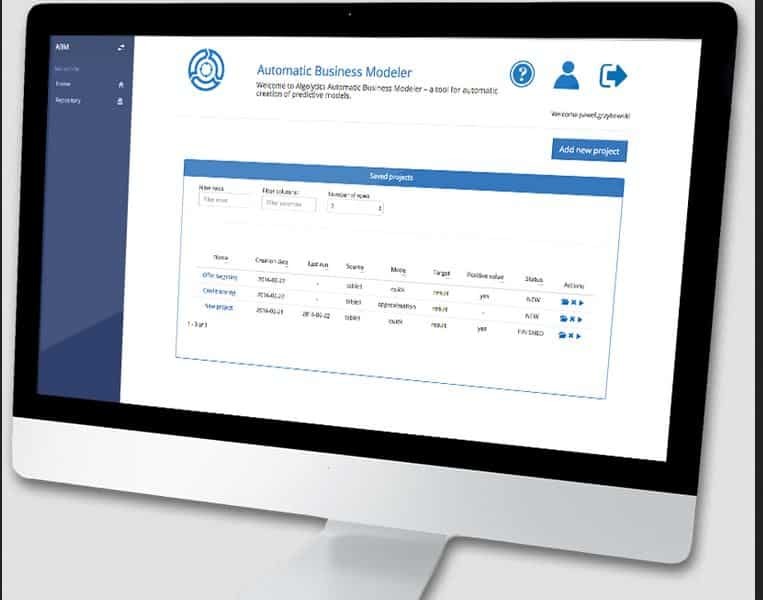 2
Actian Analytics Platform
Actian Analytics Platform provide users faster and deeper insight and reduce analytic workloads and enable business users to maximize the value of historical data and make more informed business decisions. Actian Vector makes performance so fast, you can get into production quickly without the need for OLAP cubes, schemas and complex builds of aggregations. Actian Analytics Platform run complex queries against billions of records in just seconds, deploy BI projects faster without risky, complex and costly data warehouse projects and use half the cores, experience one-quarter the cost, and twice the performance of traditional solutions. Actian Analytics Platform accelerates the…

3
AdvancedMiner
AdvancedMiner is an integrated analytical tool for data processing, analysis and modeling. With a graphical interface (Workflow) it offers a complete and user-friendly environment for data exploration. Advanced miner allows for data processing. AdvancedMiner provides features for extracting and saving data from/to different database systems and files, performing a wide range of operations on data, such as sampling, joining datasets, dividing into testing/training/validating sets, assigning roles to attributes, graphical and interactive data exploration, outlier filtering, supplying missing values, PCA, various data transformations, building association models, clustering analyses, variable importance analyses, constructing various analytical models with the use of diverse Data…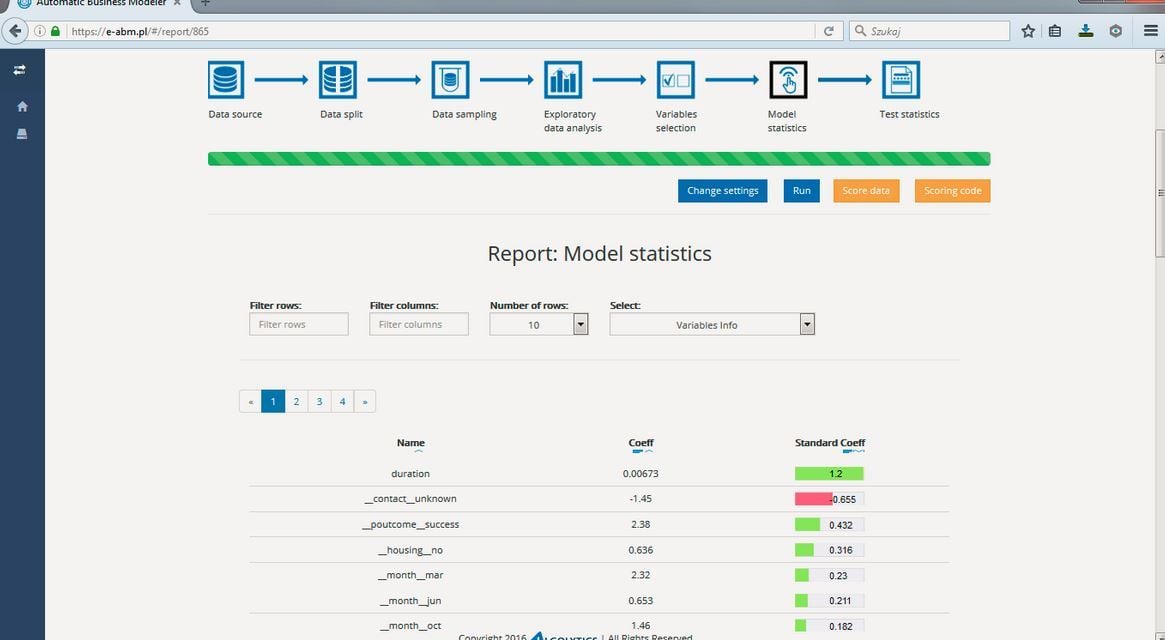 4
Alpine Chorus
Alpine Chorus is a comprehensive platform for Advanced Analytics which provides the entire analytic lifecycle in one environment, and enable people to build, deploy and consume analytic applications and insights in an agile and collaborative manner. Features include hypothesis testing and predictive modeling using full statistical functionality including Time-Series Analysis, Classification, Regression, Decision Trees and more, Data transformation, feature creation, and model building. Also curate and leverage data, models, and results securely to avoid data silos and provides end-to-end workflows cover extraction, transformation, modeling, and scoring. Alpine Chorus's visual drag-and-drop interface allows business users and data scientists…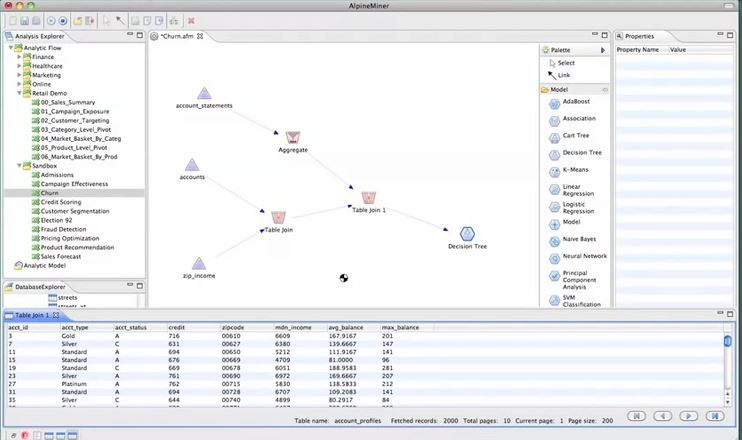 5
Alteryx Analytics
Alteryx Analytics provides analysts with an intuitive workflow for data blending and advanced analytics that leads to deeper insights .Alteryx analytics platform deeper insights by seamlessly blending internal, third party, and cloud data, and then analyze it using spatial and predictive drag-and-drop tools. There are over 30 drag-and-drop predictive tools based on the R language available in Alteryx Designer. Alteryx Analytics portfolio includes Alteryx Designer, Alteryx Server and Alteryx Analytics Gallery. Alteryx Designer allows to blend internal, third-party, and cloud-based data, build powerful R-based predictive and spatial analytics applications without any programming and share deep data insight with business decision makers. Predictive modeling techniques, such as logical regression or decision trees, clustering techniques such as K-centroid clustering and principle component analysis, data investigation techniques, such as scatter plots and association analysis- all can be included with out any programming using Alteryx Designer. Alteryx Server, scale the critical analytic workflows to meet data and analytic requirements, schedule…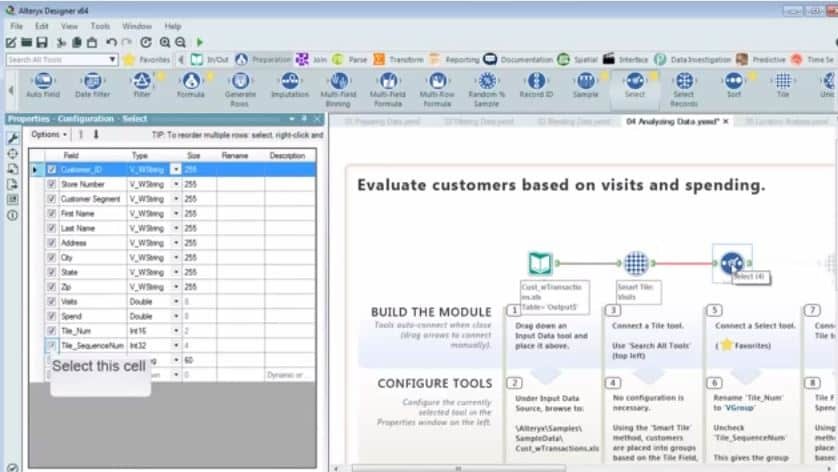 6
Anaconda
Anaconda is an open data science platform powered by Python. The open source version of Anaconda is a high performance distribution of Python and R and includes over 100 of the most popular Python, R and Scala packages for data science. There is also access to over 720 packages that can easily be installed with conda, the package, dependency and environment manager, that is included in Anaconda.Includes the most popular Python, R & Scala packages for stats, data mining, machine learning, deep learning, simulation & optimization, geospatial, text & NLP, graph & network, image analysis. Featured packages include: NumPy, SciPy,…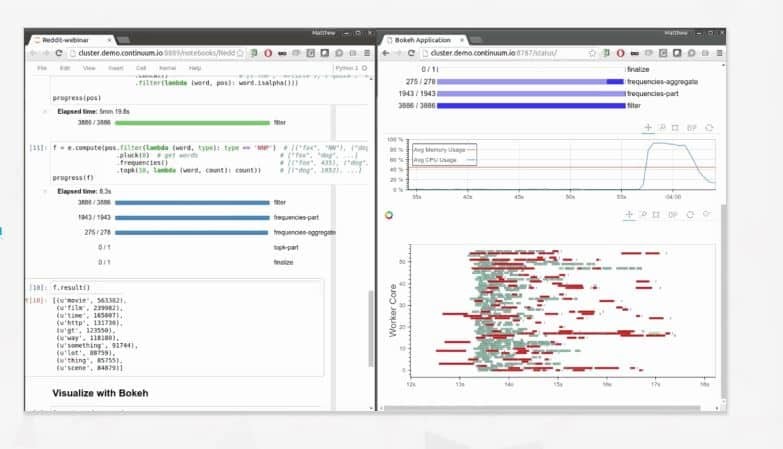 7
Angoss Predictive Analytics
Angoss software portfolio delivers predictive analytics and data mining software that helps businesses discover valuable insights from their data and uncover new opportunities. The Angoss predictive analytics software portfolio includes KnowledgeEXCELERATOR, KnowledgeSEEKER, KnowledgeREADER, KnowledgeSTUDIO, StrategyBUILDER, Big Data Analytics. Angoss KnowledgeSTUDIO has many features for data analysis and predictive analytics with many advanced modeling and predictive analytics features for high performance business users and quantitative analysts. The functionalities include Scorecards, Scoring, Text Analytics, Code Generation and Hadoop Integration.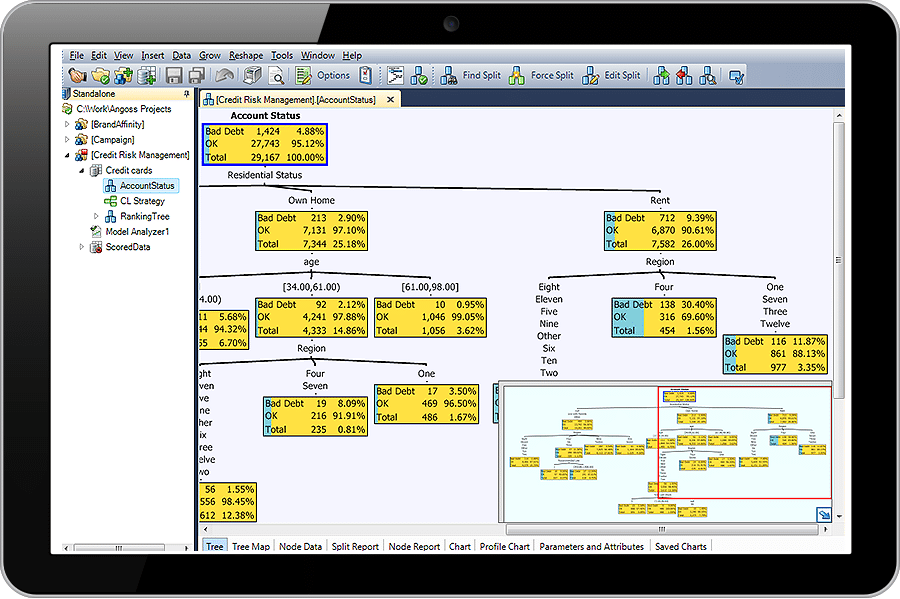 8
CMSR Data Miner Suite
CMSR Data Miner Suite provides an integrated environment for predictive modeling, segmentation, data visualization, statistical data analysis, and rule-based model evaluation. It also provides integrated analytics and rule-engine environment for advanced power users. Main features of CMSR include Self Organizing Maps (SOM) – Neural Clustering, Neural network predictive modeling, (Cramer) Decision tree classification and Segmentation, Hotspot drill-down and profiling analysis, Regression, Radial Basis Function (RBF) with rule engine and Business rules – Predictive Expert systems shell engines.RME-EP (Rule-based Model Evaluation – Event Processing) has been developed to use SQL-like language which can be learnt by business users and domain experts…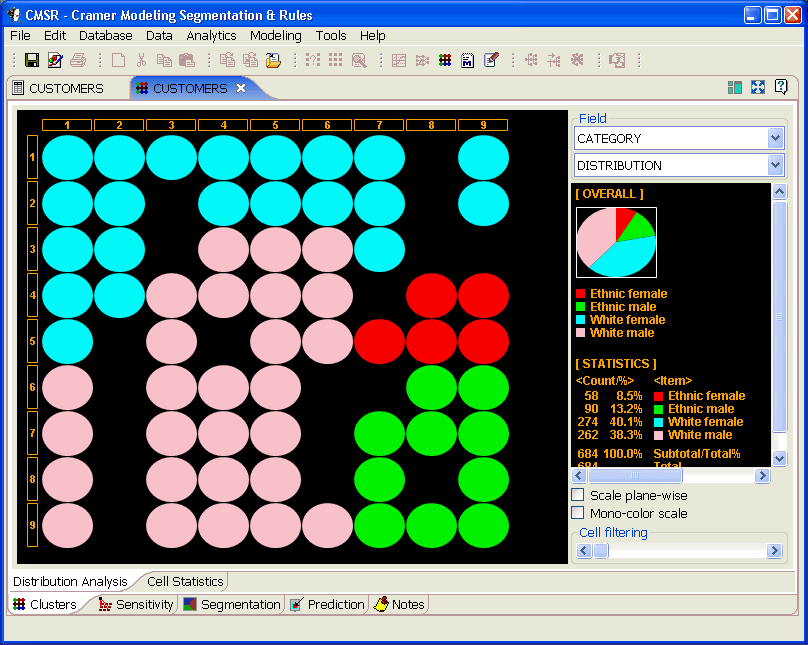 9
Dataiku
Dataiku DSS is a collaborative data science software platform that enables teams to explore, prototype, build, and deliver their own data products more efficiently. Dataiku provides interactive visual interface where they can point, click, and build or use languages like SQL to data wrangle, model, easily re-run workflows, visualize results, and get up-to-date insights on demand, draft data preparation and modelisation in seconds, leverage their favorite ML libraries (scikitlearn, R, MLlib, H2O, and so on), and automating work in a completely customizable interface, handling workflow automations, creating predictive web services, monitoring data & model health on a daily basis.Data Science Studio (DSS) is a software platform that aggregates all the steps and big data tools necessary to get from raw data to production ready application. DSS profiles the data to help to find correlations and significant variables in data with only a few clicks and trains and tests best fitting models. DSS can also publish the models and predicted values to a variety of other destinations such as ElasticSearch, FTP servers, internal Datawarehouses.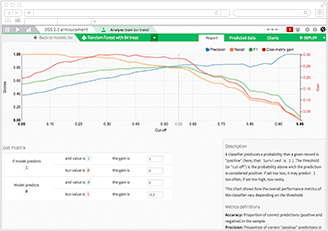 10
DataRobot
DataRobot captures the knowledge, experience and best practices of the world's leading data scientists, delivering unmatched levels of automation and ease-of-use for machine learning initiatives. DataRobot enables users to build and deploy highly accurate machine learning models in a fraction of the time. DataRobot offers a machine learning platform for data scientists of all skill levels to build and deploy accurate predictive models in a fraction of the time it used to take. The technology addresses the critical shortage of data scientists by changing the speed and economics of predictive analytics.The DataRobot platform uses massively parallel processing to train and…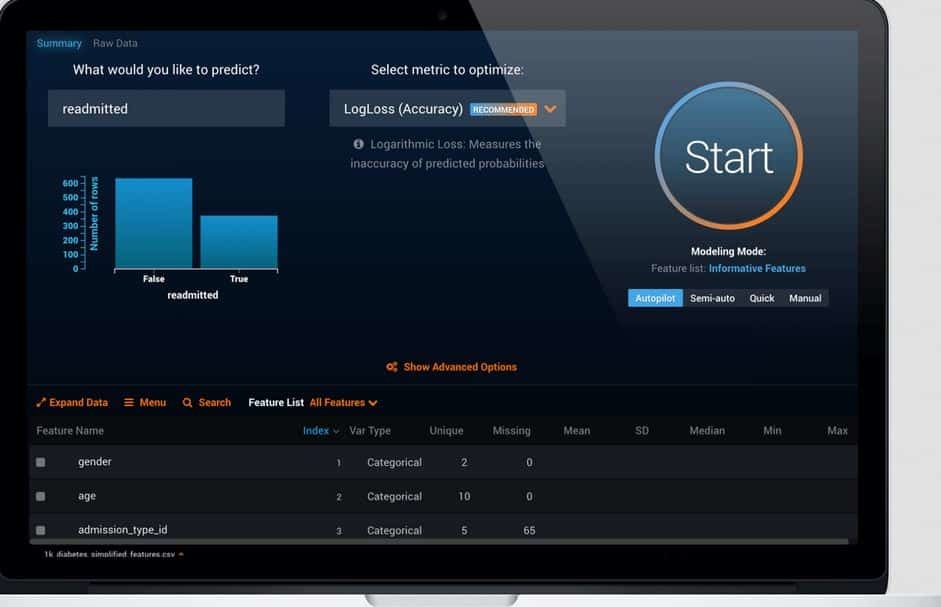 11
DataRPM
DataRPM provides an award-winning Cognitive Data Science platform on the cloud or on premises for enterprises to build data products for Predictive Analytics and Recommender Systems. Enterprises across the globe are using DataRPM to digitally transform their businesses in the core areas of Predictive Maintenance, Product Recommendations, Content Recommendations, Churn Predictions and Conversion Predictions. DataRPM prides itself in delivering the fastest and scalable automated data science platform with a natural language question answering interface which guarantees a return on investment for their customers and turns everyone in the organization into citizen data scientists. DataRPM delivers industry's only Cognitive Predictive Maintenance…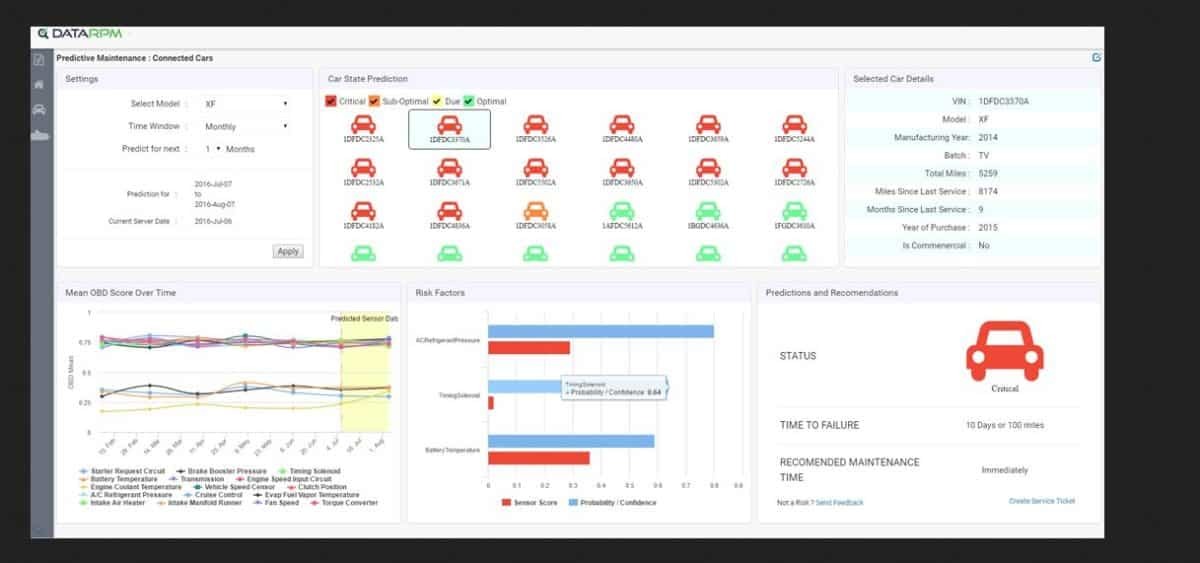 12
DMWay
The DMWay Analytics Engine is a robust solution available that provides the highest level of modeling. The Analytic engine has been designed to model the steps taken by experienced data scientists in order to build accurate and effective analytics model.This innovative solution is made possible by using an expert system approach, rather than a "robotic" approach, to build models that mimic the way that an experienced data scientist goes about when building large-scale predictive models. The DMWay scoring engine is the tool recommended for businesses seeking assistance in the deployment of the predictive analytics results provided by the Analytics Engine.…

13
Emcien
Emcien's predictive analytics software empowers your entire organization, at every level, with answers for better decision-making. It delivers the answers to your most critical business problems as clear and actionable recommendations with the underlying reasons "why" you should follow them. From Sales to Operations; beyond beautiful graphical interfaces and buzzwords, we demystify big data and make it both useful and practical to businesses worldwide. Our clients have the strategic advantage to make the right decisions, every time. The automated analytics software empowers the entire organization, at every level, with answers for better decision-making. EmcienScan turns data exploration from a slow…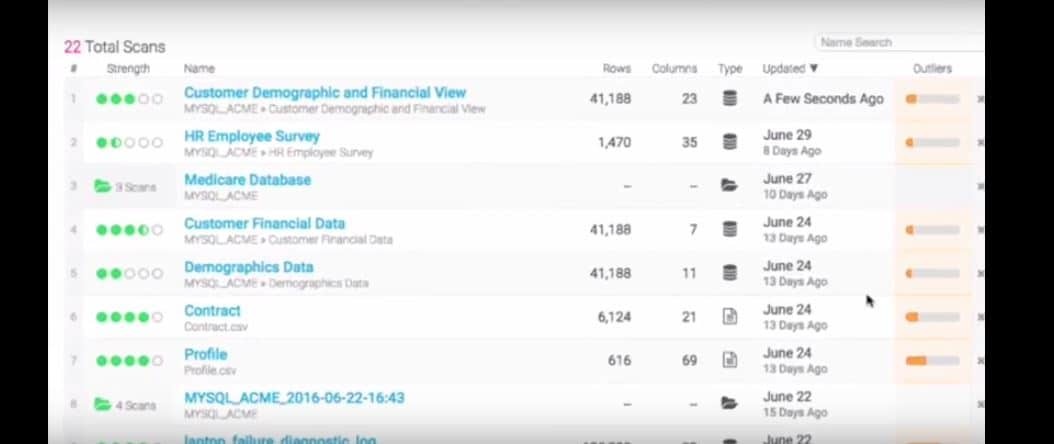 14
Feature Labs
Feature Labs enables companies to get the most out of their data by empowering data scientists and help companies achieve their data goals by combining advanced technologies with a focus on providing business value. Feature Labs enables companies to get the most out of their data by empowering data scientists and help companies achieve their data goals by combining advanced technologies with a focus on providing business value. Feature Labs provides advanced prediction and feature engineering empower the new wave of data-driven business, seamlessly unite domain expertise with advanced automation, accelerate creation of new applications and predict the future using…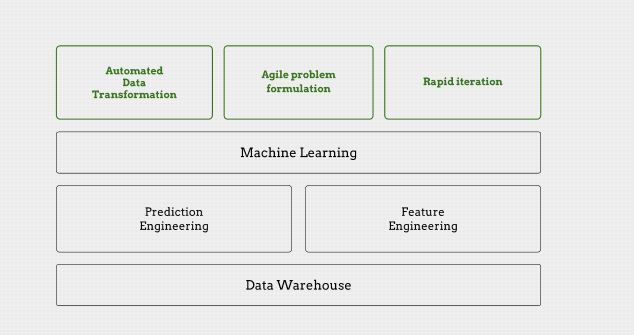 15
FICO Model Central
FICO Model Central, is a powerful analytic model management solution which provides consistent end-to-end model governance, a central repository for all of an organization's analytic models, and advanced workflow management. Analytic models are at the heart of an organization's decision-making process, and increased regulatory oversight requires that businesses employ an approved model development and monitoring process, and retain comprehensive documentation of key decisions made throughout the model lifecycle. FICO is a leading analytics software company, and provides analytics software and tools used across multiple industries to manage risk, fight fraud, build more profitable customer relationships, optimize…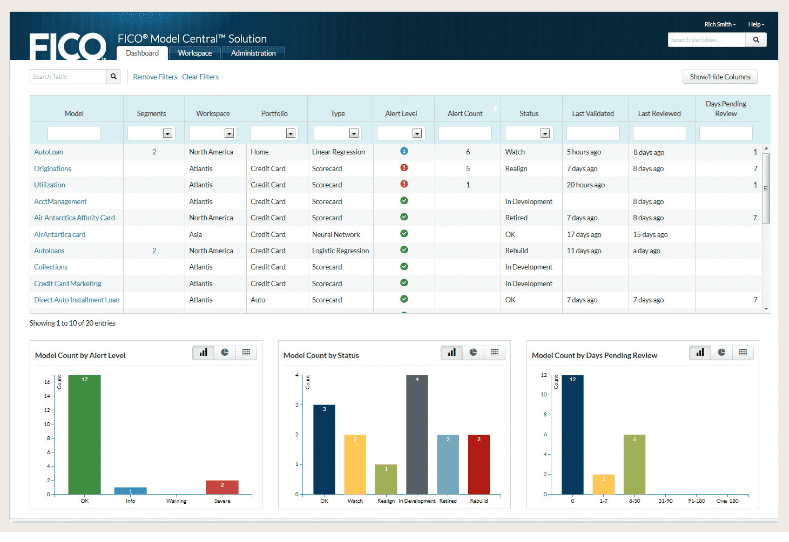 16
GMDH Shell
GMDH Shell is a Forecasting Software that optimizes company's inventory levels. GMDH Shell aligns inventory with customer's demand which can avoid shortages or excess stock, reduce inventory carrying costs and increase operating cash flow. Users are able to build an accurate forecast of demand and sales. It also matches supply to demand and build company's sales plan which promotes generating higher profits.GMDH Shell builds multivariate linear regression models with seasonal, Fourier, and trend components. Users can take advantage of the fast multivariate tools with superior optimization of core algorithms and excellent parallel processing capabilities.It's fast and intuitive user interface helps…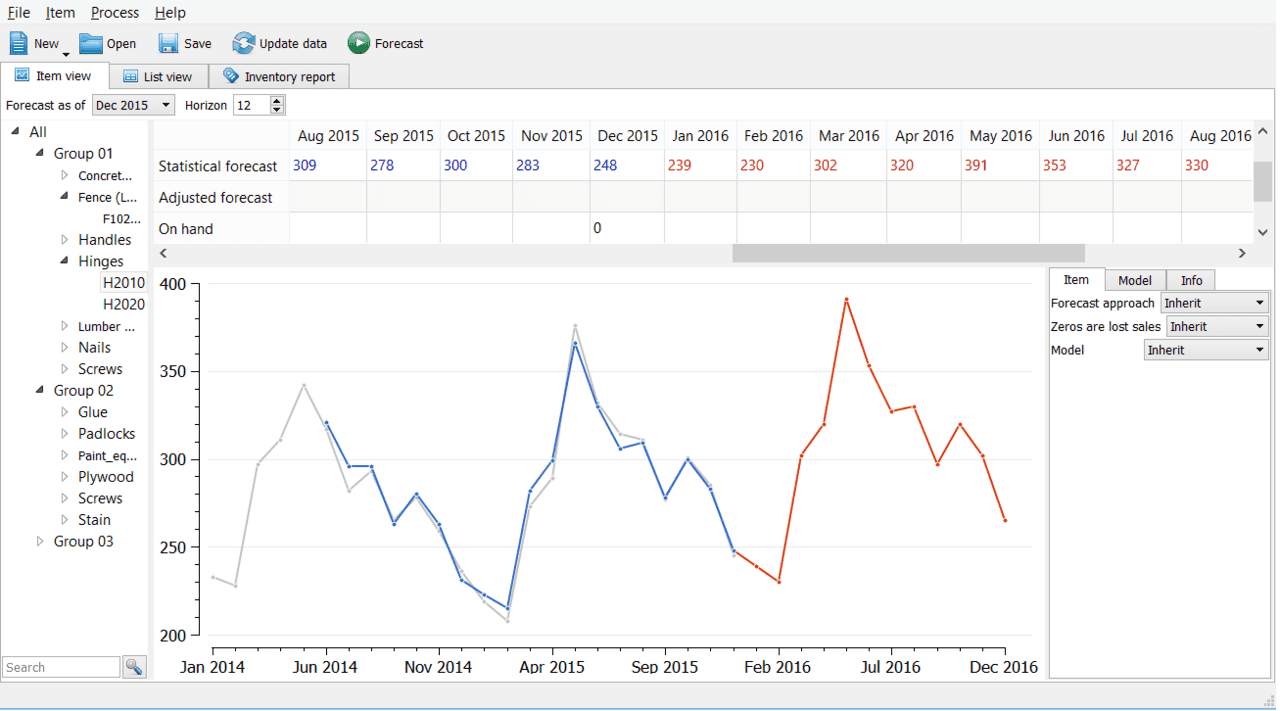 17
GoodData
The GoodData platform includes advanced distribution and product lifecycle management features to automate the process of maintaining one-to-many cloud deployments. GoodData provides a highly engaging guided analytic exploration experience that drives actionable insights by teaching users best practice techniques through recommendations inside the interface.GoodData's dashboards are responsive, mobile optimized, and include built-in alert, email and collaboration features to promote sharing across the organization GoodData provides groundbreaking BI for data monetization to enterprises, independent software vendors, and system integrators who seek to unlock the value of data for their business networks with engaging, one-to-many analytics. The intelligent analytics distribution platform enables…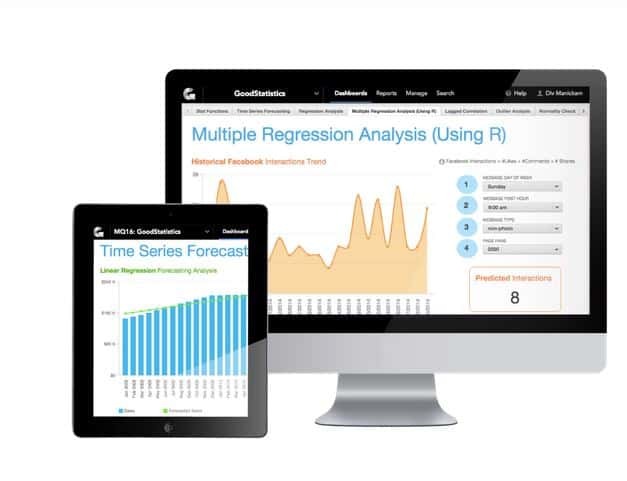 18
GraphLab Create
GraphLab Create is a machine learning platform from Dato that enables data scientists and app developers to easily create intelligent apps at scale. Building an intelligent, predictive application involves iterating over multiple steps: cleaning the data, developing features, training a model, and creating and maintaining a predictive service. GraphLab Create does all of this in one platform, which is easy to use, fast, and powerful.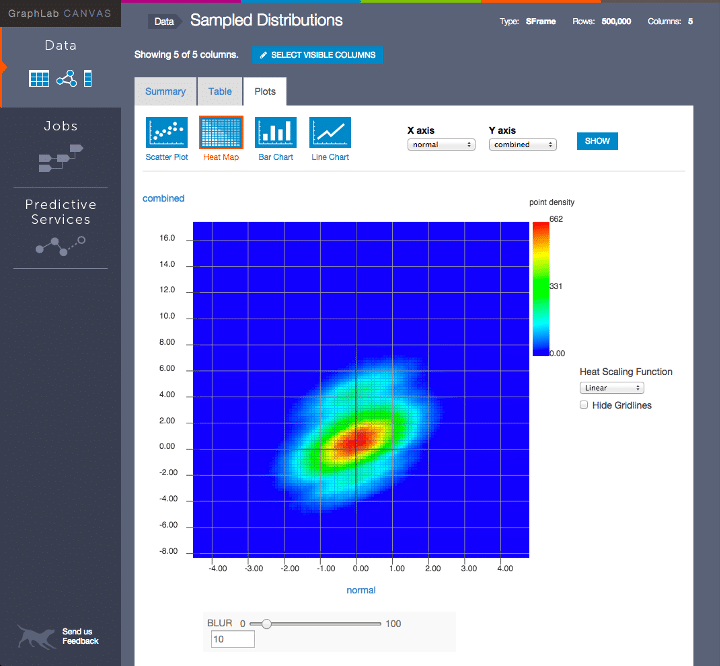 19
H2O.ai
H2O is an Open Source Fast Scalable Machine Learning API for Smarter Applications (Deep Learning, Gradient Boosting, Random Forest, Generalized Linear Modeling (Logistic Regression, Elastic Net), K-Means etc.H2O makes it possible for anyone to easily apply machine learning and predictive analytics to solve today's most challenging business problems. H2O was written from scratch in Java and seamlessly integrates with the most popular open source products like Apache Hadoop and Spark to give customers the flexibility to solve their most challenging data problems. H2O's intuitive web-based Flow graphical user interface or familiar programming environments like R, Python, Java, Scala, JSON, and…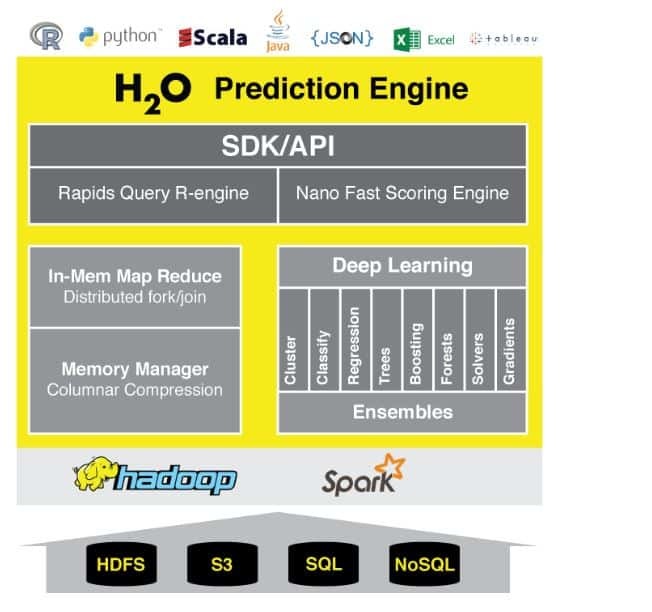 20
HP Haven Predictive Analytics
HP Haven Predictive Analytics is powered by HP Vertica and Distributed R. Distributed R is a high performance analytical engine based on the open source R language developed with HP Labs to address the most demanding, Big Data predictive analytics tasks. Distributed R improves performance and enables users to analyze much larger data sets than was previously possible with the popular R statistical programing language. Haven Predictive Analytics provides data acceleration and native SQL support with HP Vertica. The native integration with the market leading columnar MPP database increases overall data access performance by up…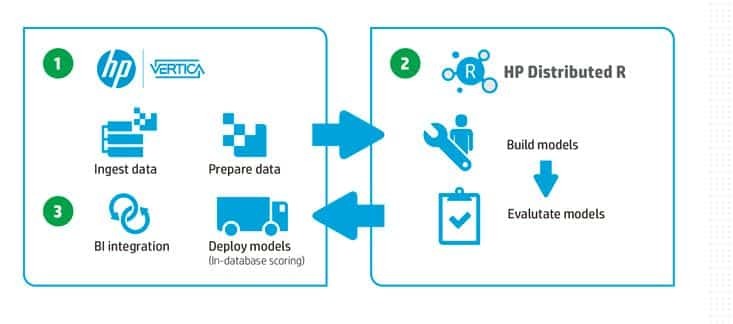 21
IBM Predictive Analytics
IBM offers an easy to use predictive analytics products and solutions that meet the specific needs of different users and skill levels. The predictive analytics portfolio from IBM includes IBM SPSS Modeler, IBM Analytical Decision Management, IBM Social Media Analytics, IBM SPSS Data Collection, IBM SPSS Statistics, IBM SPSS Analytic Server and IBM Analytic Answers. IBM SPSS Modeler is an extensive predictive analytics platform that is designed to bring predictive intelligence to decisions made by individuals, groups, systems and the enterprise. The solution provides a range of advanced algorithms and techniques that include text analytics, entity analytics, decision management and optimization. IBM SPSS Statistics is an integrated family of products that addresses the entire analytical process, from planning to data collection to analysis, reporting and deployment.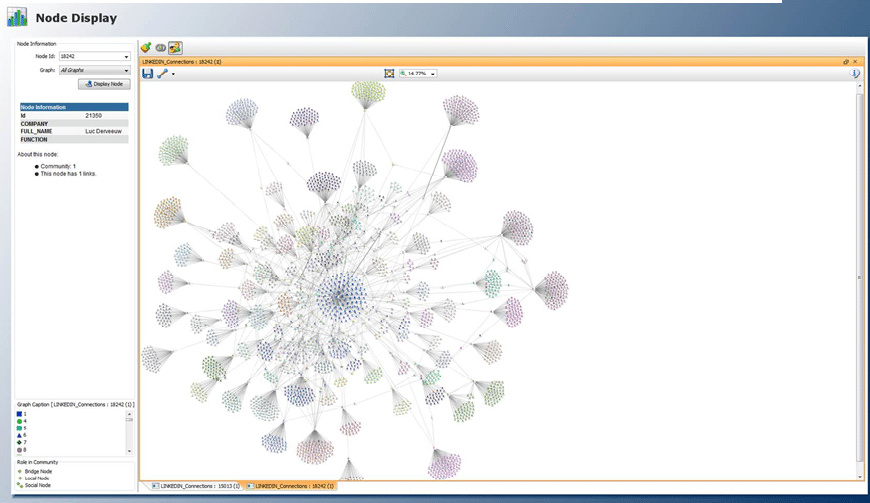 22
Information Builders WebFOCUS Platform
WebFOCUS, is a comprehensive and flexible BI and analytics platform, offers simple to sophisticated analytical tools and apps that enable the visual exploration and answering of a broad range of business questions for users inside and outside the enterprise. Three editions of the product are designed to deliver the many benefits of governed self-service apps and tools to your entire universe of business stakeholders, from management to employees to partners to customers to citizens. WebFOCUS offers self-service analytics with Dashboards and scorecards give executives and managers a high-level view of critical indicators and metrics, Self-service tools allow users to easily…
Information Builders WebFOCUS Platform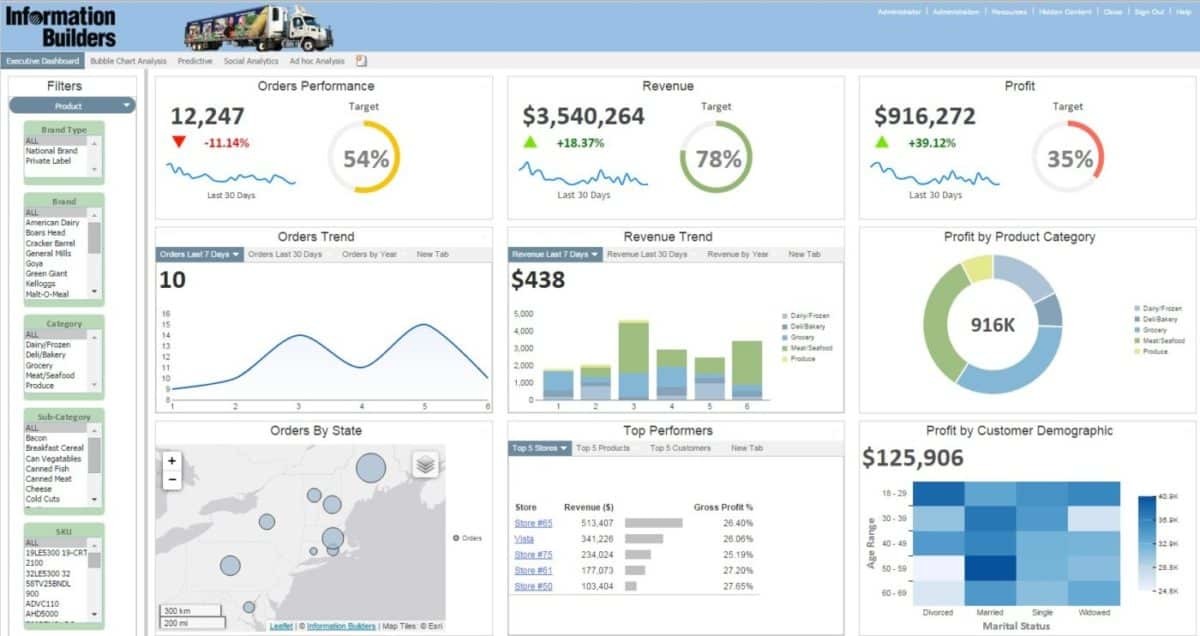 23
KNIME
KNIME, the Konstanz Information Miner, is an open source data analytics, reporting and integration platform. KNIME integrates various components for machine learning and data mining through its modular data pipelining concept and provides a graphical user interface allows assembly of nodes for data preprocessing, for modeling and data analysis and visualization. KNIME Analytics Platform provides over 1000 data analytic routines, either natively or through R and Weka, for such topics as Univariate and Multivariate Statistics, Data Mining,Time Series, Image Processing, Web Analytics, Text Mining, Network Analysis and Social Media Analysis. KNIME analytic workflows can be run through the interactive…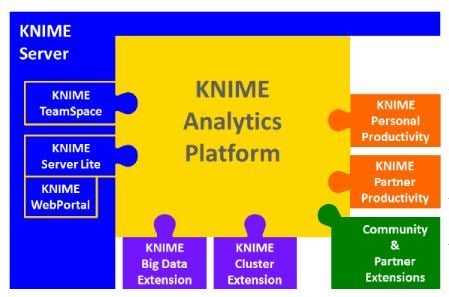 24
Lavastorm Analytics Engine
Lavastorm is a visual data discovery solution that allows to rapidly integrate diverse data, easily discover elusive insights, and continuously detect anomalies, outliers, or patterns. Lavastorm Analytics Engine provides self-service capability for business users and rapid development capabilities for IT users in the areas of integration, analytics, and business control. Features include acquire, transform, combine, and enrich data from virtually any source, including Big Data sources without intensive modeling, pre-planning, or scripting. The solution discover data issues, such as completeness, inconsistent formats, accuracy, automate the evaluation and cleansing process. Lavastorm Analytics Engine use the visual analytic…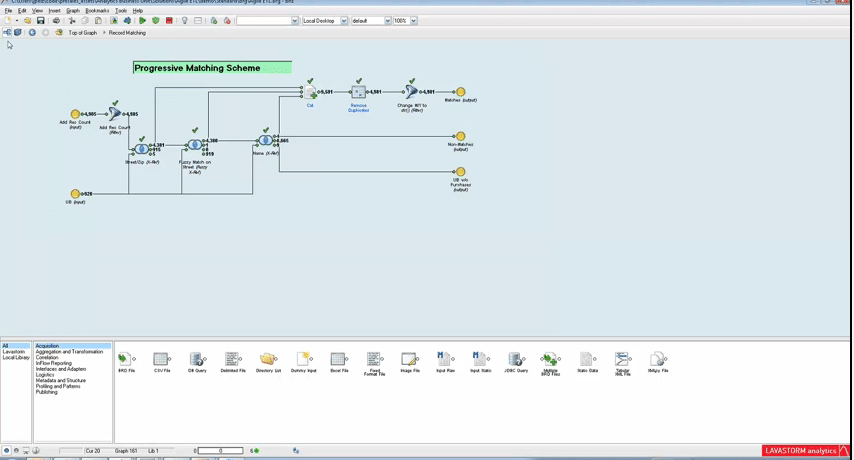 25
Mathematica
Mathematica provides a single integrated, continually expanding system that covers the breadth and depth of technical computing. It has nearly 5,000 built-in functions covering all areas of technical computing—all carefully integrated so they work perfectly together and all included in the fully integrated Mathematica system.Mathematica not only work on the numbers but everything that involves technical computing such as neural networks, machine learning, image processing, geometry, data science, visualizations and much more. Mathematica provides a progressively higher-level environment in which as much as possible is automated, users can still work as efficiently as possible without the need of understanding how…

26
MATLAB
MATLAB is the easiest and most productive software for engineers and scientists. Whether engineers are analyzing data, developing algorithms, or creating models, MATLAB provides an environment that invites exploration and discovery. MATLAB combines a high-level language with a desktop environment tuned for iterative engineering and scientific workflows. The matrix-based MATLAB language is the world's most natural way to express computational mathematics. Linear algebra in MATLAB looks like linear algebra in a textbook. This makes it straightforward to capture the mathematics behind users ideas, which means the code is easier to write, easier to read and understand, and easier to maintain.…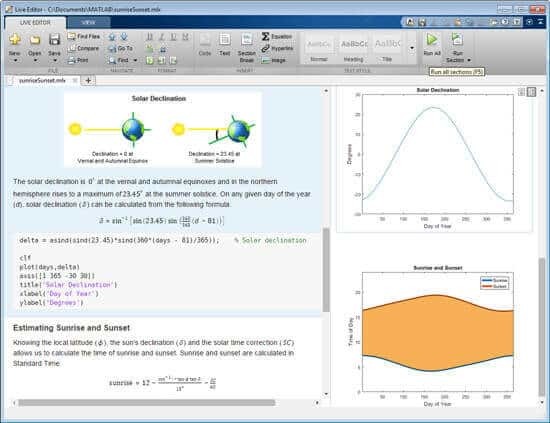 27
Microsoft Azure Machine Learning
Microsoft Azure Machine Learning offers cloud based advanced analytics designed to simplify machine learning for business. Business users can model their way, with best in class algorithms from Xbox, Bing, R or Python packages, or by dropping in custom R or Python code. The finished model can then be deployed in minutes as a web service, which can connect to any data, anywhere. It can also be published out to the community in the product Gallery or into the Machine Learning Marketplace. In Machine Learning Marketplace the application programming interfaces (APIs) and finished services are…
Microsoft Azure Machine Learning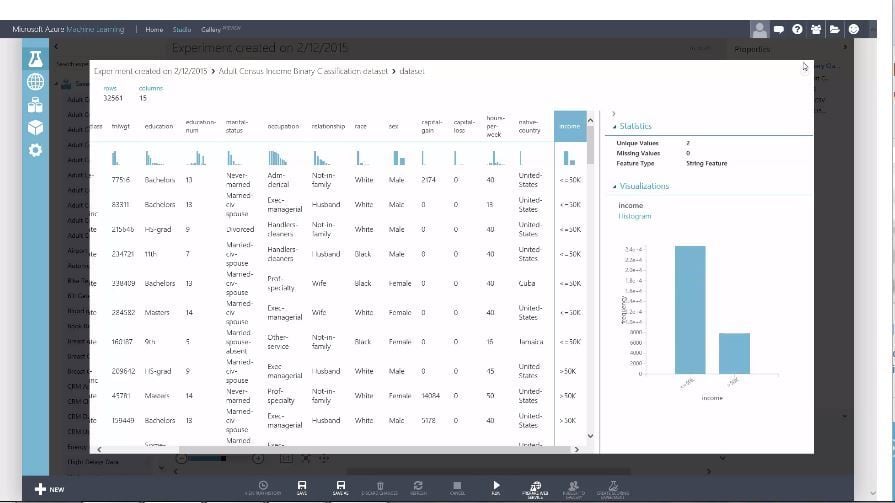 28
Microsoft R
R is the world's most powerful, and preferred, programming language for statistical computing, machine learning, and graphics, and is supported by a thriving global community of users, developers, and contributors.The Microsoft R product family includes: Microsoft R Server, Microsoft R Client, Microsoft R Open, SQL Server R Services.Microsoft R Server is the most broadly deployable enterprise-class analytics platform for R . Supporting a variety of big data statistics, predictive modeling and machine learning capabilities, R Server supports the full range of analytics exploration, analysis, visualization and modeling based on open source R. Microsoft R Client is a free, community supported,…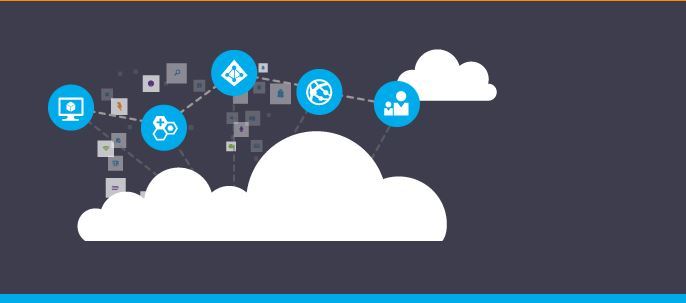 29
Minitab
Minitab is one of the world's leading developers of statistical software and software for lean, Six Sigma and quality improvement projects. Thousands of companies use Minitab software and there are more than 4,000 colleges and universities which use Minitab for teaching and research. Some of the clients includes, Toshiba, DuPont, Boeing, Royal Bank of Scotland, Nestlé and Pfizer. Minitab Inc. is headquartered in State College, PA, operates offices in the United Kingdom, France and Australia, and has additional representatives throughout the world. Minitab's products are backed by outstanding services, including training and free technical support. Minitab products include…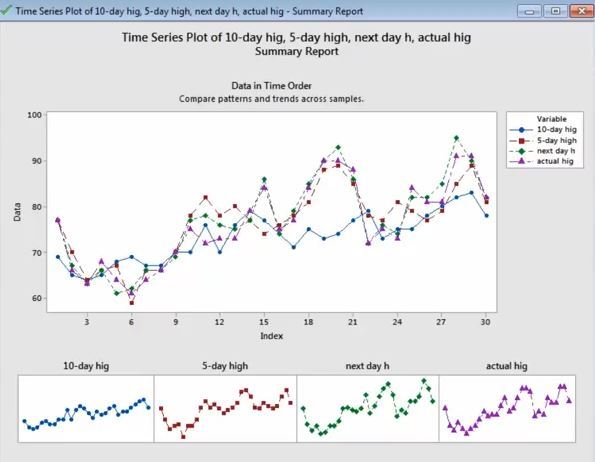 30
Oracle Data Mining ODM
Oracle Data Mining (ODM) provides powerful data mining functionality as native SQL functions within the Oracle Database. Oracle Data Mining enables users to discover new insights hidden in data and to leverage investments in Oracle Database technology. ODM contains several data mining and data analysis algorithms for classification, prediction, regression, associations, feature selection, anomaly detection, feature extraction, and specialized analytics. ODM also provides means for the creation, management and operational deployment of data mining models inside the database environment. The Oracle Spreadsheet Add-In for Predictive Analytics provides predictive analytics operations within a Microsoft Excel spreadsheet. You can analyze Excel data or data that resides in an Oracle database.They are used for classification, prediction, regression, associations, feature selection, anomaly detection, feature extraction, and specialized analytics. The models are implemented in Oracle database kernel and are stored as database objects. Models can be created using a graphical user interface. Business analysts can do predictive…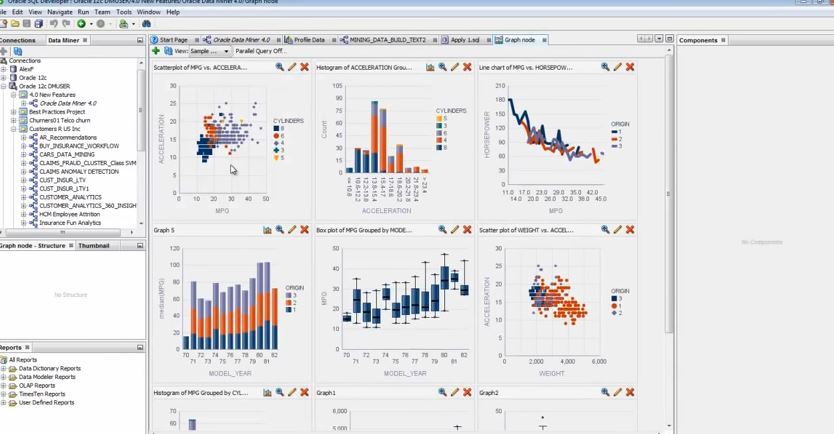 31
Portrait Predictive Analytics
Portrait Suite consists of products Portrait Dialogue, Portrait Interaction Optimizer, Portrait Explorer, Portrait Miner and Portrait Uplift. Portrait's comprehensive set of customer analytics offerings integrate with its core Predictive Analytics and Data management tool. Portrait Dialogue is a customer interaction solution which converts customer interactions into a connected two way dialogue .Portrait Interaction Optimizer provide the most accurate, targeted sales, service and retention offer.Portrait Explorer makes navigating and understanding your customer data easy.Portrait Miner enables customer insight professionals and business users alike to achieve a clear picture of their customers. Portrait Miner features include easy to use interface…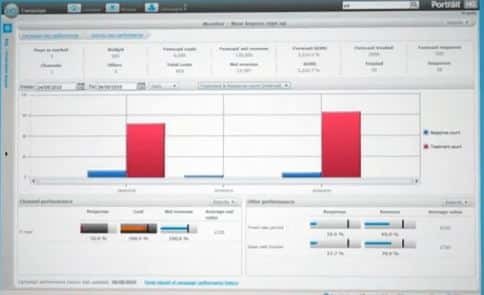 32
Predixion Insight
Predixion RIOT delivers impact in every layer of your IoT system, whether it's deployed by OEMs on the device itself with RIOT Nano, embedded by OEMs on the IoT gateway with RIOT One, or delivered to the enterprise with a global view across all connected assets in the organization with RIOT Enterprise. Predixion Insight is designed for business analysts and other non-technical users to enable broader adoption of predictive analytics, but is powerful and flexible enough for data scientists. In addition, Predixion expedites the "Last Mile of Analytics" – the deployment of powerful predictions directly to the people who need them to take action – so the…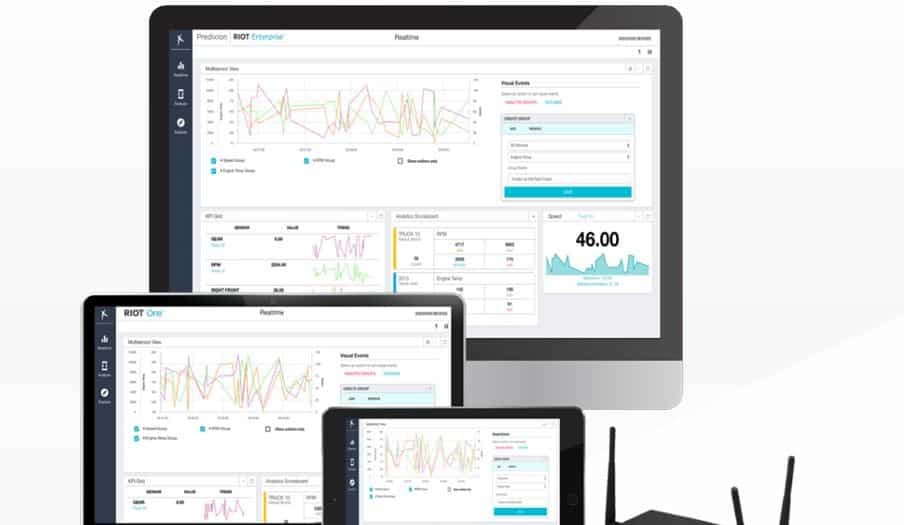 33
QIWare
QIWare is an agile analytics solution that delivers a complete suite of capabilities to support end-to-end data mining cycle. Simplify data preparation and modeling while increasing business productivity, minimizing human error, and significantly improving usability. QIWARE has the capability to carry out data mining. It makes use of agile capabilities to provide solution to businesses to carry out the complete and end to end data mining cycle. It enables businesses to ease preparation of data and enable data modeling. It reduces human errors and increases speed and efficiency. It improves productivity too. The software helps in the management of customer…

34
Rapid Insight Veera
Rapid Insight products enable users to turn their raw data into actionable information. The company's analytic software simplifies the extraction and analysis of data, enabling clients ranging from small businesses to Fortune 500 companies to fully utilize their information for data-driven decision making. Rapid Insight Veera is a solution that eliminates the complexity of working with data with an easy to use visual interface. It helps to create a repeatable process without the need for complex programming. Its easy-to-use visual interface eliminates the complexity of working with your data. The solution integrates data from disparate sources and formats and effortlessly…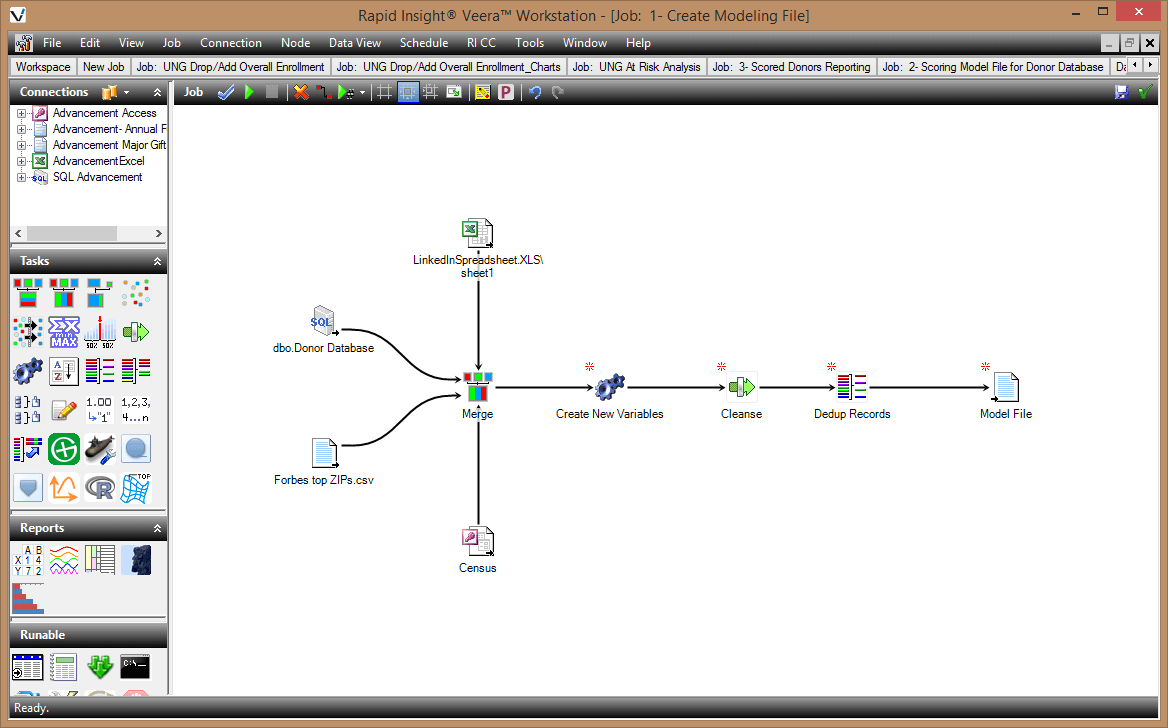 35
RapidMiner
RapidMiner is an advanced business analytics workbench for data mining, text mining and predictive analytics. The solution uses many descriptive and predictive techniques to carry out churn reduction and sentiment analysis. RapidMiner together with its analytical server RapidMiner Server offers full reporting and dashboarding capabilities. RapidMiner provides an integrated environment for machine learning, data mining, text mining, predictive analytics and business analytics and is used for business and industrial applications as well as for research, education, training, rapid prototyping, and application development. RapidMiner supports all steps of the data mining process including results visualization, validation and optimization.RapidMiner provides data mining and machine learning procedures including: data loading and transformation, data preprocessing and visualization, predictive analytics and statistical modeling, evaluation, and deployment. RapidMiner is written in…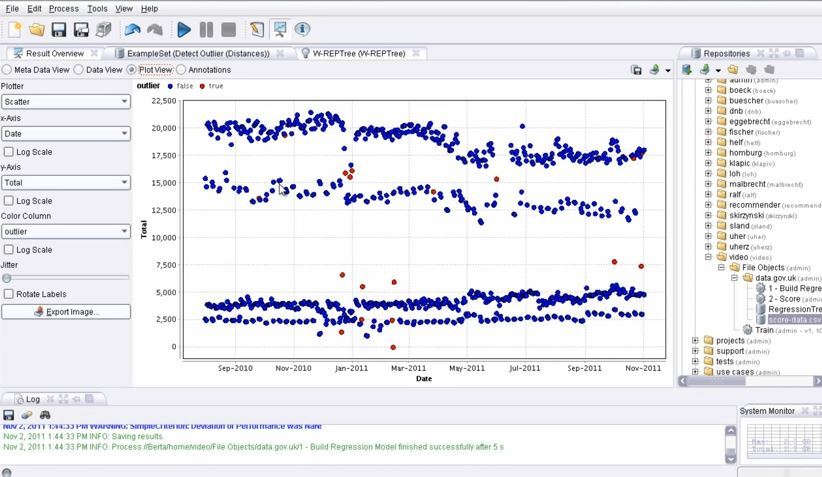 36
Salford Systems SPM
SPM Salford Predictive Modeler software suite is a highly accurate and ultra-fast analytics and data mining platform for creating predictive, descriptive, and analytical models from databases of any size, complexity, or organization. This suite of data mining tools includes Salford Systems' flagship products of CART, MARS, TreeNet, and Random Forests. Salford Systems SPM's brainpower includes more than 70 pre packaged automated scenarios that are inspired by how leading model analysts build their work.Salford Systems SPM currently offers 4 different product versions that users can choose from depending on what they need for the company. The Basic Version provides data mining,…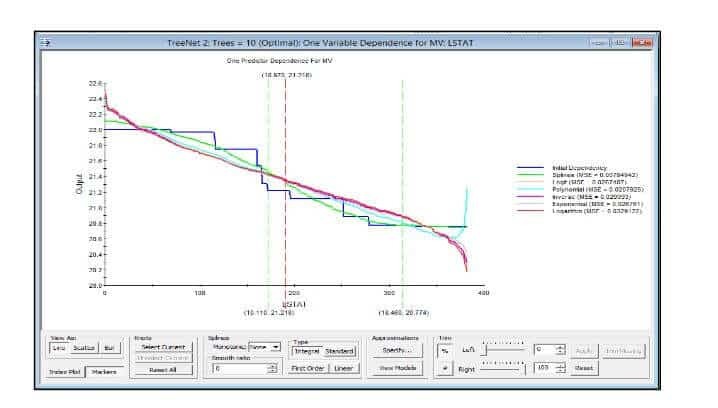 37
SAP InfiniteInsight
SAP InfiniteInsight (formerly KXEN Modeler) automates most of the predictive analytics effort so that users can gain unprecedented customer insight and make forward looking decisions with ease. KXEN was acquired by SAP on October, 2013. SAP InfiniteInsight Explorer prepares and transform the input data in to a format which the analytical engines can use. Modeler predict the possible business outcomes. Scorer deploy optimized scoring equations. KXEN's predictive analytics solution is used by many companies especially in the areas of marketing management in telecoms, financial services, retail and e business. SAP InfiniteInsight components are SAP InfiniteInsight Explorer, SAP…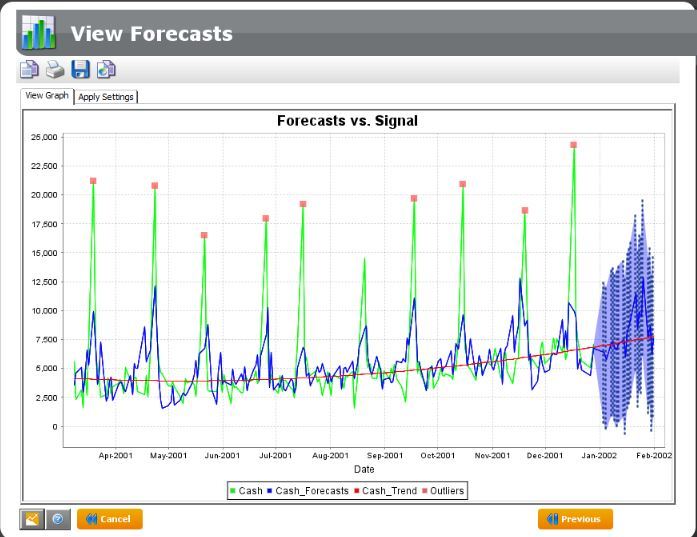 38
SAP Predictive Analytics
SAP Predictive Analysis is a statistical analysis, data mining and predictive analytics solution. The solution enables to build predictive models to discover hidden insights and relationships in data, in order to make accurate predictions about future events. SAP's predictive analytics software works with the legacy data environment as well as with the SAP Platform data sources.SAP Predictive Analysis inherits data acquisition and data manipulation functionality from SAP Lumira. Power Users can extend SAP Predictive Analytics and customize the functionality of SAP Predictive Analysis by adding their own R-Scripts. This is done using the Custom R Components,…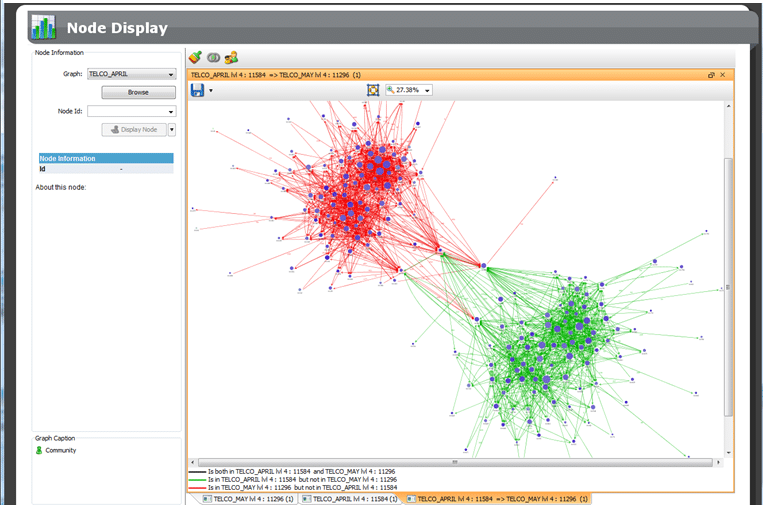 39
SAS Predictive Analytics
SAS is the leader in business analytics software and services, and the largest independent vendor in the business intelligence market. Through innovative solutions, SAS helps customers at more than 70,000 sites improve performance and deliver value by making better decisions faster. Since 1976 SAS has been helping customers around the world. SAS was developed at North Carolina State University from 1966 until 1976, when SAS Institute was incorporated. SAS was further developed in the 1980s and 1990s with the addition of new statistical procedures, additional components and the introduction of JMP. SAS is headquarted in Cary,…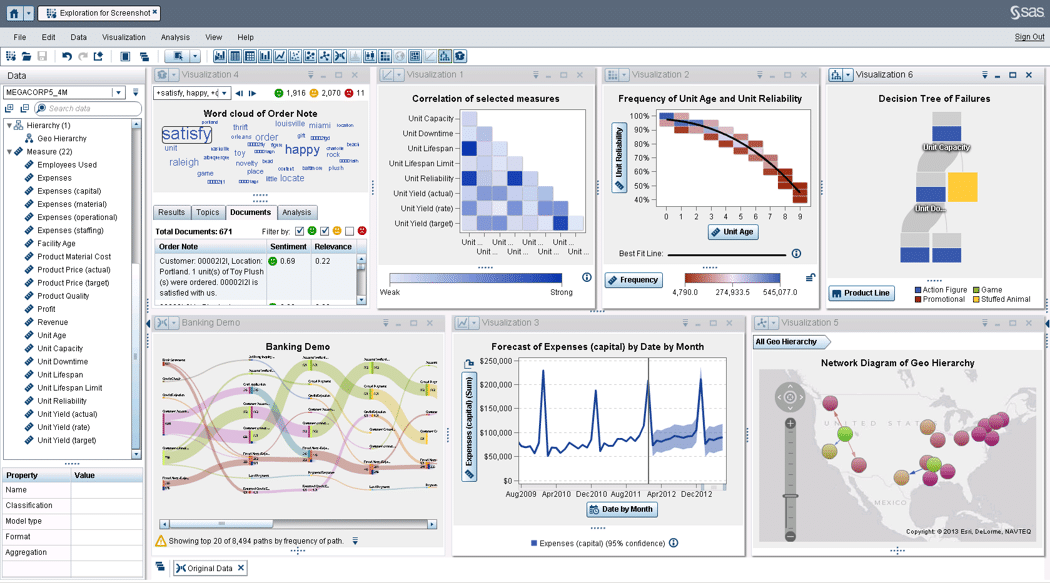 40
Skytree
Skytree is a California-based software company that develops and publishes a machine learning platform for advanced analytics. The company offers a platform that gives organizations the power to discover analytic insights, predict future trends, make recommendations, and reveal untapped markets and customers. The leader in enterprise-grade machine learning, Skytree installs on existing infrastructure, uses the entire data set and utilizes high performance algorithms and automated model building to deliver more accurate predictive models in less time. Skytree also satisfies the specific requirements of discerning data scientists and IT organizations. Skytree speeds up machine learning methods by up to 150x compared…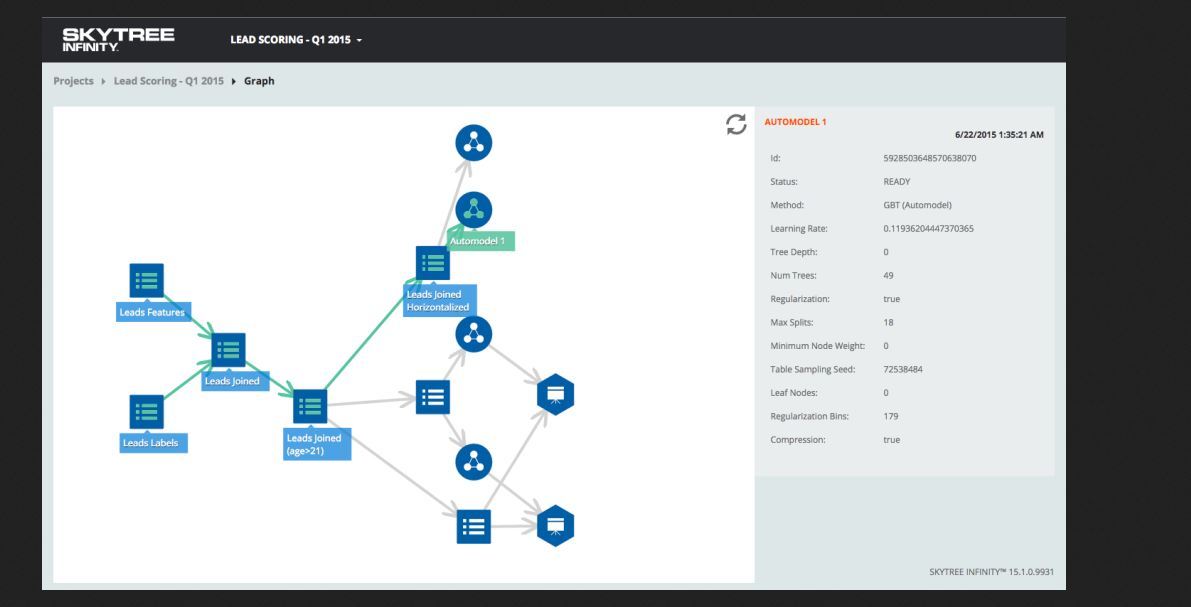 41
STATISTICA
STATISTICA provides solutions for data analysis, data management, data visualization, and data mining with predictive modeling, clustering, classification, and exploratory techniques in one software platform. This is a propriety software from StatSoft, which was acquired by Dell. STATISTICA Data Miner contains comprehensive selection of data mining methods such as selection of clustering techniques, neural networks architectures, classification/regression trees, multivariate modeling including MARSplines, Support Vector Machines, association and sequence analysis and many other predictive techniques, such as methods for advanced/true simulation and optimization of models. Data Miner can process, read, and write data from virtually all standard file formats,…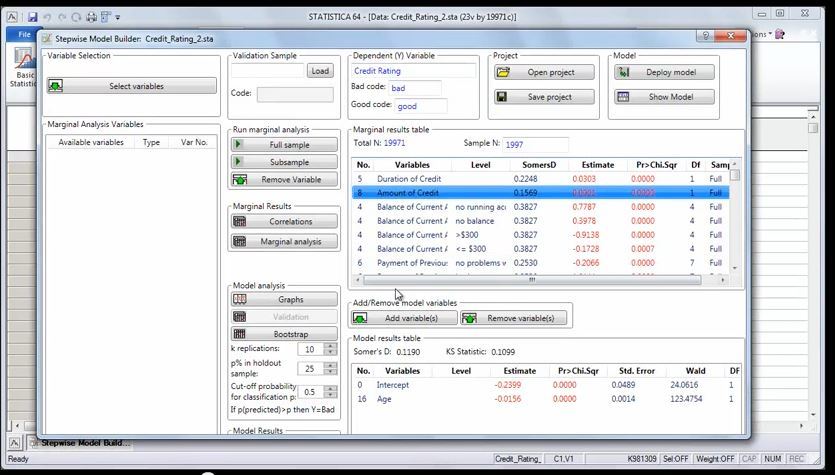 42
TIBCO Spotfire
Tibco Analytics software portfolio delivers Spotfire which has features for data discovery and visualization, dashboards and analytic apps, predictive analytics and advanced Collaboration Tools. The predictive Analytics solution helps to quickly discover what you need to do to improve customer satisfaction and gain competitive advantage. TIBCO also provides solutions to visualize, explore and analyze data in the context of location and to expand situational understanding with multi layered geo analytics. TIBCO Spotfire provides interactive dashboards, visualizations, and predictive and event-driven analytics, to develop unexpected insights immediately on any device. Spotfire is an enterprise class analytics platform that helps both business and technical users quickly explore data to develop actionable insights, without requiring IT intervention. Spotfire meets the analytic needs of users across the enterprise with data discovery and ad-hoc analysis, interactive reporting and dashboards, domain-specific applications, event-driven real-time analysis, and powerful predictive analytics. All these capabilities are delivered from a single product architecture. Spotfire Analyst makes comprehensive analytics fast and easy for a variety of users, allowing…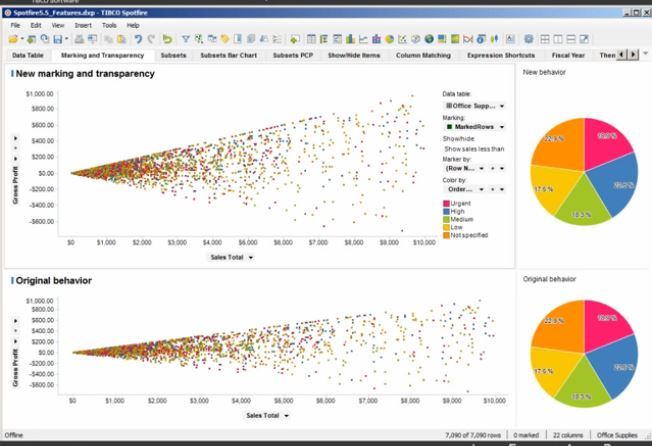 43
TIMi Suite
TIMi Suite is a complete and integrated suite of datamining tools which produces reliable predictive analysis and segmentation analysis that give the best business insight about B2B or B2C market and advertising campaigns. TIMi allows to create very accurate predictive models for any kind of prediction: binary targets, continuous targets, multi-class targets. Using TIMi, predictive models can be rebuilt every week to track any customer behavior change at all time and is an optimal market penetration solution.TIMi enables better decisions at every management level. Through predictive analysis, TIMi produces extensive colorful Excel reports containing…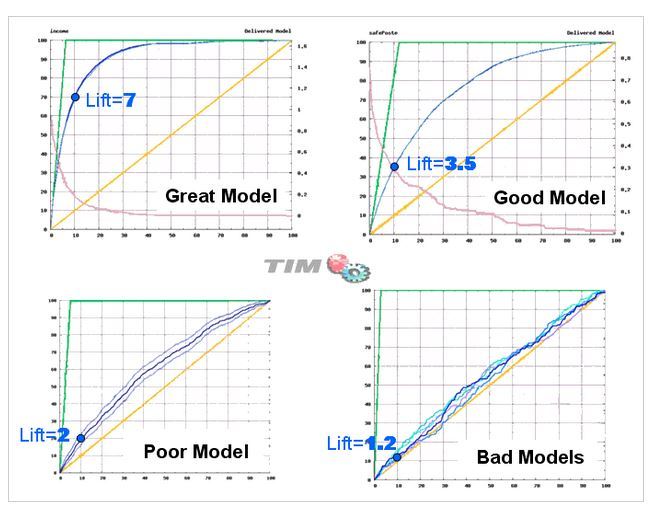 44
Vanguard Business Analytics Suite
Vanguard Business Analytics Suite brings scale and visual modeling to predictive analytics tools. Software automation completes the solution, automating forecast-model exercises to determine optimum business plan. Some of the features included are the ability to extrapolate historical performance data to guide strategic planning, balance the risks and rewards of unique course of actions to determine best possible outcomes and determine which assumptions can be beneficial to the company the most.With Vanguard Business Analytics Suite's Intuitive Web User Interface, users will be able to access the forecast server on any web browser or any mobile devices. This provides availability anytime, anywhere…
Vanguard Business Analytics Suite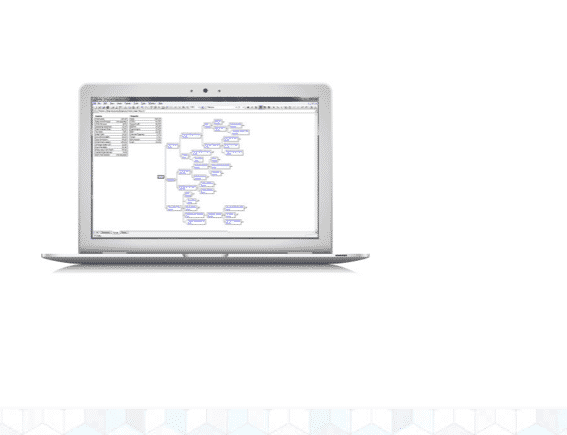 45
Viscovery Software Suite
Viscovery Software Suite, help customers uncover high value insights in complex data sets and offers a selection of software for predictive analytics and data mining designed to comprehensively address the needs of business and technical users. The Software suite consists of Viscovery Profiler, Viscovery Predictor, Viscovery Scheduler, Viscovery Decision Maker, Viscovery One(2)One Engine and Viscovery SOMine. Viscovery Profiler offers explorative data mining, visual cluster analysis, segmentation, and profiling with features including Workflow Orientation, visual representation, statistical information and reports. Viscovery Predictor offers a generation of linear and non linear predictive models and scorings. The system enables…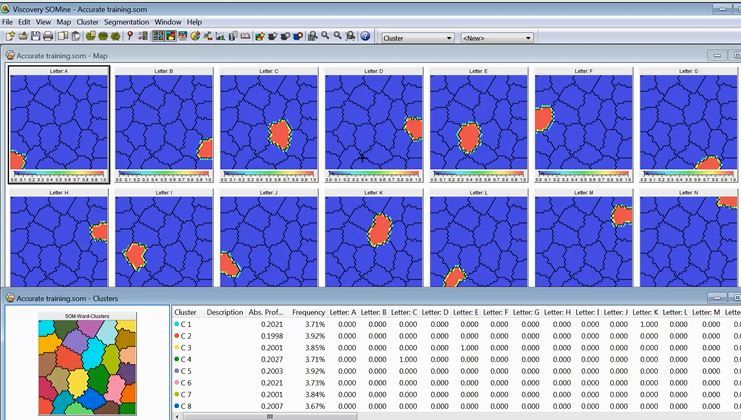 46
XLMiner
XLMiner provides Data visualization, forecasting, text mining and predictive analytics for large datasets. Features include easily explore, visualize and transform your data, use feature selection to find variables that matter, apply text mining for insights from comments, use the most popular time series forecasting methods. Provides advanced multiple linear and logistic regression, ensembles of classification and regression trees neural networks for classification and prediction and association rules for recommendation systems. XLminer platform, allows users to perform data analysis in excel. Users can perform various statistical analyses on the data. Users' do not have to learn the software from the scratch.…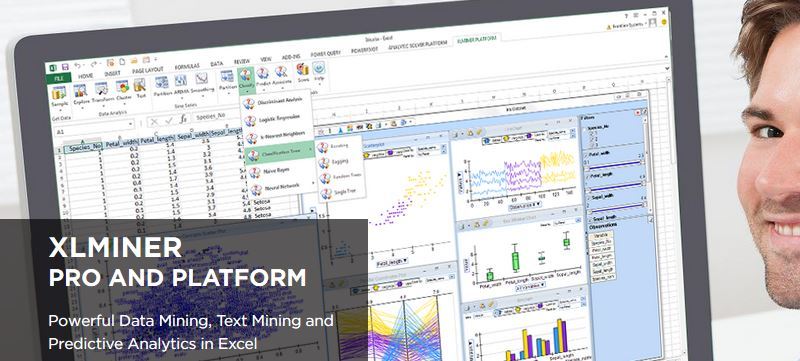 Top Prescriptive Analytics Software
AIMMS, Ayata, IBM Prescriptive Analytics, LIONoso, NGData, Profitect are the top prescriptive analytics software in alphabetical order.
1
AIMMS
AIMMS is a platform designed for building and delivering Apps that can improve business performance. AIMMS software leverages the power of prescriptive analytics (optimization) to provide companies with a competitive edge and quantifiable results.Considered to be a Prescriptive Analytics, AIMMS provide recommendations on what actions can be done to better address and make decisions using optimization modeling. This will then make the business effective in making decisions that may affect the company leading to a positive outcome. Working with a team makes a lot of difference especially when everybody works on their own task assigned. Not only have it boosted…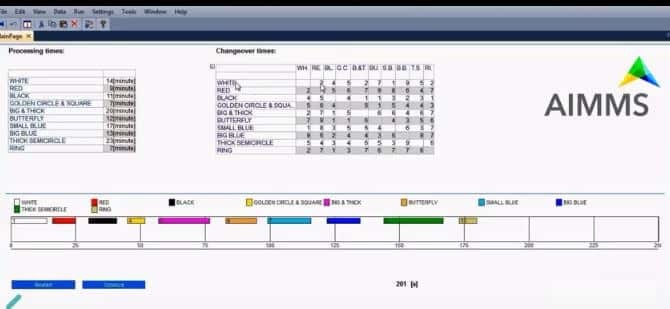 2
Ayata
AYATA's enterprise customers use Prescriptive Analytics software to predict future outcomes of their critical business processes, prescribe decision options, and understand the impact of each decision option. AYATA's technology is adaptive and thus can continuously facilitate accurate decision-making. Prescriptive Analytics is the science of automatically synthesizing big data, mathematical sciences, business rules and machine learning to make smarter decisions about the future. Ayata's patent-pending technology can not only predict future outcomes, but also prescribe decision options and the impact of each option. Large corporations have a solid understanding of how their critical business processes have historically performed. Ayata software helps…

3
IBM Prescriptive Analytics
IBM prescriptive analytics solutions provide organizations in commerce, financial services, healthcare, government and other highly data-intensive industries with a way to analyze data and transform it into recommended actions almost instantaneously. These solutions combine predictive models, deployment options, localized rules, scoring and optimization techniques to form a powerful foundation for decision management. Prescriptive analytics takes that insight to the next level by suggesting the optimal way to handle that future situation. Organizations that can act fast in dynamic conditions and make superior decisions in uncertain environments gain a strong competitive advantage.IBM Prescriptive Analytics automate complex decisions and trade-offs to better…

4
LIONoso
LIONoso is a comprehensive Machine Learning and Intelligent Optimization tool for non-profit research and academic use. LIONoso is the ideal tool for the rapid development of prescriptive analytics application.In addition to the ML and optimization tools, advanced users adopt it for orchestrating heterogeneuos components. Orchestration deals with automating processes, with the arrangement, coordination, and management of complex software components connecting data, experiments, simulators, models, decisions. LIONoso is a machine learning and intelligence optimization tool. The tool is targeted for academic use and for nonprofit organizations. Researchers can get their work done through this tool. It helps in the quick development…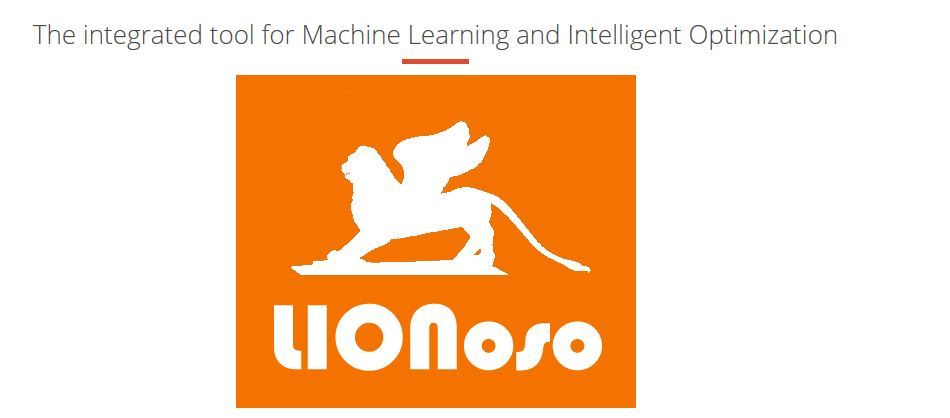 5
NGData
NGDATA helps data-rich companies in financial services, media/publishing and telecom to automate and optimize omni-channel customer interactions.Lily Enterprise, captures data across all channels and provides enterprises with real-time insights to drive superior customer experiences. Lily's Customer DNA puts the individual at the center of the organization by design, continuously learning from behavior to act consistently and timely for superior experiences. NGDATA is a customer experience solution company and it helps other data-rich companies in media/publishing, telecom, financial services to arrange omnichannel customer interactions. NGDATA has customer management capability and its consulting services can help the people to turn data into…

6
Profitect
Profitect is the leading provider of prescriptive analytics that offer a suite of solutions to help retailers easily understand and act on their data. These actions replace traditional reporting to ensure improved sales and profitability. Instead of sending someone a report to analyze, just tell them the opportunity and prescribe the actions they should take. Profitect's Profit Amplification software, a pattern-seeking solution, enables retailers to quickly realize increased revenue and reduced costs across the entire retail supply chain. Retailers use multiple business technologies and sources to hold and view data. Profitect is flexible and enables retailers to quickly pull together…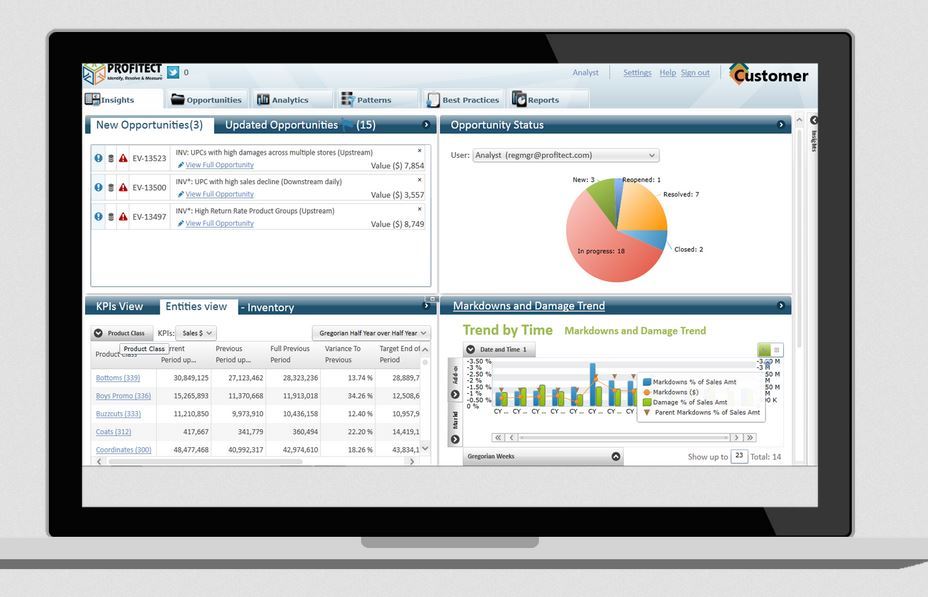 You may also like to review the freeware and open source predictive analytics software solutions list which is given below:
Top Predictive Analytics Freeware Software
You may also like to review the predictive analytics software API list which is given below:
Top Predictive Analytics Software API
More Information on Predictive Analysis Process
For more information of predictive analytics process, please review the overview of each components in the predictive analytics process: data collection (data mining), data analysis, statistical analysis, predictive modeling and predictive model deployment.