Top 34 Predictive Analytics Software API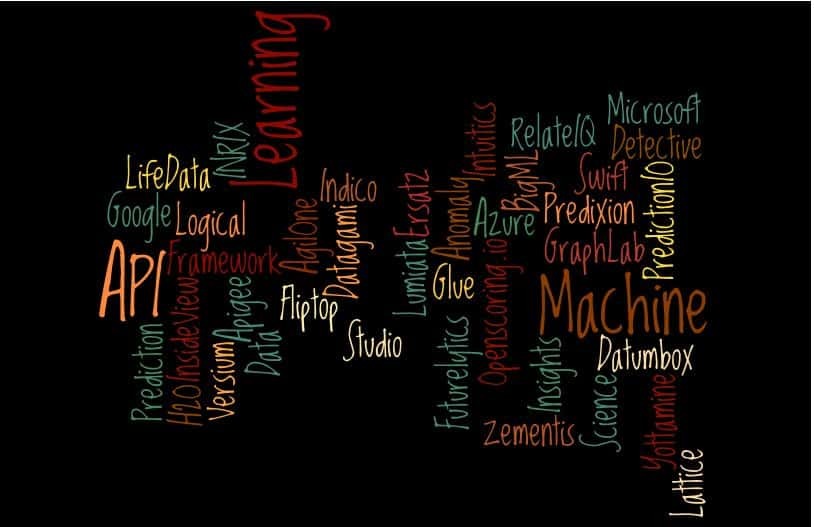 Top 34 Predictive Analytics Software API : Predictive Analytics API are Application Programming interfaces which access machine learning algorithms to analyze data and predict future outcomes mostly using RESTful interface. Application Programming interface , allows accessing of databases, integration of new features into existing applications, share data between distinct applications. API comes in the form of a library that includes specifications for routines, data structures, object classes, and variables. For SOAP and REST services, API comes as a specification of remote calls exposed to the API consumers.
Top Predictive Analytics Software API : AgilOne Predictive Marketing Cloud, Anaconda, Apigee, BigML, Blue Yonder Platform, Dataiku, Datumbox, Ersatz, Google Cloud Prediction API, GraphLab Create, H2O.ai, indico, InsideView, Intuitics, KNIME, Lattice Engines, LinkedIn Sales Navigator, Logical Glue, Lumiata, Microsoft Azure Machine Learning, PredicSis, Predixion Insight, Prelert, RapidMiner, SalesForceIQ, Swift, Versium Predictive Scores, Yottamine, Zementis, Zilliant, Datagami, Openscoring.io, PredictionIO, and INRIX are some of the top Predictive Analytics Software API in alphabetical order.
Top Predictive Analytics Software API
AgilOne Predictive Marketing Cloud, Anaconda, Apigee, BigML, Blue Yonder Platform, Dataiku, Datumbox, Ersatz, Google Cloud Prediction API, GraphLab Create, H2O.ai, indico, InsideView, Intuitics, KNIME, Lattice Engines, LinkedIn Sales Navigator, Logical Glue, Lumiata, Microsoft Azure Machine Learning, PredicSis, Predixion Insight, Prelert, RapidMiner, SalesForceIQ, Swift, Versium Predictive Scores, Yottamine, Zementis, Zilliant, Datagami, Openscoring.io, PredictionIO, and INRIX are some of the top Predictive Analytics Software API in alphabetical order.
1
AgilOne Predictive Marketing Cloud
AgilOne Predictive Marketing Cloud : AgilOne is a Predictive Marketing Cloud that helps retailers, large and small, create relevant omni-channel customer experiences by complete and accurate customer profiles, out of the box predictive models and turnkey campaigns across different channels. AgilOne puts turnkey predictive analysis, turnkey hyper targeted campaigns and complete and accurate customer profiles in the hands of any marketer. Features includes turnkey predictive models, audiences, campaigns, creative templates, holdout testing, built-in email and web personalization, as well as connectors to existing marketing technology vendors. The out of the box predictive models includes propensity models, clusters and recommendations, that…
AgilOne Predictive Marketing Cloud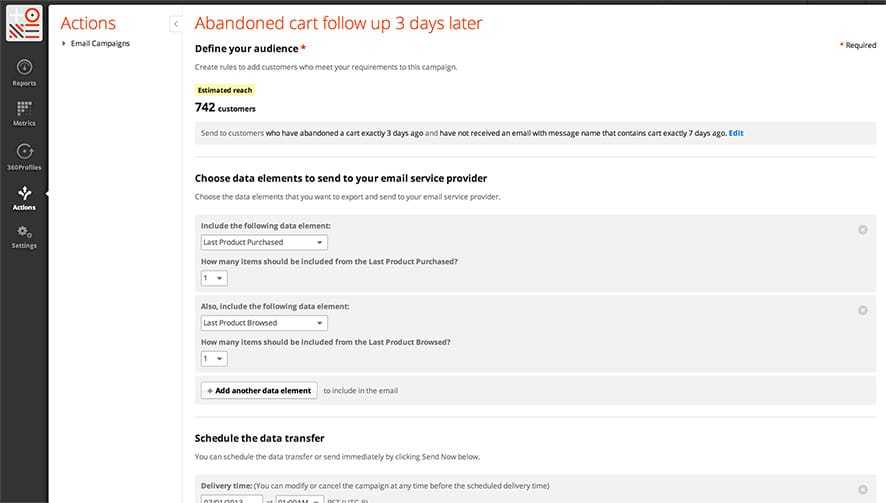 2
Anaconda
Anaconda is an open data science platform powered by Python. The open source version of Anaconda is a high performance distribution of Python and R and includes over 100 of the most popular Python, R and Scala packages for data science. There is also access to over 720 packages that can easily be installed with conda, the package, dependency and environment manager, that is included in Anaconda.Includes the most popular Python, R & Scala packages for stats, data mining, machine learning, deep learning, simulation & optimization, geospatial, text & NLP, graph & network, image analysis. Featured packages include: NumPy, SciPy,…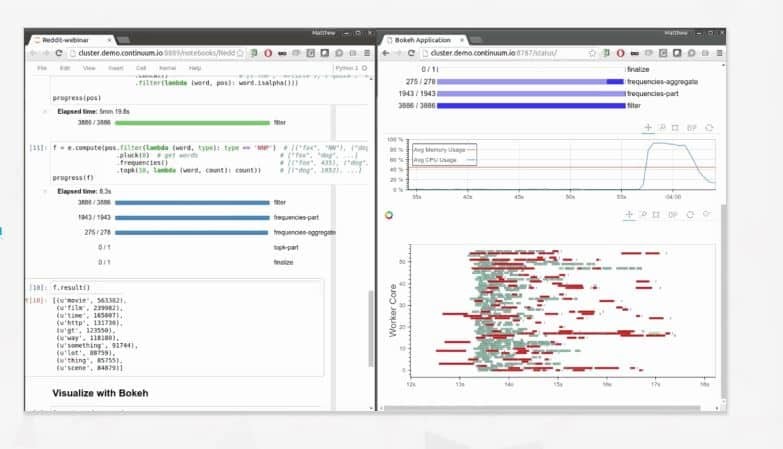 3
Apigee
Apigee let to design, secure, analyze, and scale your APIs with the Apigee API platform. Apigee easily create and deploy API proxies in the cloud from your Open API (Swagger) specs, transform your SOAP services into scalable, REST APIs with out-of-the-box policies and deploy and run your APIs where your apps are, but manage them centrally. Apigee is the leading provider of API technology and services for enterprises and developers. Hundreds of companies including Walgreens, Bechtel, eBay, Pearson, and Gilt Groupe as well as tens of thousands of developers use Apigee to simplify the delivery, management and analysis of APIs…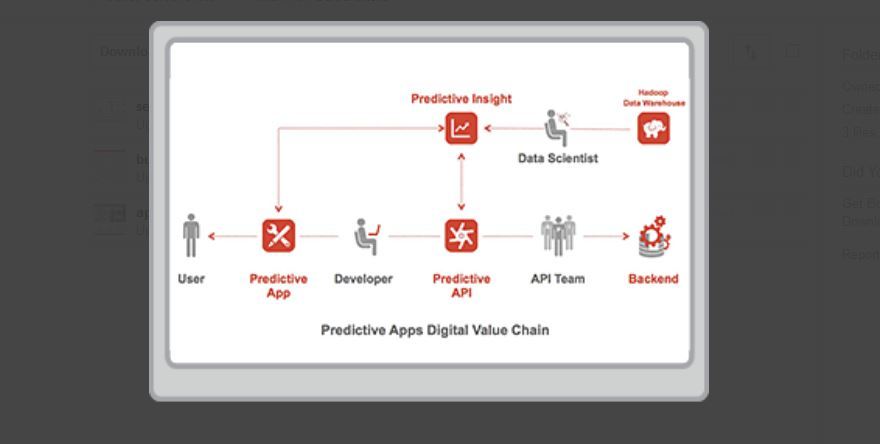 4
BigML
BigML offers a highly scalable, cloud based machine learning service that is easy to use, seamless to integrate and instantly actionable. Now everyone can implement data-driven decision making in their applications. BigML works with small and big data. machine learning can be used to analyze and predict: customer behavior, to increase customer loyalt, site visit behavior, to increase site conversion, diagnostics, to support in health care, hardware maintenance and many other area's,risk profiles, to process loan applications, stock levels, to optimize supply of goods and many, many other applications, where finding patterns in data creates new insights and using those…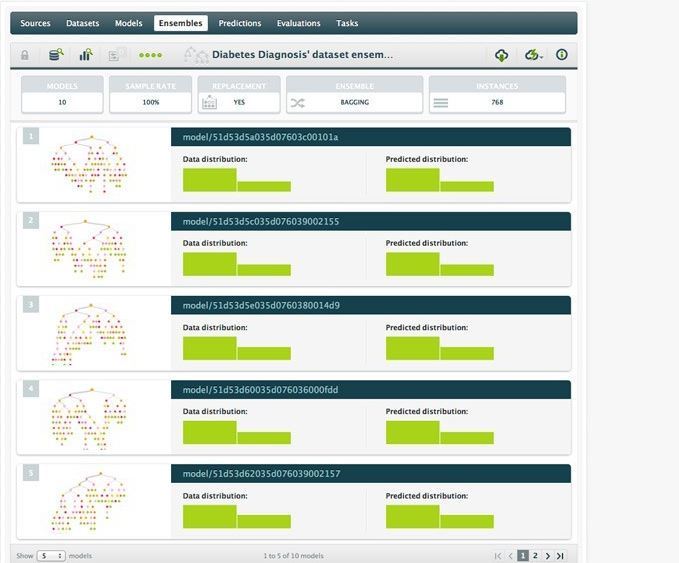 5
Blue Yonder Platform
Blue Yonder Platform : Blue Yonder Platform is a cloud based scalable platform for predictive applications that uses the most modern machine learning algorithms. Based on the use of Forward Demand, the platform enables data scientists and specialists to build predictive applications and integrate and operate them with existing systems such as ERP, CRM, HR, SCM using APIs. The solutions include Demand Planning, Replenishment, Dynamic Pricing, Returns Optimization, Customer Analytics, Risk Analysis and Predictive Maintenance. Blue Yonder is a software-as-a-service-based ("SaaS") delivery of predictive applications, which is embedded in its customers' core processes enabling companies to drive decisions from their…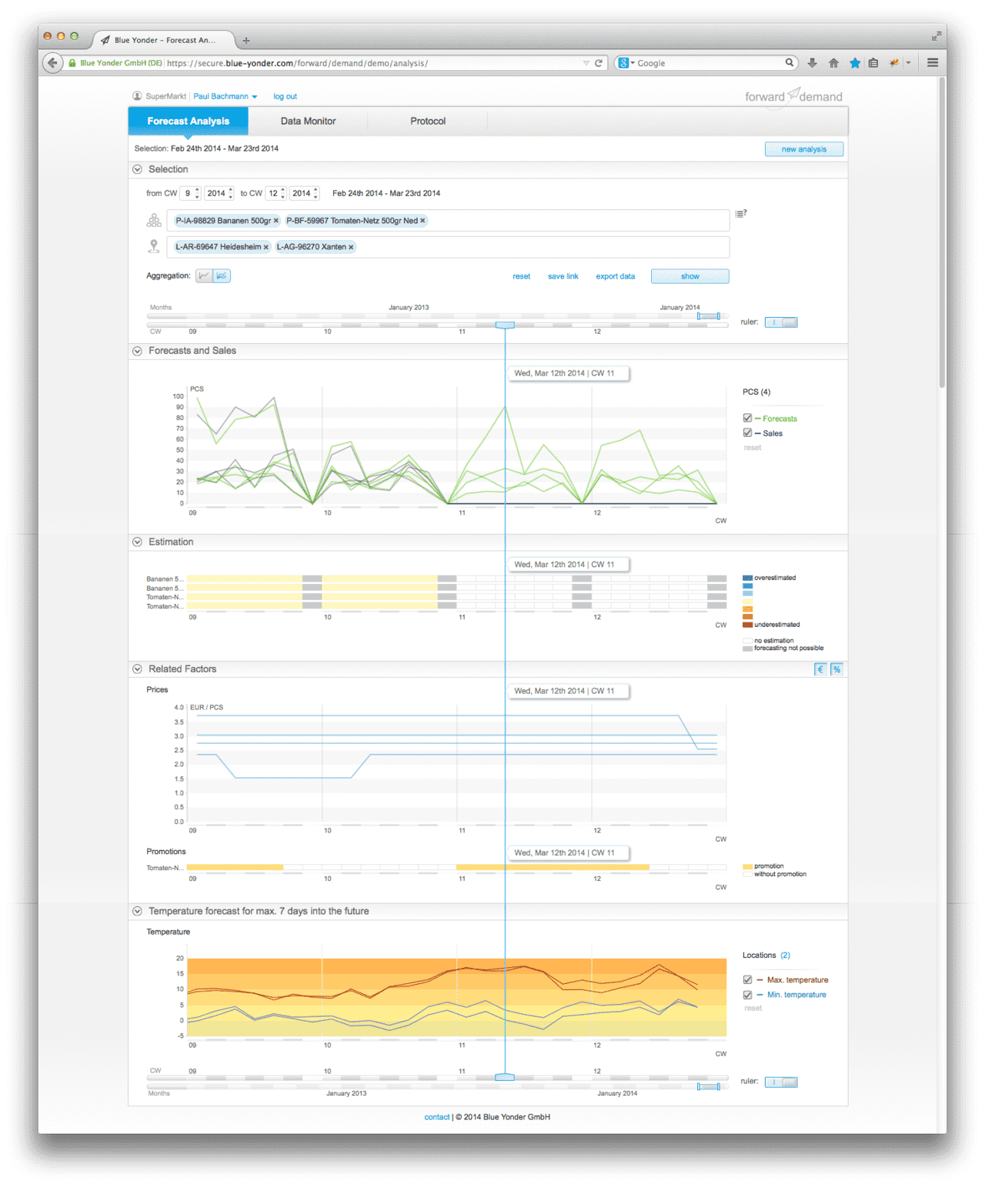 6
Dataiku
Dataiku DSS is the collaborative data science platform that enables teams to explore, prototype, build, and deliver their own data products more efficiently. Dataiku DSS provides an interactive visual interface where they can point, click, and build or use languages like SQL to data wrangle, model, easily re-run workflows, visualize results, and get up-to-date insights on demand. Dataiku DSS provides tools to draft data preparation and modelisation in seconds, that wish to leverage their favorite ML libraries (scikitlearn, R, MLlib, H2O, and so on), and that rely on automating their work in a completely customizable interface. Data Ops. It also…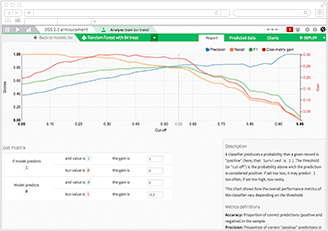 7
Datumbox
Datumbox offers a Machine Learning platform composed of 14 classifiers and Natural Language processing functions. Functions include sentiment analysis, topic classification, readability assessment, language detection, and much more. The Datumbox API provides developer access using REST-like RPC-style operations over HTTP POST requests. The API accesses all of the platform functions. Responses are JSON formatted. Access requires a user account and API Key. Datumbox API is a web service which allow to use tools from the website, software or mobile application. The API gives access to all of the supported functions of Datumbox service. Datumbox Web Service uses "REST-Like" RPC-style operations…
8
Ersatz
Ersatzlabs is a team of web developers and machine learning researchers dedicated to help companies to effectively utilize deep learning for achieving business and engineering objectives. Ersatzlabs works with a variety of customers including data scientists, engineers, and business professionals. Ersatzlabs work with data science teams, typically these will be teams of 5-50 engineers that have expertise in certain areas of data science, but not deep learning. Knowledge transfer is frequently a goal of these engagements. Ersatzlabs helps Engineering teams that mostly lack in machine learning expertise by building an API of machine learning system they can integrate with, so…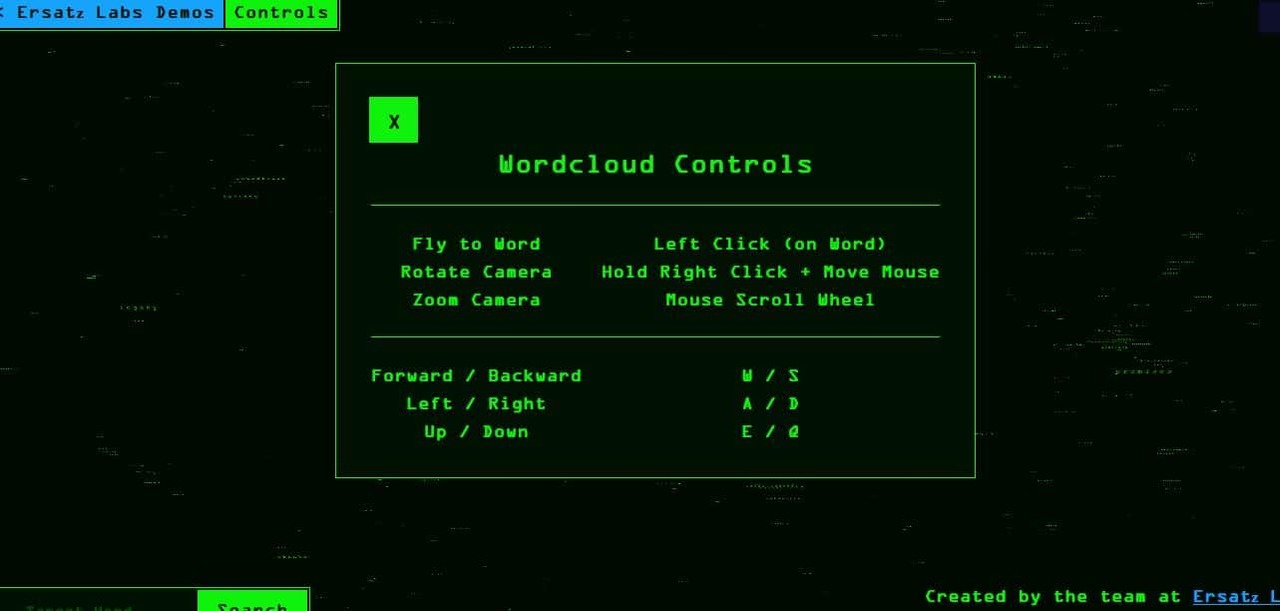 9
Google Cloud Prediction API
Google Cloud Prediction API provides a RESTful API to build Machine Learning models. Prediction's cloud-based machine learning tools can help analyze your data to add various features to your applications, such as customer sentiment analysis, spam detection, recommendation systems, and more. Google Prediction API provides pattern-matching and machine learning capabilities. After it learns from your training data, Prediction API can predict a numeric value or choose a category that describes a new piece of data. With these capabilities, you can create applications to perform tasks such as predicting what movies or products a user might like, categorizing emails as spam…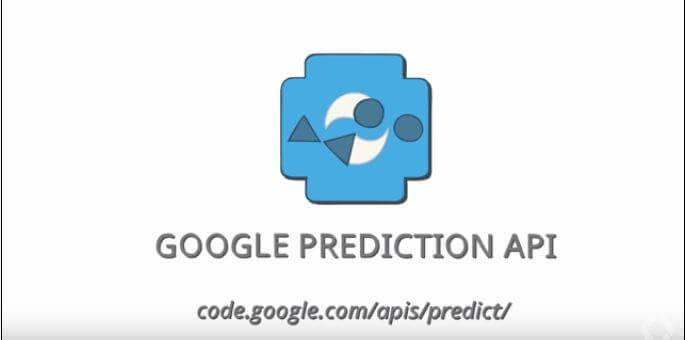 10
GraphLab Create
GraphLab Create : GraphLab Create is a machine learning platform to build intelligent, predictive application involving cleaning the data, developing features, training a model, and creating and maintaining a predictive service. These intelligent applications provide predictions for use cases including recommenders, sentiment analysis, fraud detection, churn prediction and ad targeting. Trained models can be deployed on Amazon Elastic Compute Cloud (EC2) and monitored through Amazon CloudWatch. They can be queried in real-time via a RESTful API and the entire deployment pipeline is seen through a visual dashboard. The time from prototyping to production is dramatically reduced for GraphLab Create users.…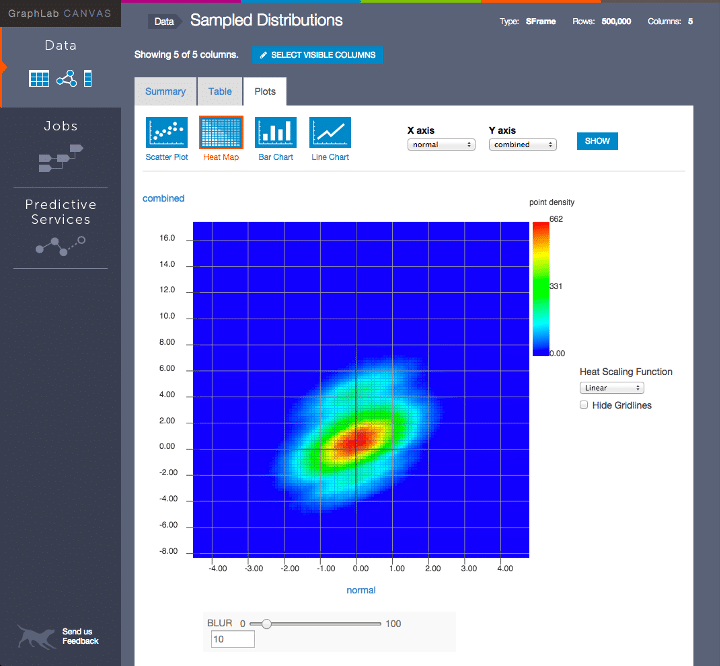 11
H2O.ai
H2O is an Open Source Fast Scalable Machine Learning API for Smarter Applications (Deep Learning, Gradient Boosting, Random Forest, Generalized Linear Modeling (Logistic Regression, Elastic Net), K-Means etc.H2O makes it possible for anyone to easily apply machine learning and predictive analytics to solve today's most challenging business problems. H2O was written from scratch in Java and seamlessly integrates with the most popular open source products like Apache Hadoop and Spark to give customers the flexibility to solve their most challenging data problems. H2O's intuitive web-based Flow graphical user interface or familiar programming environments like R, Python, Java, Scala, JSON, and…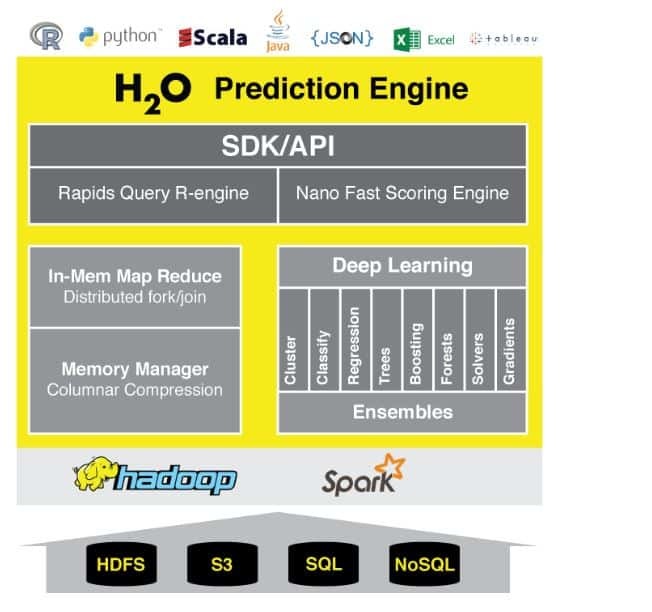 12
indico
indico provides developer-friendly tools and APIs that turn raw text and image data into human insight.Sentiment Analysis API takes a sample of text (tweet, article, email, forum post, report, etc) and returns the positivity. For example, the text of a 5 star review is positive, while the text of a 1 star review is negative.Keyword Extraction API parses text to find the most important words that have been used. For example, within the sentence "Boston can get very cold during the winter", this API will tell you that the words "Boston", "cold", and "winter" are the most important words in…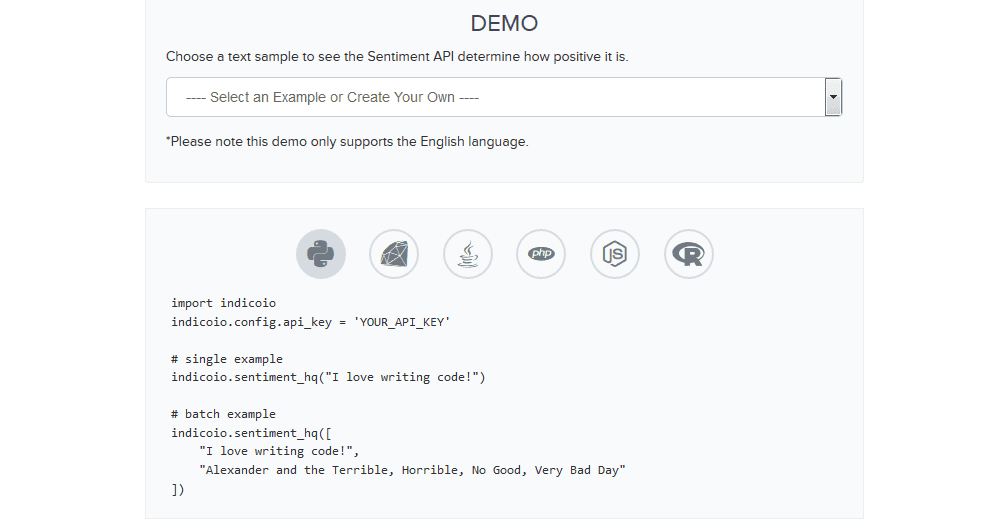 13
InsideView
InsideView is one of the top leading Business intelligence platform which helps businesses harness the power of intelligent data to make sales and marketing faster .It provides powerful insights to tame CRM data and use it accurately to qualify and route business needs .InsideView empowers organization with relevant information managed in new business systems. InsideView aggregates b2b data from over 40,000 sources and distill it into consumable data. InsideView provides the sales intelligence to find the right leads and identify all key decision-makers, and the insights to earn trust and win bigger deals, faster. InsideView sales solutions put the industry's…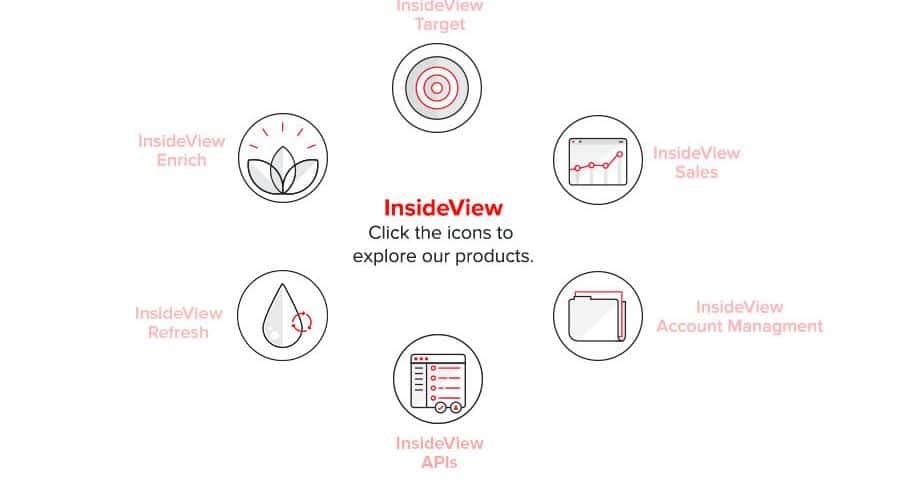 14
Intuitics
Intuitics empowers business users to run advanced analytics models themselves in order to generate insights from data. Today, data scientists in large companies frequently rerun predictive models for different parameters and data. This wastes time and slows down decision making. With Intuitics, the data team quickly turns a model into a predictive web app which anybody in the organization can use with a few clicks. Their software speeds up decision making, makes it more data-driven, and saves the data scientists time. Intuitics applications are driven by the most popular data science languages: R, SAS, and Python. The process of converting…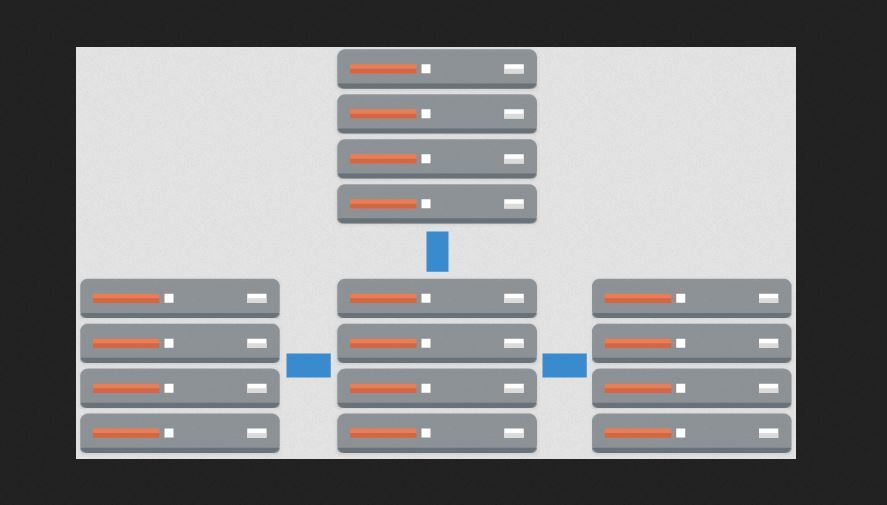 15
KNIME
KNIME: KNIME, the Konstanz Information Miner, is an open source data analytics, reporting and integration platform. KNIME integrates various components for machine learning and data mining through its modular data pipelining concept and provides a graphical user interface allows assembly of nodes for data preprocessing, for modeling and data analysis and visualization. KNIME Analytics Platform provides over 1000 data analytic routines, either natively or through R and Weka, for such topics as Univariate and Multivariate Statistics, Data Mining,Time Series, Image Processing, Web Analytics, Text Mining, Network Analysis and Social Media Analysis. KNIME analytic workflows can be run through the interactive…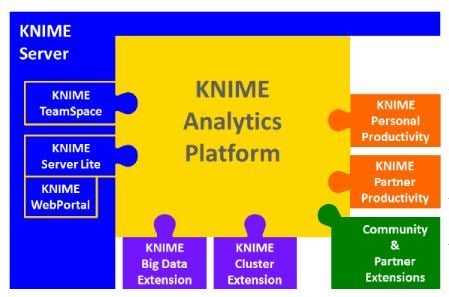 16
Lattice Engines
Lattice Engines complete set of marketing and sales applications predicts who will buy, what they are likely to buy and when. Lattice's applications combine billions of buying signals and apply advanced machine learning to help drive predictable sales and marketing performance. Lattice's predictive lead and account scoring, finding your best leads is easy and prioritize your existing and incoming leads, based on millions of buying signals. Lattice Predictive Insight Platform is an enterprise-grade marketing platform that features real-time contact and account scoring, rapid self-service modeling, and native applications for Marketo, Eloqua and Salesforce. Marketing teams of any skill level can…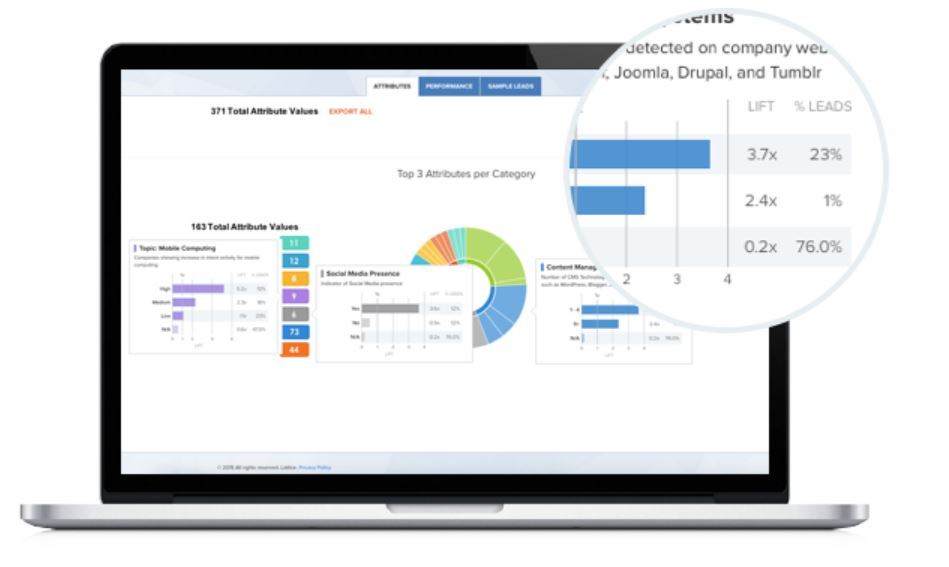 17
LinkedIn Sales Navigator
LinkedIn Sales Navigator tool features sophisticated algorithm to give you lead recommendations that are tailored to you. LinkedIn Sales Navigator has the tools to help you stay informed and up-to-date about your prospects. LinkedIn Sales Navigator get custom lead recommendations based on your preferences. Instantly import your Salesforce data with a single click and easily find the right leads with Advanced search with lead builder. Provide real-time sales updates on your prospects and customers, unlock full profiles for leads who aren't in your network and measure and track your social selling efforts with SSI dashboard.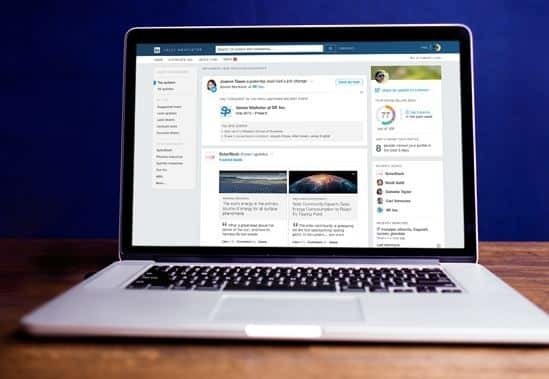 18
Logical Glue
Logical Glue is a user-friendly software platform for building and deploying predictive models. It lets businesses use data to automate decision making and increase profitability. Logical Glue software brings data science out of the lab and makes intelligent, automated prediction available to every business. For example, for lending decisions and insurance claims. We use the best techniques in statistics and computational intelligence to create the most accurate predictive models, while making them easy to apply for data scientists and domain experts alike. We will show you exactly how useful your data is with a ranked list of features to understand…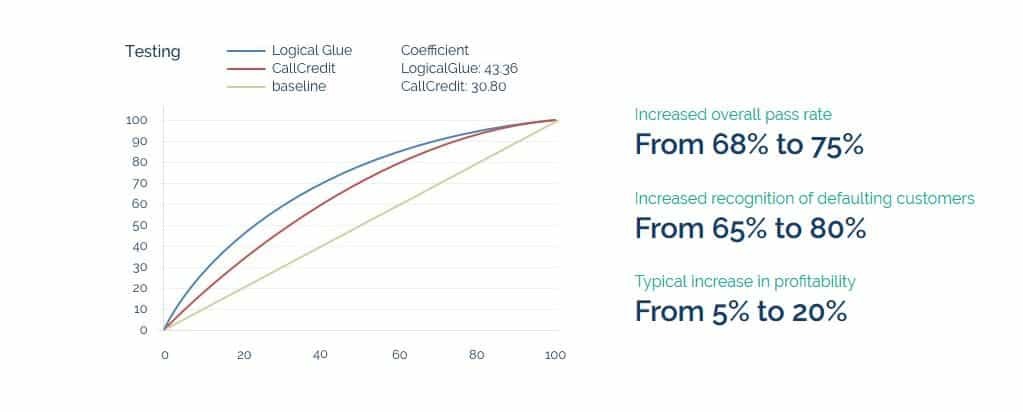 19
Lumiata
Lumiata is an Artificial Intelligence software that helps in predicting health with transparent, precise analytics to automate risk and revenue operations. Lumiata provides easy integration of structured and unstructured data such as claims, labs, HER data and more into a readily consumable and actionable FHIR format .Lumiata is responsible for cleaning, standardizing and unifying data to make it searchable, aggregated and secure for distribution. Lumiata provides AI-powered models to cover the most prevalent conditions built over 175 million patient records. Lumiata provides predictive insights for millions of records generates within hours and delivers it via API. Lumiata's predictions are paired…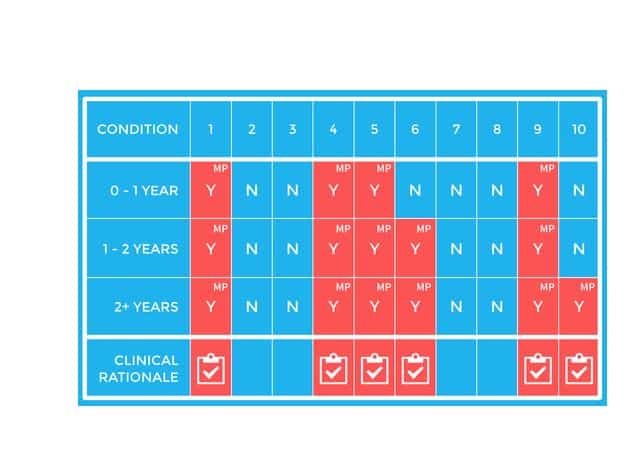 20
Microsoft Azure Machine Learning
Microsoft Azure Machine Learning : Microsoft Azure Machine Learning offers cloud based advanced analytics designed to simplify machine learning for business. Business users can model their way, with best in class algorithms from Xbox, Bing, R or Python packages, or by dropping in custom R or Python code. The finished model can then be deployed in minutes as a web service, which can connect to any data, anywhere. It can also be published out to the community in the product Gallery or into the Machine Learning Marketplace. In Machine Learning Marketplace the application programming interfaces (APIs) and finished services are…
Microsoft Azure Machine Learning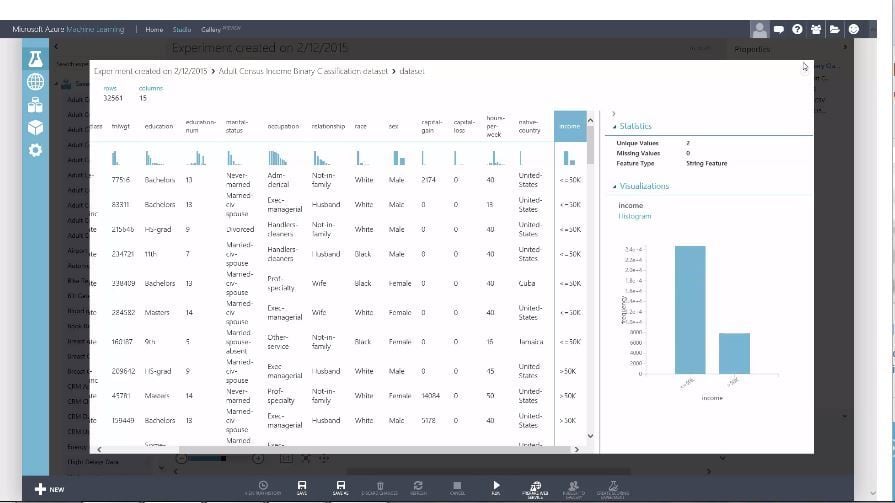 21
PredicSis
Predicsis provides state-of-the art automatic Predictive Analytics solutions (API or ML Studio) in order to increase business performance. Increase Customer Lifetime value, optimize campaigns performance or decrease fraud by focusing on the business not on the algorithm. PredicSis is a robust collection of strong disruptive Machine Learning algorithms, which automatically anticipates customer behaviors of all sorts with the goal of helping the businesses in increasing turnover. PredicSis artificial intelligence algorithms analyze past customer profiles and on their bases it predicts present and future customer behaviors and needs. PredicSis works very intelligently , it not only takes customer behaviors data stored…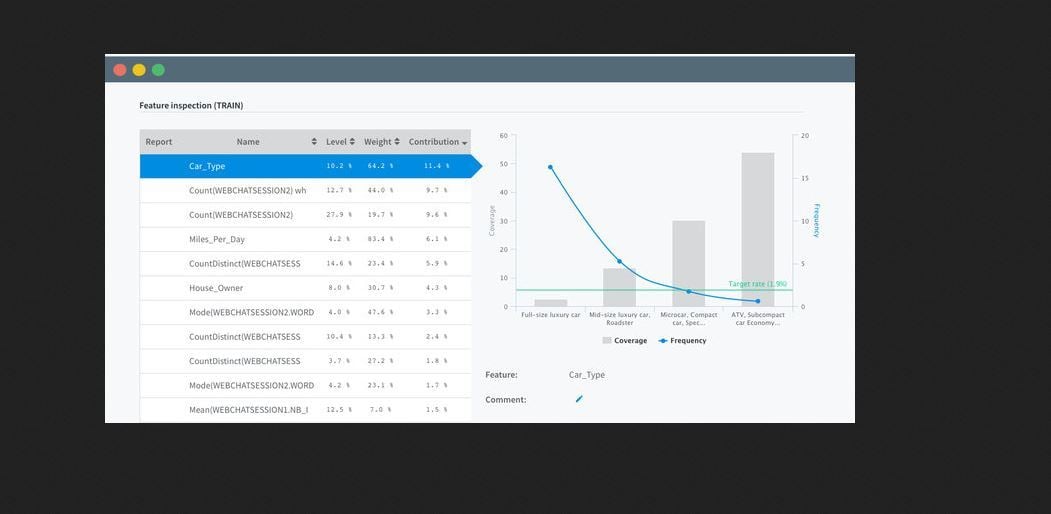 22
Predixion Insight
Predixion RIOT delivers impact in every layer of your IoT system, whether it's deployed by OEMs on the device itself with RIOT Nano, embedded by OEMs on the IoT gateway with RIOT One, or delivered to the enterprise with a global view across all connected assets in the organization with RIOT Enterprise. Predixion Insight is designed for business analysts and other non-technical users to enable broader adoption of predictive analytics, but is powerful and flexible enough for data scientists. In addition, Predixion expedites the "Last Mile of Analytics" – the deployment of powerful predictions directly to the people who need them to take action – so the…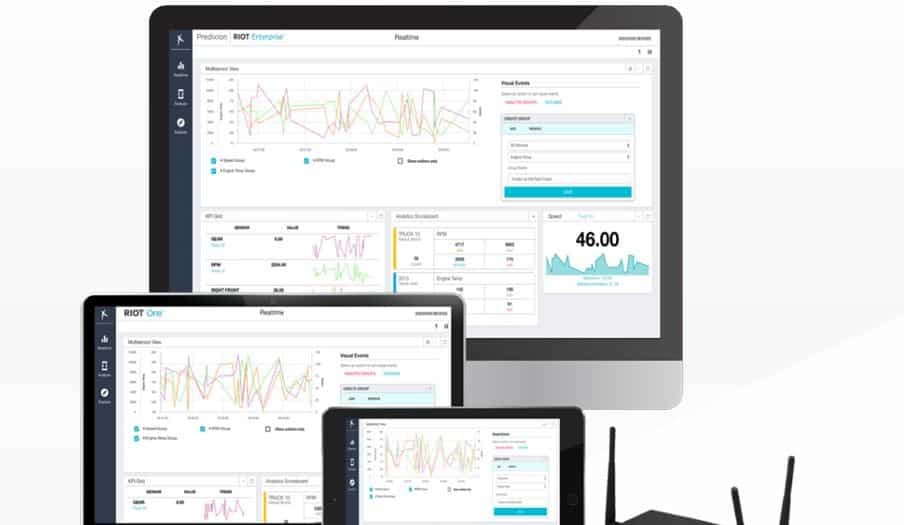 23
Prelert
Prelert behavioral analytics platform uses machine learning to detect anomalies across massive data sets. The algorithms automate the analysis of an organization's log data to find anomalies, link them together, and give you real insight into what's happening with your data. Prelert helps IT security and operations professionals identify advanced security threats and IT performance problems faster and more accurately, eliminating manual effort and human error while reducing false positives. Prelert's machine learning algorithms automate the analysis of massive sets of machine data, building and maintaining accurate statistical models of your data without the need for training. Prelert's sophisticated machine…

24
RapidMiner
RapidMiner : RapidMiner provides an integrated environment for machine learning, data mining, text mining, predictive analytics and business analytics and is used for business and industrial applications as well as for research, education, training, rapid prototyping, and application development. RapidMiner supports all steps of the data mining process including results visualization, validation and optimization.RapidMiner uses a client/server model with the server offered as Software as a Service or on cloud infrastructures. RapidMiner provides data mining and machine learning procedures including: data loading and transformation, data preprocessing and visualization, predictive analytics and statistical modeling, evaluation, and deployment. RapidMiner is written in…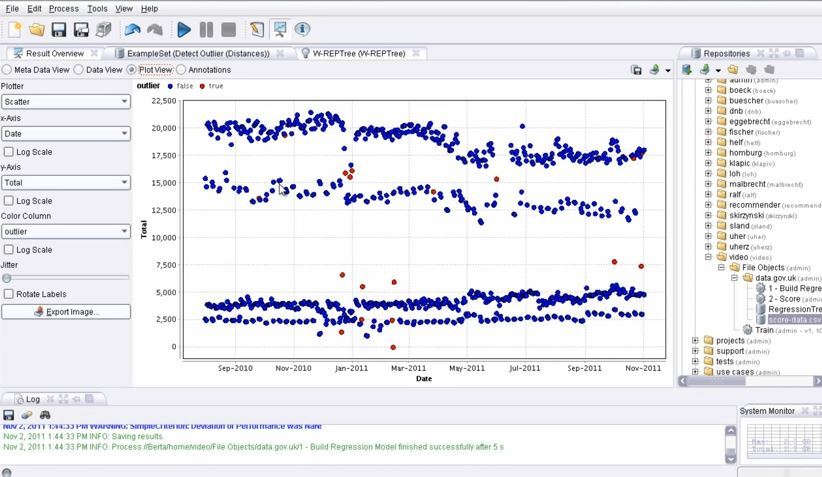 25
SalesForceIQ
SalesForceIQ is a collection of productivity solutions for CRM and sales .It helps businesses to find new ways of growing through relationship intelligence. SalesForceIQ provides smarter ways for customer relationship management. SalesForceIQ contains a suite of mobile and desktop productivity applications, powered by relationship intelligence technology, to help sales representatives to sell smarter. SalesForceIQ automatically surfaces relevant Salesforce data on every email , providing context for customer interaction .When a deal moves forward , SalesForceIQ makes it easy to update business pipeline and log sales activity .Salesforce analyzes clients communications to identify opportunities. SalesForceIQ helps professionals to see which customers…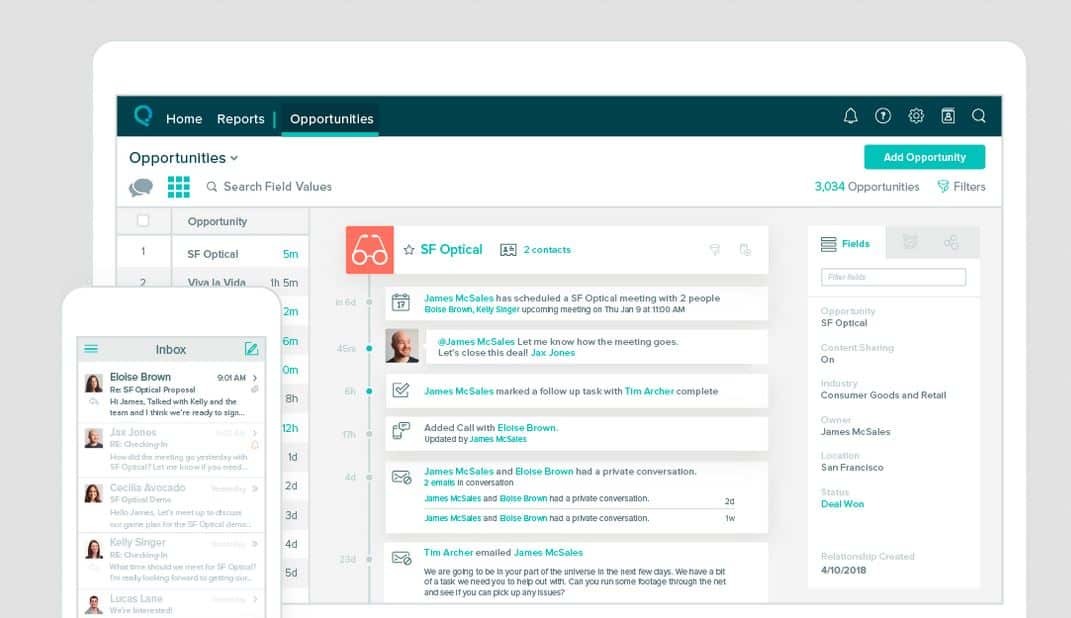 26
Swift
SwiftIQ uses high scale data processing and machine learning to deliver contextually relevant insights and digital experiences for retailers and brands. Its platform unifies and analyzes data primarily from in-store transactions as well as online behavior and third party sources to predict and inform category captains, shopper marketing, assortment, supply chain and content delivery decisions. SwiftIQ's unique ability to process billions of basket-level transaction records in near real-time and convert that into on-demand mobile visualizations, dayparts, affinities and attribution fosters a new level of retailer/supplier collaboration and innovation. SwiftIQ makes Swift Access, which helps unify data sources and make them…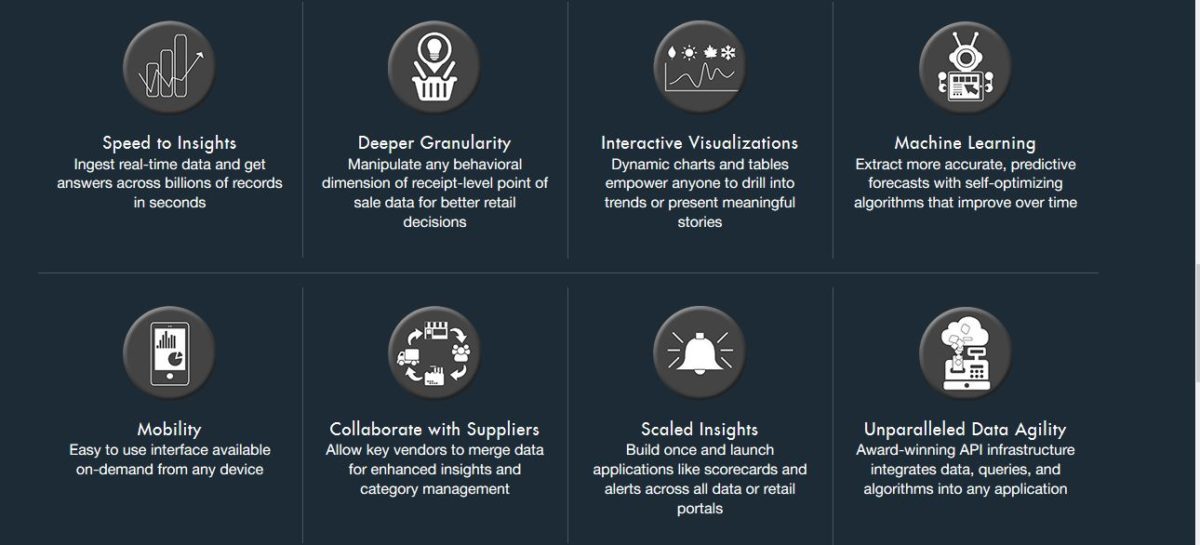 27
Versium Predictive Scores
Versium Predictive Scores : Versium Predictive Scores are the outcome of matching technologies that enable predictive models to utilize enterprise data in combination with Versium's LifeData. These predictive scores allow businesses to act on a single piece of information, without having to worry about mathematical equations and complex associations of data. Versium is a data technology company that operates the LifeData predictive analytics scoring service. Versium delivers predictive scores that are built from the company's proprietary LifeData platform which contains over half a trillion data attributes sourced from publicly observable and commercially available means. When matched to an enterprise's CRM,…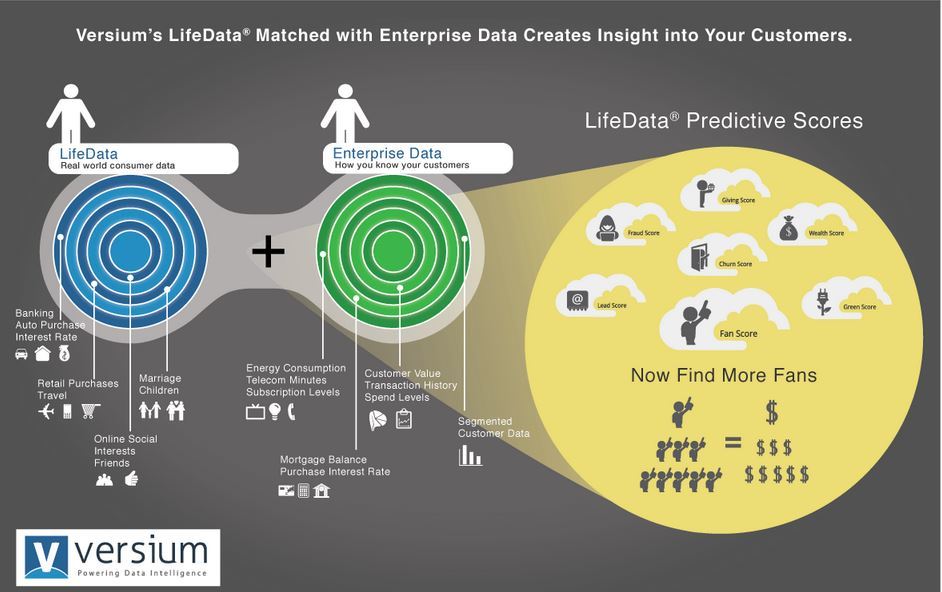 28
Yottamine
Yottamine is a Big Solution to meet Big Data requirements. Yottamine has been developed as an advanced machine learning solution for data modeling and can scale to easily manage huge data volumes. In order to assure the most efficient processing of these (and smaller) data sets, special emphasis has been placed maintaining best practices in high-performance computing. Yottamine draws from supercomputing to utilize MPI parallel processing, which enables superior performance in scalable large-scale parallel applications. MPI is the preferred approach for managing resources for both in memory processing as well as managing resources across high performance clusters. Yottamine's distributed memory…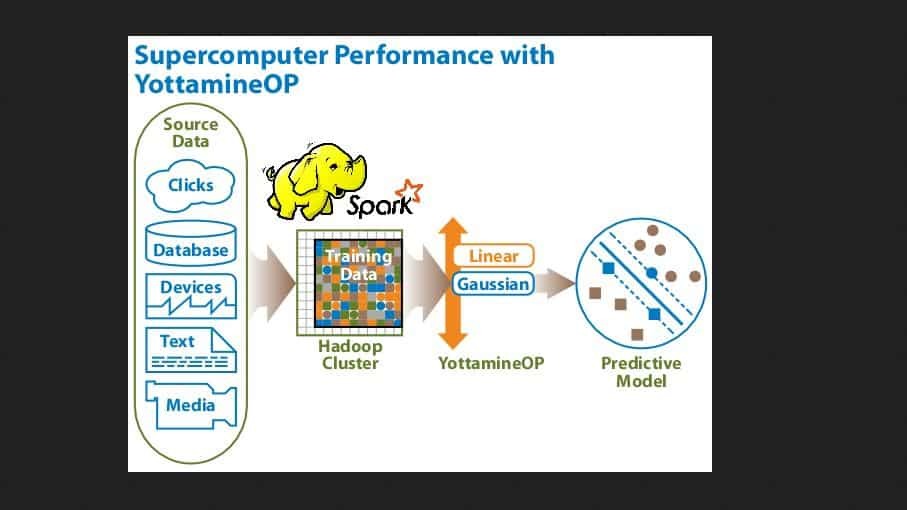 29
Zementis
Zementis provides software solutions for predictive analytics. The company was founded on the principle that data science teams and IT departments can collaborate seamlessly and efficiently, allowing predictive models to rapidly move from development to deployment, so that businesses and other data-centric organizations can easily incorporate predictive analytics into their routine operations. Agile deployment of predictive solutions is the cornerstone of the Zementis philosophy. Core solutions include ADAPA:, a decision engine for predictive analytics, and UPPI:, a universal plug-in utility for industry-leading analytics and data warehouse platforms. Zementis customers can deploy these solutions on-premise or in the cloud, with access…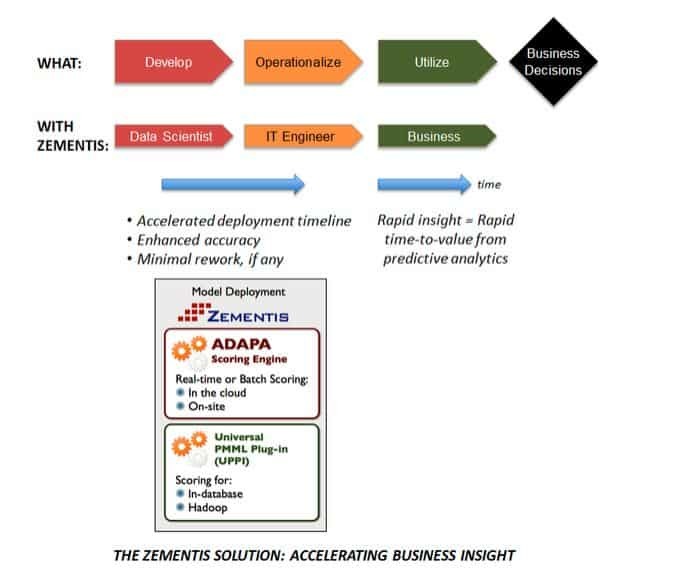 30
Zilliant
Zilliant provides prescriptive selling and pricing applications that help businesses overcome decision complexity to drive P&L growth. Zilliant makes front-line selling guidelines very easy and understandable. Zilliant uses sophisticated data science and scalable technology to provide the right answers at the right time. Zilliant deep insights and abilities are embodied in "The 4P's" Prescriptive, Proven, Platform and Partner. Zilliant enables better decision making every time through actionable selling guidance produced by data science and predictive models. Zilliant enables significantly faster and more cost-effective deployments, quicker time to benefit, immediate access to new features and data science, extensibility to new applications,…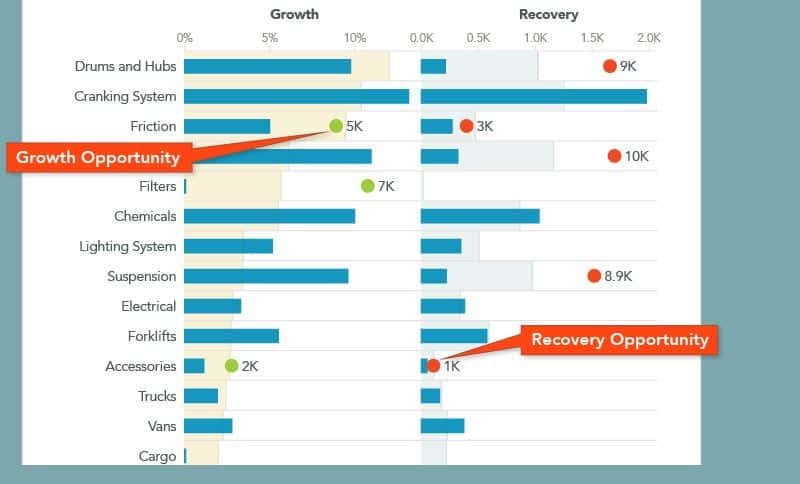 31
Datagami
Datagami uses advanced algorithms to make forecasts, search for inconsistences, and test assumptions about growth. Datagami API provides intelligent suggestions, reliable smoothing of sensor values, automatic clustering of arbitrary input.
Datagami
32
Openscoring.io
Openscoring.io is standards based, Open-source Middleware for Predictive Analytics Applications. Openscoring.io Adds PMML capabilities to Java applications using PMML Evaluator API and PMML Class Model API.
33
PredictionIO
PredictionIO is an open source machine learning server for software developers to create predictive features, such as personalization, recommendation and content discovery and provides PredictionIO RESTful API.
34
INRIX
INRIX is the world's leading supplier of quality traffic data.INRIX XD Traffic offers the most accurate real-time and predictive traffic information for every major road type and class from highways, ramps and interchanges to arterials, city streets and other secondary roads.
INRIX
You may also like to review the predictive analytics free software list :
Predictive Analytics Freeware Software
You may also like to review the top predictive analytics proprietary software list:
Top Predictive Analytics proprietary Software
More Information on Predictive Analysis Process
For more information of predictive analytics process, please review the overview of each components in the predictive analytics process: data collection (data mining), data analysis, statistical analysis, predictive modeling and predictive model deployment.