Top 238 Business Intelligence Tools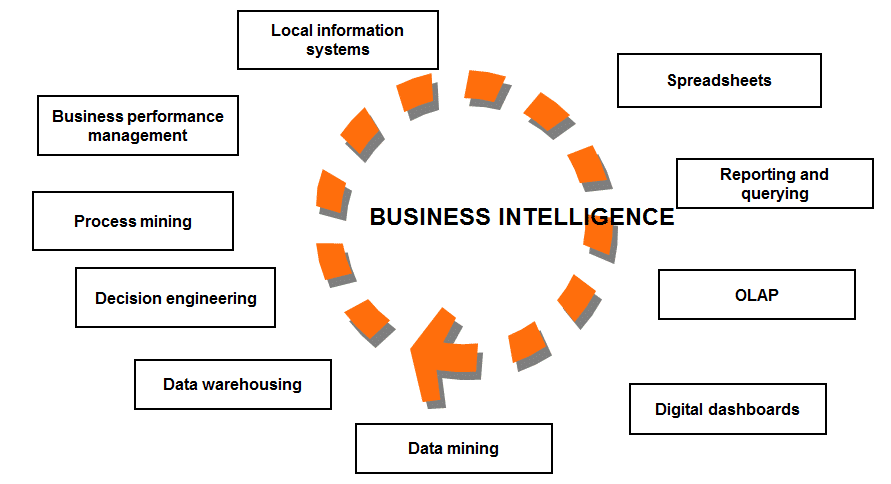 Top Business Intelligence Tools  – Business intelligence tools are application software that are used to retrieve, analyze, sort, filter, process and report data from business intelligence solution. These tools read raw data that is stored, in a data warehouse or data mart or info cube or tables in a database. Some of the top business intelligence tools are spreadsheets,  software for reporting and query display, Online Analytical Processing, digital dashboards, data mining, data warehousing, decision engineering, process mining, business performance management and geographical information systems.
Top Business Intelligence Tools-Top BI Tools
Spreadsheets, generally used are Microsoft excel, open source software, web based spreadsheets.
Reporting and querying software, either open source or proprietary software which are used to report, query, sort, filter and display data.
OLAP is Online analytical processing. OLAP tools helps users to interactively analyze the data from multiple sources in a multidimensional view based on the users business perspective.  The functions in OLAP  are drill down, drill up which is the consolidation, swap, aggregation, disaggregation, slicing and dicing.
Digital dashboards are easy too read real-time user interface, which shows a graphical presentation of the current status.
Data mining are discovering patterns in large data sets involving methods using artificial intelligence, machine learning, statistics, and database systems.
Data warehousing is a central repository of data. This is created by integrated data retrieval from different sources. This acts as a consolidated repository for storing the data for future retrieval for analysis.
Decision engineering is a framework for decision making. This bring together many techniques such analytics, reasoning and machine learning techniques to overcome the issues in decision making.
Process mining is analysis based on event logs stored in an information system which is aimed at providing information for process analysis and governance.
Business performance management is a set of processes for managing the performance of an organization using the selection of the goal, consolidation and review.
Local information systems are designed primarily to support geographic reporting.
1.Free Open Source Business Intelligence Tools
Free Open Source Business Intelligence tools include ReportServer, SpagoBI, BIRT, ART, JasperReports Server, RapidMiner, KNIME in no particular order.
Open Source and Free Business Intelligence Solutions
2. Free Proprietary Business Intelligence Tools
Free Proprietary Business Intelligence tools include InetSoft, QlikView, SAP Lumira, icCube, Tableau Public in no particular order.