70 Top Open Source and Free BPM Tools : Business Process Management Software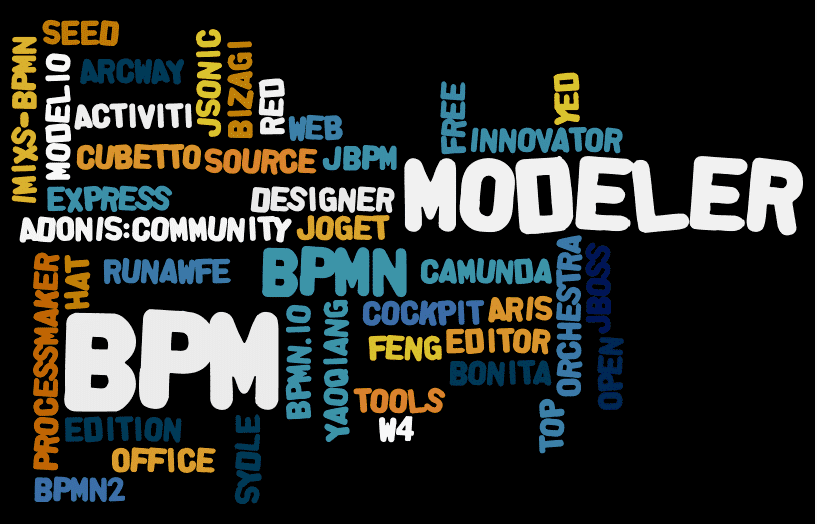 Business Process Management (BPM) tools are used for modelling, optimizing, automating and measuring the business processes. BPMN is a is a standard for business process modeling which provides a graphical representation for specifying business processes in a business process model. This is presented in a Business Process Diagram (BPD), based on a flowcharting technique very similar to activity diagrams from Unified Modeling Language (UML). The primary goal is to provide a standard notation readily understandable by all business stakeholders. These stakeholders include the business analysts who create and refine the processes, the technical developers responsible for implementing them, and the business managers who monitor and manage them.
Top Business Process Management Software : IBM Blueworks Live, KiSSFLOW BPM, Zoho Creator, Appian, Nintex, Alfresco Activiti, Oracle Business Process Management, Pega 7 BPM, HEFLO, K2 blackpearl, Visio, Intellect Accelerate, OpenText MBPM, OpenEdge BPM, Metastorm BPM, Adobe LiveCycle, IBM WebSphere Dynamic Process Edition, Intalio, Sequence iBPMS, OmniFlow, Bizflow, EMC Documentum, Interstage, SAP NetWeaver BPM, Castrum Platform, Elements Process Knowledge, Skore app, Red Hat JBoss BPM Suite, Lucidchart, MagicDraw, UNICOM System Architect, Enterprise Architect, Edraw Max Pro, Digital Enterprise Suite, Visto, Workflow, TIBCO Nimbus, TIBCO ActiveMatrix BPM, Micro Focus Together, Enterprise Studio, ADONIS, Activiti, Software Ideas Modeler, OmniGraffle 7, Visual Planning, Workfront Marketing Work Cloud are some of the best Best Business Process Management Software.
Open Source and Free Business Process Management (BPM) Tools : jSonic BPM, jBPM, Activiti, Red Hat JBoss BPM, ProcessMaker, Bonita BPM, Camunda, Orchestra, Joget, Yaoqiang BPMN Editor, ADONIS:Community Edition, ARCWAY Cockpit Designer, Bizagi BPMN Modeler, ARIS Express, bpmn.io, Cubetto, BPMN2 Modeler, W4 Web Modeler, SYDLE SEED, Imixs-BPMN, Innovator, Modelio, yEd, RunaWFE, and Feng Office are some of the top Open Source and Free BPM tools.
What is Business Process Management Software
Business process management Software enables improving corporate performance by managing and optimizing a company's business processes. Business process management Software provides features for modeling, automation, execution, control, measurement and optimization of business activity flows. It provides the tools to visualize functions and processes, measure the appropriate measure to determine success, analyze by comparing the various simulations to determine an optimal improvement, improve the select and implement the improvement, control the implementation and by use of user-defined dashboards monitor the improvement in real time and feed the performance information and re-engineer the processes from scratch for better results.
Business Process Management Software Features
Process engine, provides a platform for modeling and executing process-based applications, including business rules
Business analytics which enable the managers to identify business issues, trends, and opportunities with reports and dashboards and react accordingly
Content management which provides a system for storing and securing electronic documents, images, and other files
Collaboration tools through discussion forums, dynamic workspaces, and message boards
Business Process Management Software: Trending
Top Business Process Management Software
IBM Blueworks Live, KiSSFLOW BPM, Zoho Creator, Appian, Nintex, Alfresco Activiti, Oracle Business Process Management, Pega 7 BPM, HEFLO, K2 blackpearl, Visio, Intellect Accelerate, OpenText MBPM, OpenEdge BPM, Metastorm BPM, Adobe LiveCycle, IBM WebSphere Dynamic Process Edition, Intalio, Sequence iBPMS, OmniFlow, Bizflow, EMC Documentum, Interstage, SAP NetWeaver BPM, Castrum Platform, Elements Process Knowledge, Skore app, Red Hat JBoss BPM Suite, Lucidchart, MagicDraw, UNICOM System Architect, Enterprise Architect, Edraw Max Pro, Digital Enterprise Suite, Visto, Workflow, TIBCO Nimbus, TIBCO ActiveMatrix BPM, Micro Focus Together, Enterprise Studio, ADONIS, Activiti, Software Ideas Modeler, OmniGraffle 7, Visual Planning, Workfront Marketing Work Cloudare some of the best Best Business Process Management Software.
1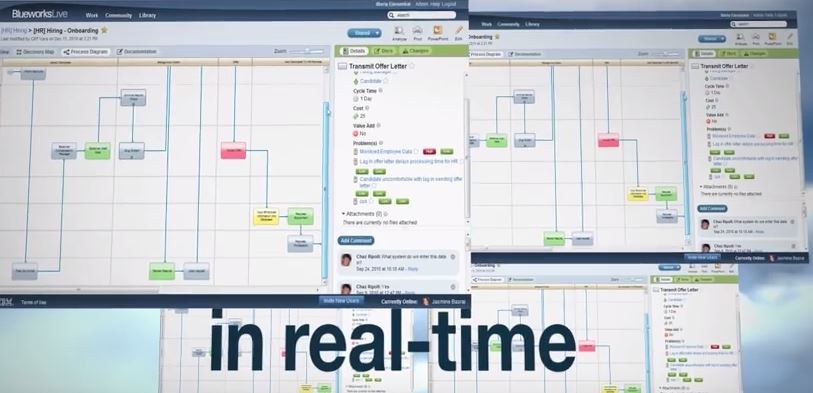 2
Built as a self-service cloud workflow software, KiSSFLOW is ready to use and can be set up in minutes as against traditional business process management software and customized workflow tool which requires huge investments and takes days to set up. KiSSFLOW – A simple workflow software with an intuitive 5-step workflow wizard makes designing every workflow process a joy. The seamless integration with Google Apps Suite makes our workflow Management tool the obvious choice for organizations which are looking for on-demand cloud business process management solutions. Our workflow software is supposed to make everything easier in your organization including HR…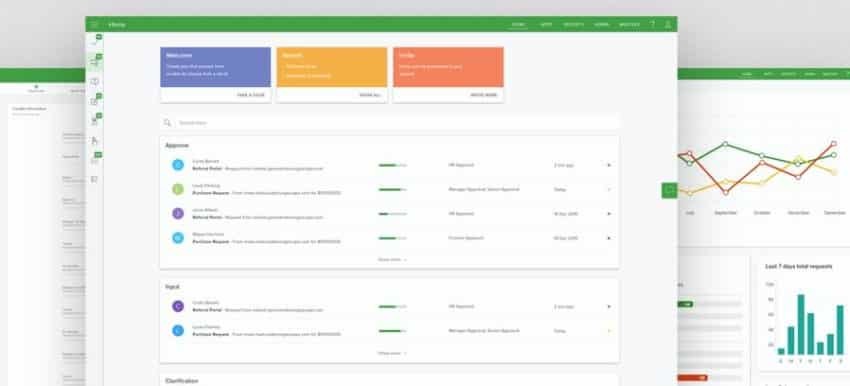 3
Zoho Creator is a "low-coding platform that offers to build online database applications for the unique business needs".Essentially, it's a tool that help in building programs for the business quickly, and without needing a deep set of IT skills and an even deeper wallet. When an application is build then one need to think about how it will look (the user interface), what will happen when someone clicks submit (workflows), build reports and dashboards to get insights into what it is doing, manage user security, and a database to store saved data, among a few other things. Zoho creator includes…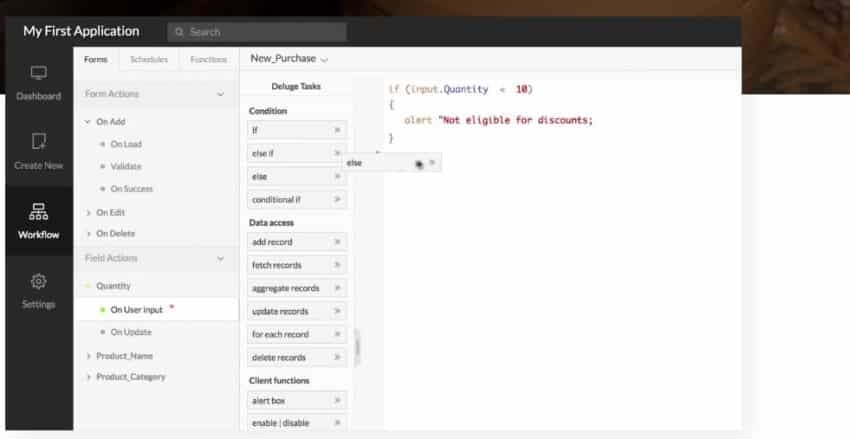 4
Appian is the BPM software: a business process management software. Appian leads the market in BPM innovation, delivering comprehensive, flexible, and easy-to-use solutions that meet the needs of businesses and governments from all over the world. The Appian Enterprise BPM Suite is a 100 percent Web-based solution, including real-time analytics and integrated knowledge management. Appian shortens collaboration processes between IT and business, enabling all users to be a part of the process of attaining corporate goals. Appian Anywhere, the first and only complete BPM Suite available on-demand, distributes all full-time functionalities of Appian Enterprise via a Software-as-a-Service (SaaS) model. It…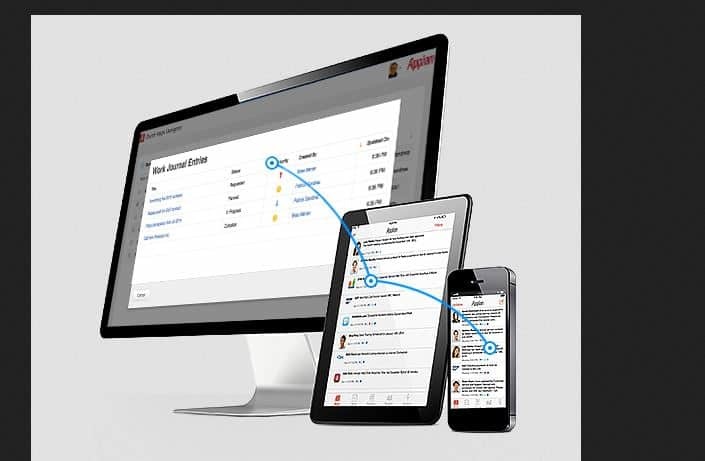 5
Nintex is an easy, point-and-click workflow and content automation that makes collaboration easier, connecting every person, department and system inside or outside of the business. With Nintex Workflow, users can tackle everything from basic business functions to company-wide processes with a few clicks – not code. Quickly turn time-consuming, unstructured processes into automated, efficient workflows. Make every part of the business work better, across all departments and functions.Be able to build SharePoint workflows with Nintex that connects and interacts with the existing business applications like Salesforce, as well as cloud services like DocuSign, Box, Dropbox, Yammer or Twitter using one…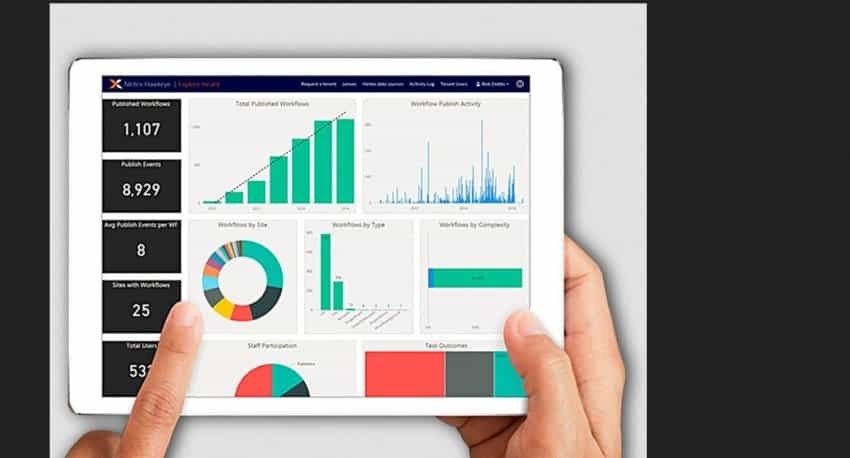 6
Alfresco Activiti is an enterprise Business Process Management (BPM) platform targeted at business people and developers. At its core is a high performance process engine that allows organizations to manage a wide range of critical business processes. The platform integrates with a wide range of ECM systems, including Alfresco One. Alfresco Activiti powers thousands of business processes for hundreds of customers worldwide. Alfresco's document management solution bring company content under control. Important files—like legal contracts, marketing assets and engineering documents—are easily found, shared and secured. Alfresco maximizes the value of content by integrating it into core business processes. Information flows…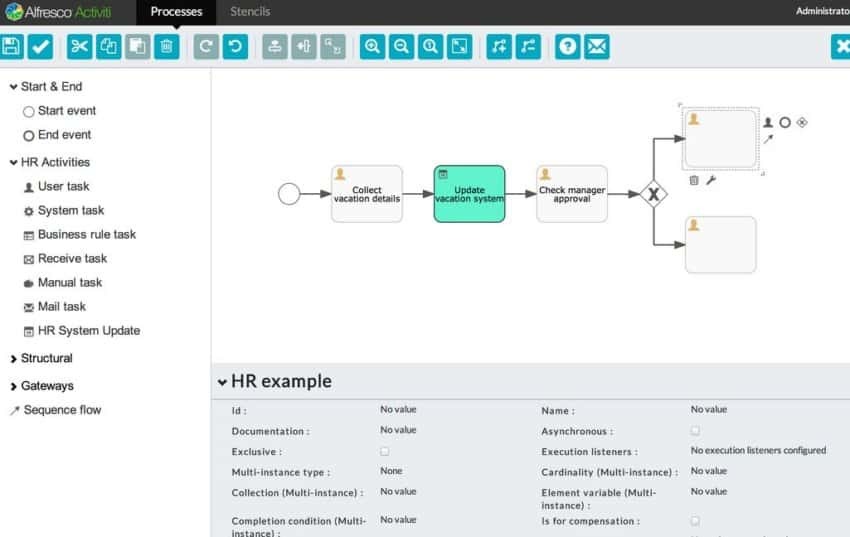 7
Oracle Business Process Management is a member of the Oracle Business Process Management Suite; it offers a complete set of tools for creating, executing, and optimizing business processes. The suite enables unparalleled collaboration between business and IT to automate and optimize business processes. Oracle Business Process Management leverages the company's existing IT investments and is specially tuned for line-of-business users. Using Oracle Business Process Management, users can improve productivity and visibility and provide its organization with the agility to respond to market needs like never before.Oracle Business Process Management studio enables unparalleled collaboration between business and IT. It is both…
Oracle Business Process Management

8
The Pega 7 Platform's Case Management helps you quickly build business applications that deliver the outcomes and end-to-end experiences your customers demand. Pega 7 BPM streamlines operations to reduce costs and improve business agility. Analysts recognize Pega as the most comprehensive BPM suite to combine RPA and BPM in a single, unified platform.Pega enables business stakeholders to accelerate enterprise app development through visual tools (no coding), support for business/IT collaboration, and continuous improvement by allowing user modifications to running apps in a controlled way.As work passes from one business silo to the next, Pega preserves the context of each piece…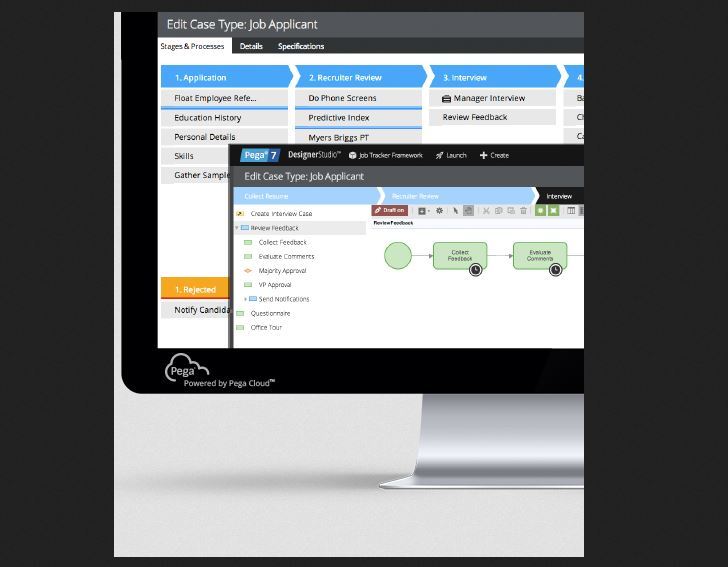 9
HEFLO is a BPMN tool created by experts with more than 10 years of experience in the business. In addition, HEFLO has a modern web usability, which makes creating diagrams a piece of cake.The HEFLO documentation output is made to perfection to give users a beautiful, complete, professional and stylish document.With a user's diagrams safe on a cloud, they don't need to install anything. They can access their diagrams from anywhere at any time. Users don't worry about backups since they are automatic because HEFLO uses the same security protocol as e-commerce web sites.As amazing as it seems, these great…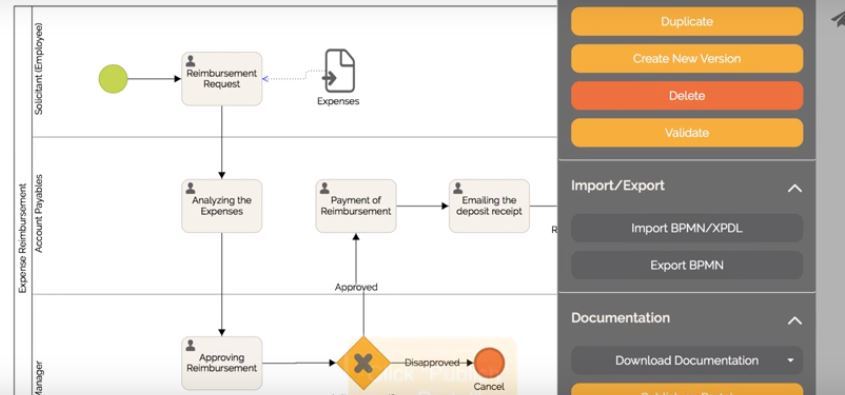 10
The K2 blackpearl is a business process application platform that empowers businesses to create solutions for everything from onboarding and expense claims to budgeting and campaign management. Users can transform their business by boosting productivity and increasing operational efficiency — from anywhere, at any time.Businesses can now build, run and future-proof their business processes with K2 blackpearl. K2's custom application platform features intuitive forms and workflows that span roles, departments and data sources — so businesses can manage for today and innovate for tomorrow.Enterprises can maintain a high level of control by installing K2 on servers in their datacenterIt allows…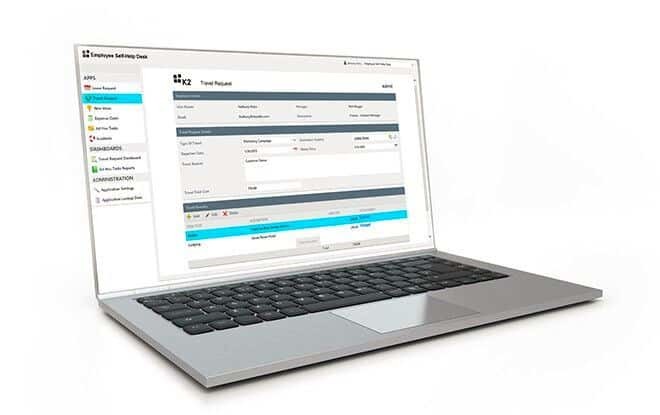 11
Visio is a one-stop diagramming solution to simplify and communicate complex information. Visio helps the user work visually and produce diagram effortlessly.Visio simplify and communicate complex information with data-linked diagrams that you can create in just a few clicks. It does simplify and communicate complex information with data-linked diagrams that create in just a few clicks. Whether you want to quickly capture a flowchart that you brainstormed on a whiteboard, map an IT network, build an organizational chart, document a business process, or draw a floor plan. It brings diagrams to life with data linking. The user can connect data…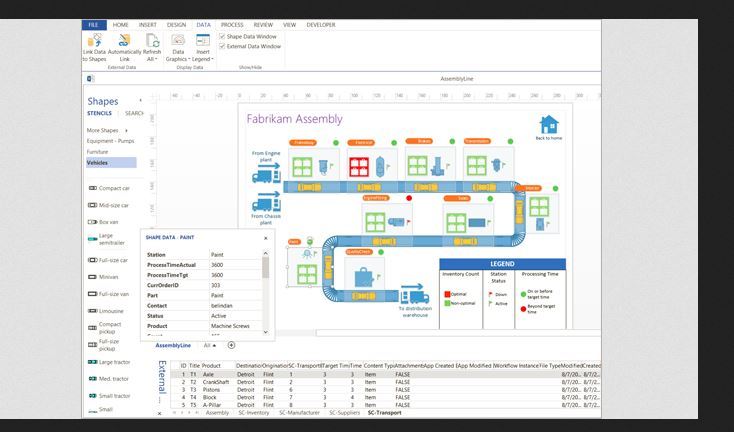 12
Intellect Accelerate is a leader in the Platform-as-a-Service (PaaS) software industry and offers the world's fastest solution for building business apps. The Intellect Accelerate Platform allows users the ability to build business apps, ranging from simple to highly complex, without the need for programming. Intellect delivers exceptional results for businesses and departments of large enterprises seeking fast phase. Its primary goal is to reduce the dependence on paper forms and to use automated workflows where manual tasks could be eliminated and tasks/processes could be tracked. As a conductor, it assigned tasks, re-route processes, automatically send reminders, extend general self-service ensuring…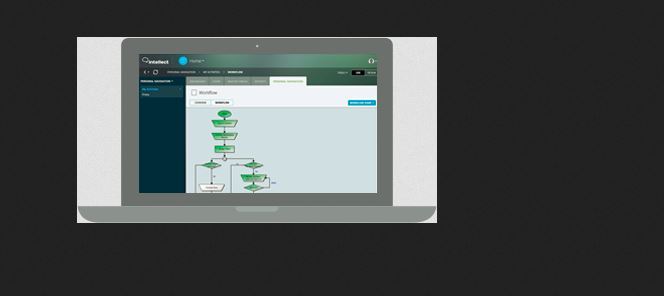 13
OpenText MBPM (formerly Metastorm BPM) delivers the insight, power and agility that its users need to make their vision for business improvement a reality. The software assists companies to respond to increasing competitive pressures, regulatory changes, and customer demands, therefore increasing their effectiveness. OpenText MBPM provides its users with Business Process Analysis functions through which they can interface with a more agile, intelligent business process platform that integrates the underlying applications and information. Users are also provided with improved business insight across process execution. In addition, users are able to design processes rapidly and deliver competitive differentiation without the constraints…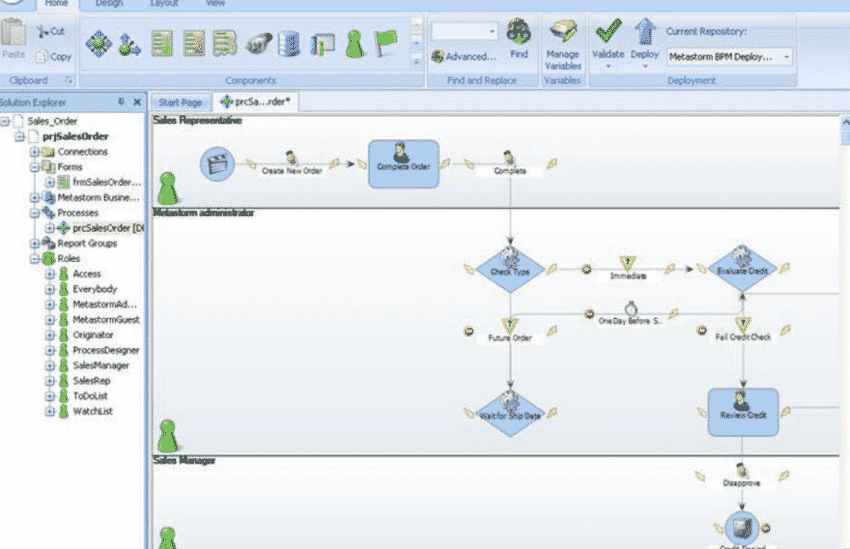 14
OpenEdge Business Process Management gives its users the knowledge needed to make informed decisions, so they can execute process improvements that optimize their businesses. With OpenEdge BPM, businesses can quickly identify bottlenecks and drive system optimization across functional areas. Improvement to processes and workflows can easily be addressed, providing increased agility and efficiency, and reducing time to market. Users can therefore evolve from transaction-oriented to process-centric business application development and quickly define, document and analyze business processes with OpenEdge BPM. OpenEdge Business Process Management is part of the OpenEdge Platform which is a flexible, reliable, scalable and affordable application development…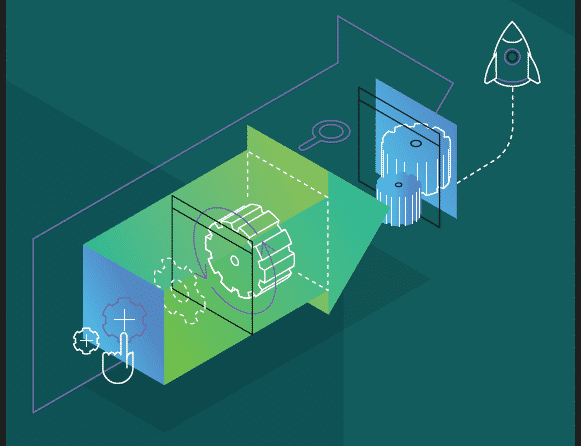 15
Metastorm BPM is a Business Process Management (BPM) systems platform for automating people-intensive administrative and management processes. It is a flexible production-strength BPM system, supporting a very large number of processes, users, and transactions. It can access data from any ODBC data source, make use of external forms, integrate at an API level with a number of document management systems, and exchange mail with most email clients. More importantly it can easily integrate all these systems via one simple user interface, then present that interface to the user in either Internet Explorer or MS Outlook. With Metastorm's Watch List, managers…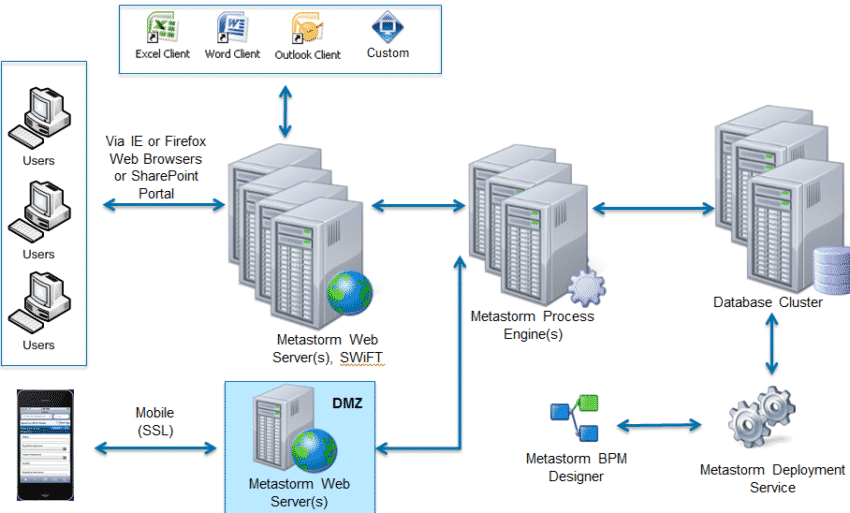 16
Adobe LiveCycle Enterprise Suite 4 is an enterprise document and form platform that helps its users to capture and process information, deliver personalized communications, and protect and track sensitive information. LiveCycle ES4 extends business processes to its users' mobile workforce and clients, increasing productivity while broadening service access to any user equipped with a desktop, smartphone, or tablet. Through LiveCycle ES4, users can reduce total cost of ownership by connecting and automating critical business processes. LiveCycle ES4 helps them to create easy-to-use forms and data capture interfaces, publish them on their website so users can find them, and connect them…

17
IBM WebSphere Dynamic Process Edition is a key IBM BPM Suite element, with built-in support for adapting and responding dynamically to change. This offering provides the BPM enabled by SOA foundational capabilities for modeling, simulating, deploying and monitoring end-to-end dynamic business processes. WebSphere Dynamic Process Edition offers business user tools to visualize, understand, document, and simulate business processes including human workflows. Some of the Suite's components include: WebSphere Monitor 6.2, WebSphere Modeler Advanced 6.2, and WebSphere Business Services Fabric 6.2. WebSphere Monitor 6.2 provides customizable, role-based views for faster and smarter decisions. It also gives robust business activity monitoring for…
IBM WebSphere Dynamic Process Edition

18
Intalio business process management software, delivers a rich experience for users, process analysts, process developers, and administrators alike. Intalio continues to evolve Intalio bpms with new functionality and major enhancements in response to the needs of its customers and with a clear understanding of the future of BPM. Intalio|bpms is available in three service levels for the Enterprise Edition. Intalio provides enterprise-class process management at extremely competitive price points. Intalio bpms users are able to carry out BPMN modeling by leveraging standard business process modeling language for their organizations' needs, resulting in consistency and accuracy at the highest level. They…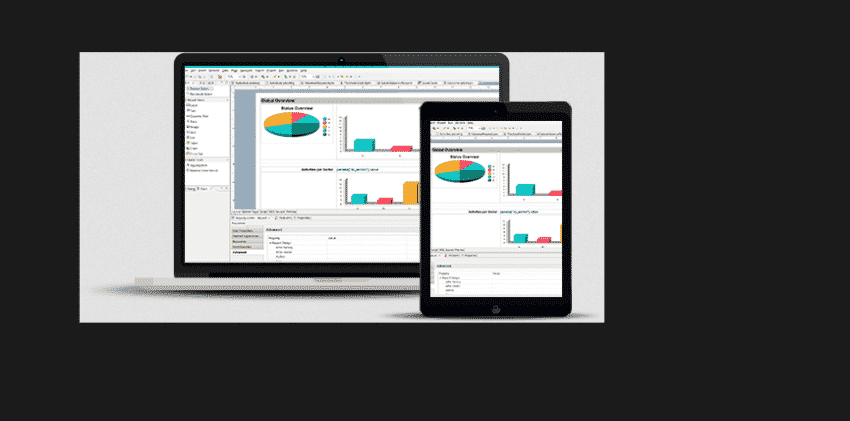 19
PNMsoft Sequence iBPMS is an intelligent workflow software which optimizes business processes, enabling its users to achieve business transformation. Sequence provides superior control over dynamic changes, using unique HotChange technology. The software is Microsoft-based and can rapidly and easily integrate with existing ERP, CRM, Email/File Systems, Mainframes, and Oracle DB. With its wizard-based connectors and flexible architecture, Sequence can even integrate with IoT, enabling smart devices to interact with BPM applications. The software has especially strong, out-of-the-box integration with Microsoft products such as SharePoint and Dynamics. PNMsoft Sequence suits mid-sized businesses and can scale up for organizations with hundreds of…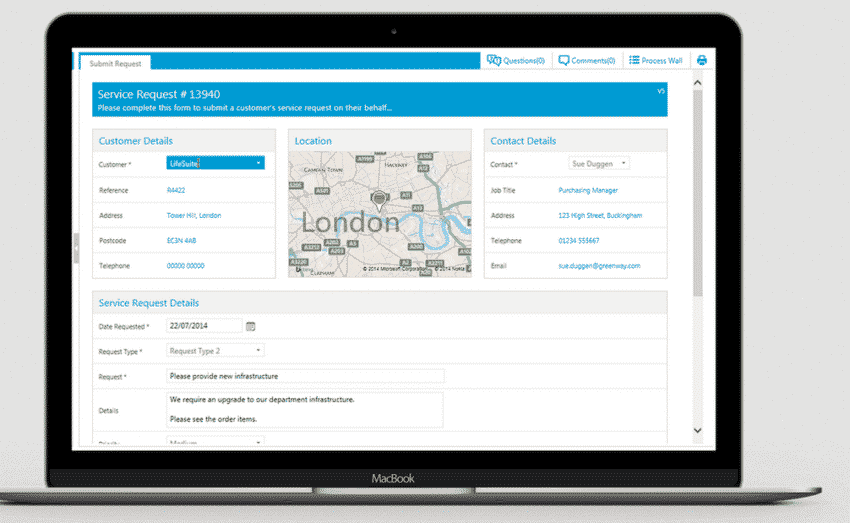 20
OmniFlow is a highly scalable, platform independent BPM solution that enables wide variety of industries to streamline their business processes. Built using open technologies and having compliance with global standards, OmniFlow has seamless integration abilities, which allow it to be introduced into almost any existing IT infrastructure. The Newgen OmniFlow facilitates seamless, real-time interactions amongst key stakeholders including Business and IT users for designing all aspects of processes, user experiences and integrations. The process models can be tested prior to their deployment using historical data and what-if analysis, by a Process Simulator. This enables designers and users to optimize processes…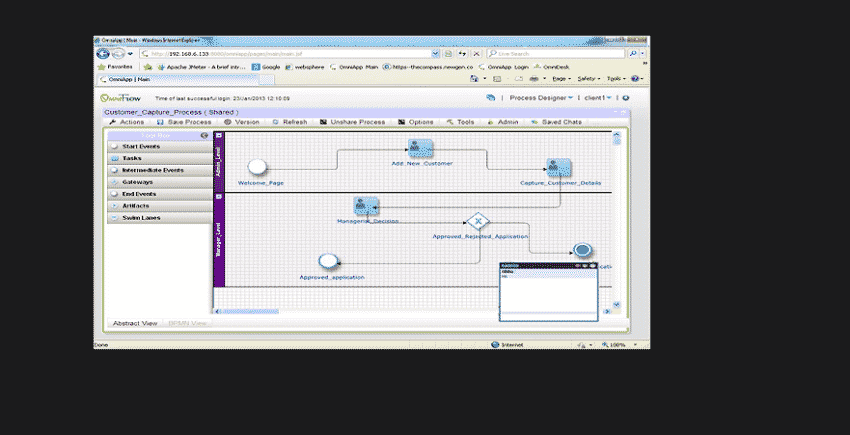 21
BizFlow Plus BPM Suite (BPMS) was created to help leaders rapidly configure and deploy process-driven solutions supporting order-to-cash, request-to-service, procure-to-pay, hire-to-retire, or any other process life-cycle. With BizFlow users can align strategy with objectives and metrics to prioritize work, reduce waste, and streamline process by creating applications that drive greater efficiency, agility, and quality. They can also use turn-around-time (TaT) and touch-time to measure efficiency and effectiveness to enable straight through processing, standardization, and optimization. BizFlow provides its users with a studio to design and build thin web applications using codeless environment and schema-driven assembly. Besides this, BizFlow's SharePoint and…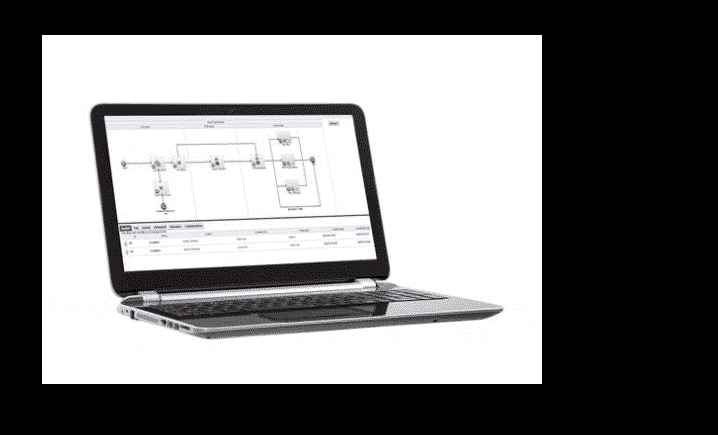 22
EMC Documentum xCP is a flexible development platform for automating complex, information-intensive processes to drive better business decisions. It enables organizations to improve productivity, provide the highest levels of customer service, and evolve quickly as processes and priorities change. EMC Documentum xCP harnesses the advanced capabilities of the EMC Documentum platform with the following offerings: EMC Documentum xCP Designer and EMC Documentum xCP User. The platform's process automation and analysis capabilities enables users to automate, manage, and improve processes involving people, information, and systems. They can easily model and integrate information within high-volume, people-driven processes, and put all relevant information…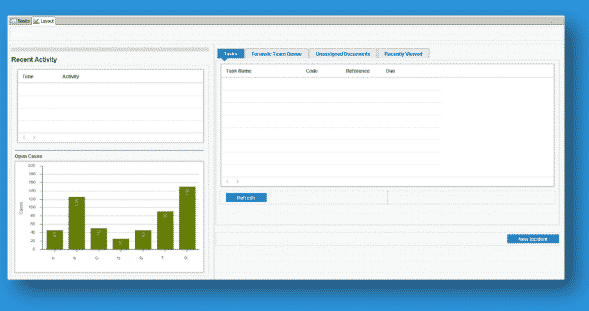 23
Interstage Business Process Manager is the leading solution for the next generation of Business Process Management (BPM), Agile BPM. Its functionality encompasses all of the capabilities of traditional BPM automation, including process modeling, simulation, automation, analysis, and optimization. In addition, it addresses today's new requirements of BPM for continuous process optimization, collaborative process workflows to support team-based work initiatives, and extending processes to and among diverse constituent audiences, including customers and business partners. Interstage Business Process Manager provides companies with extensive process performance monitoring capabilities. Audit trails, real-time business activity monitoring, and advanced process analytics help teams to respond immediately…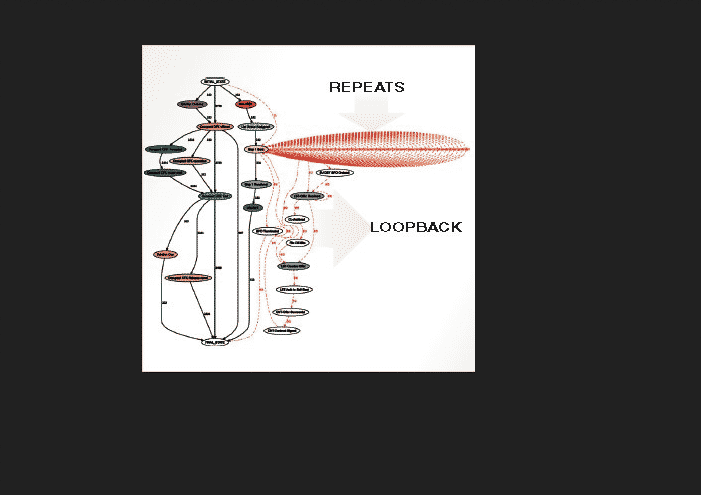 24
SAP NetWeaver Business Process Management (BPM) is a component of the product SAP NetWeaver Process Orchestration. It is used for modeling and execution of user- and system centric processes. Through its BPMN based process visualization, a common language between business and IT is enabled. The implementation of processes leveraging NetWeaver BPM often includes more than pure modeling of a BPMN-Model. Additional aspects are considered in order to integrate user collaboration into a process: The development of user interfaces for user interaction within the process steps, or the integration of SAP and non-SAP Systems with heterogeneous data models. This repeatable challenge…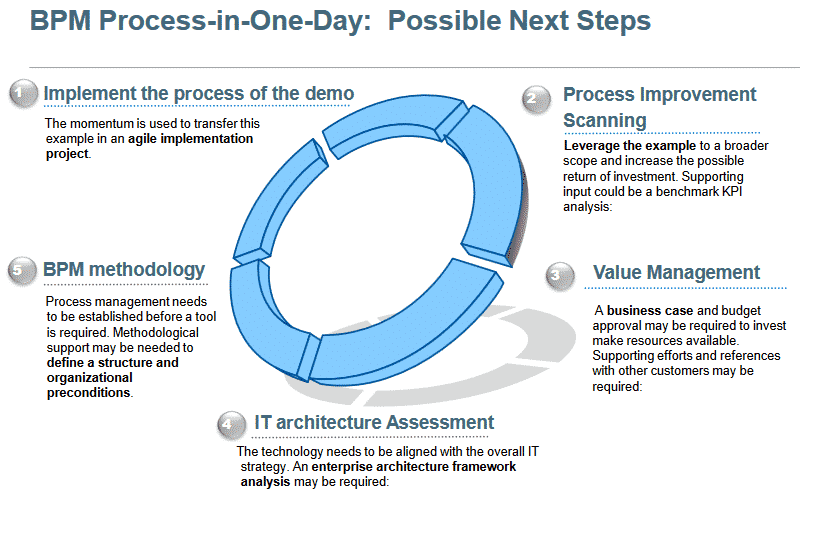 25
The Castrum Platform provides a highly secure environment for the capture and management of information from colleagues, customers and partners, moving it through a defined lifecycle. It offers simple to maximize adoption, smart to build powerful solutions easily and secure to keep all data safe.Castrum Platform is 100% based in the UK and uses hosting centres with comprehensive security accreditations. The platform itself incorporates an extensive set of security features, including: encryption in transit and situ, digital fingerprinting and tamperproof audit. In addition, G-Cloud accreditation and N3 experience provide comfort for the public sector. Castrum Platform enables its users to…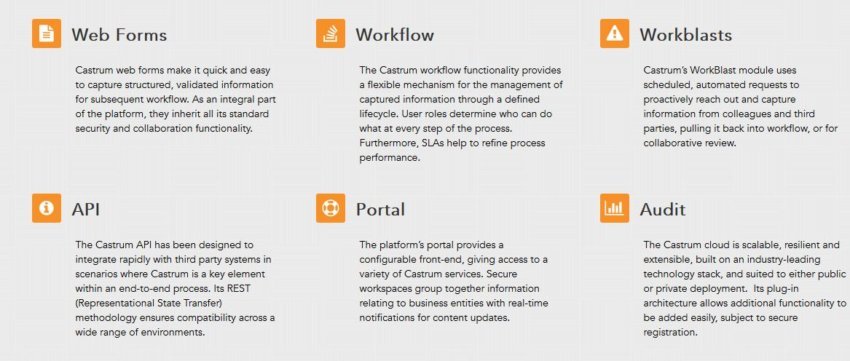 26
Elements Process Knowledge is a free business analysis application that has been designed to support Salesforce implementations and give benefits at every phase of the lifecycle. Dump Visio, Powerpoint or Lucidchart. Elements Process Knowledge helps the company's customers, employees and suppliers design a friction-free process with Process Knowledge – process mapping in the cloud.Users are able to build hierarchical processes maps in live or remote workshops, link activities to Salesforce transactions, documents, procedures, videos and meta-data and create an Elements Space so cross-organizational teams can collaborate securely. Elements Process Knowledge also makes the maps available to every Salesforce user through…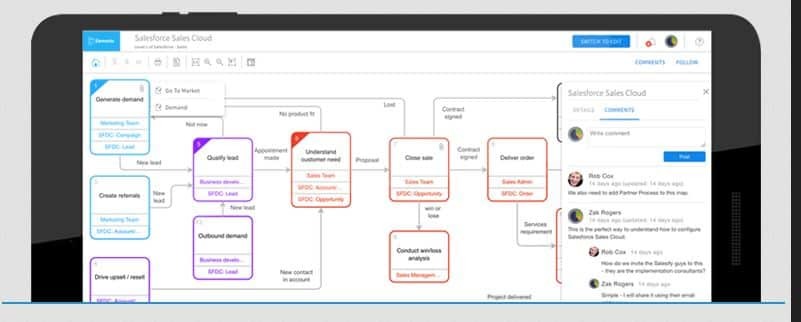 27
Skore app is a business process improvement tool that helps users focuses in on what's important, identify what needs to change and make it stick. Its simple modeling technique is perfect for quickly and visually capturing ideas and describing how things work. Define the outcome for each step to ensure all work delivers value to the customer. Break steps down into more detail in order to explore how things work.Use one of Skore app's built in responsibility models, such as RACI, to understand the level of involvement of each role in the work. This helps users clarify the people who…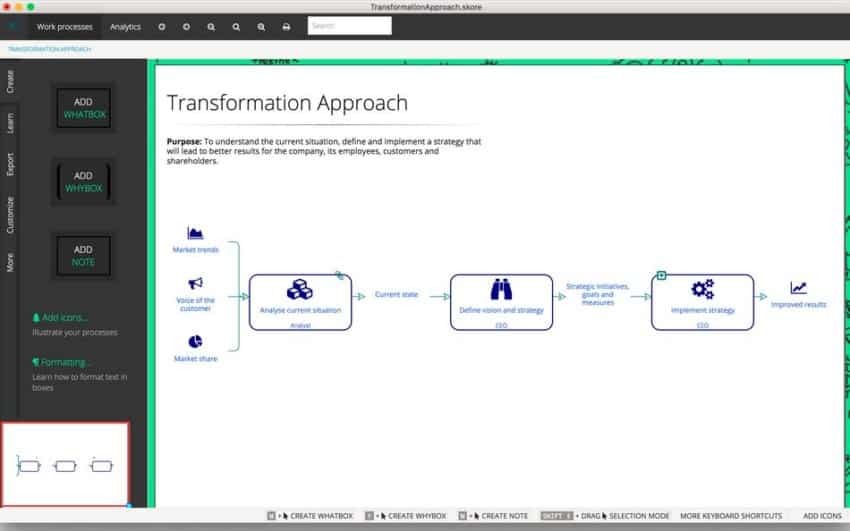 28
Red Hat JBoss BPM Suite together with business rules management (BRM) systems help business and IT users collaborate to manage business logic and quickly modify procedures and policies as needed. Red Hat® JBoss® BPM Suite is leading the way. Red Hat JBoss BPM Suite for OpenShift extends the capabilities to our Platform-as-a-Service (PaaS) solution, Red Hat OpenShift, for process services in the cloud. Red Hat JBoss BPM Suite includes a unique toolkit designed to speed construction of applications that solve complex scheduling and resource optimization problems. Business resource planner uses the business rules capabilities of JBoss BPM Suite to quickly…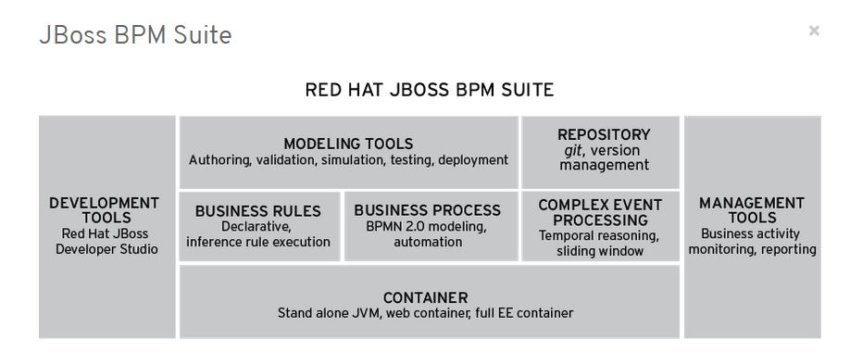 29
Lucidchart provides an intuitive and collaborative diagramming solution for the company's entire organization. It focuses on quality, security, and affordability which make the decision making easier. Lucidchart's simple admin interface makes it easy to configure permissions and auto-provision new accounts. Users can even move all other users onto a single master account to simplify document management. That way, important documents won't leave when their creators do.Lucidchart is secure and reliable. It provide options to limit sharing by domain and to require SSO authentication via Google, OneLogin, Okta, or Ping, admins don't have to wonder about security. Meanwhile, all docs are…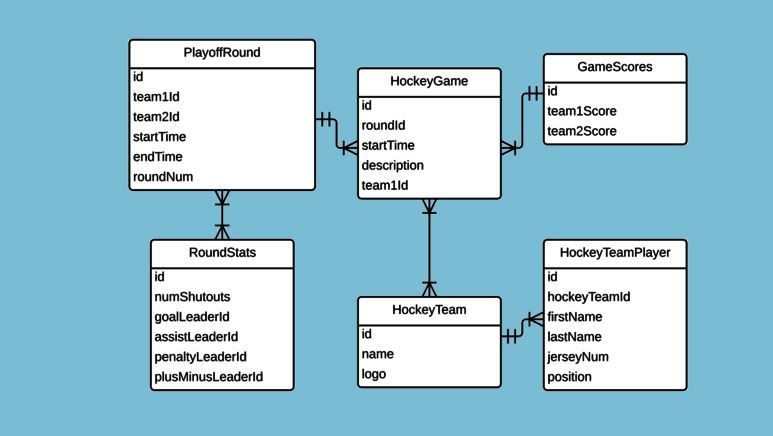 30
MagicDraw is a Unified Modelling Language (UML) business process, architecture, software and system modelling tool by way of teamwork support. MagicDraw is 100% pure Java application. MagicDraw's support is unique as it makes easy to deploy a Software Development cycle (SDLC) environment, serving the best for its users. Technically, it provides interdependence from specific software development process, delivering well to business process that allows centralized work process modeling, requirements, capture and designs. By utilizing MagicDraw's Teamwork Server, multiple developers work alongside on the same model. This makes it simple to exchange data within the context of work. In a nutshell,…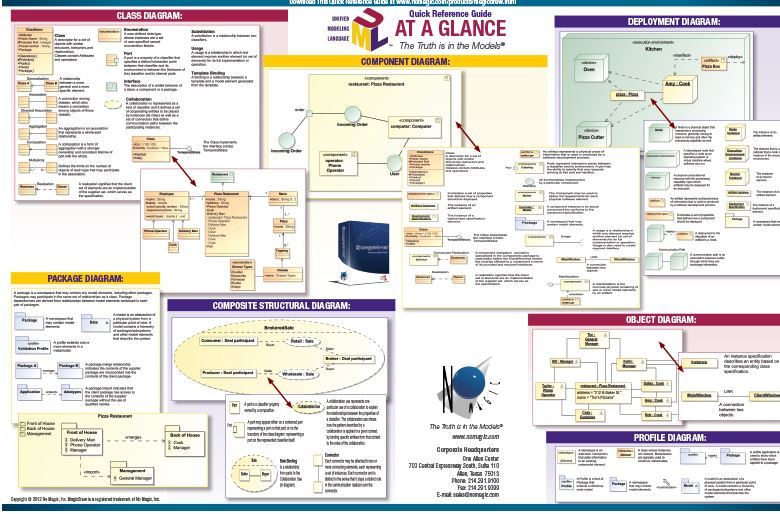 31
UNICOM System Architect is introduced as an enterprise planning solution to help build and enhance businesses' architecture. This solution provides an integrated collection of models and analytics for exploration, collaboration, and deployment of business technology change and transformation initiatives. System Architect addresses all aspects of an organization's enterprise architecture including modeling, publishing, analysis and execution.UNICOM system Architect reinforces Defense Architecture Frameworks such as: DoDAF2 (The US Department of Defense Framework), NAF 3 (NATO Architecture Framework) & MODAF 1.2 (The UK Ministry of Defense Framework), to name a few. And that with support to these frameworks, System Architect proudly empowers to…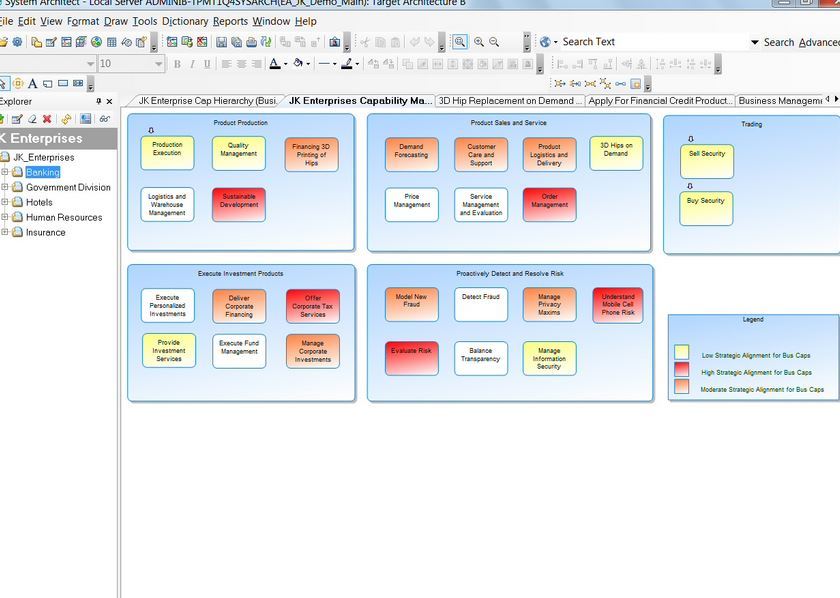 32
Sparx Systems Enterprise Architect is a tool that engages in modeling and design. The program therefore supports the design and construction of software systems, modeling business processes and modeling industry based domains. It is being utilized by organizations to model their systems' architecture and to process the implementation of these models throughout the full application development life-cycle.Enterprise Architect is an enterprise wide solution to visualise, analyse, model, test and maintain all of your systems, software, processes and architectures. Enterprise Architect is the ideal platform to help you to stay in control of your workspace, support your colleagues and team, enable…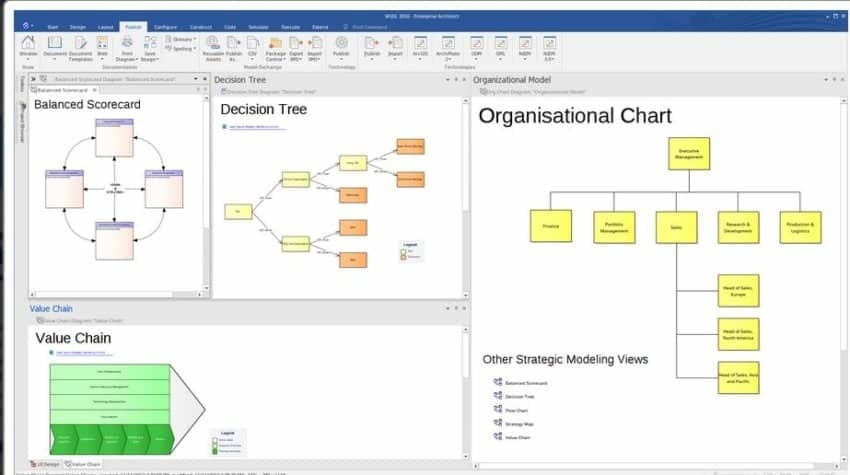 33
Edraw Max is an all-in-one diagram software which help create flowcharts, organizational charts, mind map, network diagrams, floor plans, workflow diagrams, business charts, and engineering diagrams. It simplifies the creation of over 200 types of diagrams including those for business presentations, building plans, science illustration, fashion designs, UML diagrams, wireframes, electrical diagrams, directional maps, database diagrams and a lot more.Edraw Max Pro is reliable and powerful cross-platform diagram software with rich gallery of examples and templates. This is compatible with Linux, Mac and Windows. A single license allows for cross-platform installation. As the file format is the same with Mac,…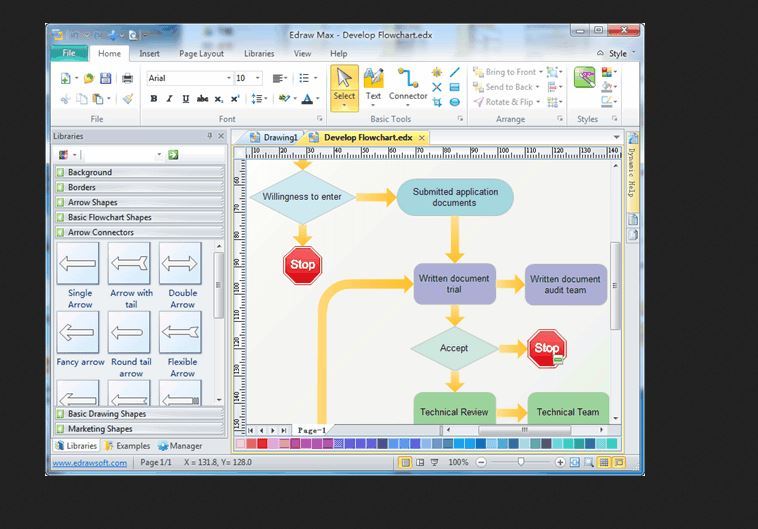 34
Trisotech Digital Enterprise Suite is a complete cloud-based visualization, transformation, innovation, and improvement software subscription offering.The Digital Enterprise Suite enables non-technical business people to participate in enterprise and business architecture discovery and modeling, and gain unique insights into relationships between models created using the Suite and other tools. Complementary to enterprise architecture and business process analysis tools, the Digital Enterprise Suite includes tools for discovering, modeling, analyzing and finding insights into your digital enterprise, with the Digital Enterprise Graph as a common semantic framework. From information networks such as the World Wide Web, to social networks such as Facebook's social…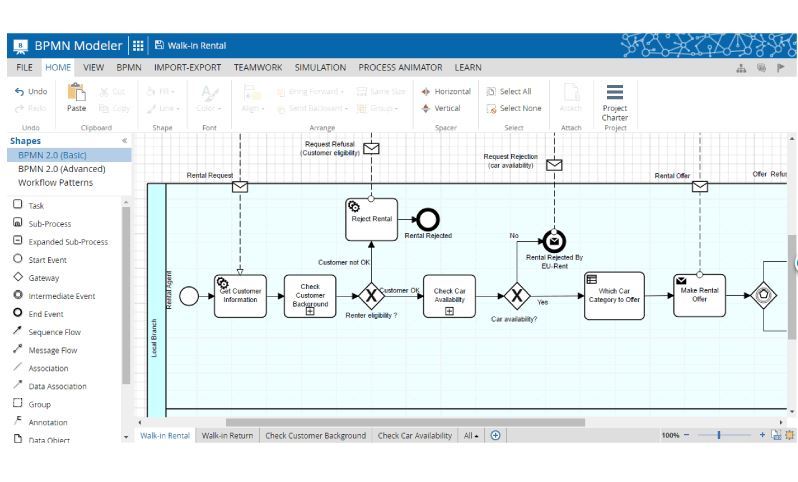 35
Visto is integrated business process management software that is designed to meet the needs of the modern enterprise.In matters of communication, it allows users to make efficient diagnostics while making sure that tasks reach the right people. Each task will be sent to someone or even an entire staff to execute. Visto memorizes groups and at each new request, users can choose whom they want to send the request.It also allows businesses to enjoy customization as per their needs. Each company has their own characteristics and Visto easily fits them all. It allows enterprises to create document flows, forms and…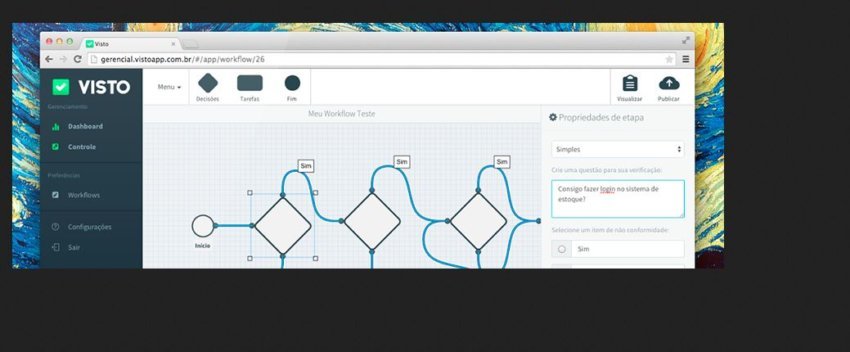 36
Workflow.com is a full featured workflow and business logic automation suite delivered both as a service or installed on premise. Its fully graphical tools balance the power of a full featured integration engine with the ease of use of a graphical only configuration paradigm.Business optimization starts as lines and boxes on a whiteboard. Workflow.com features graphical designers that let you build out apps without coding in a fully graphical environment. These workflows can be accessed by users on their computers, tablets, phones or even by SMS. Enterprises – even small ones – need to have technology they can rely on.…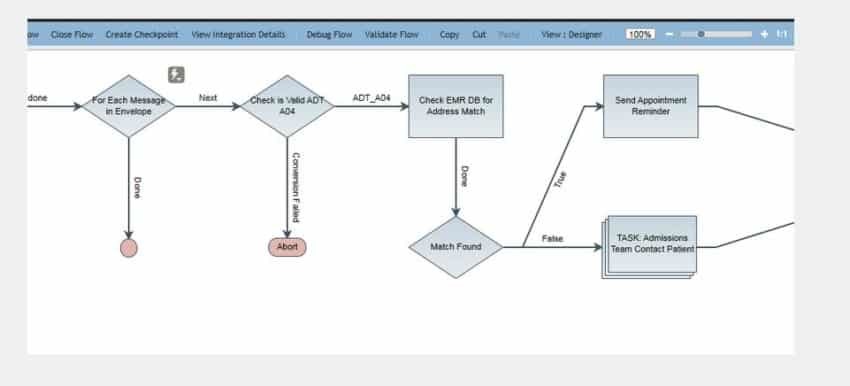 37
TIBCO Nimbus is a business app for process documentation. By presenting an easy-to-understand visualization of how people, processes, and systems should interact, it simplifies communication around processes, and improves how businesses operate.It is well-suited for organizations looking for a solution that is business-centric. No special technical notation is needed to produce quality process diagrams. Every member of the organization can generate process diagrams without support from application developers or other technical IT resources. Content is targeted to users based on their roles in the organization. Once information is published, interested users get alerted and everyone sees the new content immediately.…

38
TIBCO ActiveMatrix BPM is a leading business process platform that coordinates a digital business' process, people, context, and actions for better business outcomes. With flexible processes able to react to the right business events in real time, the platform meets all of an organization's business process needs. TIBCO ActiveMatrix BPM helps you go beyond automation to digitalize your business.With the platform in use, a business's staff spends less time building their processes and more time using them.The platform is integrated with an intuitive drag-and-drop modeler which eliminates the need for time-wasting and tiresome manual coding.Moreover, software allows users to enjoy…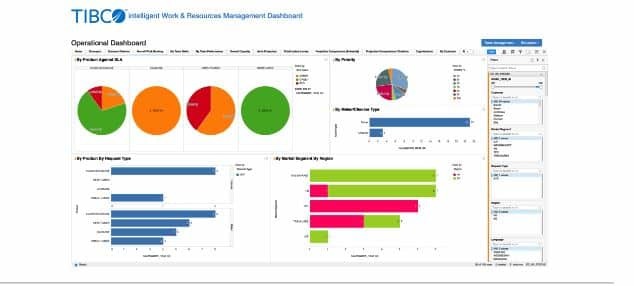 39
Micro Focus Together (formerly Borland Together) is a visual modeling tool that helps business and development teams to analyze and design software architectures. This platform provides a collaborative approach to modeling enterprise architectures so that requirements, architectures, designs, and code are always in sync. Micro Focus Together is a visual modeling platform for software architectural design. It helps business and development teams to analyze & design software architectures. This tool assists delivery teams to increase their awareness of complex systems and capture requirements as accurately as possible.Micro Focus Together is known to be improving business agility by way of model…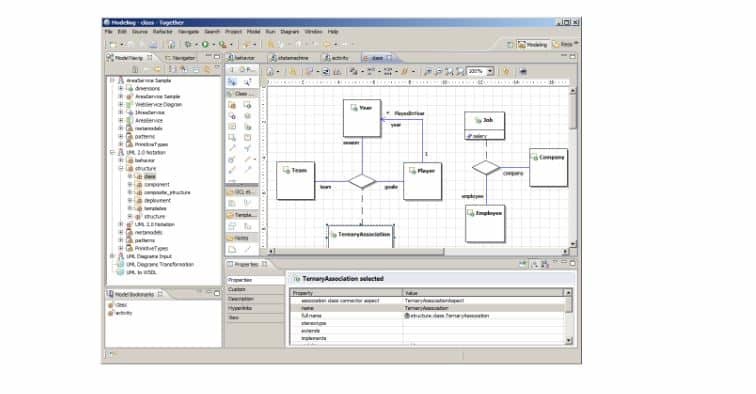 40
Enterprise Studio is a collaborative business design platform which integrates all the necessary capabilities to empower business change. This is being introduced by BizzDesign, an enterprise architecture and BPM software-development tools vendor. The approach of Enterprise Studio extends a powerful, combined modeling across multiple disciplines. It provides all the capabilities needed to seamlessly plan, track and execute change in a single software platform. This will lead the organization to pursue a common goal of exploring new revenue sources, seek for a competitive edge or search for cost savings.With Enterprise Studio innovation, a consumer can manage insights for smarter decisions. It…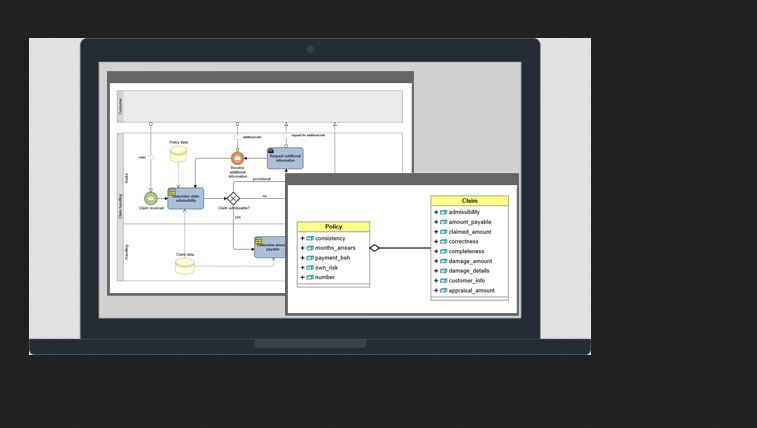 41
ADONIS is a tool which optimally supports business process management through simple, intuitive operation, online publishing, feedback mechanism, mighty search and analysis functions. On top of these attributes, this helps out as well to manage risks, standardize, accelerate and execute processes.Business process management that are reinforced thru ADONIS includes process design documentation, process-based work instructions, process analysis and optimization, process performance measurement, compliance management and internal control management. Owing to this, the results will increase quality and efficiency along with turnovers & profits by reducing rejects, costs, lead & processing time. Utilizing scenario simulation with ADONIS, will reach informed decisions…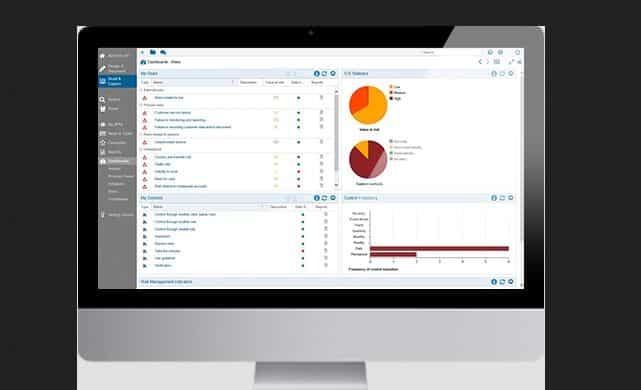 42
Activiti is a lightweight and open-source workflow engine and Business Process Management (BPM) Platform intended for business people, developers, and system administrators. Its core is a super-fast and solid BPMN 2 process engine for Java. Activiti runs in any Java application, on a server, on a cluster or in the cloud.Activiti supports all aspects of Business Process Management (BPM) in the full context of software development. This includes non-technical aspects like analysis, modeling, optimizing business processes, and technical aspects of creating software support. Activiti recognizes that BPM as a management discipline is a completely different facet than BPM as software…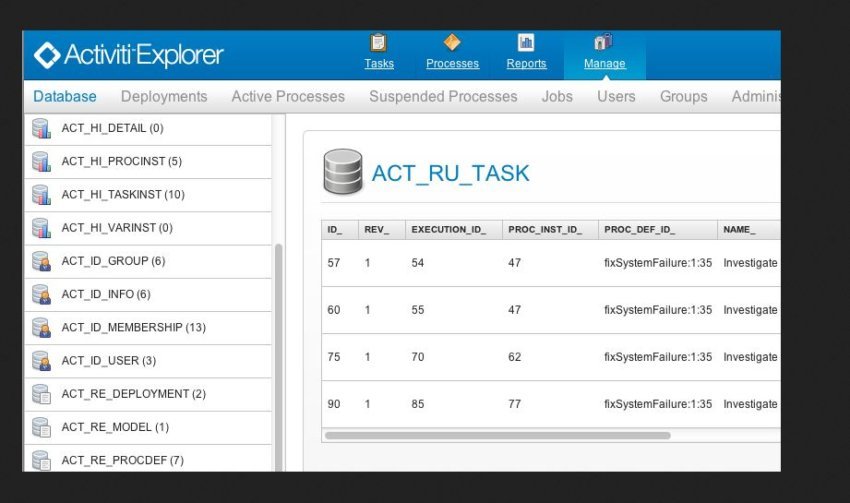 43
Software Ideas Modeler is a diagram case tool for software design and analysis with UML, SysML, ERD, BPMN, ArchiMate, flowcharts, data flow and wireframe support.The main purpose of using the case tool "Software Ideas Modeler" is an expression of ideas of software design. The package supports to create software-related diagram types such as use case, class, sequence, state machine, entity relationships, data flow, user interface and so on. It highlights a special Use Case Editor which makes writing use cases easier than ever. All diagram types share some common tools and drawing functions, such as pan, constraint, package, line, text,…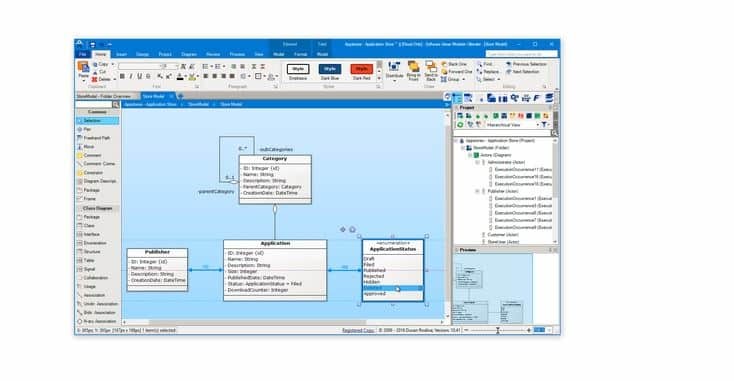 44
OmniGraffle is a comprehensive, easy to use diagramming and drawing application for creating precise, beautiful graphics like website wireframes, electrical systems, family trees and maps of software classes. These all come to life in OmniGraffle 7. Everyone from professional artists, designers to casual data mappers including diagram amateurs will find something new in OmniGraffle 7.OmniGraffle 7 goes with plenty of features to get started in Standard. OmniGraffle Pro has everything in Standard, plus features suited specifically for folks that make a living designing or working with graphics—things like Shared Layers, Artboard Layers, Non-Destructive Shape Combinations, Blending Modes and Fill Effects,…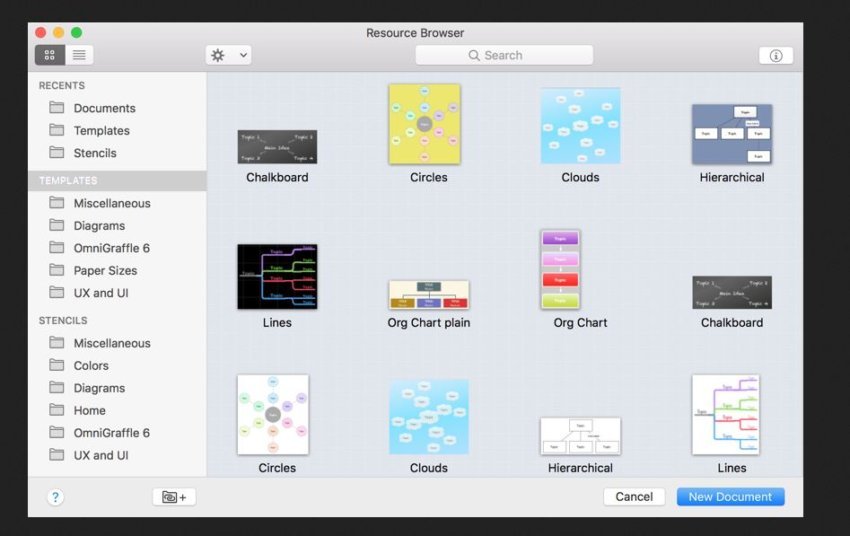 45
Visual Planning is a simple thus far powerful resource management and scheduling application. Thousands of organizations are using it to share schedules with colleagues and work together more efficiently. A trouble-free scheduling software which updates schedules easily and quickly through drag and drops, resulting in improving teams reactivity and efficiency. One of Visual Planning's primary concepts is resource scheduling. This is to organize the set of actions and methodology used by organizations to efficiently assign the resources they have to jobs, tasks or projects they need to complete and schedule start and end dates for each task or project based…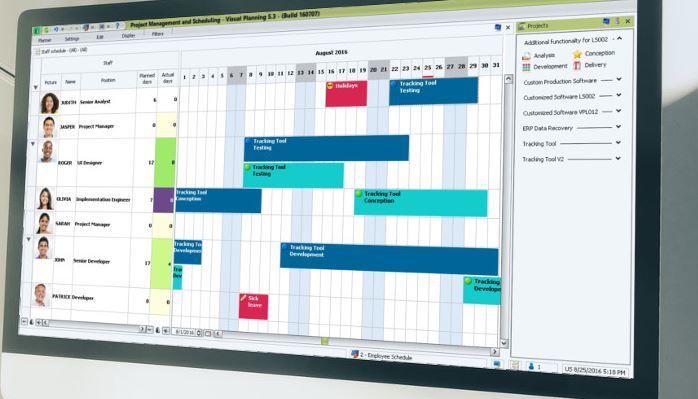 46
Workfront Marketing Work Cloud is a comprehensive solution that empowers marketing teams to manage all their creative workflow in one place, from initial request to delivery. It is a project management software that will save time and do a better job of managing production costs and chase down quotes to get finer details. Production management requires everyone to have full visibility into marketing projects because sometimes chaos are uncontrollable like disconnected tools and processes. Workfront Marketing Work Cloud simply brings order into this, allowing the marketing teams to accurately meet deadlines and eliminates daily time wastes. That makes this tool…
Workfront Marketing Work Cloud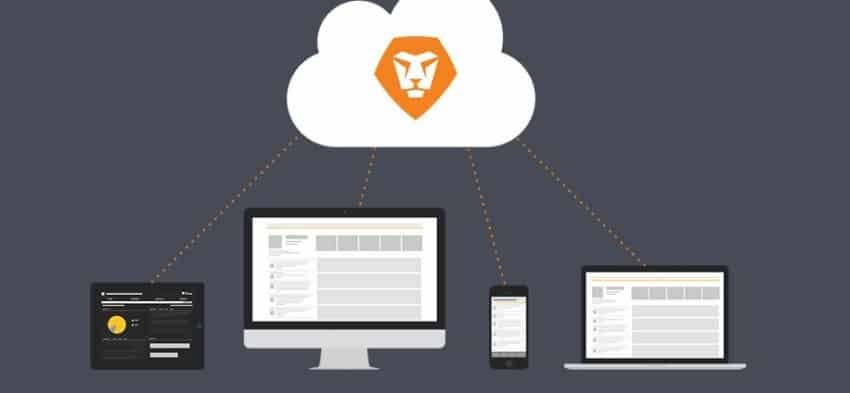 Business Process Management Software at a Glance
Free Business Process Management (BPM) Tools: Trending
Open Source and Free Business Process Management (BPM) Tools
1.jSonic BPM
jSonic Business Process Management suite enables enterprise owners to align business processes with dynamic market conditions, statutory compliances and, customer and partner requirements. It is a comprehensive solution that improves the bottom line of organizations by increasing process efficiency, optimizing resource utilization and automating human workflow.The major components of the suite include Process Management, Workflow Management and the Interface DesignerProcess Modeler. Rules governing processes can be defined using the Business Rules Engine, and validated using the Process Simulator – which allows a dry run for the system.
jSonic Business Process Management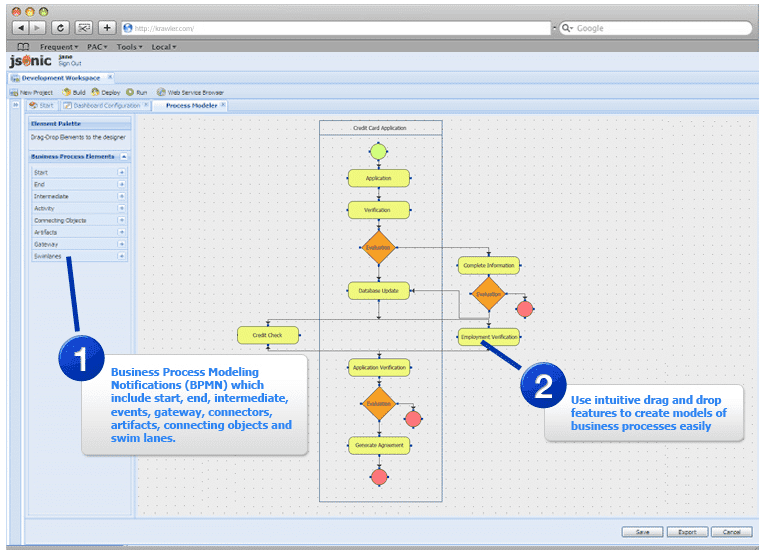 2.jBPM
jBPM is a flexible Business Process Management (BPM) Suite. It makes the bridge between business analysts and developers. jBPM has a dual focus: it offers process management features in a way that both business users and developers like it.jBPM supports adaptive and dynamic processes that require flexibility to model complex, real-life situations that cannot easily be described using a rigid process.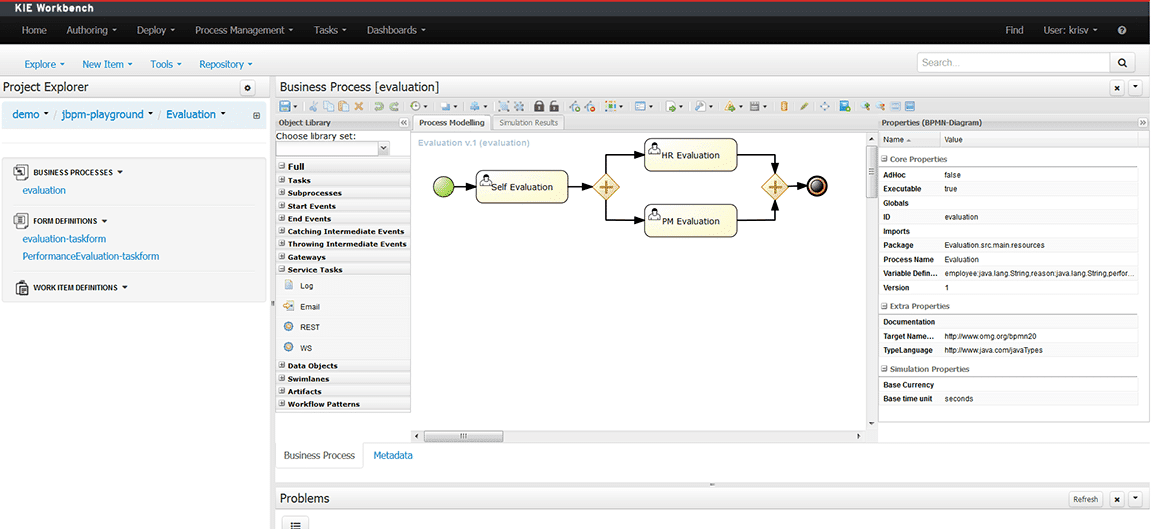 3.Activiti
Activiti is a light-weight workflow and Business Process Management (BPM) Platform targeted at business people, developers and system admins. Its core is a super-fast and rock-solid BPMN 2 process engine for Java. It's open-source and distributed under the Apache license. Activiti runs in any Java application, on a server, on a cluster or in the cloud. It integrates perfectly with Spring, it is extremely lightweight and based on simple concepts.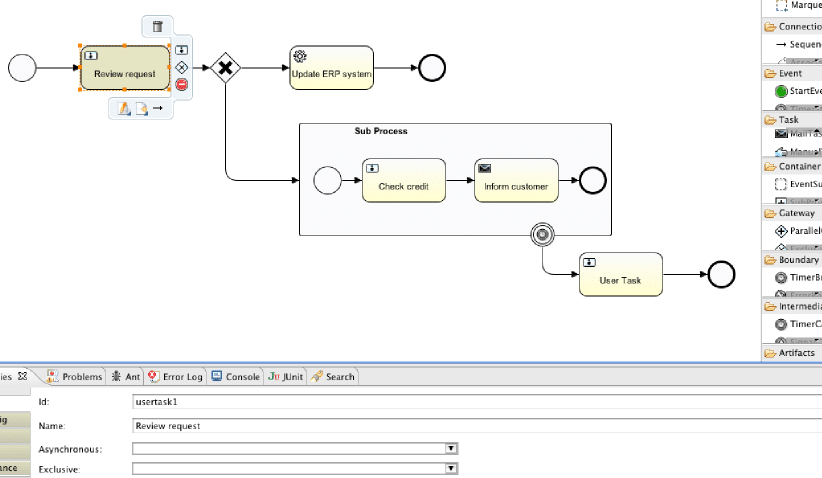 4.Red Hat JBoss BPM
Red Hat JBoss BPM Suite is the JBoss platform for Business Process Management (BPM). It enables enterprise business and IT users to document, simulate, manage, automate and monitor business processes and policies. It is designed to empower business and IT users to collaborate more effectively, so business applications can be changed more easily and quickly. JBoss BPM Suite combines all the decision management and event processing capabilities of Red Hat JBoss BRMS with the advanced BPM tools and runtime from the jBPM project, to create a single, integrated platform for business process and decision management.
5.ProcessMaker
ProcessMaker can assist organizations of any size with designing, automating and deploying business processes or workflows of various kinds. ProcessMaker workflow software features an extensive toolbox which provides the ability to easily create digital forms and map out fully functioning workflows. The software is completely web based and accessed via any web browser, making it simple to manage and coordinate workflows throughout an entire organization – including user groups and departments. ProcessMaker workflow software can also interact with other applications and systems such as ERP, business intelligence, CRM and document management.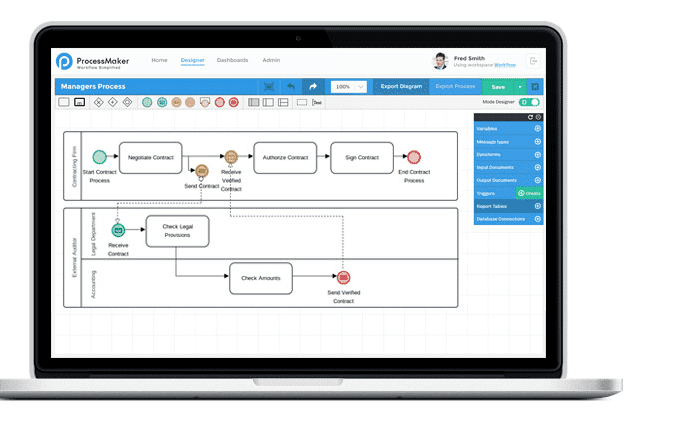 6.Bonita BPM
Bonita BPM build powerful, process-based applications from BPMN2.0 workflow modeling to a state-of-the-art, drag & drop user interface designer. The applications you build in Bonita BPM can adapt easily in real time as your business processes change. Features include model your processes with the easy-to-use BPMN 2.0 graphical modeler, assign actors and map them to your organization for routing tasks, manage complex data easily with business data management and collaborate using a shared repository for the process models.
7.Camunda
Camunda is an open source platform for workflow and business process management to model and execute BPMN. Camunda Modeler is a desktop application for editing BPMN process diagrams and DMN decision tables. It is very easy to use, which means that business analysts can use it as well as developers, working on the same diagrams.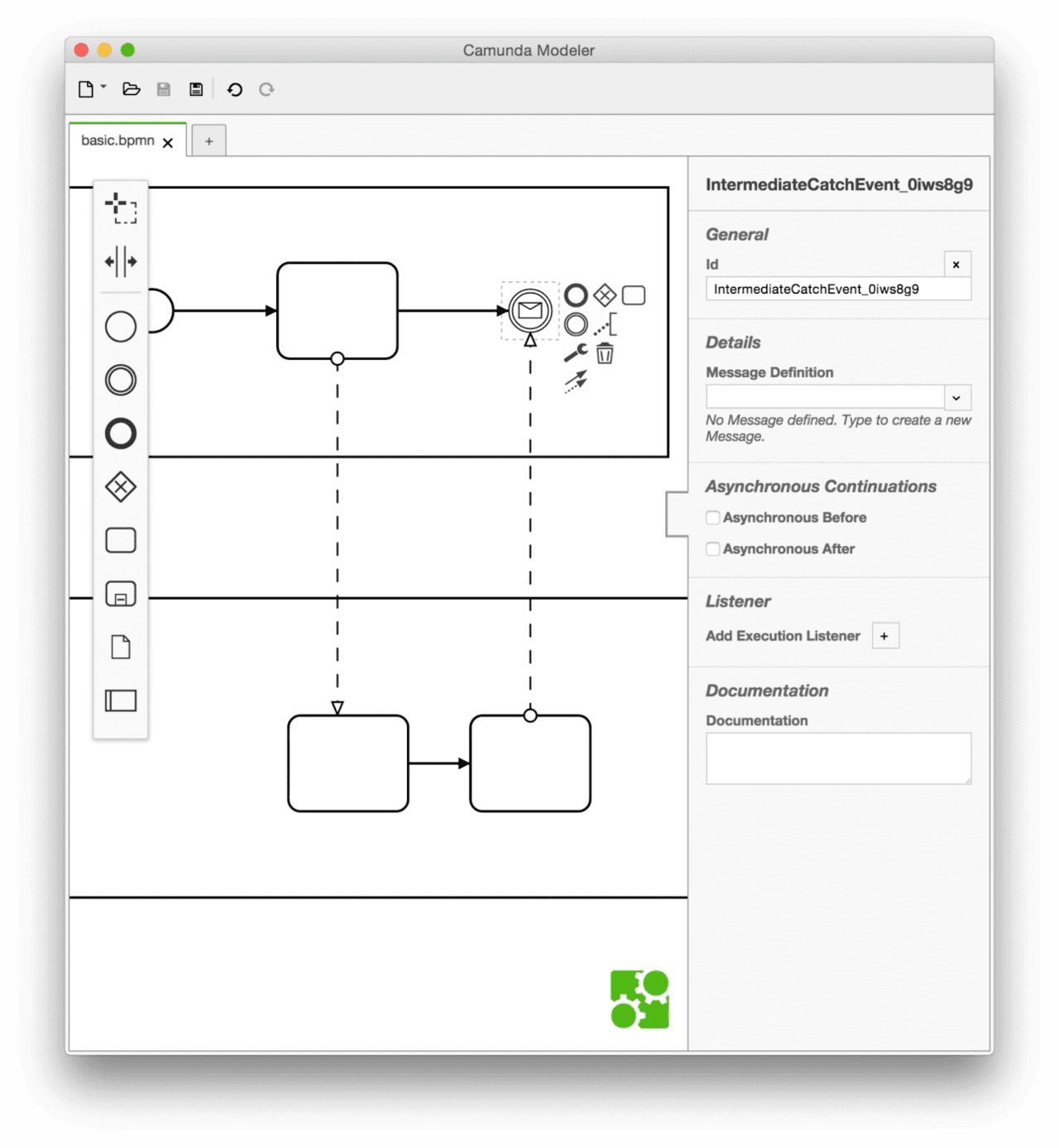 8.Orchestra
Orchestra is a complete solution to handle long-running, service oriented processes. It provides out of the box orchestration functionalities to handle complex business processes. It is based on the OASIS standard BPEL (Business Process Execution Language).
9.Joget
Joget offers full-fledged agile application development capabilities consisting of processes, forms, lists, CRUD and UI, not just back-end EAI/orchestration/integration or the task-based interface for traditional workflow/BPM products.
10.Yaoqiang BPMN Editor
Yaoqiang BPMN Editor is an open source graphical editor for business process diagrams, compliant with OMG specifications BPMN 2.0.
11.ADONIS:Community Edition
ADONIS:Community Edition is a free version of the leading BPM tool ADONIS and provides easy to use graphical modelling editor, modelling assistant, right-angled connectors, model pre-filling.
12.ARCWAY Cockpit Designer
ARCWAY Cockpit Designer contains the graphical modeling component from the ARCWAY Cockpit series, enabling the complete integrated modeling. Event-driven process chains, Business landscapes, Application maps, and UML class and sequence diagrams.
13.Bizagi BPMN Modeler
Bizagi BPMN Modeler provides Cloud collaboration, speed and powerful drag-and-drop design tools bridge the gap between business and IT, engaging everyone in the process discussion from the start.
14.ARIS Express
ARIS Express is free of charge perfect tool for occasional users and beginners in Business Process Management . It provides intuitive user interface − modelers can work productively from the start and Models for organizational structures, processes, application systems, data, and more
15.bpmn.io
bpmn.io is a BPMN 2.0 rendering toolkit and web modeler.
16.Cubetto
Cubetto is a business process modeling and the illustration of organizational structures. The app combines leading modeling standards in one tool: BPMN, Event-driven Process Chains (EPC) known from the Architecture of Integrated Information Systems (ARIS), process landscapes, organizational charts, mind maps, Unified Modeling Language (UML) and flow charts.
17.BPMN2 Modeler
The BPMN2 Modeler is a graphical modeling tool which allows creation and editing of BPMN ( Business Process Modeling Notation ) diagrams. The tool is built on Eclipse Graphiti and uses the BPMN 2.0 EMF meta model.
18.W4 Web Modeler
W4 Web Modeler is an online tool to model, validate and simulate the process. Supports formats such as BPMN XML, XPDL, Microsoft Project, Microsoft Visio.
19.SYDLE SEED
SYDLE SEED is a workflow engine for business process management, written in Java where you can model, execute and monitor processes described in BPMN.Features include Browser-based modelling and execution, Modelling with a subset of BPMN 2.0, Integration through Web Services, Process versioning, Monitoring through process indicators and goals and Customizable dashboard with tables, goal gauges and pie charts
20.Imixs-BPMN
Imixs-BPMN is a free modelling tool which takes the full advantage of all the capabilities of the BPMN standard and complements them with the features of a powerful workflow engine. The Imixs-BPMN enhances the Eclipse BPMN2 Modelling Framework with the aspects of a human based workflow model executable on the Imxis-Workflow Engine. With Imixs-BPMN you have a maximum in flexibility to describe, model and executing your business processes.
21.Innovator
Innovator provides business analysts, software architects, database architects and enterprise architects with special tools, and everybody works with them on the same core business model – from their point of view.
22.Modelio
Modelio is an Open Source UML tool developed by Modeliosoft. Modelio supports UML2 Profiles for XSD, WSDL and BPEL, SoaML for service modelling in distributed environments; and BPMN for business process modelling.
23.yEd
yEd is a powerful desktop application that can be used to quickly and effectively generate high-quality diagrams to create diagrams manually, and to import external data for analysis.
24.RunaWFE
RunaWFE is a workflow, BPM, BPMS based on JBOSS JBPM and Activiti engines written in Java. It is a cross-platform end user solution for business process management. It provides rich web interface with tasklist, form player, Developer Studio, automatic bots and more
25.Feng Office
Feng Office is a free and open source online project management and collaboration tool. Feng Office Community Edition is the basic Feng Office and includes Task Management,Document Mangement, Workspaces, Tons of collaboration and productivity features.
Free Business Process Management (BPM) Tools at a Glance