Review
No Frills Transformation Engine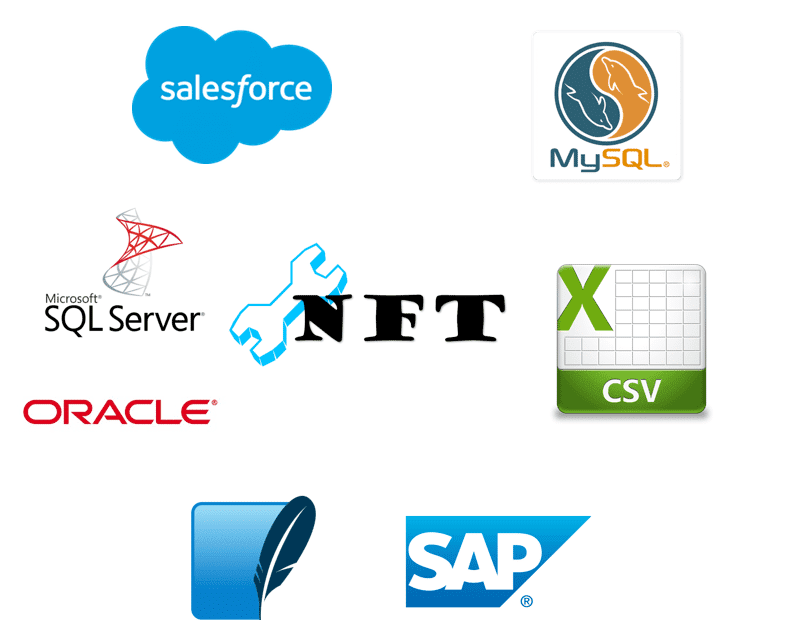 Overview
"No frills transformation" (NFT) is intended to be a lightweight transformation engine, having an extensible interface which makes it simple to extend with Source Readers, extend with Target Writers and extend with additional Operators (if you can't do with the Custom Operators)
"No frills transformation" (NFT) is intended to be a lightweight transformation engine, having an extensible interface which makes it simple to extend with Source Readers, extend with Target Writers and extend with additional Operators (if you can't do with the Custom Operators)
Out of the box, NFT will read from CSV files in any encoding Salesforce SOQL queries, SQLite Databases, MySql Databases, Oracle Databases, SQL Server Databases and from SAP RFCs if they have a TABLE as output value and write to CSV files in any encoding (including with or without UTF-8 BOMs), Salesforce Objects (including Upserts and using External IDs), Oracle Databases and Rudimentary XML files.
A special "transformation" filter is supported, which currently implementations for SAP RFC Transformations: Read the parameters from a source and pass them to the RFC and retrieve the results from that to the output. Frequency Transform: Creates basic frequency statistics from a source and Salesforce SOQL Transform: For a set of input parameters read from a source, issue SOQL queries and output the result to a target.
No Frills Transformation Engine
You may also like to read, Top Business Intelligence companies , Open Source and Free Business Intelligence Solutions , Cloud – SaaS – OnDemand Business Intelligence Solutions , Top Free Extract, Transform, and Load, ETL Software , Freemium Cloud Business Intelligence Solutions , Top Embedded Analytics Business Intelligence Software , Top Dashboard Software , Best Enterprise Performance Management Software and Top Data Visualization Software.