44 Cloud – SaaS – OnDemand Business Intelligence Solutions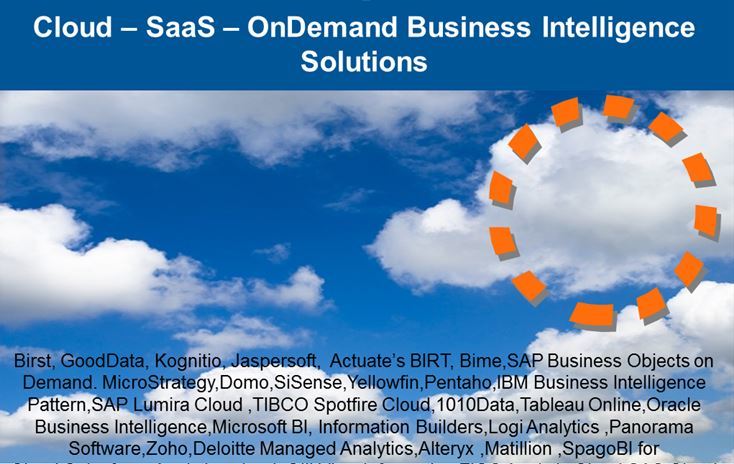 44 Cloud – SaaS – OnDemand Business Intelligence Solutions : Cloud – SaaS – OnDemand Business Intelligence Solutions follows a delivery model in which applications are typically deployed outside of an organisations firewall and at a hosted location. The business intelligence technology is sold by vendors as a subscription service or as a pay as you go service. This is different from the traditional software licensing model with annual maintenance fees. Cloud – SaaS – OnDemand Business Intelligence Solutions allow business to use Business Intelligence tools without having to install, operate and maintain them on premise. This enables the business users to concentrate on creating BI reports and analytic queries rather than supporting their installation.Such business intelligence solutions are known as SaaS, which is Software as a Service Business Intelligence, Cloud Business Intelligence, OnDemand Business Intelligence. Birst, SiSense,  Kognitio, Jaspersoft, Actuate's BIRT, Bime, SAP Business Objects on Demand, MicroStrategy, Domo, GoodData,  Yellowfin, Pentaho, IBM Cognos Analytics on Cloud, SAP Lumira Cloud, TIBCO Spotfire Cloud, 1010Data,Tableau Online, Oracle Business Intelligence, Microsoft BI, Information Builders, Logi Analytics , Panorama Software, Zoho, Deloitte Managed Analytics, Alteryx , Matillion , SpagoBI for Cloud, Salesforce Analytics cloud, QlikView, Informatica, FICO Analytic Cloud, SAS Cloud Analytics, Rosslyn Analytics, Mo'mix, Bitam, BellaDati, RJMetrics, Atom BI, Hyperion, AnaPlan, Chartio, TARGIT Cloud, Host Analytics, Oracle Eloqua are some of the top Cloud – SaaS – OnDemand Business Intelligence Solutions in no particular order.
44 Cloud – SaaS – OnDemand Business Intelligence Solutions
Birst, SiSense,  Kognitio, Jaspersoft, Actuate's BIRT, Bime, SAP Business Objects on Demand, MicroStrategy, Domo, GoodData,  Yellowfin, Pentaho, IBM Cognos Analytics on Cloud, SAP Lumira Cloud, TIBCO Spotfire Cloud, 1010Data,Tableau Online, Oracle Business Intelligence, Microsoft BI, Information Builders, Logi Analytics , Panorama Software, Zoho, Deloitte Managed Analytics, Alteryx , Matillion , SpagoBI for Cloud, Salesforce Analytics cloud, QlikView, Informatica, FICO Analytic Cloud, SAS Cloud Analytics, Rosslyn Analytics, Mo'mix, Bitam, BellaDati, RJMetrics, Atom BI, Hyperion, AnaPlan, Chartio, TARGIT Cloud, Host Analytics, Oracle Eloqua.
1.Birst
Birst Enterprise, caliber Cloud BI provides all the components needed for complete business intelligence including data integration, ETL services, analytics, reports, scheduling and delivery, all available through a subscription pricing model. Key features include secure data though SOC 2 type II audit, ISO 27001:2005 certification, high performance analytics through mutli-tiered intelligent caching, aggregates, SQL optimization, MPP column store database and 100% Multi-tenant architecture with separately portioned customer database instances.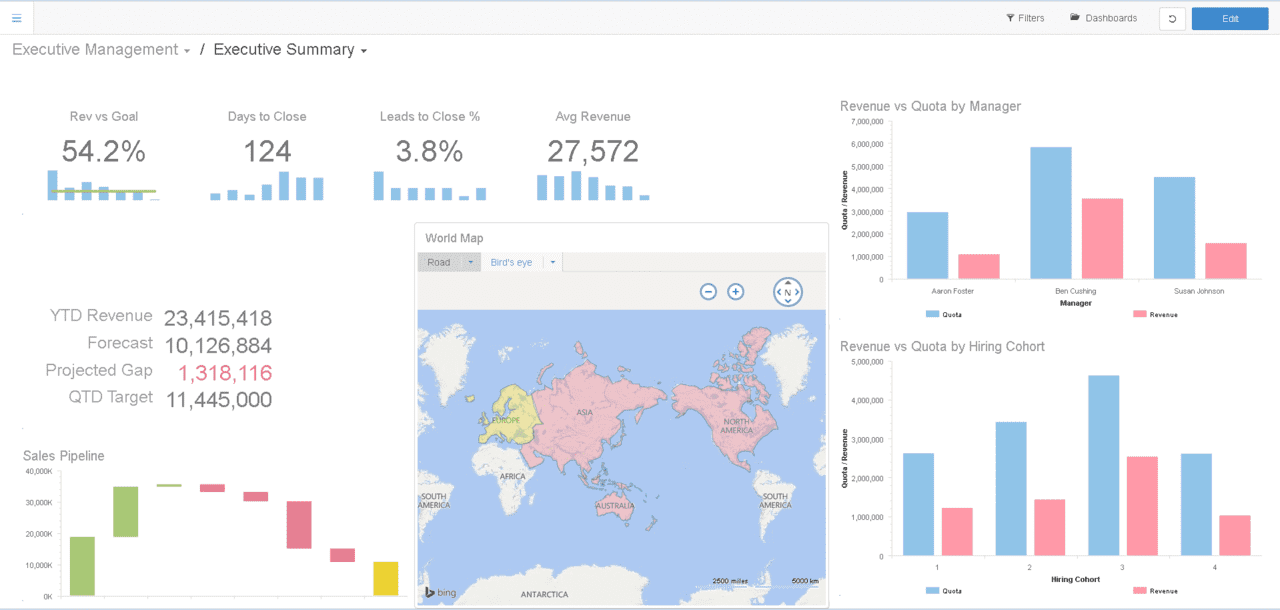 2.SiSense
SiSense provides business intelligence product includes both a back-end powered by in-chip technology that enables non-technical users to join and analyze large data sets from multiple sources, and a front-end for creating visualizations, like dashboards and reports, on any device, including mobile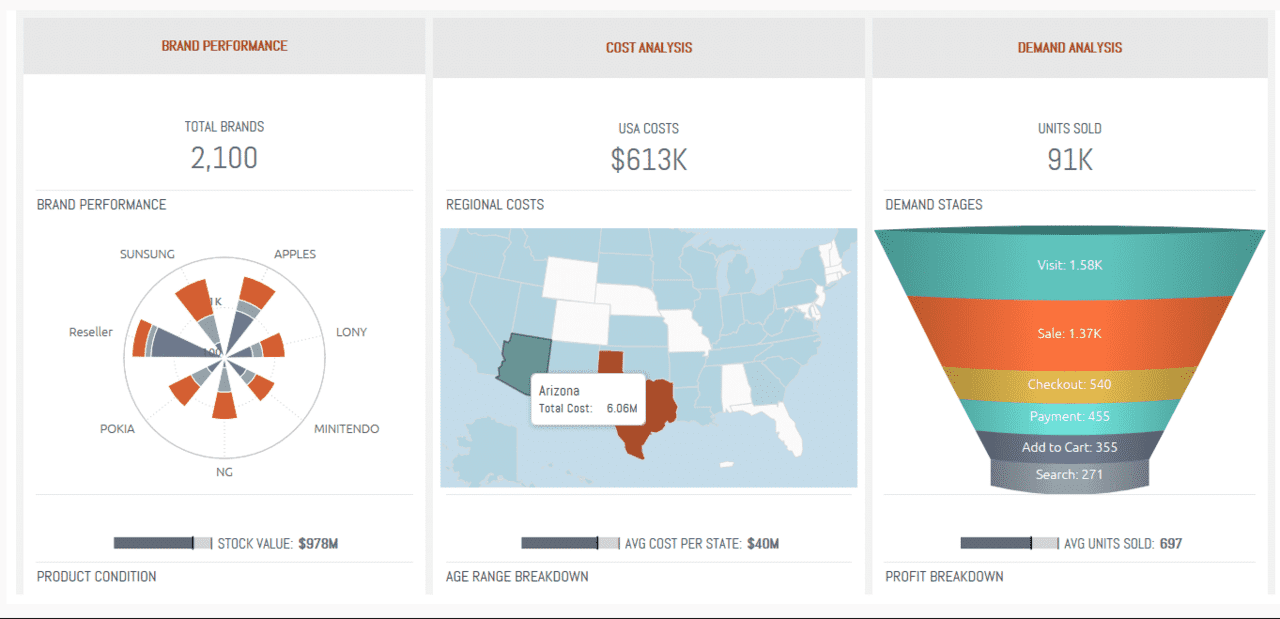 3.Kognitio
Kognitio Cloud is a ready to use analytical platform, a secure, private cloud Platform-as-a-Service (PaaS), which leverages the cloud computing model to make the Kognitio Analytical Platform available for a monthly operational cost on a fixed term. Kognitio Cloud provides customers with business intelligence (BI) solutions that meet their growing analytic requirements at a fraction of the cost of traditional implementations.
4.Jaspersoft
Jaspersoft for AWS is the cloud analytics server available on the Amazon Web Services Marketplace, used by hundreds of customers from startups to Fortune 500 companies. Jaspersoft's modular, scalable, standards based architecture provides the flexibility needed to easily deploy in any environment. On-premise or cloud app with killer dashboards, cool visualizations, self-service reports, and rich analytics can be done quickly using easily embeddable, web-scale platform. It also provides affordable, web-scale BI suite, business users can get quick answers to their questions through self-service reports, dashboards and analysis while IT cost-effectively manages and scales the deployment Pricing starts at less than $1 per hour, with no data or user limits and no additional fees. Designed to easily connect to Amazon data sources like RDS, Redshift and EMR, you can start analyzing your data in under 10 minutes.
5.Actuate's BIRT
BIRT onDemand is Actuate's BIRT-based Software as a Service (SaaS) offering for BI and information delivery that MTInsight uses to harness over 200GB of data in the cloud, that is growing every day so that it can be analyzed and displayed on a wide variety of devices including smart phones and tablets. BIRT onDemand accounts come pre-configured with data storage from Amazon Relational Database Service (Amazon RDS), and include secure data transfer tools plus secure data connectivity to industry standard data bases, including increasingly popular cloud data sources.
6.Bime
Bime deliver fast, easy and powerful Business Intelligence to the organization with only a browser. BIME allows to connect to both the online and the on premise world in the same place, creating connections to all data sources, create and execute queries and view dashboards with all the classics plus maps, relational analysis, bullet charts, funnels and hundreds of customization points.
7. SAP Business Objects on Demand
SAP BusinessObjects BI OnDemand powered by SAP HANA, provides a comprehensive business intelligence solution in a software-as-a-service (SaaS) model, for a complete view of business. SAP BusinessObjects BI OnDemand save time and money with self-service BI and aggregate data in a single, intuitive application. Features include upload a spreadsheet and / or bring different data sources directly into the solution, explore every facet of your data with the software's unique search and browse functionality, create accurate, timely dashboards and reports, perform ad hoc, what-if analyses with our cloud analytics software and share information directly from the solution, rather than via email or paper .
SAP Business Objects on Demand
8. MicroStrategy
MicroStrategy Cloud brings together world class enterprise BI, analytical database, and data integration capabilities in one integrated service. The MicroStrategy BI platform's capabilities are on-demand and optimized for the most demanding enterprise applications. MicroStrategy Cloud delivers powerful savings with zero capital expenditure on infrastructure, there is no software or hardware to maintain, no costly set up or configuration, and no facilities to manage.
9.Domo
Domo is a cloud-based executive management platform that gives users direct, real-time access to all the business information they care about, in one place. Domo makes it easy to see the information you want, how and when you want it. Anyone from CEO to contributor has the ability to discover, mash up, visualize, and present data any way they'd like.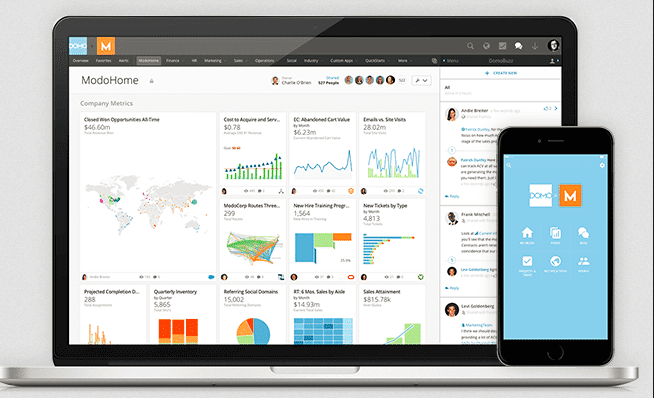 10.GoodData
GoodData Business Intelligence platform supports data governance, security and oversight, and business users' desire for self-service discovery. GoodData gives complete cloud BI control to accelerate real time access and ad hoc reporting using internal and external data anytime, anywhere provides timely, accurate analytics in minutes, experience real-time access and ad hoc reporting and apps for sales, marketing, customer service and more.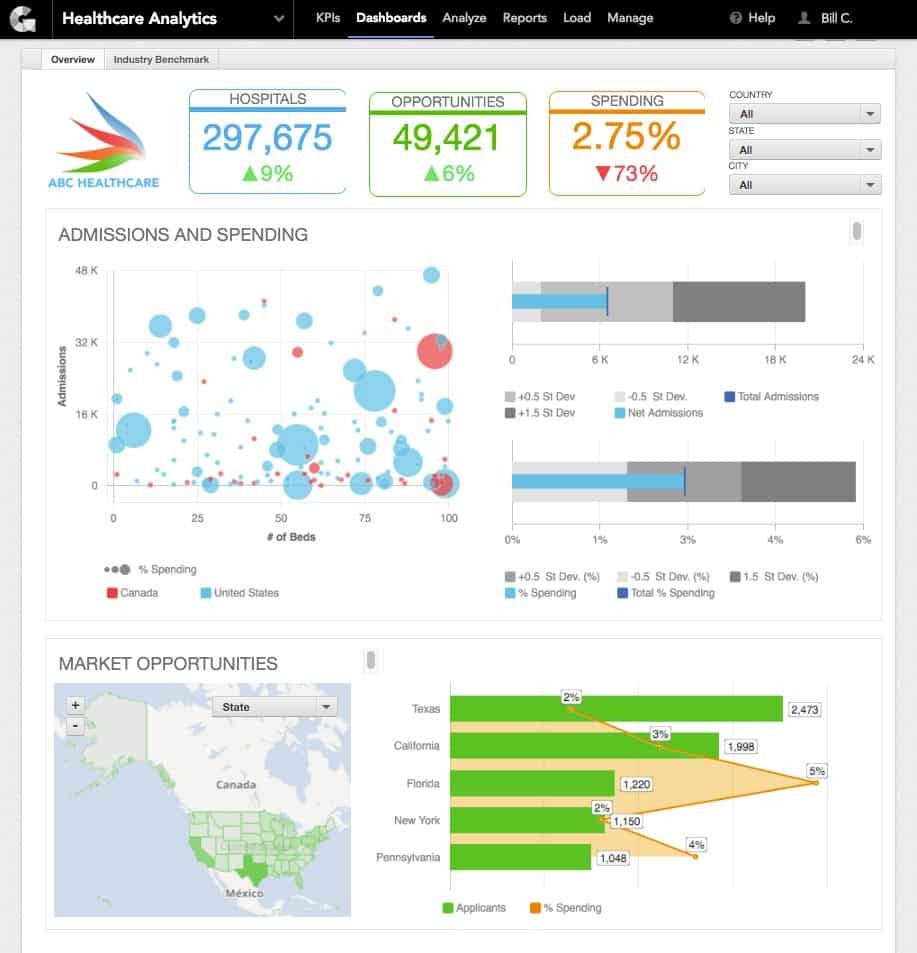 11.Yellowfin
Yellowfin delivers a brilliant analytical experience from data to dashboards. The interface provides all the data discovery features that you will ever need while providing a fine balance between the ease of use business users require and the governance needs of enterprise IT.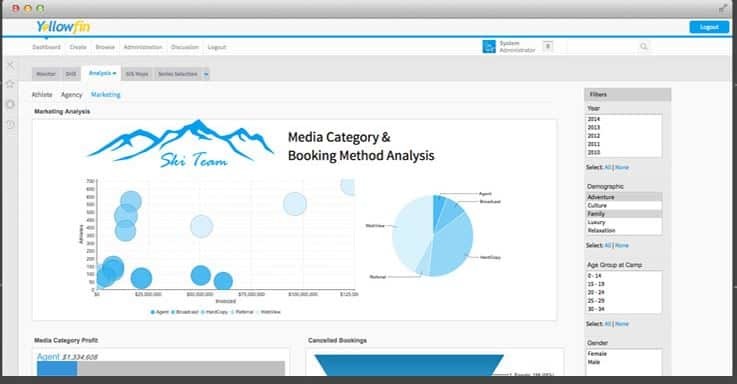 12.Pentaho
Pentaho provides a highly flexible platform for blending, orchestrating, and analyzing data from virtually any source, effectively reaching across system, application and organizational boundaries. Pentaho's heritage of open architecture and standards make it an ideal solution for embedding into cloud-based applications, aligning with existing enterprise architectures.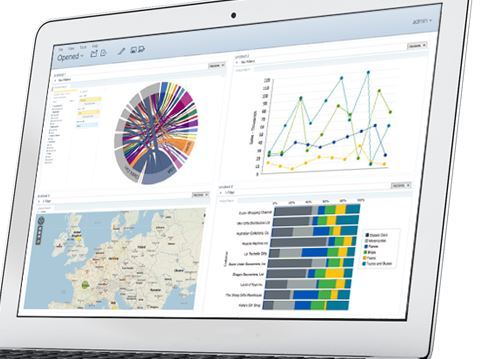 13.IBM Cognos Analytics on Cloud
IBM Cognos Analytics on Cloud provides self service, data governance and reporting with a secure business intelligence software-as-a-service (SaaS) solution.Cognos Analytics is ready when you are with a unified experience that works the same on web or mobile devices, enabling you to quickly find, analyze, create, and share insights.
IBM Business Intelligence Pattern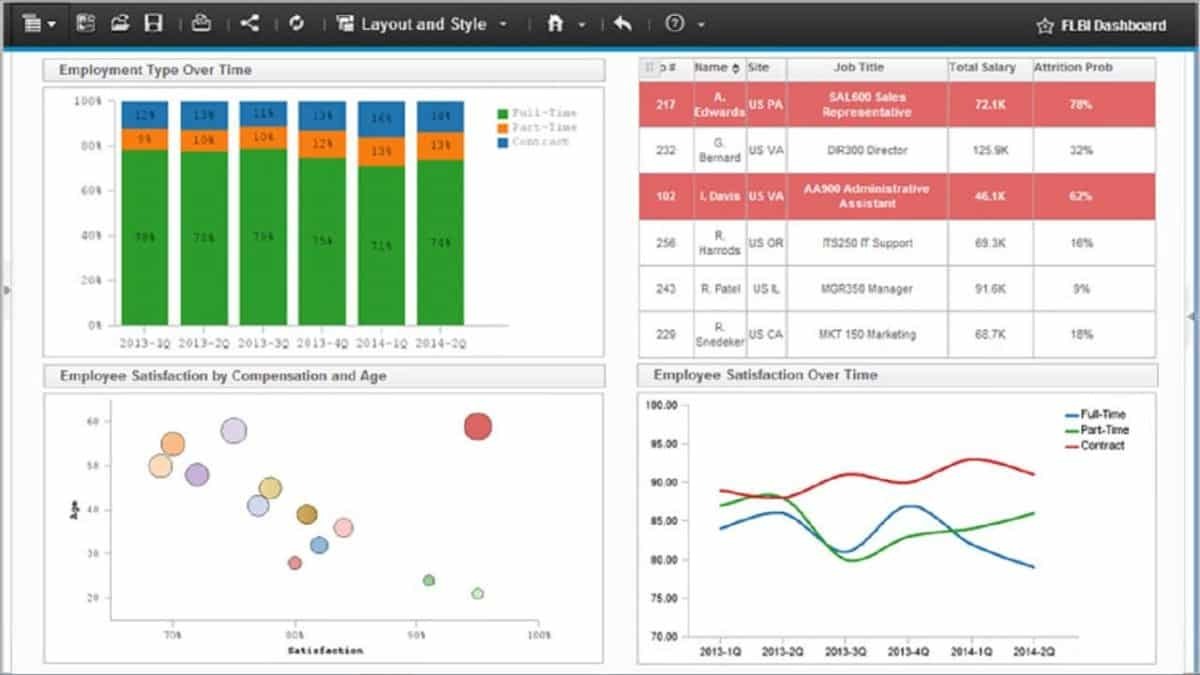 14.SAP Lumira Cloud
SAP Lumira Cloud enables to access, visualize, and share data in a secure cloud environment without IT help. This self-service business intelligence (BI) solution empowers users to explore information and reveal hidden insights with drag-and-drop ease. Features include easy-to-use, self-service BI in the cloud, visualize business data with an intuitive drag-and-drop interface.
15.TIBCO Spotfire Cloud
TIBCO Spotfire Cloud is analytics software as a service designed for data exploration. Everything you need is available on the cloud and there is no installation and enables to compare how data looks in different visualizations. Spotfire Recommendations will inspect your data and make suggestions based on what you upload.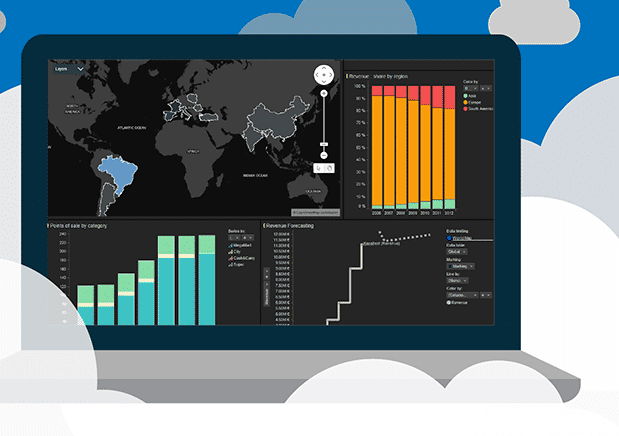 16.1010Data
1010data offers the leading big data discovery platform in the cloud or behind your firewall. 1010data offers the enterprise-class analytics platform you require in a single turnkey offering and a high-availability system that has proven rock-solid through rigorous testing and numerous real-world events.
17.Tableau Online
Tableau Online is a hosted version of Tableau Server which makes business intelligence faster and easier than ever before. Turn everyone into your best analyst with interactive dashboards in a web browser or mobile device. Comment on dashboards to share your findings. Subscribe and get regular updates. And do all this in a secure web platform
18.Oracle Business Intelligence
Oracle Business Intelligence platform is a best-in-class analytics platform offering you the full array of intuitive BI tools you expect Agile Business Intelligence in the Cloud for Everyone. A proven platform for creating powerful business intelligence applications, enabling users from the workgroup to the enterprise.
19. Microsoft BI
Microsoft BI empower users with a complete self-service business intelligence (BI) solution delivered through Excel and Power BI for Office 365. Excel provides data discovery, analysis, and visualization capabilities that help users identify deeper business insights from their data. Power BI for Office 365 provides an easy-to-deploy cloud-based BI environment for users to share, collaborate, and access data and reports from anywhere.
20. Information Builders
Information Builders offers multiple cloud deployment options. Moving enterprise class business intelligence, data integrity processes, and integration to the cloud has never been faster or easier. With our Cloud Hosting Services, customers can start using the full range of Information Builders technology using a shared public-cloud environment or dedicated private-cloud resources.
21. Logi Analytics
Logi Analytics helps organizations discover new insights and distribute information to the people who need it most. Logi's web based platform and analytic applications allow organizations to analyze and visualize their data, rapidly create information applications, and embed interactive dashboards and reports directly into operational applications.
22.Panorama Software
Panorama Software PowerApps is a Web-based, hosted and extremely efficient OLAP (OnLine Analytical Processing) platform that cancreate, manage and support any type of analysis scenario. The platform offers APIs to create OLAP cubes as well as to deliver and create customized, user-facing reports from within Google Apps
23. Zoho
Zoho Reports is an online reporting and business intelligence service that helps you easily analyze your business data, and create insightful reports & dashboards for informed decision-making.
24.Deloitte Managed Analytics
Deloitte Managed Analytics (DMA) portfolio of managed analytic applications delivers actionable insights from multiple data sources typically without requiring significant investments in internal infrastructure and support.
25.Alteryx
Alteryx because it uniquely provides them with a single workflow for data blending, analytics, and reporting. This workflow allows the seamless blending of internal, third party and cloud-based data, and simple analysis using 60+ prebuilt tools for spatial and predictive analytics. All of this is achieved in a drag-and-drop environment that requires no coding or specialists.
26.Matillion
Matillion are a high-growth Cloud software company specialising in self-service business intelligence and analytics. Matillion users can quickly generate powerful analyses and reports without technical skills. Web browser based cloud business intelligence. Powerful drill-down, filtering and groups. Sharing reports with colleagues, teams and customers or suppliers.
27. SpagoBI for Cloud
SpagoBI for Cloud is open source, complete and flexible business intelligence suite. The benefits coming from SpagoBI for Cloud are no more purchase, installation, maintenance and giving up of sophisticated hardware devices and software and no more expensive licenses.
28. Salesforce Analytics cloud
Salesforce Analytics cloud offers many features and information is displayed in a way that helps you learn as you go. Rapid response and interactive visualization looks and feels more like a game than a graph.
29. QlikView
The QlikView Business Discovery software platform and Qlik Customer Success Framework provide the people, technology and services to help organizations progressively optimize how they use data as a strategic resource. QlikView uses Natural Analytics™ to support the way our human curiosity naturally searches and processes information, revealing insights and enabling decisions in the process.
30. Informatica
Informatica has developed an award winning family of cloud data integration solutions specifically designed to help SaaS application. The platform  customers integrate cloud-based data with the data residing in on-premise databases and systems or between cloud applications.
31. FICO Analytic Cloud
FICO Analytic Cloud provides analytics and decision management solutions for sharing and collaborating to engage and grow customers, manage debt and prevent fraud.
32. SAS Cloud Analytics
SAS Cloud Analytics supports BI, reports and dashboards, and extends to data exploration and analytics. Delivered through a single interface, the cloud analytics supports decision trees, network diagrams, on-the-fly forecasting, goal seeking and scenario analysis, path analysis and text sentiment analysis.
33. Rosslyn Analytics
Rosslyn Analytics BI platform which is known as RAPid data management and analytics platform, combines data management and analytics in a single, cloud-based environment for smarter, faster, more insightful business decision.
34. Mo'mix
The Mo'mix Performance Center Suite of products leverages a Software-as-a-Service (SaaS) delivery model, providing the audience with a single source of truth with no infrastructure costs and a rapid return on investment.
35. Bitam
Bitam, provides Enterprise Performance Management (EPM) solutions, including Business Intelligence (BI), Financial Planning, and Strategic Planning, as Software as a Service (SaaS).  Bitam provide companies access to Bitam's suite of EPM solutions via the Web using pay-as-you-go convenience. The software includes the ability to create customized and operational dashboards that incorporate business metrics and Key Performance Indicators (KPIs) for visualizing actual performance against plan with graphs, charts and tables.
36. BellaDati
BellaDati Cloud Business Intelligence functionalities include dashboards or reports of any form or shape using drag and drop, drill down into metrics or filter values from chart or table anytime, monitoring the trends in time and being notified.
37. RJMetrics
RJMetrics is a complete analytics platform designed to help online businesses make smarter decisions with their dat. RJMetrics provides all the technology you need to consolidate, optimize, and analyze your data.
38. Atom BI
Atom BI, Business Intelligence as a service is a solution which focus on helping people to answer business questions in a simple and secure way. Atom BI provides features such as access the best and most traditional analysis in the market through Analytic Library, dashboards, and build your reports and analysis in seconds over the Web.
39. Hyperion
Oracle Hyperion Managed Cloud Service provides cloud based application management to help customers drive profitable growth by delivering predictable results, improving transparency and compliance, and increasing business alignment using Hyperion Financial Management, Hyperion Planning, Hyperion Workforce Planning, Data Relationship Management etc.
40. AnaPlan
Anaplan is a cloud based business modeling and planning platform for sales, operations and finance.
41. Chartio
Chartio is a business intelligence service that lets to explore the data from a wide variety of source for creating interactive charts and perfect dashboards through an intuitive drag and drop interface. Features includes, switch from basic tables to sophisticated data visualizations in a single click, powerful filters for slice and dice of data, and drill down in charts.
42. TARGIT Cloud
TARGIT Cloud is an add on to TARGIT's Business Intelligence solution, TARGIT BI Suite, and it enables to share the data and analyses online and work on them with the colleagues. The add on also allows to share the data online with peers outside the organization.
43. Host Analytics
Host offers a complete suite of enterprise performance management applications built as cloud based applications. The cloud based delivery model helps to increase business agility and lower their costs, while deploying more quickly. A single report writer can produce a wide range of financial and management reports, and drill into the details behind the numbers because it sits on top of a single data source.
44.Oracle Eloqua Business Intelligence Cloud Service
Oracle Eloqua Business Intelligence Cloud Service is a powerful add on to Oracle Eloqua Marketing Cloud Service which enables data specialists and analytical marketers to create custom reports, dashboards, filters, and prompts.
For a review of the top business intelligence companies, click on the button below:
Top Business Intelligence companies
For a review of the top free Extract, Transform, and Load, ETL Software, click on the button below:
Top Free Extract, Transform, and Load, ETL Software
For a review of open source and free business intelligence solutions click on the button below :
Open Source and Free Business Intelligence Solutions
For a review of Online Analytical Processing Tools click on the button below :
Online Analytical Processing Tools